<! MP3 10/17/10 > <! update 00/00/00 > <! outside 00/00/00 > <! pix 00/00/00 > <! icons 10/17/10 >
---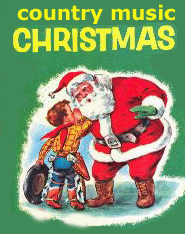 Ho, ho, ho!! Funny how the world is divided between people who just love Christmas music, and those who loathe it with an almost equal fervor. Me? I guess I fall somewhere in the middle... There are those countless songs that are simply great to sing along with, and yet Christmas music (and the rampant commercialism of the season) inexorably lends itself to the worst and cheesiest impulses among oh, so many artists...
This page covers collections with various artists. Other pages are linked to below... (And this just in: here is a link to a massively informative page devoted to Canadian country Christmas records Enjoy!)
---
A | B | C | D | E | F | G | H | I | J | K | L | M | N | O | P | Q | R | S | T | U | V | W | X, Y & Z | Comps | Other Country Styles
---
Various Artists "AN AMERICANA CHRISTMAS" (Winter Harvest)



With Norman Blake, Vassar Clements, Roy Huskey Jr., and others.
Various Artists "AMERICANA CHRISTMAS" (Universal/Hip-O, 2007)


Various Artists "AN AUSTIN CHRISTMAS COLLECTION, v.1" (Felicity, 1980)
Texas folkie Steve Fromholz rounded up some of his pals in Austin for these early alt-Xmas celebrations... Long out of print, but a favorite for folks who remember them.
Various Artists "AN AUSTIN CHRISTMAS COLLECTION, v.2" (Felicity, 1981)
Marcia Ball, Bill & Bonnie Hearne, Bob Livingston and Rusty Weir are among the local luminaries who take part in this volume... Mostly traditional tunes, but a few countrified offerings, such as "Christmas In A Honky Tonk."
Various Artists "AN AUSTIN CHRISTMAS COLLECTION, v.3" (Felicity, 1984)

Various Artists "CANADIAN COUNTRY CHRISTMAS" (2007)


Shania Twain is Canadian? Dang. Who knew? Also include artists such as Paul Brandt, Jason McCoy and Doc Walker...
Various Artists "CHRISTMAS IN BRANSON, MO. USA" (?)


With Moe Bandy, Roy Clark, Johnny Paycheck, Connie Smith and Faron Young...

Various Artists "CHRISTMAS IN THE MOUNTAINS: BLUEGRASS SONGS FOR THE SEASON" (Rebel, 2003)



A rough-hewn, soulful set of bluegrass yuletide, with tracks dating back to Rebel's early '60s origins. The Country Gentlemen, Larry Sparks, Dr. Ralph Stanley and others add their holiday cheer... High marks go to Paul Williams and his Victory Trio, who are (naturally) quite well suited to the genre. Highly recommended!
Various Artists "CHRISTMAS ON CAPITOL: COWBOY CLASSICS" (Capitol, 2009)



Not all of these artists are what you might call "cowboys..." Sonny James, Ernie Ford, Molly Bee... But others certainly fit the bill: Tex Ritter, Roy Rogers, Jimmy Wakely, and there are some classic tunes on here, regardless. A nice set of seasonal oldies, reissued for the new millennium.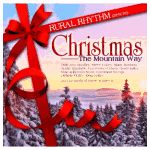 Various Artists "CHRISTMAS THE MOUNTAIN WAY" (Rural Rhythm, 2012)



(Produced by Steve Gulley)
(DVD produced by Sammy Passamano)
Bluegrass stalwart Steve Gulley, along with his musical pals and extended family, all celebrate the season with a heartfelt set of hardcore Christmas songs, some with gruff, old-man vocals, some with kiddie choruses and many with rock-solid musicianship. Guests include Audie Blaylock, Dale Anne Bradley and Marty Raybon, as well as the children in the Cumberland River Academy chorus, singing "Go Tell It On The Mountain." Truegrass spirit filled with heart and soul, and holiday cheer to spare!

Various Artists "COMING HOME FOR CHRISTMAS" (Sony-BMG, 2005)


The newly-conglomerated Sony-BMG goliath is making the most of its combined archives to produce cross-label collections like this one, which digs into the vaults (back as far as 1975, for John Denver's version of "The Christmas Song") and also includes several songs of more recent vintage. Not a whole lot of country stuff on here, though -- this is mostly a super-mainstream pop outing, with some orchestral numbers thrown in for good measure -- but Lonestar chime in for their version of "Little Drummer Boy," and Vince Gill sings some surprisingly sweet harmonies with Olivia Newton-John, of all people, so in theory there's a bit of twang for us as well. Mostly it's very slick holiday pop, though, with a hefty slathering of string arrangements on most songs.
Various Artists "COUNTRY CHRISTMAS: A POSTCARD CHRISTMAS" (Lifestyles, 2001)



Features Gene Autry, Skeeter Davis, Donna Fargo, Jeannie C. Riley, Eddy Raven, and others.
Various Artists "COUNTRY CHRISTMAS 2007" (Capitol, 2007)



Some old stuff and new, mining the Capitol catalog for chestnuts from folks such as Trace Adkins, John Berry, Glen Campbell, Billy Dean, Chris LeDoux, The Oak Ridge Boys, Jamie O'Neal, Cyndi Thompson, Tanya Tucker... One big highlight is "Shimmy Down The Chimney," from Alison Krauss... Nice selection of seasonal cheer!
Various Artists "DASHING THROUGH THE SNOW: A BLUEGRASS CHRISTMAS" (Cumberland, 2009)


A holiday set featuring Richard Bailey, Mike Compton, Dennis Crouch, Mark Howard and Rob Ickes...


<! MP3 only >

Various Artists "A GENUINE AUSTIN CHRISTMAS" (KVET)





<! Tracks Include: 1. RAY BENSON, KEVIN FOWLER Christmas In Texas 2. OWEN TEMPLE God Rest Ye Merry Gentlemen 3. DOUG MORELAND Snow Angels In the Sand 4. JASON ALLEN Christmas Wouldn't Be Christmas Without You 5. WADE BOWAN Blue Christmas 6. HONEYBROWNE The First Noel 7. RANDY ROGERS Please Come Home For Christmas 8. LOST WOLF What Child Is This 9. KYLE SISTERS Jingle Bells 10. RADNEY FOSTER Away in A Manger 11. PAULINE REESE O Holy Night 12. CORY MORROW Little Drummer Boy 13. GEEZINSLAWS Lighten Up It's Christmas 14. KELLY WILLIS Santa Baby 15. NANCY TURCO WITH LOST WOLF Nothin Like the Jingle of a Bell 16. ROGER CREAGER & RANDY WAYNE Go Tell It On the Mountain 17. RICKY CALMBACH Silent Night 18. RICK TREVINO Feliz Navidad 19. 12 Days of Christmas >
Various Artists "HEAR SOMETHING COUNTRY: CHRISTMAS 2007" (RCA, 2007)



Kenny Chesney, Terri Clark, Blaine Larsen, Kellie Pickler, Carrie Underwood, Alan Jackson and others in the RCA Nashville stable deliver an all-star Xmas album...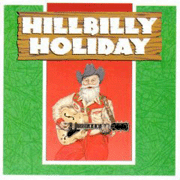 Various Artists "HILLBILLY HOLIDAY" (Rhino, 1990)


This here's the real deal -- Buck Owens, Bill Monroe, Hank Thompson, The Louvin Brothers... Heck, there's Johnny Horton, Ernest Tubb, Hank Snow, Commander Cody and Loretta Lynn on here, too... Yow! And, of course, it's out of print... because "The Man" can't stand to have anyone hear music that's this much fun!! If you see this, snap it up!

Various Artists "HOLY COW CHRISTMAS: TEXAS STYLE!" (Compendia, 2003)


An uneven yuletide set, drawing from various labels, large and small, with big name Nashvillers like Mark Chesnutt and Willie Nelson rubbing shoulders with several strata of indie types. The best-known alties are Jerry Jeff Walker and the Old 97s; Stephanie Urbina Jones delivers a nice "Silent Night" from the more commercial side of the street. But several tracks veer off into uncharted territory, with weird, jazz-tinged and decidedly un-country horn arrangements; these songs bring the disc to a grinding halt.
Various Artists "NO WRAPPING REQUIRED: A CHRISTMAS ALBUM" (Lyric Street, 2006)


Various Artists "NOW THAT'S WHAT I CALL A COUNTRY CHRISTMAS" (Legacy Recordings, 2009)



Various Artists "O CHRISTMAS TREE: A BLUEGRASS COLLECTION FOR THE HOLIDAYS" (Rounder, 2002)



A pretty sweet, pretty straightforward set of truegrass holiday tunes, with a few light dips into poppier material, Mostly, this is the real deal, with folks like The Cox Family, The Johnson Mountain Boys, James King, Lynn Morris and Rhonda Vincent pitching in... Newcomer Alecia Nugent's "Beautiful Star Of Bethlehem" is a real standout track... The nice thing about bluegrassers is that they really delve into the spiritual side of the holidays, moreso than Nashvillers, who treat it more like plain old showbiz, and too often leave the soulfulness out of the picture. Not here: there's just plenty of sincere songs of praise, cool picking and super-sweet harmony singing. Recommended!

Various Artists "PINECASTLE CHRISTMAS GATHERIN' " (Pinecastle, 2003)


A swell holiday offering by some of best, most hearfelt indie bluegrass artists of the Pinecastle label's stable. Michelle Nixon, Larry Stephenson, David Parmley, Charlie Waller and others are included, drawing on material off of several albums recorded between 1996-2003, with most of the material apparently recorded just for this album. The highlights are two zippy instrumentals, "Frosty The Snowman" as done by Scott Vestal and his pals, and a version of "O, Come All Ye Faithful," featuring Ross Nickerson with some sweet banjo licks. Nice stuff!

Various Artists "REDNECK CHRISTMAS" (Time-Life, 2006)


A great holiday collection, although the marketing of this set as a "redneck" album really is misleading... Actually, it's a rather classy set of country oldies, featuring folks such as Buck Owens, George Jones, Homer & Jethro and the Louvin Brothers, with more modern contributions from fellas like Dale Watson, Dwight Yoakam, John Anderson, Travis Tritt and the Tractors... The only moderately "redneck" tunes come from Charlie Daniels and Joe Diffie, but otherwise, this ain't as trashy as they might like you to think. Highlights include Red Simpson's jingly "Truckin' Trees For Christmas" and Asleep At The Wheel's "Xmas In Jail"; there's also the inevitable inclusion of Elmo & Patsy's "Grandma Got Run Over By A Reindeer..." But hey, if you've gotta have that song for the holidays, this is a mighty fine record for it to be on! Highly recommended.
Various Artists "SHIMMY DOWN THE CHIMNEY" (Capitol, 2004)


A not-too-commercial collection with Trace Adkins, Toby Keith, Jo Dee Messina, Dwight Yoakam, Dolly Parton, Tanya Tucker, Del McCoury and others... All the songs are drawn off of previously released records (on a variety of labels, I might add...) with the exception of one new recording, Alison Krauss singing the title track.

Various Artists "STILL BELIEVING IN CHRISTMAS" (Seasong, 2006)



A nice, heartfelt holiday set from Nashville's old guard. Artists such as Lynn Anderson, Lorrie Morgan, Porter Wagoner, T. G. Sheppard and David Frizzell haven't been near the charts for years now, but they still know their ways around a studio. Overall, this album is too tinkly and piano-y and syrupy for me, but for folks who like their Christmas music on the sweet side (and I know a lot of you do!) this will be a treat... Especially for devoted fans of any of these artists... Highpoints include Tanya Tucker with a peppy "Let It Snow," and Daryle Singletary's gruff version of "O Holy Night." Surprise appearances include Helen Cornelius (whose fans have had to wait a long time to hear her again...) and -- holy cow! -- Little Jimmy Dickens, reading "The Night Before Christmas," who's still around and kicking... and on the Opry, still little and loud. If you're a country fan from a generation or two back, you might get a kick out of this disc. Ho, ho, ho!
Various Artists "SWING CATS PRESENTS A ROCKABILLY CHRISTMAS" (Cleopatra, 2002)


Various Artists "TINSEL TUNES: MORE HOLIDAY TREATS FROM SUGAR HILL" (Sugar Hill, 2007)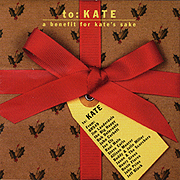 Various Artists "TO: KATE -- A BENEFIT FOR KATE'S SAKE" (Western Beat, 2005)


A mighty fine Christmas offering, with a humanitarian twist... Kate Kirk is a 3-year old Nashviller with a rare genetic disorder called Niemann-Pick Disease, Type A/B; her older sister Caroline also has the disease and doctors say it is too late to treat the 6-year old, but believe that a marrow transplant may help in Kate's case. Hence, this tribute album, which seeks to raise the money to pay for the operation. You may quibble about the person-by-person band-aid approach that a lack of a national health care plan has brought to so many lives (I have a friend here in the Bay Area that has a similar album out in his honor...), but it's hard to argue with the artistic successes of this disc... A lot of high-powered Americana luminaries pitch in on this one, including Joe Ely, John Prine, Buddy & Julie Miller, Jim Lauderdale, Raul Malo and Rosie Flores, and the tone of the album is surprisingly upbeat and life-affirming, considering the downbeat nature of the album's origin. Highlights include a duet between Steve Earle and Allison Moorer on his "Nothing But A Child," Jim Lauderdale's "Holly And Her Mistletoe" and a Guy Clark song covered by actor John Corbett, who has a promisingly gruff "old man" voice (and an album coming out soon...) This is a really nice record, with only a couple of songs that seem out of place (like a jarring rock song from Jason & The Scorchers... A welcome addition to the country Christmas canon, and a nice choice a holiday stocking stuffer. Recommended!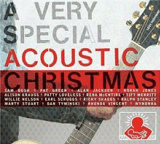 Various Artists "A VERY SPECIAL ACOUSTIC CHRISTMAS" (Lost Highway, 2003)


The hillbilly edition of the popular "Very Special" charity series, with proceeds going to help support the Special Olympics. Actually, it's a very strong record, particularly with the numerous bluegrass contributions. Alison Krauss gives a mysteriously pop-oriented performance ("Only You Can Bring Me Cheer"), but other than that, contributions by Sam Bush, Earl Scruggs, Patty Loveless, Rhonda Vincent and Dan Tyminsky are all quite welcome. Also includes previously released yuletide ditties by Reba McEntire, Wynonna Judd and Norah Jones, to keep the mainstreamies happy. Recommended!
---
Hillbilly Holidays - Letter "A"
---



Hick Music Index



---

<! cd=11/21/03> <! expanded to full alphabetical 12/30/06>