<! MP3 10/16/10 > <! update 00/00/00 > <! outside 00/00/00 > <! pix 00/00/00 > <! icons 10/16/10 >
---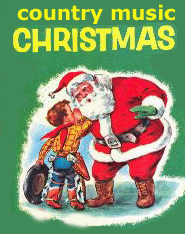 Ho, ho, ho!! Funny how the world is divided between people who just love Christmas music, and those who loathe it with an almost equal fervor. Me? I guess I fall somewhere in the middle... There are those countless songs that are simply great to sing along with, and yet Christmas music (and the rampant commercialism of the season) inexorably lends itself to the worst and cheesiest impulses among oh, so many artists...
This page covers the letter "H"
---
A | B | C | D | E | F | G | H | I | J | K | L | M | N | O | P | Q | R | S | T | U | V | W | X, Y & Z | Comps | Other Country Styles
---
Merle Haggard "A Christmas Present" (Capitol, 1973)


Merle Haggard "Goin' Home For Christmas" (Epic, 1982)



An outstanding holiday album, with Merle crooning over a tasteful bed of strings'n'pedal steel; he was admirably suited to the cornball spirit of the holidays, and really put his heart into each of these tracks... Most of the songs are Haggard originals, ranging from tearjerkers like "Grandma's Homemade Christmas Card" and "Daddy Won't Be Home Again For Christmas" (he's in prison...) to a sleighbell-bedecked remake of "If We Can Make It Through December" and the cheery "Santa Claus And Popcorn." Plus, his spins at older tunes like "Santa Claus Is Comin' To Town" and "Blue Christmas" are pretty rich and resonant -- Merle's version of "Rudolph, The Red-Nosed Reindeer" is a welcome addition to the hillbilly holiday repertoire. (The CD reissue also includes a bonus track from 1986, a jazzy acoustic version of "White Christmas..." It doesn't match the tone of the other tracks, but it's also kinda cool.)
Merle Haggard "Hag's Christmas" (Capitol, 2007)



A reissue of the 1973 Christmas Present holiday album listed above...


<! SAME AS 70s ALBUM? 1. Silver Bells 3:22 $0.99 Buy Track 2. Grandma's Homemade Christmas Card 1:52 $0.99 Buy Track 3. Jingle Bells 2:22 $0.99 Buy Track 4. Santa Claus And Popcorn 2:15 $0.99 Buy Track 5. White Christmas 2:30 $0.99 Buy Track 6. Bobby Wants A Puppy Dog For Christmas 2:13 $0.99 Buy Track 7. If We Make It Through December 2:43 $0.99 Buy Track 8. Winter Wonderland 2:31 $0.99 Buy Track 9. Daddy Won't Be Home Again For Christmas 3:05 $0.99 Buy Track 10. Silent Night >

Merle Haggard "I Wish I Was Santa Claus" (Smith Music Group, 2004)


Joni Harms "Christmas In The Country" (Harms Way, 1996)

Emmylou Harris "Light Of The Stable" (Warner Brothers, 1979)



Old-school Emmylou fans have never been fond of this album, coming as it did, plunk in the middle of her peak country-rock years with the Hot Band, when she was quite simply on fire. But as a staple album of the Americana Christmas crowd, this disc has definitely proved its durability. And listening back, it is indeed quite nice -- much sparser and traditionally-oriented than one might imagine, with Emmylou employing many of the same players that would grace her bluegrass-y Roses In The Snow album, as well as guest stars such as Dolly Parton, Linda Ronstadt and Willie Nelson pitching in on various tunes. Some songs, like "Golden Cradle," are a bit too sugary, while others -- particularly her versions of well-known standards such as "Silent Night" are simply incandescent. Worth checking out!
Haywire "Bluegrass Christmas" (Nature Quest 1998)


This band features ex-Byrd Gene Parsons, along with folk fiddler Joe Craven, wishing you a happy holiday...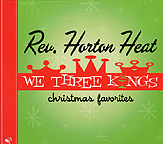 The Rev. Horton Heat "We Three Kings: Christmas Favorites" (Yep Roc, 2005)



The righteous, rowdy Rev and his trio are well-known for their barn-busting, rip-snorting wild live antics, which is one of the things that makes this Christmas album so surprising... While, yes, it is a solid rockabilly set, the song selection is pretty conservative, ranging from old standards such as "We Three Kings" "What Child Is This" and "Winter Wonderland" to beloved pop hits such as "Frosty The Snowman," "Jingle Bells" and "Santa Looked A Lot Like Daddy." Heat & Co. play these songs completely straight, and with a refreshing simplicity -- whereas many retrobilly/rawk acts tend to ham it up, these fellas really seem to have an earnest affection for the songs, and don't feel obliged to make ironic gestures or undercut their own sincerity. Yeah, they're playing it loud... but not too loud... and though some fans may wish they'd gotten rowdier, others may find this disc to be a new seasonal favorite.
Bobby Helms/Johnny Paycheck "A Little Darlin' Christmas" (Koch/Little Darlin', 2005)



A modestly talented singer who hit it big in the teenpop market with his 1957 holiday hit, "Jinglebell Rock," Bobby Helms soon coasted into near-obscurity, remembered only in oldies hell. This disc reissues a 1967 Christmas album that Helms cut years later, for the scrappy Little Darlin' label, and while it's clear his glory years were well behind him, there's actually something quite compelling about this holiday set, where the now-grizzled crooner sings with greater resonance and grit than he did when he was a kid. It includes one of several remakes of "Jinglebell Rock," as well as a number of yuletide standards -- "Silver Bells," "Jingle Bells," "Here Comes Santa Claus," etc. Dunno why, but I kinda liked it. This CD reissue also includes a couple of Christmas singles that labelmate Johnny Paycheck -- one of Little Darlin's premiere artists -- recorded around the same time. These songs are kinda randomly tacked on, though if you were inclined to like Helms' album, you'll be glad thePaycheck tunes are on there as well. Worth checking out, if you like Christmas tunes.
Bobby Helms "Jingle Bell Rock" (Certron, 1970)

Ty Herndon "Not So Silent Night" (Riviera, 2003)

Ty Herndon "A Ty Herndon Christmas" (Pyramid Media, 2007)


Faith Hill "Joy To The World" (Warner Brothers, 2008)


Donal Hinely "Midwinter Carols" (The Orchard, 2000)


Tish Hinojosa "Memorabilia Navidena" (Watermelon, 1990)

Tish Hinojosa "From Texas For A Christmas Night" (Texas Music Group, 2003)

Homer & Jethro "Cool Crazy Christmas" (RCA Victor, 1968) (LP)

Ferlin Husky "Christmas All Year Long" (Capitol, 1967)

---
Hillbilly Holidays - Letter "I"
---



Hick Music Index



---

<! cd=11/21/03> <! expanded to full alphabetical 12/30/06>