<! MP3 10/16/10 > <! update 00/00/00 > <! outside 00/00/00 > <! pix 00/00/00 > <! icons 10/16/10 >
---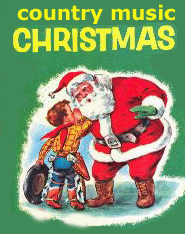 Ho, ho, ho!! Funny how the world is divided between people who just love Christmas music, and those who loathe it with an almost equal fervor. Me? I guess I fall somewhere in the middle... There are those countless songs that are simply great to sing along with, and yet Christmas music (and the rampant commercialism of the season) inexorably lends itself to the worst and cheesiest impulses among oh, so many artists...
This page covers the letter "O"
---
A | B | C | D | E | F | G | H | I | J | K | L | M | N | O | P | Q | R | S | T | U | V | W | X, Y & Z | Comps | Other Country Styles
---
The Oak Ridge Boys "Christmas" (MCA, 1982)

The Oak Ridge Boys "Christmas Again" (MCA, 1986)

Oak Ridge Boys "Country Christmas Eve" (Capitol, 1995)


The Boys sound a little long in the tooth, but this is about what you'd expect. A mix of barbershoppish Southern Gospel, retro-'50s rock and soft pop-country ballads, with a sleighbell here and there for good measure. No songs that really stand out, though... Most of the material is pretty strained.
The Oak Ridge Boys "Christmas Cookies" (Spring Hill, 2005)



Oak Ridge Boys "The Christmas Collection" (MCA, 2003)



A reissue of older material... They intro each song with the chorus to an older, traditional carol ("O Come All Ye Faithful," etc.) which then segues into a newer holiday tune. The group harmonies on the oldies are pretty nice; when they introduce the goofy new stuff, though, the album loses a little lustre... They have such great voices for the material... But the synthy, keyboard-heavy production is so darn cheesy! Well, whaddya expect from an album made in 1986? Pedal steel and fiddle? Hah! They add some new songs to the Christmas songbook, but mostly this new material is a bit strained, not nearly as catchy as it should be.
Mark O'Connor "An Appalachian Christmas" (Omac, 2011)


Lindi Ortega "Tennessee Christmas" (Last Gang, 2011)

A 4-song holiday EP from this alt.country up-and-comer... The standout track is an original weeper called "Christmas Carol," which has a Lucy Kaplanski-ish folkie feel.
Peter Ostroushko "Heartland Holiday: Live At The Fitzgerald" (Borderland, 2005)


Paul Overstreet "Christmas: My Favorite Time Of The Year" (Scarlet Moon, 2001)


A holiday set by Nashville songwriter Paul Overstreet, who had started his own Christian country label after years as a Top Forty artist...

Buck Owens "Christmas With Buck Owens" (Capitol, 1965)


Well, here's a Christmas album that'll knock your socks off... then hang 'em up on the mantle for Santa to fill with goodies, too! What can you say? Buck Owens in 1965 was about the funnest thing imaginable in all of country music, and his goofy, warm-hearted embrace of the corny side of Christmas makes for one swell record. Plus, his band, the Buckaroos, totally rocked. Buck and guitarist Don Rich swap licks on the instrumental numbers, and give all the other songs that special little bounce. And with tunes like "Santa's Gonna Come On A Stagecoach" and "It's Christmastime For Everyone But Me," this disc's a winner, from start to finish. Recommended!

Buck Owens "Christmas Shopping" (Capitol, 1968)


This is, obviously, kind of a toss-off album, and Buck's previous holiday offering, 1965's Christmas With Buck Owens, was a much stronger record... Still, no one does cornball material quite like Buck Owens, and he sings these snow-swept ditties with much more feeling that you'd imagine... And on the songs where he doesn't sing, like "The Jolly Christmas Polka," his band the Buckaroos really cut loose and have some fun. Besides, compared to the syrupy schmaltz they put out for the yuletide nowadays, this is a real breath of fresh air. Plus, "Good Old Fashioned Country Christmas" is a song that speaks volumes! If you like your hillbilly holidays to sound down-home and rootsy, this is an album you'll want to check out.
Buck Owens "Merry Hee-Haw Christmas" (Capitol, 1970) (LP)

Buck Owens & Susan Raye "Merry Christmas From Buck And Susan" (Capitol, 1971) (LP)

---
Hillbilly Holidays - Letter "P"
---



Hick Music Index



---

<! cd=11/21/03> <! expanded to full alphabetical 12/30/06>