<! MP3 10/16/10 > <! update 00/00/00 > <! outside 00/00/00 > <! pix 00/00/00 > <! icons 10/16/10 >
---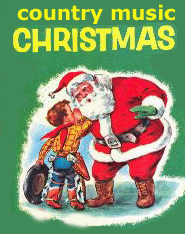 Ho, ho, ho!! Funny how the world is divided between people who just love Christmas music, and those who loathe it with an almost equal fervor. Me? I guess I fall somewhere in the middle... There are those countless songs that are simply great to sing along with, and yet Christmas music (and the rampant commercialism of the season) inexorably lends itself to the worst and cheesiest impulses among oh, so many artists...
This page covers the letter "D".
---
A | B | C | D | E | F | G | H | I | J | K | L | M | N | O | P | Q | R | S | T | U | V | W | X, Y & Z | Comps | Other Country Styles
---
Charlie Daniels Band "Christmas Time Down South" (Epic, 1990)

Charlie Daniels Band "Merry Christmas To All" (Audium, 2002)


Jimmie Davis "It's Christmas Time Again" (Decca, 1964) (LP)

Jimmie Davis "Going Home For Christmas" (Decca, 1967) (LP)

Linda Davis "Family Christmas" (Center Hill, 2003)


Nashville songwriter Linda Davis, best known for her 1993 duet with Reba McEntire, rings in the holidays along with her husband, Lang Scott and their daughter Hillary. A set of standards that fans should appreciate... (Available through her website, www.lindadavis.com)
Stephanie Davis "Home For The Holidays" (Recluse, 2003)



A holiday album with standards and original material, including a duet with Ray Price...
Jimmy Dean "Jimmy Dean's Christmas Card" (Columbia, 1965)

John Denver "Rocky Mountain Christmas" (RCA, 1975)


Fans will be thrilled to see this one back in print... with added bonus tracks, no less! This is a very conventional Christmas set, with Denver singing his heart out on numerous standards such as "Silver Bells," "Rudolph The Red-Nosed Reindeer" and "Away In A Manger," as well as a couple of country-specific offerings such as a cover of "Please Daddy, Don't Get Drunk For Christmas" and "Christmas For Cowboys," written by a member of Denver's backing band. Denver himself adds "Aspenglow" to the holiday canon, a flowery folk-pop offering typical of his albums of the time. He also delves deep into some older, fairly obscure English carols, including some that date back as far as the 1500s. If you're one of those folks who couldn't stand John Denver when he was riding high in the charts, this album will not win you over or change your opinion of his work... But if you're a fan, or just someone looking for a soft, elegant, super-mellow holiday set, this just might fill the bill.
John Denver & The Muppets "Christmas Together" (RCA Victor, 1979)


John Denver "Christmas Like A Lullaby" (Windstar, 1990)



This was pretty late in the game for old John Boy -- his voice had thickened with age, and may not be instantly recognizable, even to his devoted fans. The song arrangements are predictable florid, but I gotta say... His heart seems in the right place, and if I were really searching for this sort of softcore holiday pop, this album would be high on my list. They could have gone a little lighter on the tinkling wind chimes, though.
John Denver "Christmas In Concert" (RCA, 2001)


Diamond Rio "The Star Still Shines: A Diamond Rio Christmas" (Word, 2007)



Joe Diffie "Mr. Christmas" (Epic, 1995)


Jerry Douglas "Jerry Christmas" (E1 Entertainment, 2009)



(Produced by Jerry Douglas)
A nice, mellow, mostly-instrumental holiday album with a few unexpected quirks (is that Tom Waits growling the chorus on "Santa Claus Is Coming To Town"? No, apparently it's Douglas himself, but he sure has that Waits-Ribot vibe down to a "T") as well as Maura O'Connell intoning on a song called "New Year's Eve." Several of the instrumental tracks have a John Fahey-esque seasonal feel to them... All in all, a fairly reserved, pleasant album!
Dave Dudley "A Trucker's Christmas" (Cetera, 1982) (LP) <! ASIN is to German label >

Dave Dudley "Christmas Truck Stop" (Music Mill, 2000)

---
Hillbilly Holidays - Letter "E"
---



Hick Music Index



---

<! cd=11/21/03> <! expanded to full alphabetical 12/30/06>