<! MP3 10/17/10 > <! update 00/00/00 > <! outside 00/00/00 > <! pix 00/00/00 > <! icons 10/17/10 >
---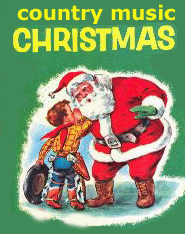 Ho, ho, ho!! Funny how the world is divided between people who just love Christmas music, and those who loathe it with an almost equal fervor. Me? I guess I fall somewhere in the middle... There are those countless songs that are simply great to sing along with, and yet Christmas music (and the rampant commercialism of the season) inexorably lends itself to the worst and cheesiest impulses among oh, so many artists...
This page covers the letter "W"
---
A | B | C | D | E | F | G | H | I | J | K | L | M | N | O | P | Q | R | S | T | U | V | W | X, Y & Z | Comps | Other Country Styles
---
Jimmy Wakely "The Jimmy Wakely Christmas Collection" (Varese Sarabande, 2000)


Tracks taken from two albums, 1958's Merry Christmas From Jimmy Wakely and An Old-Fashioned Christmas, from 1975.
Jimmy Wakely "It's Christmas" (SRI, 2006)

Katie LaRaye Waldren "Cold Frosty Morning" (Native Ground, 1993)


A folkie-trad album with Christmas carols and seasonal songs played on the hammered dulcimer...
Clay Walker "Christmas" (Warner Nashville, 2002)



(Produced by Jim Ed Norman)
Yikes. A truly scary holiday album -- a big, big production with tons of brass and horns, a retro-riffic vocal chorus, and Walker, sounding a bit adrift, a minor player in an oversized schmaltzfest. I mean, he sounds okay, but not particularly distinctive. Wouldn't be my first choice to trim the tree to...
Jerry Jeff Walker "Christmas Gonzo Style" (Ryko, 1994)



I can think of few folks I'd rather spend Christmas with than old Jerry Jeff... I mean, can you imagine? Well, heck, now you don't have to imagine it -- you can have the old coot tell you all about his holidays in the privacy of your own home... Or even on your own holidays, down in Mexico! Your choice, pardner! Either way, this is a pretty fun little album.
Steve Wariner "Christmas Memories" (MCA, 1990)


Steve Wariner "Guitar Christmas" (SelecTone, 2010)


Dale Watson "Christmas Time In Texas" (Audium, 2001)



This hard country hero throws himself into holiday classics like "Silver Bells" and "The Christmas Song" with the same true-believer gusto he's brought to honkytonk music the last few years. He's also written a slew of really great new originals, such as the slam-bang "Honky Tonk Christmas" and "Christmas Without An Angel"... The real diamond on this disc is "Santa In My Semi," wherein Dale gives Old Saint Nick a loaner when Rudolph throws an axle... They don't make songs like this anymore, but they really oughtta. A couple of tunes fall flat, but overall this is exactly what we need to spice up the holiday country song pool... Less string sections, more Dale Watson!
Kitty Wells "Christmas Day" (Decca, 1962) (LP)

Bryan White "Dreaming Of Christmas" (Asylum, 1999)



(Produced by Derek George, Kyle Lehning, Billy Joe Walker & Bryan White)
A short, 6-song holiday EP which has some surprisingly good performances from this slick Top Country dude. The opening track, "I'll Be Home For Christmas," actually sounds like a country song(!), complete with pedal steel and geetars... Then he gets all Vegas-y and cute... His whispery, Michael Jackson-esque vocals are pretty darn irritating, if the truth be told. Still, if you like corny pop-Christmas records, this might have somethin' for ya...

Slim Whitman "Christmas Album" (Imperial, 1969)

Slim Whitman "I'll Be Home For Christmas" (MCA, 1981)

Slim Whitman "Christmas With Slim Whitman" (Sony Special Products, 1995)

Paul Williams & The Victory Trio "The Real Christmas Story" (Rebel, 2002)

Robin & Linda Williams "The First Christmas Gift" (Red House, 2005)


Tony Williamson "Winter Wonderland" (Copper Creek, 1999)


An understated bluegrass mandolinist works his way through a bunch of Christmas classics... This is largely a solo mandolin album, with minimal backup. Very mellow and easy on the ears, ideal for having on in the background as you tree the tree and sip the nog...
Kelly Willis & Bruce Robison "Happy Holidays From..." (Boar's Nest, 2003)



A relaxed, just-for-friends 7-song Xmas EP, with Kelly crooning out a sexy "Santa Baby," Bruce clowning around on the country classic, "Please Daddy, Don't Get Drunk For Christmas" and the married couple having fun with a duet or two, including Frank Loesser's "Baby, It's Cold Outside." A mellow, just-for-fun set, which devoted fans can take as a personal holiday hello. Recommended!
Mac Wiseman "Number One Christmas" (Power Pak, 1994)


Lee Ann Womack "A Season For Romance" (MCA Nashville, 2002)



(Produced by Lee Ann Womack & Mark Wright)


Tammy Wynette "Christmas With Tammy Wynette" (Epic, 1970)



(Produced by Billy Sherrill)
A countrypolitan Christmas classic, with Tammy and longtime producer Billy Sherrill crafting a solid, relatively understated set in which Sherrill's patented string arrangements find a home for the holidays. Tammy's clearly into it, and sings with all her heart, working though a set of standards -- "Silent Night," "Away In A Manger," etc. -- before landing a couple of home runs with more recent material such as the ultra-bitter "One Happy Christmas" and the back-to-basics clarion call, "Let's Put The Christ Back Into Christmas." As stated elsewhere, Wynette's work with Sherrill doesn't make all country fans happy; but if you like it, this is a mighty fine example of their sound.
---
Hillbilly Holidays - Letters "X," "Y" & "Z"
---



Hick Music Index



---

<! cd=11/21/03> <! expanded to full alphabetical 12/30/06>