<! MP3 00/00/00 > <! update 00/00/00 > <! outside 00/00/00 > <! pix 00/00/00 > <! icons 10/15/10 >
---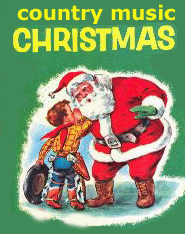 Ho, ho, ho!! Funny how the world is divided between people who just love Christmas music, and those who loathe it with an almost equal fervor. Me? I guess I fall somewhere in the middle... There are those countless songs that are simply great to sing along with, and yet Christmas music (and the rampant commercialism of the season) inexorably lends itself to the worst and cheesiest impulses among oh, so many artists...
This page covers the letter "P".
---
A | B | C | D | E | F | G | H | I | J | K | L | M | N | O | P | Q | R | S | T | U | V | W | X, Y & Z | Comps | Other Country Styles
---

Brad Paisley "A Brad Paisley Christmas" (Sony-BMG/Arista, 2006)



A lively, likable Christmastime offering... Even when Paisley's playing it corny and slow, there's plenty of twang, and a more rugged feel than most of the over-orchestrated holiday albums that are out there. Some nice upbeat material as well... You can feel his sincerity and sense of fun on many of these songs. Recommended!
Dolly Parton "Home For Christmas" (Columbia, 1990)



Definitely a cut or two above your average Xmas album... Dolly really pours herself into these tunes... She's a believer, and it shows. Plus, she's got a great set of pipes, and the arrangements are relatively restrained and tasteful. A pretty straightforward holiday set, with a nice mix of down-home and over-the-top, with a kiddie chorus or two thrown in for good measure. Ya can't beat Dolly when it comes to stuff like this!
Dolly Parton & Kenny Rogers "Once Upon A Christmas" (RCA, 1984)


Double yikes! It's Dolly and Kenny, back in the days when they were singing hit duets like "Islands In The Sun," spreading the yuletide joy on a CBS-TV special called "A Christmas To Remember," in which Kenny wears suspenders, Dolly puts on granny glasses, and presents are shared. The music is surprisingly strong up until the end of the album, where a pair of horrible, slushy, over-arranged pop numbers, but at the start of the album, there's some sleek pop-country with a thumping beat that's as good as any of their chart singles... Definitely worth checking out, although it is kind of a mixed bag.
Dirk Powell "A Fret Free Christmas" (Valcour, 2010)



A refreshingly new sound greets you at every turn on this holler-meets-holiday set of classic Christmas tunes adapted for solo banjo. The originality cuts both ways: this is a distinctive holiday record, on a par with John Fahey's guitar albums, as well as a remarkably inventive banjo album, with tonalities and melodies that shed a whole new light on the instrument itself. Appalachian traditions shine through in the plunky downbeats, while Powell explores entirely new territory on the fretless banjer, bending notes to match the harmonies of these old European tunes, producing zitherish and sitarlike tones that aren't what the word "banjo" typically brings to mind. A lovely Christmas record, one that I look forward to hearing for years!


<! CD ASIN correct?? >
Ray Price "Christmas Album" (Columbia, 1969)





<! loaded: 129x127 >

Ray Price "A Christmas Gift For You" (Step One, 1986)

Charly Pride "Christmas In My Hometown" (RCA Victor, 1970)


Charley Pride "Happy Christmas Day" (BMG Special Products, 1998)



Pride's first holiday album, originally released on LP as Christmas In My Hometown... (See above.)


<! Christmas In My Hometown; Deck The Halls; They Stood In Silent Prayer; Santa And The Kids; Silent Night; Little Drummer Boy; Happy Christmas Day; First Christmas Morn; Christmas And Love; O Holy Night >

John Prine "A John Prine Christmas" (Oh Boy, 1995)


---
Hillbilly Holidays - Letter "Q"
---



Hick Music Index



---

<! cd=11/21/03> <! expanded to full alphabetical 12/30/06>