<! MP3 10/15/10 > <! update 00/00/00 > <! outside 00/00/00 > <! pix 00/00/00 > <! icons 10/15/10 >
---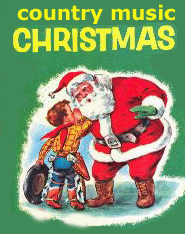 Ho, ho, ho!! Funny, isn't it, how the world is divided between people who just love Christmas music, and those who loathe it with an almost equal fervor. Me? I guess I fall somewhere in the middle... There are countless songs that are simply great to sing along with, and yet Christmas music (and the rampant commercialism of the season) inexorably lends itself to the worst and cheesiest impulses among oh, so many artists...
This page covers the letter "B".
---
A | B | C | D | E | F | G | H | I | J | K | L | M | N | O | P | Q | R | S | T | U | V | W | X, Y & Z | Comps | Other Country Styles
---
Kathie Baillie "A Baillie Family Christmas -- Come Celebrate The Season" (Aspiron, 2006)



A 5-song EP from 1980's Back Forty singer Kathie Bailey... Mostly standards, all heartfelt.
Moe Bandy "A Cowboy Christmas" (Intersound, 1996)

Bobby Bare "I Love An Old-Fashioned Christmas" (G&R, 1995)

Mandy Barnett "Winter Wonderland" (Crackerbarrel, 2010)



The Bellamy Brothers "A Tropical Christmas" (Intersound, 1996)


The Bellamy Brothers "The Reason For The Season" (Curb, 2002)



A little long in the tooth, but still pretty heartfelt and still masters of the cheesy production style that folks who like commercial Christmas music seem to love so much. Perhaps the most notable tracks are "God Bless America This Christmas This Year," written in the wake of the September 11th World Trade Center attacks, which asks listeners to send their prayers out to the troops in Afghanistan, and extols the virtues of American life. "We All Get Crazy At Christmas" is okay, and "Old Hippie Christmas" is also kinda cute, although they share the lethargic feel of the album as a whole. Not great, but not bad.
John Berry -- see artist profile
Clint Black "Looking For Christmas" (RCA, 1995)


Aw, what a bummer... Clint plays it corny on this glossy pop-orchestral outing. There are a few tunes -- "The Coolest Pair," " 'Til Santa's Gone," "Slow At Christmas" -- that show a little twang, but for the most part this is a sadly drippy, bombastic holiday album, packed with cheesy orchestral arrangements and ole Clint crooning away like a real cornball. If you're a diehard fan, or don't actually like country music that much, this might be an album you'll like... But otherwise, it just ain't that much fun. Skippable.
Clint Black "Christmas With You" (Equity, 2004)



Hmmm... well , maybe I'm getting soft in my old age, but here's a revised opinion of the album above (which has been reissued here, with two new tracks...) Although I'm not really that into the modern, ornate Nashville pop arrangements, I'd still say this is a superior country Christmas record. For one thing, it's not another set of cheesy standards -- Black wrote or cowrote all the songs on here, and anyone who adds some new songs to the Christmas canon gets extra points straight out the gate, as far as I'm concerned. Also, his heart really seems in it here: Clint sings with conviction and warmth, and his lyrics are generally about the more spiritual, human side of the holiday. For him, the season is about companionship, family and inner warmth, not fancy gifts and getting drunk. The songs are willfully sentimental and gooey, but Black has the sincerity to pull it off... If you're looking for a nice new holiday disc to trim the tree to, this one's a mighty fine option.

Suzy Bogguss "Have Yourself A Merry Little Christmas" (Compadre, 2003)



With a career spent skipping across the boundaries between commercial country and Americana, it's only natural that Suzy Bogguss would have a slightly different take on the whole country Christmas album thing. Adding a jazzy twist, she glides through a bunch of standards ("Sleigh Ride," "Winter Wonderland," "Rudolph," etc.) and a few new tunes that are off the beaten track, like "Two-Step 'Round The Christmas Tree" and "Mr. Santa" (a take-off on the old Chordettes hit, "Mr. Sandman"). Generally speaking, this somewhat sedate album isn't as twangy as some of her fans might have hoped, but -- as ever -- Bogguss has a lovely, lovely voice that helps place these recordings a notch above the rest. Worth checking out; I'd take this over an Amy Grant album anyday.
The Boxmasters "Christmas Cheer" (Saw Mill, 2008)


Terry Bradshaw "Sings Christmas Songs For The Whole World" (Dove, 1996)


At the height of his fame as quarterback of the 1970's Pittsburgh Steelers, football dude Terry Bradshaw also tried his hand at country music. His first album yielded a modest hit with a cover of an old Hank Williams song, but that success was never quite replicated on his later records, and he went back full-time to the gridiron. In the 1990s, Bradshaw returned to the studios to record this holiday record, and a gospel album for the same label...
Paul Brandt "A Paul Brandt Christmas: Shall I Play For You?" (Reprise, 1999)


Brooks & Dunn "It Won't Be Christmas Without You" (Arista, 2002)



Yeah, pretty much what ya'd expect. Some total corn, a couple of fun tunes, and several disasterous ones with a '50s-rock sheen. If you're into Xmas music, this has some nice moments, and by comparison to other contemporary Nashville holiday albums, it's positively rootsy and rollicking. Worth checking out, particularly if you're a fan of the band. Their version of "Hangin' Round The Mistletoe" is really enjoyable.
Garth Brooks "Beyond The Season" (Capitol, 1992)

Garth Brooks "The Magic Of Christmas" (Capitol, 1999)

Alison Brown Quartet "Evergreen" (Compass, 2008)



(Produced by The Alison Brown Quartet & Joe Craven)
A playful holiday offering from banjo picker Alison Brown, with fleet-footed accompaniment from fiddler Joe Craven and a few of their pals. Brown plucks out a few standards -- "Silver Bells," "Sleigh Ride" -- as well as some quirky choices such as Gene Autry's "Two Santas" and "Christmas Time Is Here," from the TV adaptation of Dr. Seuss's "How The Grinch Stole Christmas," as well as a couple of Vince Guaraldi's Peanuts-related yuletide gems. Some nice, joyful, inventive performances -- perfect to have in the background as you prepare that big, yummy holiday dinner!
Jimmy Buffett "Christmas Island" (MCA, 1996)


The Burns Sisters "Tradition" (Rounder-Philo, 1996)



Sugary-sweet harmonies and gentle acoustic accompaniment by the bluegrass-ish Burns Sisters, Annie, Jeannie and Marie, who sing an interesting mix of religious material, ranging from Christmas songs they wrote themselves (and well-chosen traditional tunes) to Jewish melodies and even an adaptation of a poem by Sufi Muslim mystic, Rumi. Rob Ickes adds some nice sweet dobro licks, and fiddler Glen Duncan adds a 'grassy touch here and there as well. Musically, it's too drippy for me, but folks in search of something a little different and perhaps more reflective for the holidays will find this a rather rich and rewarding album.
---
Hillbilly Holidays - Letter "C"
---



Hick Music Index



---

<! cd=11/21/03> <! expanded to full alphabetical 12/30/06>