<! MP3 10/16/10 > <! update 00/00/00 > <! outside 00/00/00 > <! pix 00/00/00 > <! icons 10/16/10 >
---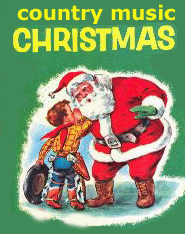 Ho, ho, ho!! Funny how the world is divided between people who just love Christmas music, and those who loathe it with an almost equal fervor. Me? I guess I fall somewhere in the middle... There are those countless songs that are simply great to sing along with, and yet Christmas music (and the rampant commercialism of the season) inexorably lends itself to the worst and cheesiest impulses among oh, so many artists...
This page covers the letter "N"
---
A | B | C | D | E | F | G | H | I | J | K | L | M | N | O | P | Q | R | S | T | U | V | W | X, Y & Z | Comps | Other Country Styles
---

Willie Nelson "Pretty Paper" (Columbia, 1979)



(Produced by Booker T. Jones)
A laid-back set of Christmas songs, produced by Booker T, and largely replicating the stylistic restraint (and commercial success) of the Stardust album. If you like holiday music, this is a Willie Nelson classic!
Willie Nelson & Bobbie Nelson "Hill Country Christmas" (Finer Arts, 1997)


A mellow, traditionally oriented holiday outing, featuring Willie and his sister Bobbie, who adds a nice, understated (almost jubilee-revival gospel style) piano accompaniment on several tunes. The goofiest moment comes with Willie "dueting" with Gene Autry, basically just singing over an old radio show airshot of "Here Comes Santa Claus." Willie adds to the Christmas canon with a song called "El Nino," which bookends the album, in vocal and instrumental versions, and does a distinctive acoustic rendition of "Pretty Paper," which is a nice contrast to his slicker version he recorded years before. If you like Willie, and holiday records, this is one worth tracking down.
Willie Nelson "The Best Of Willie Nelson: The Christmas Collection" (Columbia, 1979)






<! also: B00467B2H8 MP3 collection on "X5" label >

Juice Newton "The Gift Of Christmas" (2007)


Joe Nichols "A Traditional Christmas" (Universal South, 2004)



No new songs -- these are all oldies and classics like "Let It Snow," "Silent Night" and "I'll Be Home For Christmas" -- but it's a darn fine performance. Nichols is at his Merle Haggard-y best, and the arrangements are pretty down to earth. If you want a country Christmas record that actually sounds country, give this one a spin. It's pretty good.

The Nitty Gritty Dirt Band "The Christmas Album" (MCA/Rising Tide, 1997)



Mojo Nixon & The Toadliquors "Horny Holidays" (Triple XXX, 1992)



The late Mojo Nixon, San Francisco's former king of low-rent, drunken nightclub agitprop sleaze, trots through a loose, sloppy, mildly raunchy set of roots-rock and bluesy holiday tunes. He doesn't go as far with songs like "Mr. Grinch" as you might like... But it's nice to see someone officially record that clever "Jingle Bells, Batman smells" ditty we all sang in fifth grade...A lot of this album is kind of underwhelming -- it's not as nasty as advertised -- but you young folks out there who feel the need to break a few rules and do stuff like make fun of Christmas (shame on you!) might find this disc kind of fun.
---
Hillbilly Holidays - Letter "O"
---



Hick Music Index



---

<! cd=11/21/03> <! expanded to full alphabetical 12/30/06>