<! MP3 10/16/10 > <! update 00/00/00 > <! outside 00/00/00 > <! pix 00/00/00 > <! icons 10/16/10 >
---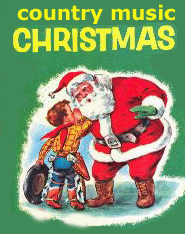 Ho, ho, ho!! Funny how the world is divided between people who just love Christmas music, and those who loathe it with an almost equal fervor. Me? I guess I fall somewhere in the middle... There are those countless songs that are simply great to sing along with, and yet Christmas music (and the rampant commercialism of the season) inexorably lends itself to the worst and cheesiest impulses among oh, so many artists...
This page covers the letter "M"
---
A | B | C | D | E | F | G | H | I | J | K | L | M | N | O | P | Q | R | S | T | U | V | W | X, Y & Z | Comps | Other Country Styles
---
Raul Malo "Marshmallow World & Other Holiday Favorites" (New Door, 2007)


Barbara Mandrell "Christmas At Our House" (MCA, 1984)



(Produced by Tom Collins)

Kathy Mattea "Good News" (Mercury Nashville, 1993)


Kathy Mattea "Joy For Christmas Day" (Narada, 2003)


Martina McBride "White Christmas" (RCA Nashville, 1998)



These lush pop-orchestral songs don't sound very "country" a-tall, but Martina sure sounds swell, at least for that sort of glossy, cornball holiday offering... One of the better albums of its kind...
Martina McBride "White Christmas" (RCA, 2007)



McBride's 1998 Christmas album, with four new bonus tracks. Well, six bonus tracks, actually, if you consider that it originally came out as a ten-song album in '98, and the following year they added two tracks to bring it up to twelve. Ho-ho-ho! Mer-r-r-ry Christmas!
Charlie McCoy "Christmas" (Monument, 1974)

Charlie McCoy "Christmas With Charlie" (Monument, 1974) (<! LP = B000YAKD44 (same editions?) >

This has the same set list as the edition listed above...


<! Jingle Bells, White Christmas, Christmas Time Is Coming, Blue Christmas, Christmas Cheer, The Christmas Song, Silent Night, Angels We Have Heard on High, Away In A Manger, Oh Holy Night, The First Noel. Total time 34:19 >
Scotty McCreary "Christmas With Scotty McCreery" (Mercury Nashville, 2012)



(Produced by Mark Bright)
The deep-voiced Mr. McCreery also plays it safe with a set of Chritsmastime standards; the nice thing here, though, is that he also keeps it country. There's twang in his voice and a healthy bit of bluesy country as well... If you enjoyed Joe Nichols' or Alan Jackson's holiday albums, you'll probably dig this one too. Recommended!
Richie McDonald "If Every Day Could Be Christmas" (Loremoma, 2007)



(Produced by Frank Myers, Gary Baker & Richie McDonald)
While Top Forty's Lonestar has a new holiday album out, so does their former lead singer, Richie McDonald, who dropped out of the band just a couple of months ago... It's a pretty pop-oriented, tinkly-piano kinda album, thogh McDonald is in fine voice. The set includes a few golden oldies, such as "White Christmas" and Mel Torme's "The Christmas Song," but it's mostly packed with material written by McDonald and cohorts such as Frank Myers, Karen Kingsbury and Gary Baker. Some of the songs are new, although the title track was originally recorded by Lonestar on their This Christmas Time album, back in 2000. The newer tunes include the jovial-if-corny "Why Santa's Fat," "Christmas Lights" and "Miracles Happen," which closes the album on a sincere, if saccharine note.

Reba McEntire "Merry Christmas To You" (MCA, 1987)



A decent commercial country album, with plenty of standards -- "O Holy Night," "The Christmas Song," etc. -- and a few new tunes. Her spoken intro to "Silent Night," in which she explains the historical origins of the song, is a nice little history lesson, and also lets her Dolly-ish Southern lilt come out. It's corny material, for sure, but for the territory, this ain't bad.

Reba McEntire "The Christmas Collection" (MCA, 2003)



Another nice, heartfelt album that Reba fans will love... This collection has a bunch of songs not included on the Merry Christmas To You> album listed above... Worth checking out!
Kate & Anna McGarrigle/Various Artists "The McGarrigle Christmas Hour" (Nonesuch, 2005)


Jo Dee Messina "A Joyful Noise" (Curb, 2002)



A bright, glossy, strings'n'sleighbells commercial set, but at least she keeps things a little bit country, moreso than, say, Clint Black or Martina McBride on their pop-vocals Santa outings. Messina sings all the same old Christmas standards, but she really seems to throw herself into it, with a smile and a bounce in her voice that's pretty darn cheerful. Just as well that she doesn't try to add new material to the Christmas canon, since the the title track and the one other new song, "Keep The Faith," both at the end of the album, are simply dreadful... and don't seem to have a holiday-specific message. Other than that, though, this is a good album, for the style.

Ronnie Milsap "Christmas With Ronnie Milsap" (RCA, 1986)

John Micheal Montgomery "Mr. Snowman" (Warner Nashville, 2003)



The country content lies almost entirely in Montgomery's rumbling voice, enveloped in thumping, piano-heavy, big band-ish arrangements and swooping pop-vocals strings'n'horns. But he is well-suited to the style, with a smoky, relaxed delivery and a comfortably delivery that lets him stretch out and melt into the lyrics. If you like corny poppish holiday albums, this one's pretty good. The original songs on this album include "December, 1943," about a soldier's holiday on the European front line... It's sappy and pleasantly compelling.
Monroe Crossing "The Happy Holidays" (Monroe Crossing, 2005)



A holiday offering from a lively, independent Midwestern bluegrass band...
Lorrie Morgan "Merry Christmas From London" (BMG, 1993)


Recorded with the New World Philharmonic...
The Mountain Band "A Beverly Hillbillies Bluegrass Christmas" (CD & DVD) (2007)


A disc of bluegrass versions of holiday standards, along with a DVD containing two holiday episodes of the old Beverly Hillbillies TV show...
Michael Martin Murphey "Cowboy Songs II: Cowboy Christmas" (Warner, 1991)



These seasonal albums by one-time cosmic cowboy Michael Murphey are a bit sappy and thin, but if you like, say, those old John Denver holiday albums, these have a similar simplicity. Nice guitar accompaniment.
Michael Martin Murphey "Cowboy Christmas II: Acoustic Christmas Carols" (West Fest, 1999)


Michael Martin Murphey "Cowboy Christmas III" (Wildfire, 2002)

---
Hillbilly Holidays - Letter "N"
---



Hick Music Index



---

<! cd=11/21/03> <! expanded to full alphabetical 12/30/06>