<! MP3 10/16/10 > <! update 00/00/00 > <! outside 00/00/00 > <! pix 10/16/10 > <! icons 00/00/00 >
---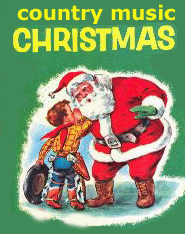 Ho, ho, ho!! Funny how the world is divided between people who just love Christmas music, and those who loathe it with an almost equal fervor. Me? I guess I fall somewhere in the middle... There are those countless songs that are simply great to sing along with, and yet Christmas music (and the rampant commercialism of the season) inexorably lends itself to the worst and cheesiest impulses among oh, so many artists...
This page covers the letter "F".
---
A | B | C | D | E | F | G | H | I | J | K | L | M | N | O | P | Q | R | S | T | U | V | W | X, Y & Z | Comps | Other Country Styles
---
Narvel Felts "Season's Greetings" (Ram Records, 2003)

Fiesta Texas "A Lonestar Christmas" (1994?)


I'm not sure what the deal is with this one... I seems like it might be related to the Six Flags Fiesta Texas amusement park's annual holiday celebrations... But I dunno for sure. Anyone out there got any more solid info?
Bobby Flores & Dick Overbey "Christmas In Ol' San Antone" (Yellow Rose, 2004)


Rosie Flores "Christmasville" (Emergent/Thirty Tigers, 2005)

Tennessee Ernie Ford "The Star Carol" (Capitol, 1958)


Tennessee Ernie Ford & The Roger Wagner Chorale "The Story Of Christmas" (Capitol, 1963) (LP)

Tennessee Ernie Ford "Sing We Now Of Christmas" (Capitol, 1964) (LP)

Tennessee Ernie Ford "O, Come All Ye Faithful" (Capitol, 1968) (LP)


The Forester Sisters "A Christmas Card" (Warner Brothers, 1992)



(Produced by Jim Ed Norman)
Not bad... Their sweet family harmonies are bent towards a not-completely-predictable set of holiday tunes; most, like "White Christmas" and "Carol Of The Bells" are kind of the same-old same-old, more sugary, string-drenched, too-perfect Christmas tunes. Other tracks are quite lovely: the album's opener, Vaughn Horton's "An Old Christmas Card," is off the beaten track and the delivery is heartfelt; their version of "Silent Night" starts out really nice, as well. I mean, with a Jim Ed Norman album you sort of know what you're getting into, but this isn't as over-the-top and saccharine as his projects often are. It's not my kinda country, but if you're into holiday records, this is a pretty good choice.


<! 144 x 144 >

---
Hillbilly Holidays - Letter "G"
---



Hick Music Index



---

<! cd=11/21/03> <! expanded to full alphabetical 12/30/06>