<! MP3 10/15/10 > <! update 00/00/00 > <! outside 00/00/00 > <! pix 00/00/00 > <! icons 10/15/10 >
---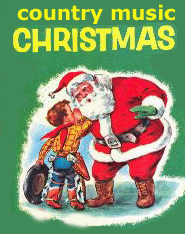 Ho, ho, ho!! Funny how the world is divided between people who just love Christmas music, and those who loathe it with an almost equal fervor. Me? I guess I fall somewhere in the middle... There are those countless songs that are simply great to sing along with, and yet Christmas music (and the rampant commercialism of the season) inexorably lends itself to the worst and cheesiest impulses among oh, so many artists...
This page covers the letter "C"
---
A | B | C | D | E | F | G | H | I | J | K | L | M | N | O | P | Q | R | S | T | U | V | W | X, Y & Z | Comps | Other Country Styles
---
Glen Campbell "That Christmas Feeling" (Capitol, 1968)

Glen Campbell "Christmas With Glen Campbell" (Capitol, 1971) (LP)


With the Hollywood Pops Orchestra...
Glen Campbell "Merry Christmas" (Capitol, 1991)

Glen Campbell "Home For The Holidays" (New Haven, 1994)

Glen Campbell "Christmas With Glen Campbell" (Delta, 1995)


All standards, some with kinda jazzy, swinging arrangements... Not bad for this brand of commercial holiday records, and Glen is in fairly fine fettle as well. A fan would not be disappointed.
Paulette Carlson "Christmas Is For You" (Music Mill, 1995)


A holiday offering from the former lead singer of Highway 101... Features two originals by Carlson, "Christmas Is For You" and "Mrs. Santa Claus," along with a slew of standards...
George Canyon "Home For Christmas" (Universal South, 2005)



Nice, robust readings of various Christmas standards. Not that different than a raft of other country holiday records by folks like Clint Black, et al, although Canyon's lounge-y blues-jazz reading of "Blue Christmas is distinctive. The arrangements are generally rootsier than many similar albums, and his voice is pretty husky and manly... Worth checking out.
Mary Chapin Carpenter "Come Darkness, Come Light: Twelve Songs Of Christmas" (Rounder-Zoe, 2008)


Deana Carter "Father Christmas" (Rounder, 2001)



A remarkably understated acoustic Christmas album... Usually when Top 40 country stars do a holiday record, they tend to blast away at the songs -- I guess it's a chance for them to wail away on a different type of material? -- but Carter prefers to croon, and the results are low-key and kind of nice. Backing her up on acoustic guitar is her father, '50s session picker, Fred Carter... as an interesting family-oriented bonus, the disc also includes an interview she conducted (as a little kid) about his old days in Nashville. Worth checking out, if you're in a holiday mood.
Carter's Chord "Christmas EP" (Universal-Show Dog, 2010)

Wilf Carter "Christmas In Canada" (RCA Camden, 1965) (LP)

Johnny Cash "Classic Christmas" (Columbia, 1980)



You may be surprised if you're expecting a Cash-a-licous country album like his earlier holiday offerings -- this album sticks to a lush, sweeping orchestral sound that may be a turn-off to fans of his more rugged material. But hey, how upset can you get about it? It's a Christmas album, after all!
Johnny Cash "Country Christmas" (Delta-Laserlight, 1992)


I guess many Cash fans find this a less than stellar album, but I kind of appreciate it for its rough-hewn cheesiness -- the tinkly keyboards, the old-fashioned, churchy arrangements, the tacked-on angelic choirs, and for the fragility and impassioned qualities of Johnny's voice, as well as the craggy, haphazard (yet compellingly sincere) vocal contributions of June Carter Cash and the remnants of the Carter Family. Perhaps the most notable moments are Johnny's recitation on the life of Jesus, "There Was A Man," and the super-kooky Carter Family version of "Figgy Pudding," which features (I believe) Mother Maybelle getting all wiggy, er, figgy... and shouting belligerently for her pudding to be brought out, as the rest of the family sing their little hearts out. A weird, uneven holiday album, but heartfelt and kinda charming.
Johnny Cash "Personal Christmas Collection" (Columbia Legacy, 1994)



This is pretty much the same material as on the 2003 album listed below. One track is different -- the new edition features a rehearsal version of "Christmas As I Knew It"; this disc has the studio version.
Johnny Cash "Christmas With Johnny Cash" (Sony Legacy, 2003)


A collection of a dozen Cash Christmas oldies, gathered from over a couple of decades. The stuff off his 1980 Classic Christmas album is every bit as ludicrous and appalling as folks have said: the shrill vocal chorus and cluttered "classical" arrangements are a real mismatch for Johnny's voice, and tend to drown him out. But some of the older material (which dates back to the early '60s) is pretty sweet and shows Cash at his most charismatic and committed. The disc ends with a previously unreleased live recitation tune, "Christmas As I Knew It," which is pretty nice, despite the low fidelity (and even some telephones ringing in the background during one verse!). A nice holiday offering, though the '80s stuff will probably get on your nerves.
Johnny Cash/Various Artists "The Johnny Cash Christmas Special: 1976" (Shout Factory/CMHF Archive Series, 2007)


By the mid-1970s, Johnny Cash was a veteran TV performer, and new how to keep a show humming. This seasonal special recalls the roasts and variety shows that were so popular at the time, packed with guests, gags and corny, prepackaged humor... But there's also the obvious sincerity that Johnny and June Carter Cash brought to their holiday cheer... Filmed in their spacious ranch home, the show is conceived of as a big Christmas party, with their friends coming over for dinner and for a round-robin "guitar pull," where each guest taking a turn pickin', singing or telling a story. The performers include Hee Haw star Roy Clark and pop crooner Tony Orlando, who harmonize with Cash on a long medley of Stephen Foster classics, as well as Johnny's brother Tommy, superpicker Merle Travis (who picks a mean version of "The Cannonball Rag") and Johnny's pastor, Billy Graham, who tells a grim little Christmas parable about a rough-and-tumble mining camp that gets civilized through Jesus, but only after all kinds of violent, bloody behavior. The biggest surprise, though, comes from countrypolitan queen Barbara Mandrell, then at the height of her fame, who Cash remembers as a little girl who played steel guitar when he first met her... And sure enough, she sits down at the pedal steel and plays an impressive version of "Steel Guitar Rag." Who knew?? Although the pacing of the show is clunky, it was in keeping with the standards of live TV at the time, and it's a marvelous time capsule in many ways (especially the fashion: dig those cowboy duds on Tony Orlando!) Cash fans will definitely want to check this one out... students of the 'Seventies as well!
Johnny Cash/Various Artists "The Johnny Cash Christmas Special: 1977" (Shout Factory/CMHF Archive Series, 2007)


The following year, Cash had a much glitzier, punchier production, trading his funky ranch home vibe for a big, shiny soundstage, decked out with a gigantic golden holly wreath and twenty-foot tall panels of frosted-glass snowflakes. This show, which broadcast on November 30, 1977, was also a tighter show, mainly featuring the seasoned cast of Cash's long-running road show: June Carter Cash, the reconstituted Carter Family, Carl Perkins and the ever-jovial Statler Brothers, and another appearance by Roy Clark, who helped anchor the previous year's Christmas show. Although there's plenty of holiday music and seasonal cheer, there's also a wealth of secular music -- Johnny and June sing a duet of "Darling Companion," and the second half of the show is devoted to a tribute to Elvis Presley, who had passed away a few months earlier. Along with Carl Perkins, Cash hosts other buddies from his Sun Records rockabilly years -- Roy Orbison is in fine form on "Oh, Pretty Woman," while Jerry Lee Lewis tears it up on a modernized "Whole Lotta Shakin' Going On," then slows things down for a sentimental reading of "White Christmas." Surprisingly, the Carter Family is kept mostly in the background -- Mother Maybelle wasn't in the show at all -- while Anita and the sisters only sang as part of a larger chorus. All in all, this is a lively, well-paced TV show, with a very sincere religious emotional core, sure to be a delight for Cash fans and country Christmas enthusiasts everywhere. Recommended!
Kenny Chesney "All I Want For Christmas Is A Real Good Tan" (BNA, 2003)



A hefty chunk of this album doesn't seem all that "country" - the Jimmy Buffet-ish title track, for example -- but overall it ain't bad. When he puts on his thickest backwoods voice, Chesney sounds almost like a crooning Dale Watson (high praise in my book!) Plus, a duet with Willie Nelson on Willie's "Pretty Paper" ain't nothin' to sneeze at... For a modern Nashville holiday album, this is pretty nice.
The Christmas Jug Band "Mistletoe Jam" (Relix/Globe Records)



A hippie old-timers roots music holiday album, with Dan Hicks sitting in on the proceedings. Hicks and a slew of his Bay Area buddies slide and elide through a warm, fuzzy set of goofy roots-music holiday tunes. Includes clever remakes of old jazz standards ("I'm Gonna Sit Right Down And Write Myself A Christmas Card," a "Gee, Rudolph (Ain't I Good To You)" that would make Ellington proud; a boozy, good-natured whirl at "Santa Claus Is Coming To Town...) There are also a bunch of much-welcome originals, such as "Somebody Stole My Santa Suit" and "X-Mas Shopping Blues," all delivered with a blend of blues, jazz, country and even a bit of zydeco and Celtic music thrown in for good measure. Kooky, original and fun!
The Christmas Jug Band "Rhythm On The Roof" (Globe, 1997)


The Christmas Jug Band "Treeside Hoot" (Globe, 1999)


The Christmas Jug Band "Uncorked" (Globe, 2002)



A great, groovy, well-produced and really good-natured set of original roots-blues holiday tunes... The album kicks off with the off-color "Santa Lost A Ho" and zips through a series of similarly silly, likeable novelty tunes. The players are cherry-picked from the ranks of overly-talented Bay Area musicians -- mostly fellows whose names you wouldn't recognize, though roots divas Maria Muldaur and Angela Strehli drop in for a duet on "Boogie Woogie Santa Claus" and Norton Buffalo resurfaces for "I Want A Hippopotamus For Christmas" (don't play this song for your kids: they'll only get ideas!) This is a really fun album... If you want a little break from the saccharine blechiness that passes for yuletide cheer, then this is a disc that may make your holidays fun again...! (PS - they're also really fun live: here's a link to their performance schedule.)
Roy Clark "Christmas Memories" (Finer Arts, 2000)

(David John &) The Comstock Cowboys "Christmas In The Sierra" (Aztec Records, 1999)






<! - from Virginia City, Nevada - kinda cheesy, iffy vocals >

Stompin' Tom Connors "Merry Christmas Everybody" (Dominion, 1970)





<! apparently there are different versions of this album, with re-recorded versions of some tracks, etc. >
John Cowan "Comfort And Joy" (Koch, 2009)



A fun, funky acoustic Christmas set from John Cowan of New Grass Revival, singing in a variety of styles. The more straight-up hymnal-type holiday tunes don't do much for me, but the more free-wheeling newgrass novelty songs are fun. Give 'er a spin!

Floyd Cramer "We Wish You A Merry Christmas" (RCA Victor, 1967)


Reissued in 1989 on the Step One label.
---
Hillbilly Holidays - Letter "D"
---



Hick Music Index



---

<! cd=11/21/03> <! expanded to full alphabetical 12/30/06>