<! MP3 10/16/10 > <! update 00/00/00 > <! outside 00/00/00 > <! pix 00/00/00 > <! icons 10/16/10 >
---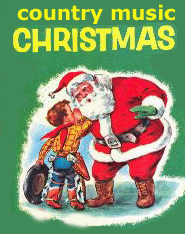 Ho, ho, ho!! Funny how the world is divided between people who just love Christmas music, and those who loathe it with an almost equal fervor. Me? I guess I fall somewhere in the middle... There are those countless songs that are simply great to sing along with, and yet Christmas music (and the rampant commercialism of the season) inexorably lends itself to the worst and cheesiest impulses among oh, so many artists...
This page covers the letter "L"
---
A | B | C | D | E | F | G | H | I | J | K | L | M | N | O | P | Q | R | S | T | U | V | W | X, Y & Z | Comps | Other Country Styles
---
Lady Antebellum "On This Winter's Night" (Capitol, 2012)

(Produced by Paul Worley)
Christmas standards from the Lady Antebellum trio. They take a pretty strictly pop approach, with just a tiny trace of twang. Not much, though... I doubt it will matter to fans, though, particularly those in a holiday kind of mood. This sounds kinda like a lost Michael McDonald/Stevie Nicks album from the early '80s; make of that what you will.
Cristy Lane "Christmas And The Man From Galilee" (Liberty, 1983)

Cristy Lane "Christmas With Christy" (Liberty, 1982)

Cristy Lane "White Christmas" (Arrival, 1987)

Cristy Lane "Golden Hymns Of Christmas, v1" (Arrival)

Cristy Lane "Thirty Christmas Classics" (Chordant, 2003)

Last Train Home "Holiday Limited" (Adult Swim, 2003)

Tracy Lawrence "All Wrapped Up In Christmas" (Rocky Comfort, 2007)


Brenda Lee "Merry Christmas" (Decca, 1964)

Brenda Lee "Rockin' Around The Christmas Tree: The Decca Christmas Recordings" (MCA, 1999)



A swell collection of the ever-perky Brenda Lee's various holiday recordings in the 1950s and '60s. Of course, she had a huge hit in 1958 with "Rockin' Around The Christmas Tree," which practically made it mandatory she would have to record Christmas singles on a yearly basis... She actually recorded several Santa songs even earlier, in 1956, when her voice was even younger sounding and more childlike. One of these, "I'm Gonna Lasso Santa Claus," has more of a country feel than her later, heavily orchestrated, pop-oriented recordings. But if you like Brenda Lee (and how could you not?), this is a nice collection of some of her goofiest material.
Brenda Lee "The Best Of Brenda Lee: Christmas Collection" (Universal, 1999)



This disc is pretty much a straight reissue of the Rockin' Around collection reviewed above... the same eighteen songs, in the same order. The difference? This version is in stereo; the other one has better album art. Either way... what a great record!
Johnny Lee "Santa Claus Is Lookin' For Love" (Title Tunes, 2005)

Laurie Lewis & Tom Rozum "Winter's Grace" (Dog Boy/Signature Sounds, 1999)



A nice, understated acoustic holiday set, which -- appropriately enough -- drifts into sorts goopy, Berkeleyesque folkie territory. ("The Earth Moves In Mysterious Ways," for example...) Nina Gerber, Todd Phillips, Mike Marshall and other Bay Area folk scene stalwarts pitch in on this refreshingly original set... The instrumental numbers are really nice, and overall this has a pleasantly heartfelt vibe. Worth checking out, especially if you want a little break from Bing and Sting during the holiday season...
Sherwin Linton "Christmas Memories" (Breaker Records, 1987)


Includes the song "Santa Got A DWI."

Lonestar "This Christmas Time" (BNA, 2000)



It's a line dancin' Christmas! Actually, though, this ain't that bad... It's got big, bright, lively production, and while there's not a shred of subtlety to be heard anywhere on the album, at least it's got a spark of life to it that is sorely lacking in many other Nashville country albums. They get a ittle too high-tech and harmony vocals-ed out for my taste, but I imagine that for fans of the band, this would be a must-have album.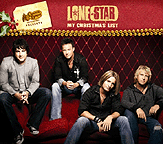 Lonestar "My Christmas List" (Cracker Barrel, 2007)
The fellas in Lonestar go through their Christmas catalog for a mix seasonal tunes, both old and new... If you didn't get their This Christmas Time album a few years back, this disc will give you a fine dose of harmony-led holiday vocals. Lead Singer Richie McDonald has moved on -- being replaced by Cody Collins -- but he has a new Christmas record out as well. (Exclusively available on the road or at Cracker Barrel.com)


<! 08/10: still no ASIN >

The Louvin Brothers "Christmas With The Louvin Brothers" (Capitol, 1961) (LP)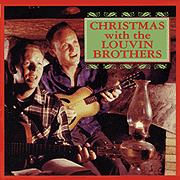 The Louvin Brothers "Christmas With The Louvin Brothers" (Razor & Tie, 1997)



Corny and heartfelt... how could you not love this stuff? Charlie and Ira Louvin were two of country music's greatest gospel singers, and this is one of their more heartfelt religious albums. They also recorded plenty of great secular heartsongs, but records like this had a special nostalgic resonance. Great reissue of their original album, with a couple of extra goodies thrown in for good measure. Recommended!!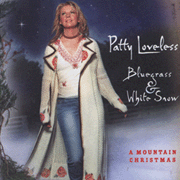 Patty Loveless "Blue Grass And White Snow: A Mountain Christmas" (Sony, 2002)



It should come as no surprise that, as country Christmas records go, this disc by Patty Loveless is totally tops! Produced on the heels of her bluegrassy back-to-basics album, Mountain Soul, this is musically solid and pleasantly restrained, with simple, no muss, no fuss acoustic arrangements and heartfelt, sincere vocals. This doesn't sound like someone going through the motions and making a holiday record in order to cash in -- it sounds like someone who wanted to make a holiday record because they love the season, and they really wanted to have some fun, spreading a little holiday cheer. She mostly tackles standards -- "Silver Bells," "Silent Night," "Away In A Manger" -- and does it without making these old chestnuts sound drab or bombastic: it's down-to-earth and joyful, and just my kind of hillbilly holiday album! Recommended, and right at the top of the list.
Nick Lowe "Quality Street: A Seasonal Selection For All The Family" (Yep Roc, 2013)

Holiday greetings from one of the savviest pop-twang musicians in the world. Some standards, as well as some truly groovy new Christmas songs. Thanks, Nick!
Loretta Lynn "A Country Christmas" (Decca, 1966) (LP)

Loretta Lynn "Christmas Without Daddy" (Decca/MCA, 1966)


An almost-straight reissue of the 1966 A Country Chistmas album... A mighty fine, pleasantly understated set of Christmas standards and a few new yuletide ballads. Loretta does this stuff up right. Sadly, though, the CD reissue omits several of the best songs, notably "To Heck With Ole Santa Claus," which, along with "Country Christmas," was the real heart of this album when it first came back, way back when. Still, this is a nice set, well worth checking out if you want some really down-home cheer.
Loretta Lynn "The Christmas Collection" (MCA Nashville/Universal Chronicles, 2005)



She's long been the gold standard of hillbilly pop authenticity, and Loretta Lynn's 1966 Country Christmas album, a perrennial favorite reissued here in its entirety, is one mighty fine yuletide offering... Loretta sings country classics like "Blue Christmas," "Christmas Without Daddy" and ""To Heck With Old Santa Claus," alongside pop standards such as "Silver Bells," "White Christmas" and "Frosty The Snowman." Although the whole album is good -- and I mean really good -- surprisingly enough it's on the non-hick tunes where she really shines -- even thhough she keeps her twang intact, you really get a good sense of just how strong a singer she really is. Lynn also penned several of these songs, including the album's opener, "Country Christmas," a bouncy tune that is definitely an album highlight. Great country music with just the right kind of Christmas cheer -- not too syrupy while completely sincere. Recommended!
Shelby Lynne "Merry Christmas" (Everso, 2010)


---
Hillbilly Holidays - Letter "M"
---



Hick Music Index



---

<! cd=11/21/03> <! expanded to full alphabetical 12/30/06>