<! MP3 10/16/10 > <! update 00/00/00 > <! outside 00/00/00 > <! pix 00/00/00 > <! icons 10/16/10 >
---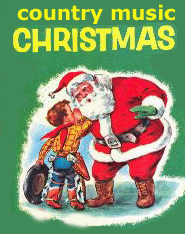 Ho, ho, ho!! Funny how the world is divided between people who just love Christmas music, and those who loathe it with an almost equal fervor. Me? I guess I fall somewhere in the middle... There are those countless songs that are simply great to sing along with, and yet Christmas music (and the rampant commercialism of the season) inexorably lends itself to the worst and cheesiest impulses among oh, so many artists...
This page covers the letter "J"
---
A | B | C | D | E | F | G | H | I | J | K | L | M | N | O | P | Q | R | S | T | U | V | W | X, Y & Z | Comps | Other Country Styles
---
Alan Jackson "Honky Tonk Christmas" (Arista, 1993)



Hey, if only all holiday albums cound be this much fun! Sure, there are several schmaltzy tracks, but that just goes with the territory... Good natured romps like "I Only Want You For Christmas" and "Honky Tonk Christmas" more than make up for it... And Jackson's voice is at its peak here, smooth crooning with a big-ole smile that comes out in every note. Plus a song sung with the Chipmunks and a cover of Merle Haggard's "If We Make It Through December..." What more couldja want? Recommended!
Alan Jackson "Let It Be Christmas" (Arista, 2002)


In contrast to his spiffy '93 xmas fest, this disc's a bit stuffy and showbizzy, Vegas-style. Packed with holiday standards ("Silent Night," "Winter Wonderland," etc...) and puffed up with big, cornball production, this is much more mainstream and far less fun than his previous hillbilly holiday offering. If you're into super-commercial Christmas albums, then this is good stuff, but for those of looking for something that goes a little further and offers something new to glug our eggnog to, there's other stuff that's better.
Wanda Jackson & The Continentals "Merry Christmas, Baby" (Vampirette, 2010)

Sonny James "My Christmas Dream" (Capitol, 1966) (LP)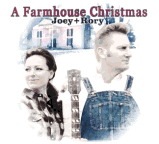 Joey + Rory "A Farmhouse Christmas" (Sugar Hill/Vanguard, 2011)



(Produced by Gary Paczosa & Carl Jackson)
Since they are perhaps the most satisfyingly rootsy, traditionally-oriented, down-home Top 40 country act since Dolly Parton first hit the scene, you figure Joey + Rory are likely to make one helluva fun holiday album. And you'd be right. This one's a winner, with a couple of oldies and a bunch of great new Christmas songs that'll add a lot to the holiday repertoire. Highlights include their version of "If We Make It Through December" (with composer Merle Haggard on guest vocals), and novelty songs like the mildly-naughty "What The Hell (It's The Holidays)" and "Let It Snow (Somewhere Else)" (which I enjoyed a lot, despite it being one of those modern Nashville let's-vacation-in-the-tropics songs, a genre that always makes me feel a bit left out, since I can't afford to vacation in the tropics...) Also noteworthy is a new song by Garth Brooks, "I Know What Santa's Getting For Christmas," a jaunty pop number in the same spirit as "I Saw Mommy Kissing Santa Claus." If you like hillbilly holiday music or are just a big, old Joey + Rory fan, you're gonna love this album!
David John & The Comstock Cowboys "Christmas In The Sierra" (Aztec Records, 1999)






<! - from Virginia City, Nevada - kinda cheesy, iffy vocals >

The Jordanaires "Christmas -- To Elvis, From The Jordanaires" (Classic Christmas, 1978) (LP & MP3)


The Judds "Christmas Time With The Judds" (Curb, 1999)



I guess I gotta say, I don't really like Ma Judd's voice (or Wynonna's) all that much, but even so, this is a fairly good commercial country album. Paradoxically, it's one of their most low-key, relaxed, emotionally resonant records. (Also check out my Judds discography.)
---
Hillbilly Holidays - Letter "K"
---



Hick Music Index



---

<! cd=11/21/03> <! expanded to full alphabetical 12/30/06>