<! cd 09/25/10 > <! MP3 09/25/10 > <! update 09/25/10 > <! outside 09/25/10 - WP > <! pix 00/00/00 > <! 208-pix: 00/00/00 > <! icons 03/25/11 >
---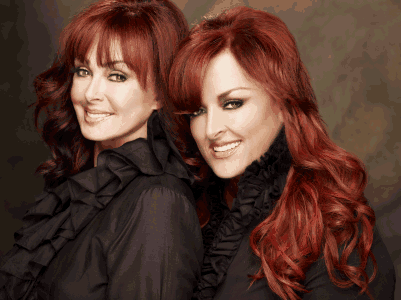 The mother-daughter duo of Naomi and Wynonna Judd had a nice soft sound, well suited to the synthy days of early '80s Young Country. Indeed, they were among the biggest stars of the era, and one of the biggest touring artists as well (including several 'last" tours and reunions...) When the family act really did break up, Wynonna set out on a successful solo career; her sister Ashley Judd is also a successful Hollywood film actor.
---
Discography
---
The Judds (Naomi, Christina (Wynonna) Judd, Pete Charles) "The Early Sessions: San Francisco, 1978 " (Ridin' High Records, 1997)



The first real studio recordings of future Top 40 stars (mama) Naomi and (daughter) Wynonna Judd, heard here in a 4-song set that shows their twangier side, their early country roots. A lot sure changed over the years...!

The Judds "Why Not Me" (Curb, 1984)



(Produced by Brent Maher)
Their first record was a pop-country home run, setting the template for the rest of their career. The hits on this album -- "Mama, He's Crazy," "A Girl's Night Out" and "Why Not Me" -- are certainly the standouts, although the remaining album tracks are a bit on the limp side... If the singles didn't have that slight, insistent backbeat, it's easy to imagine these gals having missed the boat altogether, one of countless Music City wannabees... As it was, they had a rags-to-riches Cinderella story that the media and their fans gobbled up like popsicles on a hot summer day... Here's where it all begins.

The Judds "Rockin' With The Rhythm Of The Rain" (Curb, 1985)



(Produced by Brent Maher)
This is quite possibly their best album... the opening track, "Have Mercy," is a fine uptempo pop number, while Jamie O'Hara's "Grandpa (Tell Me 'Bout The Good Old Days)" is a brilliantly written song with a nice, captivating melody. An okay cover of the old Lee Dorsey R&B hit, "Workin' In A Coal Mine" follows, then things get slower, with the remainder of the record feeling rather lax and formless. One nice exception is "I Wish She Wouldn't Treat You That Way," written by Kevin Welch, which has a great novelty twist and a decent, lively arrangement. Capitalizing nicely on the success of their first album, the Judds gathered together some of the best songwriters mid-'80s Nashville had to offer, and showed significant growth in the studio as well.

The Judds "Heartland" (Curb, 1987)



(Produced by Brent Maher)
I give 'em extra points for covering the Ella Mae Morse big band/vocals oldie, "Cow Cow Boogie" (even if they drain all the life out of the song...), and their version of "Don't Be Cruel" is another adequate Nashville stab at a nostalgia tune. But mostly, this is a super-sleepy, kinda bland '80s pop-country album. Sure, they've got their harmonies down pat, but their delivery is just way too slick and sedate. Didn't do much for me.
The Judds "Christmas Time With The Judds" (Curb, 1987)


I guess I gotta say, I don't really like Ma Judd's voice (or Wynonna's) all that much, but even so, this is a fairly good commercial country album. Paradoxically, it's one of their most low-key, relaxed, emotionally resonant records. (Also check out my Hillbilly Holiday section.)

The Judds "River Of Time" (Curb, 1989)



(Produced by Brent Maher)
The good stuff on here is pretty good, as far as super-commercial country stuff goes. The downside includes iffy but not too irritating Dixie-tinged blues crooning ("Not My Baby") and a few stuffy, lofty-minded power ballads... But overall, this disc is okay, particularly on bouncy Sun-styled numbers like "Let Me Tell You About Love." Worth checking out.

The Judds "Love Can Build A Bridge" (Curb, 1990)



(Produced by Brent Maher & Don Potter)
Well, they went out with a bang, that's for sure. This blues and 'Fifties-rock tinged uptempo album opens with a bit of torch singing, and only dips lightly into sheer schmaltz. Their geriatric hot-mama, grinding blues vocals are still a little embarassing, but the production on here is better than on earlier albums -- it's kept pretty simple and doesn't have that rickety, threadbare sound that other Curb albums (theirs in particular) often have. Plus, they recorded a version of "John Deere Tractor," previously recorded by bluegrasser Larry Sparks, so some humble songwriter out there got a nice, hefty royalty check. As these kinda things go, this disc ain't bad.
The Judds "Live Studio Sessions" (Curb, 1994)


Outtakes and such...
The Judds "In Concert" (Curb, 1995)

The Judds "Spiritual Reflections" (Curb, 1996)



A gospel set that includes the hit "Grandpa (Tell Me Bout The Good Old Days)".
The Judds "Reunion Live: December 31, 1999 - Phoenix Arizona" (Curb, 2000)


The Judds "I Will Stand By You: The Essential Collection" (Curb, 2011)



(Produced by Brent Maher & Don Potter)
On tour again -- again -- Naomi and Wynonna Judd offer fans a revamped best-of set with a dozen old hits and two new tunes. The uptempo, anthemic "I Will Stand By You" is a forceful, assertive number, while "Back Home" (featuring sweet, Emmylou-ish harmonies from Alison Krauss) is a gentler, more contemplative tune. Co-written by Bruce Robison and Darrell Scott, it mixes religion and romance, with a delicate, mandolin-and-piano melody that somehow evokes some of Johnny Cash's spiritual numbers. These are nice additions to the Judds canon, and if you don't already have a greatest hits package of theirs, this would be a fine way to fill the gap.
---
Best-Ofs
---
The Judds "Greatest Hits" (Curb, 1988)


The Judds "Greatest Hits Volume Two" (Curb, 1991)


The Judds "The Judds Collection 1983-1990" (Curb, 1992)





<! NOT ADDED 09/10: The Judds "The Collectors Series" (Curb, 1990) B000008H5U The Judds "Talk About Love" (Curb, 1993) B000008H5V The Judds "This Country's Rockin' " (Curb, 1993) B000008H5Y The Judds "Reflections" (Curb, 1994) B000008N36 The Judds "Number One Hits" (Curb, 1994) B00004ST2K B0011W7KY0 The Judds "The Essential Judds" (Curb, 1995) B000008S69 The Judds "Greatest Hits: Limited Edition" (Curb, 2008) B001CK1D1W >

---
Links
---
---



Hick Music Index



---

Top photo used by permission, courtesy of Webster PR