<! MP3 10/16/10 > <! update 00/00/00 > <! outside 00/00/00 > <! pix 00/00/00 > <! icons 10/16/10 >
---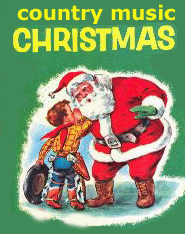 Ho, ho, ho!! Funny how the world is divided between people who just love Christmas music, and those who loathe it with an almost equal fervor. Me? I guess I fall somewhere in the middle... There are those countless songs that are simply great to sing along with, and yet Christmas music (and the rampant commercialism of the season) inexorably lends itself to the worst and cheesiest impulses among oh, so many artists...
This page covers the letter "E".
---
A | B | C | D | E | F | G | H | I | J | K | L | M | N | O | P | Q | R | S | T | U | V | W | X, Y & Z | Comps | Other Country Styles
---

Elmo & Patsy "Grandma Got Run Over By A Reindeer" (Epic, 1989)


Okay, so they didn't actually have huge success on the Country charts, but who of us who were alive in the 'Eighties hasn't heard "Grandma Got Run Over" a time or two before? Apparently, the 1983 single was a different version than the one on this album... This is one weird Christmas record; Jack Morgan and Misty Morgan would be proud.
Ralph Emery & Shotgun Red "Christmas With Ralph & Red" (RCA, 1991)


Radio DJ and television host Ralph Emery was one of the most influential figures in the 1960s and '70s country landscape, building careers and boosting artists as a key cog in the Nashville machinery. He recorded a few singles himself, though only one, 1961's "Hello Fool," (an answer song to "Hello Walls") generated any real chart action. This holiday record features Emery along with his television "co-host," the puppet known as Shotgun Red, in a series of Christmas duets... perhaps more of a keepsake album than a fireside singalong. The Shotgun Red puppet was later featured on a revival of the Hee Haw TV show... But you can hear him here in his full glory with his buddy Ralph... A romance for the ages.
Buddy Emmons "Christmas Sounds Of The Steel Guitar" (Step One, 1987)


Pedal steel whiz Buddy Emmons rings in the holidays with a luxurious set of sweet standards on steel...

Bill Engvall "Here's Your Christmas Album" (Warner Brothers, 1999)



One of the kings of good-ole boy comedy returns with a lively set of countrified holiday tunes, new tunes like "I'm Getting Sued By Santa Claus" and "Rudolph Got A DUI" (what with that whole red, glowing nose thing...) Maybe not as funny as his standup material, but still a nice set of original Christmas material. And he can really sing...! Who knew?? Lotsa guest stars, too...
Sara Evans "I'll Be Home For Christmas" (RCA, 2009)


A 4-song EP...


<! "New Again" - duet with Brad Paisley >
The Everly Brothers "Christmas With The Everly Brothers & The Boys Town Choir" (Warner Brothers, 1962)

Skip Ewing "Following Yonder Star" (MCA, 1990)


---
Hillbilly Holidays - Letter "F"
---



Hick Music Index



---

<! cd=11/21/03> <! expanded to full alphabetical 12/30/06>