<! MP3 10/16/10 > <! update 00/00/00 > <! outside 00/00/00 > <! pix 00/00/00 > <! icons 10/16/10 >
---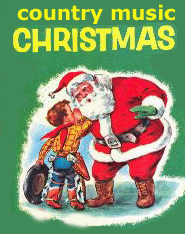 Ho, ho, ho!! Funny how the world is divided between people who just love Christmas music, and those who loathe it with an almost equal fervor. Me? I guess I fall somewhere in the middle... There are those countless songs that are simply great to sing along with, and yet Christmas music (and the rampant commercialism of the season) inexorably lends itself to the worst and cheesiest impulses among oh, so many artists...
This page covers the letter "G"
---
A | B | C | D | E | F | G | H | I | J | K | L | M | N | O | P | Q | R | S | T | U | V | W | X, Y & Z | Comps | Other Country Styles
---
Larry Gatlin & The Gatlin Brothers "A Gatlin Family Christmas" (Columbia, 1982)

Larry Gatlin & The Gatlin Brothers "Christmas" (Capitol, 1990)

The Gatlin Brothers "Christmas With The Gatlin Brothers" (Brentwood, 1999)


The Gatlin Brothers "A Christmas Celebration" (Intersound, 2003)

Crystal Gayle "Crystal Christmas" (Warner Brothers, 1986)

The Geezinslaws "Lighten Up, It's Christmas" (Step One, 2005)



A 2-song EP...
Vince Gill "Let There Be Peace On Earth" (MCA, 1993)


Vince Gill "Breath Of Heaven: A Christmas Collection" (MCA, 1998)

Mickey Gilley "Christmas At Gilley's" (Epic, 1981)


Billy Gilman "Classic Christmas" (Sony, 2000)



Yeesh. Yeesh. Yeesh. And anyway, whatever happened to Billy Gilman...? Did his voice change or something? Anyway, the kid was all of twelve years old when this album came out, and for a child star, his phrasing and vocal control are impressive (I guess...) but honestly, he's just too young to put much sincere emotion into any of these songs -- it's just a well-produced, glitzy "Star Search"-ish pop outing, too cutesy by half. And not very "country," either... Sounds more like like Harry Connick, Jr. than Hank Williams.
Amy Grant "The Christmas Collection" (MCA Universal, 2003)


Bleahh. She takes herself sooooooooo seriously, and she's such a drip! You'd be better off picking up something by the Carpenters.
Lorne Greene "Christmas On The Ponderosa" (RCA Victor, 1963) (LP)

Lorne Greene "Have A Happy Holiday" (RCA Victor, 1965) (LP)

Lee Greenwood "Christmas To Christmas" (MCA, 1985)


Lee Greenwood "Have Yourself A Merry Little Christmas" (Free Falls, 2001)


Clinton Gregory "For Christmas" (Step One, 1993)


David Grisman "Acoustic Christmas" (Rounder, 1983)



This holiday offering by bluegrass mandolin king David Grisman sure has some mighty fine picking on it... He starts of all kind of Elizabethan and lute-y, then gets all jazzy-noodly and Grismanesque... It's okay, but I think I'd like it better if he stuck closer to the melodies and went less far out on the flights of fancy.
---
Hillbilly Holidays - Letter "H"
---



Hick Music Index



---

<! cd=11/21/03> <! expanded to full alphabetical 12/30/06>