<! MP3 10/16/10 > <! update 00/00/00 > <! outside 00/00/00 > <! pix 00/00/00 > <! icons 10/16/10 >
---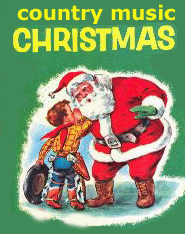 Ho, ho, ho!! Funny how the world is divided between people who just love Christmas music, and those who loathe it with an almost equal fervor. Me? I guess I fall somewhere in the middle... There are those countless songs that are simply great to sing along with, and yet Christmas music (and the rampant commercialism of the season) inexorably lends itself to the worst and cheesiest impulses among oh, so many artists...
This page covers the letter "R"
---
A | B | C | D | E | F | G | H | I | J | K | L | M | N | O | P | Q | R | S | T | U | V | W | X, Y & Z | Comps | Other Country Styles
---
Rascal Flatts "Unwrapped" (Lyric Street, 2009) (EP)


Collin Raye "The Gift" (Epic, 1996)


Collin Raye "A Family Christmas" (StarPointe/Aspirion, 2008)


Susan Raye & Buck Owens "Merry Christmas From..." (Capitol, 1971) (LP)

Leon Redbone "Christmas Island" (Rounder, 1987)


Del Reeves "Santa's Boy" (United Artists, 1966) (LP)

Jim Reeves "Twelve Songs Of Christmas" (RCA Victor, 1963)

Reno & Smiley "The True Meaning Of Christmas" (King Records, 1963) (LP)





<! B001E7MMKE B004G2J9JG - CD & MP3 reissue >
Kimmie Rhodes "Miracles On Christmas Day" (Sunbird, 2010)


Ricochet "My Christmas List" (Mi Reocrds, 2009)


Riders In The Sky "Christmas The Cowboy Way" (Rounder, 1999)



A for-kids holiday album, cowboy'n'western acoustic tunes with a bit of western swing fiddling in the mix. Probably too cutesy for most of y'all, but for the right lil' buckaroo, this disc might be kinda fun.

LeAnn Rimes "What A Wonderful World" (Curb, 2004)



(Produced by Peter Amato & Gregg Pagani)
Well, she hasn't really been a "country" singer for a long time now, so the pop vocals/big band feel on LeAnn's holiday album shouldnŐt come as too much of a surprise to anyone. Copping a few tricks from Harry Connick, Jr. and Norah Jones, Rimes croons her way through a set of oldies and a few new tunes... Many have a wham-bam Doc Severinsen-like brassiness, courtesy of bandleader Ray Herrmann, which frankly is preferable to the slower numbers, on which she indulges in a bit of soul-inflected vocalese. It's a very slick, competent affair -- I couldn't wait to get it out of my stereo, but fans of Rimes and this brand of mainstream holiday music will definitely not be disappointed.
LeAnn Rimes "One Christmas -- Chapter One" (2014)

Marty Robbins "Christmas With Marty Robbins" (Columbia, 1967)


A smooth, croony Christmas carol, with some soft country touches and a bit of Spanish guitar... Nice mix of seasonal standards ("Hark! The Herald Angels Sing," "O Little Town Of Bethlehem," etc.) and original material like "Christmas Is For Kids" and "One Of You In Every Size." There may be a little too much tinkling harpsicord action, but other than that, this is a pretty nice holiday offering. Marty Robbins fans will be overjoyed, and folks who just like to share the Santa spirit should like it, too. Worth checking out!
Marty Robbins "Christmas Remembered" (Sony, 1986)


The Roches "We Three Kings" (MCA, 1990/Rykodisc, 1994)



NYC art-folkies Maggie & Terri & Suzzy Roche apply their unique sense of harmony to a bunch of old hymns and carols... Although musically tweaky, the sentiment seems pretty sincere, and this disc packs a subtle little wallop... Worth checking out.
Kenny Rogers "Christmas" (Liberty, 1981)

Kenny Rogers & Dolly Parton "Once Upon A Christmas" (RCA, 1984)


Double yikes! It's Dolly and Kenny, back in the days when they were singing hit duets like "Islands In The Sun," spreading the yuletide joy on a CBS-TV special called "A Christmas To Remember," in which Kenny wears suspenders, Dolly puts on granny glasses, and presents are shared. The music is surprisingly strong up until the end of the album, where a pair of horrible, slushy, over-arranged pop numbers, but at the start of the album, there's some sleek pop-country with a thumping beat that's as good as any of their chart singles... Definitely worth checking out, although it is kind of a mixed bag.
Kenny Rogers "Christmas In America" (Warner Brothers, 1989)


Kenny Rogers "The Gift" (Magnatone, 1996)


Kenny Rogers "Christmas From The Heart" (Dreamcatcher, 1998)


Linda Ronstadt "A Merry Little Christmas" (Asylum, 2000)


Wayne Rostad "Christmas In The Valley" (Universal-Canada, 2007)

Leon Russell "Hymns Of Christmas" (Leon Russell Records, 1995)


---
Hillbilly Holidays - Letter "S"
---



Hick Music Index



---

<! cd=11/21/03> <! expanded to full alphabetical 12/30/06>