<! cd = 05/16/10 > <! MP3 05/16/10 > <! outside 00/00/00 > <! pix 00/00/00 > <! 208-pix: 00/00/00 > <! icons 03/27/11 > <! UPDATES: 02/03/13 - some LP ASIN adds >
---
A versatile, appealing singer, Susan Raye hailed from Eugene, Oregon, where she had built up a solid career as a regional performer during the late 1960s... She was plucked out of her local scene by country superstar Buck Owens when he was touring the Pacific Northwest, and became his duets partner and protege of the early 'Seventies, and was a regular on the Hee Haw TV show. She consistently charted in the Top 20 for several years, generally projecting a softer, lowkey countrypolitan image, yet she also worked well as an able foil for Owens's goofier upbeat material. While she could legitimately be characterized as a "girl" singer and a lesser light of the times, Raye had an underlying rural sensibility, a true "countryness" that seeps through even the more ornate material and that makes her work appealing even today. She was also able to put her own individual stamp on Owens's material, despite his decisively dominant influence on her career.
---
Discography - Best-Ofs
---

Susan Raye "16 Greatest Hits" (Varese Sarabande, 1999)


Highly recommended. This collection is a good representation of her solo work, understandably focussing on the hits, although at times to the exclusion of some fine material that never made the charts. Unfortunately this doesn't also include any of the Owens-Raye duets, which were a big part of her success story, and none of the staright reissues of Buck's work seems to reissue any of that material either. Anyway, this is good stuff from the mellow early 'Seventies... It probably won't knock your socks off, but if you're checkin' the country gals out, you'll want to make sure you pick this collection up along the way.

Susan Raye & Buck Owens "The Very Best Of..." (Varese Sarabande, 2011)


A nice collection, particularly for fans of the early-1970s heyday of perky countrypolitan/sunshine country -- this set includes tracks from three albums released by Owens and Raye between 1970-73, and includes a half-dozen Top Forty hits, including their biggest charting single, "The Great White Horse," which peaked at #8 in 1970. Wholesome and earnest, Susan Raye was a protegee of Owens, and scored several hits on her own (heard on another Varese collection that's also worth checking out...) She didn't have the same hillbilly ooomph as Owens, but she held her own, and these duets, particularly the uptempo numbers, have some fun moments. There's an interesting mix of new songs and country oldies such as the old Browns hit, "Looking Back To See" and a remake of the Mickey Baker pop/R&B song "Love Is Strange." Most of the songs are Buck Owens originals, and they have a classic feel -- "Cryin' Time," "Together Again," "I Don't Care" -- with songs like this, how can you go wrong? Like many Varese releases, this disc fills a gap for country fans looking to hear long-neglected chart hits and album tracks that have languished in the vaults; it's another reissue that fans will want to snap up.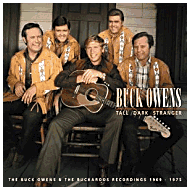 Buck Owens "Tall Dark Stranger -- The Buck Owens & The Buckaroos Recordings: 1969-1975" (Bear Family, 2012)


This 8-CD mega-box, charting Buck's forays into countrypolitan soft-country, might be a little bit much for Susan Raye fans (there's a lot of stuff on here where she is not featured...) Still, if you are a real Susan Raye fan, this includes all their duets, in great sound quality and with lots of archival info as well. They might do a mega-box for her too, one day, but in the meantime this does fill a gap for folks who want more than the single-disc CD listed above...


<! 190 x 190 >

---
Discography - Albums
---
Susan Raye & Buck Owens "We're Gonna Get Together" (Capitol, 1970) (LP)

Susan Raye & Buck Owens "The Great White Horse" (Capitol, 1970) (LP)


Susan Raye "One Night Stand" (Capitol, 1970) (LP)



(Produced by Ken Nelson)
Raye's first solo album featured a predictable preponderance of material written by Buck Owens... It's interesting to hear him try and write for another artist; the Owens charm doesn't always come through and there are moments both awkward and engaging. Some of the fast songs are fun, others sound clunky, ditto with the slower material. Owens seems to have some trouble translating his pop music savvy into another person's voice, and the countrypolitanesque material seems particularly flat. (Raye herself strays off-key a time or two, struggling to sing over the ornate arrangements...) Then again, it's nice to hear a real backbeat, particularly a little bit of the old Texas shuffle, in any mainstream country record that came out around this time. (And her cover of "Put A Little Love In Your Heart" is kind of fun...) In commercial terms, this disc was kind of a warmup act, with a couple of moderate hits... Raye's career would really get cooking right after this...

Susan Raye & Buck Owens "Merry Christmas From..." (Capitol, 1971)


Susan Raye "Willy Jones" (Capitol, 1971)

Susan Raye "Pitty, Pitty, Patter" (Capitol, 1971)

Susan Raye "I've Got A Happy Heart" (Capitol, 1972)

Susan Raye "My Heart Has A Mind Of Its Own" (Capitol, 1972)

Susan Raye "Wheel Of Fortune" (Capitol, 1972)

Susan Raye & Buck Owens "The Good Old Days (Are Back Again)" (Capitol, 1973) (LP)

Susan Raye "Love Sure Feels Good In My Heart" (Capitol, 1973)

Susan Raye "Cheating Game" (Capitol, 1973)

Susan Raye "Plastic Trains, Paper Planes" (Capitol, 1973) (LP)


(Produced by Buck Owens)
Another smooth, formulaic set, with precise arrangements, sweet but prissy vocals and not a lot of spark or excitement, if truth be told. Still, there's the stripped-down elements of the Buck Owens sound, a small band with straightforward arrangements, some tasteful pedal steel and little of the swooping, string-laden orchestrations heard elsewhere at the time. Still, she sounds pretty constrained by the role of "girl singer," and the performances, hers included are too classy by half. All but two of the songs are credited to Buck Owens, including the super-perky, super-generic sunshine country of "Love Makes The World Go Round," and bland remakes of good songs such as "Before You Go." There are also two songs by Bob Morris, who played bass on a lot of Owens sessions and doubtless was on this album as well.
Susan Raye "Hymns By Susan Raye" (Capitol, 1973)

Susan Raye "Singing Susan Raye" (Capitol, 1974)

Susan Raye "Honey Toast And Sunshine" (Capitol, 1976)

Susan Raye "Susan Raye" (United Artists, 1977) (LP)


(Produced by George Richey)
Finally making a break with Capitol, Rayegoes for more of an uptempo, Donna Fargo-esque pop-country sound with zippy string arrangements and an actual backbeat. But, yeesh -- it's still so tacky! Very much of its times (though, actually maybe a couple of years behind?) That being said, there are some interesting changes in repertoire away from her usual milky ballads and Buck Owens toss-offs, with the addition of several cheating songs, such as "Reachin' Out To Her And Leanin' On Me," where she takes a Jean Shepard-ish tone, as the loyal wife whose man is doing her wrong, and even a rollicking, uptempo tune like "Honkytonk Homestead." Overall, there's a sense of maturity here that gets away from her "girl" singer image of years gone by, with more songs about marriage, parenting and upheaval, and less sunshine-y optimism. The studio crew has a lot of the usual suspects, with Janie Fricke being a notable figure among the backup vocalists.
Susan Raye "There And Back" (Westexas, 1984)

---
Best-Ofs & Related Records
---
Susan Raye "Whatcha Gonna Do With A Dog Like That" (Capitol, 1975)
(Produced by Jim Shaw & Buck Owens)
A collection of her later work from 1973-75, this includes her last Top Ten chart hit, "Whatcha Gonna Do With A Dog Like That."
---
Links
---
---



Hick Music Index



---

<! cd=06/11/09 >