<! MP3 03/30/09, 11/15/10, 01/18/12 > <! outside 00/00/00 > <! pix 11/15/10 - some > <! 208-pix: 00/00/00 > <! icons 11/15/10 > <! UPDATES: 03/30/09, 11/15/10, 01/18/12 10/24/13 - some pix up to 180 - still need new pix for "170"s >
---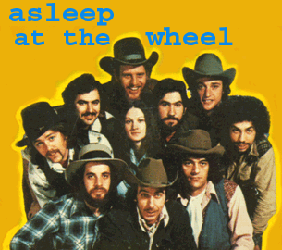 One of the great western swing revival bands, this hippie-ed-out ensemble started off in the same late-'60s, West Virginia/Washington DC folk-country scene which nurtured Emmylou Harris. They soon moved to the San Francisco Bay Area, and finally onto the blossoming Austin scene, circa 1974. Asleep At The Wheel probably did more than any single band to keep alive and reinvigorate western swing in general and the legacy of Bob Wills, in particular. They also made the connection between "hillbilly" country music and old R&B "race" music -- in much the same spirit as western swing pioneers like the Wills brothers and Hank Penny, Asleep At The Wheel peppered their early albums with old blues/jazz standards such as Louis Jordan's "Bloodshot Eyes" and "Choo Choo-Chboogie." A good-timing '70s boogie band that avoided the sloppy excesses of many of their contemporaries, and certainly one of the best country bands of the shaggy Seventies.
---
Discography
---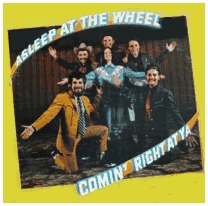 Asleep At The Wheel "Comin' Right At Ya!" (United Artists, 1973)



(Produced by Tommy Allsup)
A strong debut, although a little restrained. Wasting no time, the album opens up with an homage to Bob Wills, with a version of his classic, "Take Me Back To Tulsa" -- other covers include material by Hank Williams, Moon Mullican, and a nice rendition of the old Ernest Tubb standard, "Drivin' Nails In My Coffin." These hippie kids prove that they "get" it in more way than one, though: in addition to their fine taste in classic material, this album also has a hefty dose of original tunes by guitarist Ray Benson and drummer Leroy Preston, the best of which may be Preston's "I'm The Fool (Who Told You To Go)"... They also managed to call on the talents of veterans such as Buddy Spicher and Johnny Gimble, himself a former member of Bob Wills Texas Playboys... And Lucky Oceans (still going by his given name) is on pedal steel, as he would be for the rest of the decade... Nice company to be keeping!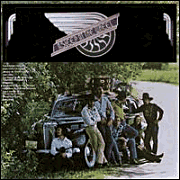 Asleep At The Wheel "Asleep At The Wheel" (Epic, 1974)
(Produced by Norro Wilson)
They really pick up the pace on this album, which is a stone cold classic. Almost every song on here is first-rate... maybe even better! Includes their fab version of Louis Jordan's "Choo-Choo Ch'boogie," and another great R&B cover, the astonishingly scathing "Bloodshot Eyes." The Wheel also get in their country licks, although most of the hick tunes are originals, rather than cover tunes. Chris O'Connell's somewhat shaky vocals grace several songs, but they match the material perfectly, and this is one of her best efforts. In fact, this is probably Asleep At The Wheel's best album... Highly recommended!

Asleep At The Wheel "Texas Gold" (Capitol, 1975)



(Produced by Tommy Allsup)
Another crucial early album, with favorites such as "Bump Bounce Boogie," "The Letter That Johnny Walker Read," "Fat Boy Rag" and a swell cover of Amos Milburn's drunken classic, "Let Me Go Home Whiskey." On board for this flight are "girl" singer Chris O'Connell and fiddler Johnny Gimble. Fun stuff!


<! 144 x 144 >

Asleep At The Wheel "Wheelin' And Dealin' " (Capitol, 1976)


A little bit of a slump on this one -- most of the songs are covers, and Ray Benson may have been feeling a little too cocky about his skills as a swinging hipster... Which isn't to say this disc isn't good; it is, but they seem a little off their mark. Folks loved their take on "Route 66," though, and their version of "Miles And Miles Of Texas" is also pretty groovy. And not only is Johnny Gimbell still hanging around, they also get Texas Playboys guitarist Eldon Shamblin in on the act(!) Worth checking out.


<! 144 x 144 >

Asleep At The Wheel "The Wheel" (Capitol, 1977)


This one's another winner! As ever, a nice mix of old and new... Their version of "My Baby Thinks She's A Train" is stellar; the dreamy, codiene-coated "Am I High?" is sublime, and "A Dollar Short And A Day Late" also strikes exactly the right tone. Heck, then you get to flip the disc and see what's on Side Two!


<! B00005V7AR is a twofer > <! 144 x 144 >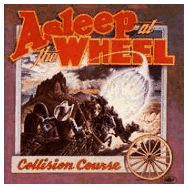 Asleep At The Wheel "Collision Course" (Capitol, 1978)


Ray and the boys go pretty far afield on this one, leaving the twangy side of the equation almost entirely behind, in favor of a sometimes-iffy stew of recycled R&B and pop vocal crooning. True, they cover Nathan Abshire's "Pine Grove Blues," a cajun tune that, at the time, must have sounded pretty novel in the budding roots music scene, and their take on the old Louis Jordan novelty blues swing, "There Ain't Nobody Here But Us Chickens" is a real doozy -- certainly the best track on this album. To be honest, this one doesn't thrill me all that much -- when Benson gets all lounge-lizard on us, he loses my attention. There's way worse, though, I suppose.


<! 2013 GIF colors off >

Asleep At The Wheel "Served Live" (Capitol, 1979)


A meaty set of live tracks, which make a pretty convincing case that these folks were one of the best party bands around, back in their time. Most of these tracks are sloopy versions of stuff off old albums... One standout track, though, is new: "Too Many Bad Habits," which is one of the best waster anthems of the decade. Recommended!


<! 144 x 144 >

Asleep At The Wheel "Framed" (MCA, 1980)





<! with Jann Browne? >

Asleep At The Wheel "Drivin' " (1980)





Asleep At The Wheel "Asleep At The Wheel" (MCA, 1984)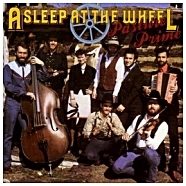 Asleep At The Wheel "Pasture Prime" (Stony Plain, 1985)



Their first album after a five year hiatus starts off with great promise -- a couple of straight-ahead, snappy western swing/blues tunes kick things off, and everybody has big fun on the outlaw country "eff you" anthem, "Write Your Own Song", where the Wheel is joined by Willie Nelson, who tells those dumb old record execs where they can go. The sentiments are a little bald, but it's still a fun tune. But, sadly, things take an immediate nose dive, starting with a super-icky would-be soul-pop ballad ("Baby") and a general sense of perfunctory performances. The attempts at laying down some sort of crossover hit are so misguided and so far off-base that it's really appalling. I've hung onto my copy just because there are a couple of nice tunes and most of the tracks are fine, but this isn't an album I'd run out to find.
Asleep At The Wheel "10" (Columbia, 1987)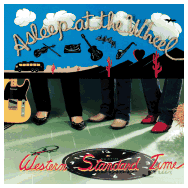 Asleep At The Wheel "Western Standard Time" (Epic, 1988)



"Standard" time, as in all cover tunes -- and a nice selection of songs, to be sure -- "Walk On By," "Chatanooga Choo-Choo," "Walking The Floor," etc. But it's kind of a joylessly competent affair -- the band is solid as can be, but there isn't much spark to the performances.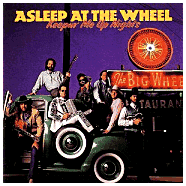 Asleep At The Wheel "Keepin' Me Up Nights" (Arista, 1990)



(Produced by Barry Beckett)
Another amiable outing, maybe not as epic or classic as their old stuff, but still filled with a few tunes that might creep up on you and make you tap your toes and smile. The opening tracks are the best, like "Keepin' Me Up Nights" and "Dance With Who Brung You" though midway through you get a few duds, such as the drippy "Eyes" and the Sha-Na-Na-esque "Goin' Home," but overall this album is okay. I think with the post-70s Wheel, you just have to accept that the band ain't what it used to be, but it's still kinda cheerful and tuneful. Worth a spin.
Asleep At The Wheel "Route 66" (Capitol, 1992)

Asleep At The Wheel "Swing Time" (Sony Special Products, 1992)

Asleep At The Wheel "Tribute To The Music Of Bob Wills" (Capitol, 1993)






<! lots of guest artists - Suzy Bogguss, Chet Atkins, Garth Brooks, Merle Haggard, Brooks & Dunn, Willie Nelson, Lyle Lovett, Marty Stuart and many others... > <! in APE >

Asleep At The Wheel "The Wheel Keeps On Rollin' " (Capitol, 1995)

Asleep At The Wheel "Back To The Future Now - Live At Arizona Charlie's, Las Vegas" (Columbia, 1995)




Asleep At The Wheel "Merry Christmas, Y'All!" (High Street, 1997)



Ray Benson and his Austin entourage send holiday greetings to us all... Texas style!! Tish Hinojosa guests on the Tex-Mex opener, "Feliz Navidad," and Ray follows up with the boozy "Christmas In Jail." As with many AATW albums, this is a mix of straight up western swing and bluesier R&B swing, but the addition of several original tunes to the Christmas repertoire is most welcome, and the absence of drippy, weepy power ballads is a double blessing. Indeed, this is one of the better Asleep albums of recent vintage. Other guests include the venerable Panhandle yodeler Don Walser and Willie Nelson, dueting on an incandescent "Silent Night." Recommended! (For more Christmas music, see my Hillbilly Holiday section.)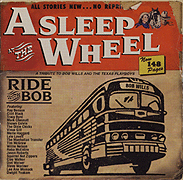 Asleep At The Wheel/Various Artists "Ride With Bob" (Dreamworks, 1999)



As the first great western swing revival band of the '70s, Asleep at The Wheel have had occasion to pay homage to Bob Wills before. This time around, the tribute includes a slew of guest stars-- mainly drawn from the ranks of modern-day Nashville, but with a couple of artists with non-TNN pedigrees, such as Don Walser, Lyle Lovett, and the Manhattan Transfer. Merle Haggard, who himself put out a Bob Wills tribute album (way back in the early '70s), also guests on one song, and Willie Nelson's sweet big band-y vocals on "Going Away Party" are sublime. The problem with this album is it's entirely too predictable, a smooth studio album which drifts along on the fine line between leadenness and reverence. Part of the trouble is the difficulty involved in getting guest performers to match the mood of the host band, but much of it is simply the ingrained perfectionism of Music City, where they'd prefer to tweak something in the studio a dozen times rather than permit a single rough edge to remain. And, as fans of the original Texas Playboys will recall, Bob Wills was all about the rough edges -- about cutting loose and having fun. Still, there's no faulting the material -- these songs are great classics, and with the exception of Reba McEntire's horrifically swooping vocals on "Right Or Wrong," there are no "bad" performances on here. Nonetheless, I long to hear someone bash their way through one of these tunes the way Tommy Duncan and Bob Wills woulda done.
Asleep At The Wheel "The Very Best Of Asleep At The Wheel -- Since 1970" (Relentless, 2001)



Actually, this disc is a re-recorded reprise of their best-known material, rather than an actual retrospective. Admittedly, these re-recordings show that Ray Benson's still a pretty spunky old feller, although these tracks don't hold a candle to the originals, particularly on upbeat, swingin' tunes like "Route 66" and "My Baby Thinks She's A Train..." This is okay, but for old-time fans it's probably also unneccessary.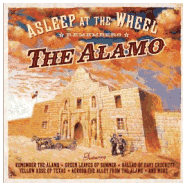 Asleep At The Wheel "...Remembers The Alamo" (Shout Factory, 2003)



Ray Benson and his pals pay loving homage to the dismal defeat that made Texas legend, the 1836 battle that pitted the thousands-strong Mexican army under Santa Ana against nearly two hundred proto-Texan provocateurs, including legendary figures such as Jim Bowie and Davy Crockett... The two-week siege became the stuff of legend, and helped pave the political path for the United States to lay claim to the Spanish-held territories and annex the Lone Star State. AATW approach the subject with smirking affection, covering songs from old Hollywood films, Bob Wills classics such as "San Antone Rose," and TV themes like "The Ballad Of Davy Crockett," each with its own connection to the Alamo. The album's highlights include two more modern songs, Monty Warden's "Stout And High," played as a plaintive ballad, and "Don't Go There," a guffaw-worthy novelty song about the time rocker Ozzy Osbourne got arrested for peeing drunk on the side of the Alamo itself(!) (Miraculously, Ozzy was not lynched then and there, but he was banned from San Antonio for the next ten years... Funny song; wish I could play it on the radio...)
Asleep At The Wheel "Live At Billy Bob's Texas" (Smith Music Group, 2003)


Asleep At The Wheel "Austin City Limits Music Festival: September 15, 2006" (Austin City Limits, 2006)

Asleep At The Wheel "Live From Austin City Limits" (New West, 2006)


Asleep At The Wheel "Kings Of The Texas Swing - Live" (Goldenlane, 2007)



Asleep At The Wheel "Reinventing The Wheel" (Bismeaux, 2007)



A lot of folks claim to be the hardest-working people in show business, but Ray Benson and the four-decade long institution known as Asleep At The Wheel sure must be near the top of the list. This is a fine, solid album, one of their best in years, with the usual canny mix of twang and old-school R&B. There's also a revamped lineup, with vocalists Elizabeth McQueen and Jason Roberts joining Benson in the front line. Great song selection, too, with well-chosen numbers such as Mose Allison's acerbic "Your Mind Is On Vacation" and the gospel novelty tune, "The Devil Ain't Lazy" kicking things off... Fiddler/multi-instrumentalist Roberts is a guy to keep your eyes on: his original tune, "Am I Right (Or Amarillo)" is an album highlight, not just for how he taps into the old ATTW vibe, but also because he shines as a vocalist. Worth checking out, especially if you're a longtime fan.
Asleep At The Wheel "...With The Fort Worth Symphony Orchestra" (Bismeaux, 2007)


Asleep At The Wheel "Santa Loves To Boogie" (Bismeaux, 2007)



Hey it's a holiday album... Ho, ho, ho!! (See my Country Christmas section.)
Asleep At The Wheel & Willie Nelson "Willie And The Wheel" (Bismeaux, 2009)


Asleep At The Wheel & Leon Rausch "It's A Good Day" (Bismeaux, 2010)


---
Best-Ofs
---
Asleep At The Wheel "The Swingin' Best Of" (Epic, 1992)


Asleep At The Wheel "Still Swingin' " (Capitol, 1994)


A fab three-CD box set of their Capitol years.
Asleep At The Wheel "Super Hits" (Arista, 1999)


Asleep At The Wheel "Comin' Right At Ya/Texas Gold" (Koch, 2000)



(Produced by Tommy Allsup)
A swell single-CD reissue of these two early albums.
Asleep At The Wheel "Live And Kicking - Greatest Hits" (BMG, 2001)


A nice budget-line best-of of the early stuff. Only ten tracks, but they're all pretty good.
Asleep At The Wheel "20th Century Masters - The Millennium Collection" (MCA-Nashville, 2000)


Asleep At The Wheel "The Hits" (One Media, 2008)


---
Related Records
---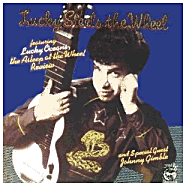 Lucky Oceans & The Asleep At The Wheel Revue "Lucky Steels The Wheel" (Blind Pig, 1982)



A nice solo album by the Wheel's first steel player (and co-founder) Reuben "Lucky Oceans" Gosfield... It's a familiar mix of western-swing, swank, big-band-y R&B and instrumental tunes that spotlight his considerable skills as a pedal steel stylist. Texas fiddler Johnny Gimble adds some sweet licks as well, making this a mighty fine little record... Definitely worth tracking down!
Lucky Oceans "Secret Steel" (Head, 2005)



Ray Benson "Beyond Time" (Audium, 2003)



(Produced by Ray Benson)
On this, his first official solo album, Benson croons lightly through a variety of styles -- loungey jazz, gooey pop, swinging hick music, and a few country tunes as well. All but one of the songs are Benson originals, the sole cover tune being a Tex-Mex version of the old Marty Robbins hit, "El Paso," with Flaco Jimenez providing accordion accompaniment. The album's highpoint is a jaunty duet with Dolly Parton, "Leave That Cowboy Alone"; lows include a rap-tinged collaboration with jazz bassist Stanley Jordan, and the syrupy AOR of "Haven't Gotten To You Yet," which overarchingly reminds me of Chris Columbus's "Sailing." In general, as with many of the later AATW albums, I think Benson banks too much on his presumed charisma and the good will of longtime fans; objective listeners who approach this disc from a country viewpoint will find it pretty slow going, and pretty tedious.
Eddie Rivers "Plain Talkin' Man" (Bismeaux, 2013)

---
Links
---
The Asleep At The Wheel Home Page features tour updates, a history of the band, and all kinds of nudgey-winky asides. I can't say I'm a huge fan of their later, more "Nashville-y" albums, but Ray Benson has done a great job keeping the band together as one of the hardest-working warhorses of the roots-country scene.
Wikipedia: Asleep At The Wheel
My western swing section includes reviews of several other great records... with more to come, I'm sure!
---