<! MP3 11/02/10, 11/28/11 > <! outside 00/00/00 > <! pix 11/02/10 - a few more to add > <! icons 11/02/10 > <! UPDATES 11/02/10 05/16/11 - consolidated reviews, expanded to six pages 10/21/13 - added separate Bill Boyd page >
---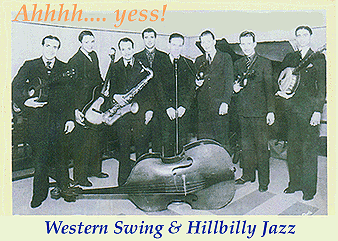 Western Swing is one of America's great original artforms, a mix of hillbilly stringband music and uptempo jazz. Alternately raucous, raunchy and swank, western swing has enchanted listeners ever since its early 1930s roots, going through wave after wave of innovation and revival. While honkytonk country took its cues from traditional folk ballads and a hefty dose of the blues, western swing was a more self-conscious mix of squaredancin' barn-dance music and big city jazz... The idea was to pick up the tempo while also showing that hicks could get right on the mellow side just as much as the folks up North. Hillbillies with saxophones? Heck, why not? Here's a quick look at some of the great western swing records to look for...
---
Western Swing Artists: A-C | D-G | H-K | L-O | P-Z | Compilations | Country Music Index
---

<! Bill Adams "In The Mood For Western Swing" (Facawe Buffalo, 2001) > <! Charlie Adams "CattinÕ Around" (Bear Family, 2000) > <! Dave Alexander & The Legends of Western Swing Dave Alexander "Dave Alexander & The Legends of Western Swing" (1993) Dave Alexander "Tango In Durango" (1997) >
Dave Alexander "Swingin' Into Christmas - A Western Swing Christmas Album" (1999)


All standards -- "Jingle Bells," "Let It Snow," "Frosty The Snowman," etc. -- done up, Bob Wills-style. Awwww-yessss... ho-ho-ho!!


<! Nolan Bruce Allen "New YorkÕs King Of Western Swing Salutes The Bob Wills Era, Vol. 1" (2003) >


Rosalie Allen -- see artist discography



Shelley Lee Alley "Alley Stomp" (Krazy Kat, 2006)

Asleep At The Wheel - see artist discography
Bad Bob & His Good Friends "Bad Bob & His Good Friends" (Self-Released, 2001)


Good-timin' western swing and the local spirit of independent Texas music are alive and well, as heard in this fun album by fiddler and songwriter Bob Rohan. He pays dutiful homage to the spirit of Bob Wills in a rousing version of "Deep In The Heart of Texas," and on his original tune, "When You Play The Fiddle In Texas (You Better Know All The Tunes!)" It was the charm of his original material that caught my attention -- especially on great novelty tunes like "She Took A Blowtorch To My Workbench" and the similarly-themed "Daddy's Pad (When Momma's Mad)," which extols the virtues of sleeping in the cab of your truck when domestic tension looms. Fans of humble, obscuro alt.country greats such as Deadly Earnest, Alvin Crow, Chuck Wagon & The Wheels, or Cornell Hurd will find a lot to celebrate in this album -- this ain't super-slick Nashville pop, it's just a guy with a friendly-sounding voice and a bunch of pals who can pick some nice country music, and it's pretty cool. This is the kind of independently-produced album you used to hear a lot more often; nice to know someone out there still has the magic formula. (One way to get a copy of this album is to contact Bob Rohan directly, at: badbob1026@aol.com.... Tell him I said "howdy!" )
Big Sandy & The Fly-Rite Boys - see artist discography
Bill Boyd - see artist discography
Milton Brown And The Musical Brownies "The Complete Recordings: 1932-1937" (Texas Rose, 1995)


A stunning 5-disc box set gathering the complete recordings of Milton Brown and His Musical Brownies, the only band to seriously challenge Bob Wills' early status as the king of western swing. Brown died in a 1937 auto accident, but left behind dozens of killer, jazz-infused country tunes. The sound here is a bit rough -- Texas Rose isn't exactly a multizillion dollar operation -- but the archival value, and sheer fun of the music, is priceless. An accompanying book about Milton Brown, written by western swing archivist Cary Ginell, also came out on the University of Illinois Press, and is reviewed in my country books section. HIGHLY RECOMMENDED.
Milton Brown And His Musical Brownies "Western Swing Chronicles, Vol. 1" (Origin Jazz Library, 2001)


This single CD version of the '94 mondo-Milton box set is definintely all killer, no filler. Great, classic western swing, and a brighter, smoother sound mix. If you can't spring for the multi-disc version, don't worry: this disc will make you happy as a clam. Highly recommended!
Milton Brown "The Complete Bluebird Recordings: 1934" (Texas Rose, 1982) (LP)


I'm not sure if Texas Rose had more Milton Brown LPs out in this series, but this disc is pretty swell. All this material is included on the CD box set, but if you're a vinyl enthusiast, then this is an LP worth searching out!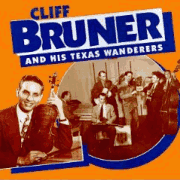 Cliff Bruner "...And His Texas Wanderers" (Bear Family, 1997)


A 5-CD set devoted to an outstanding -- but little remembered -- pioneer of classic western swing. Covers Bruner's work between 1937-1950, with bands that included hick music greats such as pianist Moon Mullican, steel player Bob Dunn, and others. Prime stuff!


<! 5 CD set with book featuring 123 tracks by this fine western swing band recorded between 1937 and 1950 for Decca, Mercury and AYO. Includes sidemen like Bob Dunn, Link Davis & Moon Mullican. Includes unissued tracks and alternate takes. With lavishly illustrated 56 page book >
Leon Chappelear "Western Swing Chronicles, v.2" (Original Jazz Library, 2002)

Harry Choates "The Fiddle King Of Western Swing" (Arhoolie, 1982)



Classic backwoods fiddle music from the Louisiana bayou... These late-'40s recordings are an interesting mix of cajun, straight old-timey fiddle music and honky-tonk heavy western swing tunes. A veteran of the Louisiana swamp scene, by the postwar years, Choates seemed ready to try just about any style of music and see what would stick -- fortunately, he was pretty darn good at any style he played, and this album is lots of fun from start to finish. The CD version includes ten extra tracks (although his big hit version of "Jole Blon" is still notably absent...) Cool stuff, a little off the beaten track.
Harry Choates "Devil In The Bayou - The Gold Star Recordings" (Bear Family, 2002)

Harry Choates "Five-Time Loser: 1940-1951" (Krazy Kat, 1998)

Harry Choates "Cajun Fiddle King" (AIM, 1999)


Al Clauser & His Oklahoma Playboys "The Golden Age Of..." (Binge Disc/Cattle Records, 2005)

Spade Cooley - see artist discography
Alvin Crow -- see artist profile
---
More Western Swing: D-G
---