<! MP3 11/02/10, 11/28/11 > <! outside 00/00/00 > <! pix 11/02/10 - a few more to add > <! icons 11/02/10 > <! UPDATES 11/02/10 05/16/11: consolidated reviews, expanded to six pages >
---
<! Johnny Gimble >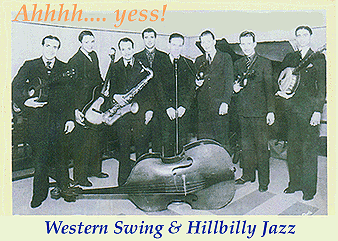 Welcome to my western swing guide, a look at one of America's great original artforms... Hillbillies with saxophones? Heck, why not? Here's a quick look at some of great western swing records to check out... This page covers artists under the letters D-G... Other country styles are linked to as well.
---
Western Swing Artists: A-C | D-G | H-K | L-O | P-Z | Compilations
---
The Dixieland Swingsters "Sing A Little Swing Song" (BACM, 2005)





<! CD D 242 >
Tommy Duncan "Texas Moon" (Bear Family, 1996)


It'd be hard to overestimate the importance of Tommy Duncan's bluesy-crooner vocals to the success of Bob Will's western swing sound of the 1940s. Duncan and Wills had a several big blow-outs after the War, and in 1948 Duncan left the Texas Playboys and set out on his own. These two CDs document the uneven results of his solo career, with maybe a half dozen screamingly awesome tracks spread between them, a bunch of fairly good tracks, and some stuff that just doesn't measure up. These discs are fascinating for several reasons. First, who else but Bear Family would have put them together, thus saving this material from complete oblivion? Also, it's instructive to see how a top-flight vocalist like Duncan could make mediocre records, when deprived of a steady, full-time backup band -- kinda gives you more respect for all those super-amateur bands whose hard-rocking honkytonk tunes grace all those endless compilation albums. These discs are well worth checking out, though in the long run they may not hold your attention.
Tommy Duncan "Beneath A Neon Star In A Honky Tonk" (Bear Family, 1996)

Tommy Duncan "Dog House Blues" (Jasmine, 2008)


East Texas Serenaders "Complete Recorded Works: 1927-1937" (Document, 1998)


A pretty remarkable set of Depression-era music with hot fiddling and a strong rhythmic bounce that anticipates the jazz-hick fusion of western swing while still showing the style's deep roots in the old-time stringband sound. This is a really cool record, with lots of music that's way ahead of its time. Recommended!
Buddy Emmons "Steel Guitar" (Flying Fish, 1975)



One of the preeminent steel players of his generation, Emmons did tons of studio work, notably for Emmylou Harris and her country-rock crowd. Here he relaxes and works his way through a nice set of instrumental tunes, backed by fiddler Johnny Gimble and some of their pals. This is best when it showcases Emmons alone, as on slower numbers such as "Wild Mountain Time," where Emmons' precision and tonal control are best showcased.... The faster numbers, such as his version of "Sugarfoot Rag," with a drum kit rushing him along, are far less interesting, but still of a high caliber of musicianship.
Buddy Emmons "Sings Bob Wills" (Flying Fish, 1976)



This mid-'70s usual-suspects ensemble, featuring steel guitar whiz Buddy Emmons, along with fiddlers Johnny Gimble and Buddy Spicher, Pig Robbins and others, hits the right marks and doesn't bump into the furniture, but somehow I don't think they got the Bob Wills vibe down right. It's all just too clean and clever: where's the rowdy, disshevelled fervor of the old Wills/Duncan days. This album has its heart in the right place, but I don't think they were wild enough to really capture the easygoing beauty of the Texas Playboys sound.
Hugh and Karl Farr "Hot 'N' Bluesy Fiddle/Guitar And Twin Guitar Duets: 1934-1940"


Wow. The Farr Brothers were the backup pickers who added the musical punch to many of the best old recordings of the Sons Of The Pioneers, and of Pioneers alumnus Gene Autry. Left to their own devices, they knocked out a slew of great instrumentals, like the ones on this disc. The surprising thing is how completely jazzy these tracks are. If you like old recordings from the likes of Django Rinehardt, or Eddie Lang and Joe Venuti's duets, then you owe it to yourself to check this disc out. It's hot and sweet, and very listenable.
Johnny Gimble - see artist discography
The Great Recession Orchestra "Have You Ever Even Heard Of Milton Brown?" (NewTex Records, 2010)



An amiable album of rootsy, bluesy swing, covering the work of the legendary Milton Brown, who is credited as one of the inventors of western swing. Here's a whole passle of great old tunes , given kind of a swank, glossy modern makeover, but delivered with confident affection... Fun stuff!
---
More Western Swing >> H-K
---