<! HAA-KZZ > <! MP3 11/02/10, 11/28/11 > <! outside 00/00/00 > <! pix 11/02/10, 11/28/11 - a few more to add > <! icons 11/02/10 > <! UPDATES: 11/02/10 05/16/11: consolidated reviews, expanded to six pages >
---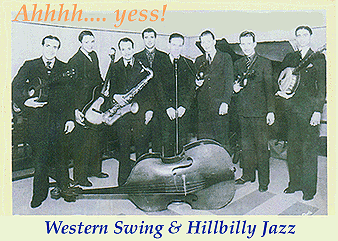 Welcome to my western swing guide, a look at one of America's great original artforms... Hillbillies with saxophones? Heck, why not? Here's a quick look at some of great western swing records to check out... This page covers artists under the letters H-K... Other country styles are linked to as well.
---
Western Swing Artists: A-C | D-G | H-K | L-O | P-Z | Compilations
---
Merle Haggard "My Salute To Bob Wills: A Tribute To The Best Damn Fiddle Player In The World" (Capitol, 1970) <! [ST-638] >

Hartman's Heartbreakers "Give It To Me Daddy" (Rambler, 1981) (LP)


Compiled by Marty Pahls, one of R. Crumb's old record collecting cronies, this set of country-oriented '30s hokum is all pretty classic, if shamelessly dumb, material, and a longtime favorite of good old Doctor Demento. The basic gag is that "Pappy Hartman" whips his raspy old stringband up into a fervor as he goads the mousy-voiced "Betty Lou" along in her interpretations of suggestive ditties such as "Fetch It On Down To My House," "Feels Good," "Give It To Me Daddy" and "Let Me Play With It" (otherwise known as "Let Me Play With Your Little Yo-Yo"). Her character is the playful, sex-positive nympho, he's the dirty old man, cat calling in the background; who the original musicians were, I'm not sure, but their characters are pretty unforgettable. This album is a perfect example of the form -- and the appeal -- of old-fashioned hokum blues, as well as where the genre cross-connected with country and hillbilly music. Long out of print, but definitely worth looking for.
Dick Hartman "Dick Hartman's Washboard Wonders & Tennessee Ramblers" (BACM, 2009)


This disc's a doozy! Giddy, exuberant, irresistible string band music recorded between 1935-36, as the western swing scene was really starting to heat up... Bandleader Dick Hartman recorded a wide variety of material, but this disc concentrates on his more uptempo material, and man, is it great! Harry Blair's joyful, lively vocals are matched by a bouncy band with banjo, fiddle, washboard and kazoo, and a driving, rhythmic guitar. Hartman is probably best known for his fabulously raunchy recordings with Hartman's Heartbreakers, some of the best sex-drenched "hokum" novelty songs of the Great Depression era -- some of that naughty abandon is echoed here, although these tracks aren't quite as "blue" as those infamous recordings... The playfulness of Hartman and his band comes through loud and clear on every track, and you will find this disc is packed with tunes that'll stick in your head and have you humming along for weeks to come. Highly recommended! (Available through the British Archive of Country Music website.)
Gene Henslee "The Boy From Turkey Texas (As I Remember Him)" (Billiefran Records, 1975) (LP)


(Produced by Jerry Abbott)
A western swing tribute to Bob Wills from fellow fiddler Gene Henslee, an Oklahoma native who began his recording career in the early 1950s and had moved to Texas long before cutting this disc. The album includes several original songs, including "The Boy From Turkey Texas," "Nobody's Done It Like Bob" and "I Cut My Teeth On Good Old Western Swing," all written by Henslee, as well as covers of several Wills-related classics. Producer Jerry Abbott sits in on piano, along with Bobby Boltright and Tommy Camfield on fiddle, Gerry Hall playing steel, and a couple of Henslees in the band for good measure. This outlaw-era album has the added benefit of references in the lyrics to young'uns like Waylon and Willie, Asleep At The Wheel, and other contemporary Texas stars.


<! - #GH13 - d. 2007? - "Teeth" namedrops Waylon and Willie >


Dan Hicks - see artist discography




Adolph Hofner "Your Friend" (Sarg Records, 1973) (LP)


(Produced by Charlie Fitch)
Best known for his pioneering western swing recordings of the 1940s, Texas bandleader Adolph Hofner was still kicking around in the early '70s, and cut this indie album with a bunch of family members pitching in... A nice example of an old-timer still getting his licks in.


<! - # SLPS-1803 >

Hot Club Of Cowtown "Swingin' Stampede" (Hightone, 1998)



A sweet three-piece swing stringband which draws evenly on Tin Pan Alley and western swing standards (Gershwin, Bob Wills and the usual suspects). Their approach to the standards is brisk and bouncy, with nods towards Django Rinehardt, Chet Atkins and Wills himself, as well as Depression-era outfits like the Prairie Ramblers. The lead singers - guitarist Whit Smith and fiddle player Elana Fremerman - are limited as vocalists -- but they nonchalantly shrug it off, with the sort of just-plain-folks, come-and-hear-us-play-at-the-cafe attitude which reminds us that you don't have to be a rock god to make good music. For an extra dose of authenticity country/swing veteran Johnny Gimble pitches in on several tunes. Sweet, swinging, and fun to listen to. They're also pretty awesome live.

Hot Club Of Cowtown "Tall Tales" (Hightone, 1999)



(Produced by Dave Stuckey)
Their debut was so sharp and so accomplished, it was hard to envision them topping themselves (and not mucking it up) but ... surprise! This album is a real stunner. One big, BIG reason is that this time the trio had Dave Stuckey of the Dave and Deke Combo in tow as the album's producer. Dave has perfect pitch when it comes to reclaiming old-time western swing and hillbilly material, and as a producer he is so faultlessly sympathetic to the goals and passions of the Hot Club, that this album is one of the best of it's kind you're likely to hear. He also adds a punchy, slightly manic energy that is a nice balance to the band's somewhat cool natural demeanor. HIGHLY recommended!

Hot Club Of Cowtown "Dev'lish Mary" (Hightone, 2000)



(Produced by Lloyd Maines)
Once again, amazingly enough, they seem to just get better and better... In the final balance, I do prefer Dave Stuckey's sublimnal rowdiness as producer of the last album, but Texas fixture Lloyd Maines keeps things on a cool, even keel at the helm of this disc. More great old-time acoustic swing, with novelty songs and sweet licks galore. Need I say it? Recommended!

Hot Club Of Cowtown "Ghost Train" (Hightone, 2002)



Whether bold or foolhardy, these innovative Austinites have penned a slew of new acoustic swing tunes with a heavier-than-usual dose of Tin Pan Alley jazziness, much of it almost Brechtian in its thickness and lyrical density. I gotta say, even though it makes me feel smallminded to admit it, most of this doesn't really work for me -- it feels belaboured and the band sounds overly-conscious of its own efforts. Besides lacking the spontaneous-sounding bounce of earlier efforts, it also feels like each of the bandmembers are trying to prove themselves as individuals, with Elana Fremerman and Whit Smith competing to sound more "original" than each other, rather than working as an ensemble. Dave Stuckey (of Dave & Deke fame) cowrote a few tunes, although this time they asked Gurf Morlix to produce the album. Still, ya gotta give 'em credit for trying something new, and for pushing themselves as artists... I just wish they could sound a little more relaxed about it. Worth checking out, though!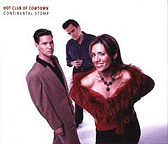 Hot Club Of Cowtown "Continental Stomp" (Hightone, 2003)



A sweet live set, featuring this retrorific swing trio at a hometown venue, Austin's Continental Club, in May of 2003. They get a little risque with a version of the old Light Crust Doughboys ditty, "Here Pussy Pussy Pussy" (on a hidden bonus track), but otherwise this is pretty much par for the course for these folks -- old standards and western tunes from the 1930s and '40s, and plenty of bouncy fiddling and smooth geetar work. It's nice, classy stuff, and a nice chance to hear how they sound in front of a crowd.

Hot Club Of Cowtown/Whit Smith's Hot Jazz Caravan "Four Dead Batteries" (Soundtrack) (Hightone, 2005)



I don't know anything about the movie this soundtrack is from, but the music sure is sweet! An album full of music from one of the finest western swing/stringband revival bands, the now-defunct Hot Club Of Cowtown, with five new tracks from HCCT co-founder Whit Smith's new group. It's fine stuff from start to finish, a very listenable, very pleasant set, roaming through various acoustic jazz, blues and country styles, with a healthy dose of classic western swing tunes. This is a well-programmed album, and a fine testament to the Hot Club's freewheeling, joyful style. Recommended!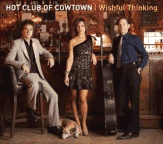 The Hot Club Of Cowtown "Wishful Thinking" (Gold Strike, 2009)



After totally calling it quits and foreversville a few years back, the Hot Club of Cowtown are back together... And thank goodness! One of the all-time great bands of the contemporary Americana scene... and pretty dazzling live, if you get the chance. Welcome back!
Leon Huff "The Early Years, v.1: The Texas Song Bird" (BACM, 2010)


Harley Huggins "...And The Barn Dance Gang" (Country Routes, 2002)


Rollicking live broadcasts from a Fresno-based western swing band fronted by one of Bob Wills' frequent B-list pickup musicians, guitarist-singer Harley Huggins. A nice slice of what the average band would have sounded like back then... Not the best sound quality, but also not the worst -- Fresnan's will delight at the KMJ radio announcer's frequent mentions of local landmarks such as the corner of Chestnut and Butler Avenues (which was probably a fruit orchard back then...) Fun stuff.
The Cornell Hurd Band - see artist discography
Elana James "Elana James" (Snarf Records, 2006)



An absolutely captivating and lively record from fiddler Elana James (nee Fremerman), formerly of the Hot Club Of Cowtown. Given her illustrious swing-string pedigree, the mix of western swing and jazz standards is no surprise, but what's a delight is the album's focus and cohesion, and how gosh-darn well-produced it sounds. It just sounds like a pure, unfettered expression of what she wants to do, and with an artist this talented, that's a pretty cool thing. Throughout the album, James is clearly channeling the spirit of Bob Wills, but with a lively snap of the bow that's all her own; the vocals are also nice, as are the nods to Duke Ellington, Billy Strayhorn and Eubie Blake. If you liked the Hot Club, you're gonna want to pick this one up... pronto! (Available through www.elanajames.com)
Buddy Jones "Louisiana Honky Tonk Man: 1935-1941" (Texas Rose, 1984) (LP)
One of the rowdiest and most raggedy-ass western swingers, Buddy Jones specialized in smutty novelty songs... His early '30s recordings almost fall more in the country "hokum" camp than as western swing proper, but there's definitely a bit of a bounce here as well. Fans of Jimmie Davis' early hokum recordings will probably enjoy this material. Vinyl only, alas.
Buddy Jones "The Louisiana Honky Tonk Boy" (Cattle Compact, 1998)
I've always felt ambivalent about Buddy Jones, based on the Texas Rose LP from the early '80s. I've always suspected that the problem was that that album just suffered from flat sound quality... and sure enough, once you hear these old Decca recordings (from 1937-1941), released in full fidelity, Jones leaps out as a giant figure in old-timey western swing history. This disc contains a passel of smutty, blues-drenched tunes -- like old, Depression-era Jimmie Davis and Jimmie Rodgers recordings, but a lot more musical. Various musicians appear on these tracks -- Moon Mullican, Bob Dunn and Cliff Bruner among them -- and the recordings are all top-notch. The oddest note comes on the last track, "Huntin' Blues," from 1937, is a genuinely bizarre sex innuendo song, with dark, mysogynistic currents which are almost completely overshadowed by the surrealistic, oddball half-entendres which run throughout the narrative. The whole disc is well worth checking out.


<! Cattle Compact CCD-206 >
Buddy Jones "Police Officer & Honky Tonk Singer" (BACM, 2005)


A great set of rare country oldies from a hard-rockin' good ole boy from Louisiana ho was one of the hottest musicians in the early honky-tonk and western swing scenes. Jones was a friend of future governor Jimmie Davis, and shared the same earthy, raunchy sense of humor that Davis' early work had... This is a fun set of drinkin' and cheatin' songs that'll get your toes tapping right away. The sound quality wasn't quite as good as other B.A.C.M. releases, but the music is totally killer.
Pee Wee King "Pee Wee King's Country Hoedown" (Bloodshot/Soundies, 1999)



So far, this is the most ambitious of the Soundies releases... this 2-CD set unleashes 51 tracks by one of the most sprightly (and prolific) of the western swing bandleaders... These early '50s transcriptions caught him at the height of his commercial success -- Patti Page's 1951 version of King's "Tennessee Waltz" was one of the biggest pop hits of the postwar era, and suddenly his name was a household word. What we get here is a pretty swinging, cool country sound, but with plenty of the hayloft square dance influences left intact. King just passed away in March of 2000, and there couldn't have been a more fitting tribute to him than this collection, which demonstrates his live sound at its best. Recommended!
Pee Wee King "...And His Golden West Cowboys" (Bear Family, 1994)


This super-duper, 6-CD box set might be too much for the average listener, but if you're a western swing fanatic, then this is a real find. King coasts back and forth between swing and '40s style honkytonk, and vocalist Redd Stewart was definitely among the best. Pricey, but recommended!
Pee Wee King "Blue Suede Shoes: Gonna Shake This Shack Tonight" (Bear Family, 2006)


A more economical package, but still with the lavish Bear Family attention to detail and fine sound quality. That being said, I gotta admit, I found this manic, novelty-oriented set to be somewhat taxing... A little bit goes a long way, and perhaps these hyperactive accordion tunes are best taken in small doses. Still, fans will be psyched, especially those of us unlikely to shell out a gazillion bucks for the full-on Bear Family box set...
Pee Wee King "Western Swing Get Together" (Jasmine, 2001)

Pee Wee King "Biggest Hits/Barn Dance" (Collectables, 2004)


An odd "twofer" reissue that combines tracks from two old LPs. One was on RCA and was (I think) stereo remasters of classic, vintage Pee Wee King recordings; the other, Barn Dance, looks like it's of much later vintage, possibly from the 1960s... I haven't heard the CD, though, so I'm not sure.
---
More Western Swing >> L-O
---