<! MP3 11/02/10, 11/28/11 > <! outside 00/00/00 > <! pix 11/02/10 - a few more to add > <! icons 11/02/10 > <! UPDATES 11/02/10 05/16/11: consolidated reviews, expanded to six pages > <! Brother Al Stricklin "Brother Al Stricklin" (LP) # X I T Boys (1) - 1930s western swing band, backed Billy Briggs - aka Sons Of The West? >
---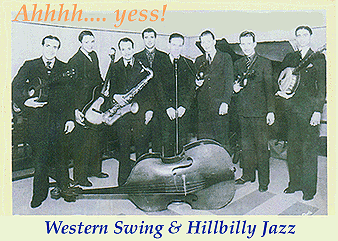 Welcome to my western swing guide, a look at one of America's great original artforms... Hillbillies with saxophones? Heck, why not? Here's a quick look at some of great western swing records to check out... This page covers artists under the letters P-Z... Other country styles are linked to as well.
---
Western Swing Artists: A-C | D-G | H-K | L-O | P-Z | Compilations
---
Hank Penny - see artist discography

Gene Pistilli "I Still Get Dressed On Sundays" (Memphis International, 2003)


An amiable set of western swing oldies and fine new originals, written by one of the founding members of the retro-jazz vocals ensemble, Manhattan Transfer. (No -- I'm not kidding!) Pistilli, who's nicknamed himself "The Hoboken Saddletramp," has a real feel for the music, which isn't too surprising -- he's moving from one style of retro swing to another -- and has written several swell new tunes (the title track in particular). There's a certain reserve to this album that makes it less than overpowering, but it's still pretty nice -- fans of The Hot Club Of Cowtown will wanna check this out as well.
The Prairie Ramblers "Swingin' Down The Orchard Lane" (Bronco Buster, 1999)
Wow! Rollicking string band swing from Patsy Montana's back-up band. The Ramblers swung on everything they tackled, from corny cowboy compositions to mildly naughty hokum blues and cute Depression-era novelty songs. A catchy, upbeat outfit with some hot pickers -- this disc is highly recommended ... definitely worth tracking down!
The Prairie Ramblers "Volume 1: The Oregon Trail" (BACM, 2005)

The Prairie Ramblers "Volume 2: Back To My Mountain Home" (BACM, 2005)

The Prairie Ramblers "Volume 3: Huckleberry Picnic" (BACM, 2005)

Quebe Sisters Band "Timeless" (Fiddletone, 2007)



Ole Rasmussen "Sleepy Eyed John" (Bear Family, 1999)


Nebraska native Floyd "Ole" Rasmussen led a West Coast swing band that copped a lot of its sound from Bob Wills... Rasmussen and his Nebraskan Cornhuskers were derided in the early 1950s as mere copycats, but these vintage tracks from 1950-52 are as much fun as any other western swing band of the era, and have a distinctive, bluesy feel to them. The twenty-eight tunes are the total output of his years on Capitol Records, and they'd fit in nicely with any set of classic country; the basic form is very much like the Texas Playboys, but with a heavier emphasis on the country part of the equation, less on the jazzy side. His vocalist, Teddy K. Wilds, has moments that are reminiscent of Tommy Duncan, but overall he's a deeper, throatier, more earthy singer, in addition to sounding quite appealing and robust. This is good stuff -- although you might initially roll your eyes and think, oh come on!, it won't take long for these guys to win you over. Good stuff... recommended!

Jimmie Revard & His Oklahoma Playboys "Naughty Naughty" (BACM, 2005)


A swell set of great, classic 1930s western swing, from a regional bandleader who did well on his home turf, but never quite got the same sort of national rep as bigger bands such as Milton Brown or Bob Wills. It's great stuff, though: Revard's band included guitarist and future bandleader Adolph Hofner and his brother Emil, on steel. The vocals are generally a bit ungainly, in a charming way, but the choppy, chunky rhythmic sense belies the instrumental oompf of this band: the fiddles, in particular, are pretty hot. Revard's band roster overlapped with that of the zippier Tune Wranglers; in the late 1930s, Hofner broke off from Revard's group to start a band of his own, but these two dozen tracks capture the original group in its prime. Great stuff, full of boozy cheerfulness and unabashed sentimentality and jazzy sensibilities. Recommended!
Jimmie Rivers & The Cherokees "Brisbane Bop -- Western Swing: 1961-64" (Joaquin, 1995)


Jazzy, late-vintage western swing from a spunky local bar-band from Brisbane, California (near San Francisco). These live, onstage airchecks from the nightclub where they were the house band show the continued vigor of the California hillbilly swing scene, decades after the pre- and postwar heyday of Bob Wills and his contemporaries. It's a fun, funky set, full of wild energy and good humor. Recommended!
Red Steagall - see artist discography
Ocie Stockard "Western Swing Chronicles, v.3" (Origin Jazz Library, 2004)

Hank Thompson - see artist discography.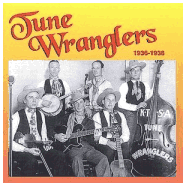 Tune Wranglers "1936-1938" (Krazy Kat, 2000)


Wow! What a fun record! One of the hottest (and peppiest) western swing bands of the time, this San Antonio outfit also had a way with saucy novelty songs, and a real sweet-tooth for jazzy arrangements... With over two dozen tracks and nice sound quality, this disc is a darn fine way to spend your hard-earned sheckels. Also, check out Joe Barnes' trademark trick banjo playing -- where he plays so fast that the notes start to blur and distort chromatically -- a technique used on "Sarah Jane" and several other tunes. High-powered pickin' and hilarious story-telling. HIGHLY recommended!!
The Tune Wranglers "1936-1938" (Texas Rose, 1982) (LP)


Ages before the reissue era of today, this fine LP came out... It features some of the same material as the Krazy Kat CD above, but either record is worth snapping up as soon as you see them. Vinyl only.
Curley Williams & His Georgia Peach Pickers "Just A-Pickin' And A-Singin' " (Bear Family, 2004)


Georgia-born Curley Williams joined the Opry in 1942 when he was still in his late twenties, and after a couple of years as a regular on the show, he pulled up stakes and headed for Hollywood, where he joined the rollicking West Coast honkytonk swing scene. By decade's end, he'd wound up in Louisiana, sharing top billing with the ill-starred honkytonk god, Hank Williams, with whom he played quite a bit and wrote a few songs. Williams had a sharp, professional band, and a smooth yet solid sound that was just a shade sweeter than Tommy Duncan and Bob Wills, yet not as goofy and popped-up as Spade Cooley... This is the first of two albums collecting all his sides recorded for the Columbia label between 1945-52, and brothers, sisters... let me tell you: it's pretty darn fine. If you like good-natured western swing and the smoother side of the postwar sound, then this disc is for you. Highly recommended!
Curley Williams & His Georgia Peach Pickers "Half As Much" (Bear Family, 2004)


Although many of the songs on here pale in comparison to his earlier work, this is still a swell set of postwar honkytonk swing from an artist whose legacy deserves the attention of al us true country fans. My initial response to this disc was that many of the performances seemed lackluster and perfunctory, but somehow it wound up spinning in my CD player for several days straight, and after a while I really got into it. Another gem from Bear Family: and more power to 'em!
Curley Williams & His Georgia Peach Pickers "Swing And Boogie Time With..." (Binge Disc, 2002)


This single-disc collection has a lot of overlap with the Bear Family discs above, gathering all of the Peach Pickers' best known songs, with over two dozen tracks total... There are two tracks on here that don't appear on either of the BF sets, "Oh, Monah" and "Puttin' On The Style," as well as alternate versions of several songs, lifted from old live TV performances. If you're looking to slim down your record collection, you might not need both this and the Bear collections, but if you just can't help yourself and gotta dig as deep into the Curley Williams ouvre as possible, then this is a must-have.
Tex Williams - see artist discography
Bob Wills - see artist discography
Billy Jack Wills - see Bob Wills
Johnny Lee Wills - see Bob Wills
Smokey Wood "The Houston Hipster" (Rambler, 1991) (LP)
A classic country ne'er-do-well and legendary screw-up, Woods had the distinction of singing about his pastimes -- having sex and smoking pot -- and making a living at it, too... Well, kind of. Apparently Woods had a hard time holding it together financially, although he was fun to hang out with, even when he was down and out. This eternally out-of-print LP appears to still be the only Smokey Woods album around. What a shame, 'cause this is really great stuff, and deserves a wider audience! If you see this album, don't hesitate to snap it up.
---
More Western Swing >> Compilation Albums & Links
---