<! MP3 11/02/10 > <! outside 00/00/00 > <! pix 11/02/10 - a few more to add > <! icons 11/02/10 > <! UPDATES 11/02/10 05/16/11: consolidated reviews, expanded to six pages > <! Proper comps, JSP, Krazy Kat, BACM, Jasmine >
---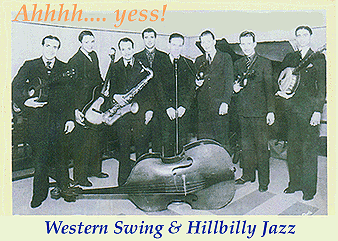 Welcome to my western swing guide, a look at one of America's great original artforms... Hillbillies with saxophones? Heck, why not? Here's a quick look at some of great western swing records to check out... This page covers various artist compilations... Other country styles are linked to as well.
---
Western Swing Artists: A-C | D-G | H-K | L-O | P-Z | Compilations
---

Various Artists "CAT'N AROUND" (Krazy Kat, 1992)


The fab Krazy Kat series has plenty of great western swing collections (see below), but this one remains my favorite. In fact, this is one of my favorite country reissues ever. An incredible collection of obscure old country singles originally recorded for the tiny Houston independent, Macy's Records. You can imagine these long-forgotten musicians slogging away at day jobs -- fixing cars, or maybe out in the oil fields -- just waiting to bust loose playing at a Saturday night dance. Everybody tears away at their tunes, ranging from swinging instrumentals such as "Pickin," by Dolores Farriss to priceless novelty tunes like "Steppin On Feet For Fun" and weepy honkytonkers like the Vance Brothers' "Can't Get You Out Of My Dreams." Sometimes the musicians flub their licks, but this only adds to the charm -- these are real people really playing music, unlike the tediously re-re-reprocessed digital pop of today. This high calibre compilation succeeds on every level: great sound, great material, great chance to hear some excellent old-time country, and to stump your snooty No Depression-reading buddies.


<! (Contact: Proper Records: Unit 5, Forest Hill Industrial Estate, Perry Vale, London, SE23 2LX, ENGLAND) >

Various Artists "DOUGHBOYS, PLAYBOYS AND COWBOYS" (Proper, 1999)


Well, dang. Hard to imagine a sharper collection of western swing oldies. Raunchy, funny, punchy and upbeat, this 4-CD set is flawlessly paced, and features plenty of obscure (but killer) tracks. It starts off with all the big-name bands -- Bob Wills, Milton Brown, Bill Boyd, Adolph Hofner, Hank Penny -- and works its way down into the lesser ranks -- Claude Casey, Porky Freeman, the Crystal Spring Ramblers, etc. This may be familiar territory to anyone fortunate enough to have climbed on board during the early '80s boom years of western swing vinyl reissues, but for country fans who came of age in the digital era, this collection will be like a bolt from the blue. Get it while you can.
Various Artists "JITTERBUG JIVE - HOT TEXAS SWING: 1940-1941" (Krazy Kat)


More great stuff-- obscuro western swing with a heavy dose of Cab Calloway-ish bounce. Taken from pre-war sessions on RCA's Bluebird subsidiary, this disc features a slew of famous Texas country players, such as Leon Payne, Moon Mullican and Cliff Bruner. On these sessions, though, they were recording in anonymous, now-forgotten bands, such as the Modern Mountaineers, the Village Boys, etc. Highly recommended -- another kickass Krazy Kat collection!

Various Artists "STOMPIN' SINGERS AND WESTERNS SWINGERS" (Proper, 2005)




Various Artists "SWING WEST! v.1: BAKERSFIELD" (Razor & Tie, 1999)


Various Artists "SWING WEST! v.2: GUITAR SLINGERS" (Razor & Tie, 1999)


Various Artists "SWING WEST! v.3: WESTERN SWING" (Razor & Tie, 1999)


This series is bound to surprise a lot of folks... These CDs look as generic as can be, but each disc contains a trove of lesser-known tracks by big-name stars and forgotten artists alike. Curated by country scholar Rich Kienzle, the SWING WEST series delicately picks its way through the Capitol Records back catalog, and by and large skips over the big hits you'd expect to hear, opting instead for lesser-known and unusual tracks. In some cases, this means recordings taken from sketchy albums made by artists well past their glory years -- Jimmy Bryant recording on the Imperial label in 1967, for example, or Leon McAuliffe in 1964. Yet, these are good later tracks... the sort of songs you'd have to dig pretty deep to find on vinyl, though afterwards you might wonder afterwards if it was worth keeping the whole album for just that one song ("...gee, if only someone would put out an album of this stuff...!") On the other end of the spectrum are the cool rarities, such as Merle Haggard's first recordings on an indie label, or enduring classics like Tex Williams' "Smoke That Cigarette." Kienzle, of course, knows what he's doing. He's one of the greatest reissue producers on the planet, and few people could do a better job poking around the Capitol vaults -- as a result, these discs are hella fun! So, if you want to encourage the major labels to put out more good old stuff, here's an excellent chance to put your money where your mouth is. Yes, yes, yes!


Various Artists "WANDERER'S SWING - TEXAS DANCE HALL MUSIC" (Krazy Kat, 1994)


Another awesome entry in this fab western swing/honkytonk series. If you're lucky, you've already heard of Jerry Irby and Eddie Miller... but Rip Ramsey, Dub Adams or Grouchy & The Texas Pioneers?? Forget it! Don't even try to tell me you've heard of these guys before! Sure, these old singles from the late '40s and early '50s, on labels like Groovy and Humming Bird, are an obscurophiles wet dream... but they also rock! Great old country music from also rans, would-bes and never-weres that still has as much wallop now as it did back then. Highly recommended!
Various Artists "WESTERN SWING AND COUNTRY JAZZ" (JSP, 2004)






<! 4-CD set >

Various Artists "WESTERN SWING, HONKY TONK & BLUES HIGHLIGHTS" (Binge Disc/Bronco Buster)





Various Artists "WESTERN SWING: FORTY BOOTSTOMPERS FROM THE GOLDEN AGE" (Primo, 2007)






<! 2-CD set >
Various Artists "YOU OUGHT TO SEE MY FANNY DANCE" (Bear Family, 2011)

---
Specialty Labels
---
Binge Disc/Cowgirlboy - hard to find in the USA, but worth every effort to track down, the records on this teeny German label include some of rarest -- and best -- classic country music available, including dozens of western swing titles by the great artists of yesteryear.
Krazy Kat - another amazing European collector label, the Krazy Kat imprint features a series of western swing releases that will knock your socks off. Check 'em out!
---
Links
---
Western Swing.Com... the name kinda says it all, doesn't it? Not a lot going on graphically, but plenty of good information, including a voluminous CD discography, links to other western swing websites, artists and enthusiasts, and info on a self-published western swing newsletter...
Jim Lowe's Western Swing site is a nice intro, if a bit dense visually. Lots of good album reviews and reading recommendations.
---
More Western Swing >> Letter "A"
---