<! MP3 11/02/10, 11/28/11 > <! outside 00/00/00 > <! pix 11/02/10 - a few more to add > <! icons 11/02/10 > <! UPDATES 11/02/10 05/16/11: consolidated reviews, expanded to six pages >
---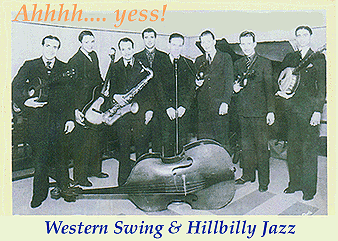 Welcome to my western swing guide, a look at one of America's great original artforms... Hillbillies with saxophones? Heck, why not? Here's a quick look at some of great western swing records to check out... This page covers artists under the letters L-O... Other country styles are linked to as well.
---
Western Swing Artists: A-C | D-G | H-K | L-O | P-Z | Compilations
---
Light Crust Doughboys "Western Swing: 1936-39" (Texas Rose, 1982) (LP)







Light Crust Doughboys "Western Swing Memories" (Binge Disc, 1998)
A nice collection of golden oldies collected by this fab German reissue label. A lot of these recordings simply aren't available elsewhere, and haven't been in print for decades... So this may be your only chance to hear this music for some time to come!


<! LOTS of latter-day(?) albums with James Blackwood and Nokie Edwards >
Light Crust Doughboys "1936-1941" (Krazy Kat, 2007) <! date? >

The Light Crust Doughboys "Guitar Jump" (BACM, 2005)





<! Merl Lindsay (d. 1965 from cancer) http://www.genejones.com/merllindsay.htm obit: "...(By United Press International & The Oklahoma Journal) Band Leader Merl Lindsay, one of the top names in country and western music, died October 12, 1965, of cancer, He was 45. Lindsay, who rose to country music fame nearly 30 years earlier with his first band, the Barnyard Boys, had been in poor health the past six months. Last month, more than 3400 persons attended a stage show when a dozen of the best known performers in country and western music paid tribute to Lindsay in a benefit show at the Oklahoma City Municipal Auditorium. Governor Bellman appointed Lindsay a member of the Oklahoma Ambassador Corps and presented him with the certificate and a medallion of his post as ambassador. Bellman praised Lindsay for his work as a representative of Oklahoma in other states. Participating performers included Red Foley, the Wilburn Brothers, Jimmy Dickens, the Duke of Paducah, Conway Twitty, Leon McAuliff, Hank Thompson, and Moon Mullican, to name a few. Lindsay, whose real name was Merle Salathiel, started his music career in 1936 playing a fiddle in "Salathiel's Barn", a ballroom owned by his father. A year later, he formed his first band. From there it was all uphill. The Barnyard Boys were enlarged to eight pieces in 1941 and renamed The Nightriders. The band performed in 35 states, including Alaska, and entertained troops overseas. During the early 1940's the "Nightriders" broadcast over a four-station radio network in Los Angeles and Long Beach, California. For a time, Lindsay owned a ballroom in Compton, California. Merl later added a girl singer to his band named Wanda Jackson. In 1957, the band was featured on the Red Foley television show, at which time the band name was changed again, to the "Ozark Jubilee Band". Graveside services were at Sunnylane Cemetary, Del City, Oklahoma. Some of Lindsay's old troupe, Gene Jones who played steel with the Ozark Jubilee Band, and Clyde and Charles Harmon of Shawnee, were among those who arrived early at the cemetary. Lindsay is survived by his wife Doris, a son Denzel, and a daughter, Merlynn." >

Leon McAuliffe "World Masters: 1953" (Binge Disc/Bronco Buster)



<! Leon McAuliffe "The Dancin'est Band Around" (Capitol) (LP) B004ENAJ6O >

Leon McAuliffe "Take It Away The Leon Way!" (Jasmine, 2001)

Leon McAuliffe "Take It Away, Leon!" (Harlequin, 2004)


Live recordings, and studio sessions from the late 1940s...
Leon McAuliffe "Everybody Dance! Everybody Swing!" (Vivid Sound, 2005)


A CD reissue of a 1960's album on the Capitol label...
Leon McAuliffe "Take Off & More" (Bear Family, 2007)

Leon McAuliffe "Tulsa Straight Ahead" (Bear Family, 2009)

Dickie McBride "I Still Care For You" (BACM, 2005)


Rare solo recordings from one of western swing's best-respected vocalists... McBride sang with Cliff Bruner's powerhouse Texas Wanderers band, but after the band split apart in 1939, he got his own contract with Decca and set out as a solo artist. This disc also includes a few later tunes made with his wife, Texas fiddler Laura Lee. Generally speaking, these are softer hillbilly swing tunes, with McBride often in a Bing Crosby-ish crooner mode. But there a lot of stylistic variety here as well, also including some mildly thumping hillbilly boogie and a few sweet, sparse acoustic demos. Might not immediately knock your socks off, but there's a good chance it'll grown on you with repeat listens.
Patsy Montana "The Best Of..." (Collector's Choice, 2001)


Was there ever another country performer half as adorable as Patsy Montana? I doubt it. Montana was the greatest of the "cowgirl" singers, and now at last we get a chance to really check out Montana at her peak form -- perkily yodeling away on these delightfully antiquated, sentimental "western" tunes. This is a long-overdue American edition collecting her best work from the 1930s and '40s -- two dozen old tracks from Vocalion and several smaller labels that have been out of print for decades, available only on teeny specialty labels, and in dribs and drabs on various compilation albums. The songs are corny, but Montana's delivery is not, especially later on as her band put more and more swing into their sound -- and you can hear that progression as it actually happened, since these songs are presented in straight chronological order. A particular highlight is a tune Montana penned herself, "Cowboy Rhythm," which demonstrates how strange musical fads such as opera and jazz can't hold a candle to a coyote's howl and a lonesome guitar as the moon starts to rise... Fans of swing-string revivalists such as The Hot Club Of Cowtown are strongly urged not to let this one slip by -- records this fun don't come along that often.
Patsy Montana "Cowboy's Sweetheart" (King/Highland, 1996)
This is much later material, (from the 1960s perhaps?) with an elderly Montana fronting a subdued, Buck Owens-y country band... Definitely not on a par with her classic tracks from the 1930s, although she still whoops up a storm on "He Taught Me How To Yodel" and the recitation tune, "Daddy's Got A Job Up In Heaven" is deliciously maudlin. Lackluster in comparison to her classic work, but still worth checking out.
Patsy Montana "The Cowboy's Sweetheart" (Flying Fish, 1997)



A nice album, originally from 1988 and posthumously released after Montana's passing in 1996. This has sympathetic backing by modern folkies Cathy Fink, Marcy Marxer and others... Naturally, this doesn't have the sparkle of Montana's classic old stuff, which was recorded half a century earlier, but it's still pretty impressive, especially considering how old she was and how she'd kept performing all those years. The album's highlights include "Sixteen Pounds," a feminist parody of "Sixteen Tons," with new lyrics written by Montana herself ("You gain sixteen pounds, and whaddya get...?") and an updated version of "Cowboy's Sweetheart," wherein Patsy talks about being a yodelling grandmother, out on the road in her older years. It's worth checking out.
Patsy Montana "The Original Cowboy's Sweetheart" (ASV Living Era, 2005)





<! 12/10: B001QUYLKS INACTIVE MP3 ASIN >
Patsy Montana "I'm Going West To Texas" (BACM, 2005)





<! CD D 174 Ridin' Old Paint / Old Black Mountain Trail / Your Own Sweet Darling Wife / I'm Goin' West To Texas/ Give Me A Home In Montana / A Rip Snortin' Two Gun Gal / Sunny San Antone/ Deep In The Heart Of Texas/ Homesick For My Old Cabin / I'm Gonna Have A Cowboy Wedding/ Blanket Me With Western Skies/ Blazin' The Trail/ A Cowboy Honeymoon/ Big Moon/ I'm A Ridin' Up Old Kentucky Mountain/ I'll Be Waiting For You Darlin'/ I'll Keep On Wishing For You/ I'll Wait For You/ Dream On Little Cowboy/ Yellow Moon Keep Shining/ When I Found You In Montana/ Goodbye Little Pinto/ I Don't Want Anyone But You/ That's Where The West Begins/ Slap 'Er Down Again Paw/ I Found My Cowboy Sweetheart >
Patsy Montana "Rose Of Oklahoma" (Binge Discs, 2008)


Delicious Depression-era "western" tunes from singing cowgirl Patsy Montana, cheerfully evoking the open skies and rolling range and dreaming of a cowgirl's wedding. Montana sings most of the tunes on this generously programmed disc with her regular band, the Prairie Ramblers, but also with outfits such as the Light Crust Doughboys and the venerable Sons Of The Pioneers. It's great, goofy, sentimental cornball country, with shout-outs to Oklahoma, Texas, Kentucky and just about every other rural area you can imagine. Montana fans will be thrilled to track this disc down, as well as any of the other CDs on this hard-to-find import label. (Available through the Binge Disc website)
Moon Mullican "I Left My Heart In Texas" (Binge Disc/Bronco Buster)


Moon Mullican "Sings His All-Time Hits" (King, 1957)


Piano plunker Aubrey "Moon" Mullican played in a variety of western swing bands through the 1930s, and inherited Cliff Bruner's band at the end of WWII, shifting direction in a bluesier, boogie-woogie style... His first recordings were back in 1936(!) but it wasn't until '57 that his first LP came out. Nice stuff, although it's been largely superseded by all the fab CD best-ofs that have come out since then...

Moon Mullican "Showboy Special: The Early King Sides" (Westside, 2000)


This collection highlights Mullican's earliest work on King, straight reissues of his 1946 and '47 sessions, digging even deeper into material that time has forgotten. As ever, this is craggy but curious music, with more than a couple of gems embedded within.


<! really 109x108 >
Moon Mullican "The EP Collection" (See For Miles, 2000)


This is a collection of tunes drawn from several EPs made for King Records from 1947-56, some of the material is pretty rough and raw -- ricketty, even -- but all of it is distictively Mullican. His western swing roots are evident throughout, although Mullican didn't seem to pay as much attention to tight musicianship as many of his peers. Some of his best material came when he fully embraced R&B styles, as on "Cherokee Boogie," or his cover of Tiny Bradshaw's "Well Oh Well..." Also included here is his hit "New Jole Blon," a dopey parody version of the old cajun favorite -- personally I find the wordplay (and the music) a bit lame, but apparently it slayed them in the honkytonks back then... This is a nice collection that includes a lot of rare, seldom-reissued material. Not all of it is great, but it's certainly worth checking out.
Moon Mullican "Moonshine Jamboree" (Ace, 1999)

Moon Mullican "22 Greatest Hits" (King/Deluxe, 1994)


Moon Mullican "Moon's Rock" (Bear Family, 1992)


Like many country stars, Mullican tried to play keep-up with the rock'n'roll fad that had deep-sixed many artists' record sales in the 1950s. Mullican himself is credited as a forefather of the style, but by the time he made these late-'50s recordings for the Coral label, rock itself was starting to smooth out a bit, and Moon's chunky style was even more out of place. It's funny to hear a bluesy shouter like Mullican being asked to imitate the already-out of vogue Bill Haley, but while these aren't his most innovative or distinctive recordings, they're still kinda fun. Worth checking out.
W. Lee O'Daniel "Western Swing Chronicles, v.4" (Origin Jazz Library, 2005)

---
More Western Swing >> P-Z
---