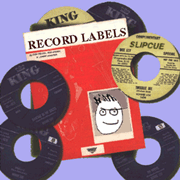 ---
BRING THE NOISE -- COUNTRY STYLE!
---
My years of obsessive record collecting have taught me one great lesson: follow the labels. When you find a label or series you really like, chances are other releases by the same folks may have a similar standard of quality. Here are some of the folks I've been into for the past few years, along with some suggestions for records you might like.
---
Acoustic Disc - David Grisman's Mandolin Heaven
Arhoolie - If You Want Real Roots Music, This Is The Place
Bear Family - The Mercedes Benz of Reissues: Germany's High End Experts
Bloodshot - Home of the Country Insurgency
Capitol Vintage Series - My Favorite Major Label Country Reissue Series
Collector's Choice Music - Hard Country and Sweet Big Band
Columbia Legacy - One of the best country reissue effort by any major label -- and also the most accessible on-line catalog.
Cowgirlboy - Binge Discs - Another Incredible German Label
Decca Records, My Fetish For...
Hightone Records ... with a name like "Hightone"...
Interstate Music - The World's Greatest Record Label?
MCA's Country Hall Of Fame Series - Great Stuff: What's Next?
Oh Boy! - John Prine's fab indie label
Razor & Tie - Anyone What Reissues George Jones Records Is A Friend Of Mine
RCA Nashville - The Essential Series - RCA Country Legends
Rebel/County - Great Bluegrass and Old-Timey Music
Revenant - From John Fahey's turntable to your living room
Rhino - America's sexiest reissue label. Oldies, Rock, Soul, Country, Folk, Blues, Jazz and More
Rounder - Several Recommendations From The Catalog Of The Bluegrass Syndicate
Soundies - Rare, cool radio oldies
Smithsonian - A national trust -- literally!
Texas Rose Western Swing know it-alls.

---

Main Country Music Index
Books on Country Music
Slipcue Main Index
---
Copyright 1998-2006 Slipcue.Com. All Rights Reserved.
Unauthorized use, reproduction or translation is prohibited.
---