---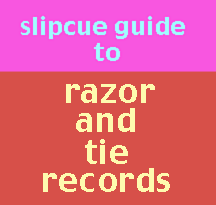 For an offshoot of a TV-order oldies label, Razor & Tie sure has a lot of class. To begin with, they reissued a hefty chunk of the old albums George Jones recorded for Musicor and United Artists back in the 1960s, which is of course great and fabulous material. They did get a little carried away, though, and also reissue Jones's 1978 duet album with Johnny Paycheck -- which is really the only terrible album Ole Possum ever made. We'll forgive them though -- their overall batting average is pretty high. Besides the George Jones records, here are some of my favorite R&T releases...
---
Country Albums
---
George Jones "She Thinks I Still Care" (2-CD set, 1997)


Most people see Jones as having two periods of real greatness: his early ripsnortin' Mercury and Starday years of the late 'Fifties, or the complex, overblown, but emotionally resonant countrypolitan recordings he did with Billy Sherrill in the early '70s. Thus traditional wisdom discounts the value of his in-between work, recordings done for the Musicor and United Artist labels -- but what a mistake that is! Sure, during that time there was plenty of studio sleepwalking on Jones' part, and forced gimmickry on the part of the labels. But there was still George Jones, and that should speak for itself. Jones is a brilliant stylist, no matter what's going on around him, and this retrospective of his late-'60s stuff is well worth checking out!
The Louvin Brothers "When I Stop Dreaming" (Razor & Tie, 1995)


HIGHLY recommended. Charlie and Ira Louvin were the missing link between the haunting, somber harmonies of Depression-era "brother acts" such as the Blue Sky Boys or the Delmore Brothers, and the joyous release of rock and roll's Everlys. This is probably the best single-disc introduction to their music available today. It has two dozen great songs on it, balancing gospel and heart songs almost evenly, although it stops short of including their later pop-rock experimentation. Plenty of stuff to get all worked up about here, including singalong favorites like "Don't Laugh" and "I Don't Believe You've Met My Baby." The earlier "Collectors Series" disc that Capitol put out in 1990 is comparable, but sadly is out of print. My only complaint about this disc is that the 1961 remake of "Great Atomic Power" ain't nearly as great as the '50s original.
George Morgan "Room Full of Roses -- The George Morgan Collection" (Razor & Tie, 1996)


This CD collects some of Morgan's best material, mostly from the '50s, and makes a strong case in favor of reevaluating his place in country music. It's tempting for honkytonk and hard country fans to overlook Morgan as just another Eddy Arnold-like countrypolitan crooner, though it turns out that he was really one of Music City's best singers - a romantic in the Carl Smith-ish heart song style. If you enjoy sentimental country songs, but can live without the goopy, overwrought production the Nashville usually piled on top during this time period, then this collection might be for you. I love it. Highly recommended, even with the multiple "rose"-themed songs.
Red Simpson "Country Western Truck Drivin' Singer: The Best Of Red Simpson" (Razor & Tie, 1999)


R&T continues their mission of mercy, mining the long-neglected Capitol country back catalog. This time around it's a bouncy, good-natured set culled from the career of trunkin' song novelty artist, Red Simpson, whose late '60s LPs are something of collector's items. Simpson was an early Bakersfield pal of Buck Owens, and there's plenty of sylistic overlap here -- the music is generally pretty solid, and even if the gear-jammin' lyrics get a little repetitious, his delivery is friendly and warm. Well worth checking out.
Merle Travis "Sweet Temptation: The Best Of Merle Travis" (Razor & Tie, 2000)


A fine 20-track collection of one of the post-war country scene's biggest stars... Travis invented a unique guitar picking style (known, oddly enough, as "Travis picking") that influenced the sound of Chet Atkins (and all country lead guitarists that came after him), and also perfected a showmanship that brought country's vaudeville tradition into an urbane, cosmopolitan mainstream, singing with a suave easiness that mirrored that Bing Crosby in the pop world. He had several huge postwar hits -- all of which are on here -- and a witty, warm delivery that can later be heard in the bouncy honkytonk of his friend, Hank Thompson. This is a pretty nice collection -- a notch or two above a similar set put out about a decade ago by Rhino Records.
---
Various Artists "SWING WEST! v.1: BAKERSFIELD" (Razor & Tie, 1999)


Various Artists "SWING WEST! v.2: GUITAR SLINGERS" (Razor & Tie, 1999)


Various Artists "SWING WEST! v.3: WESTERN SWING" (Razor & Tie, 1999 )


This series is bound to surprise a lot of folks... These CDs look as generic as can be, but each disc contains a trove of lesser-known tracks by big-name stars and forgotten artists alike. Curated by Bear Family head Rich Kienzle, the SWING WEST series delicately picks its way through the Capitol Records back catalog, and by and large skips over the big hits you'd expect to hear, opting instead for lesser-known and unusual tracks. In some cases, this means recordings taken from sketchy albums made by artists well past their glory years -- Jimmy Bryant recording on the Imperial label in 1967, for example, or Leon McAuliffe in 1964. Yet, these are good later tracks... the sort of songs you'd have to dig pretty deep to find on vinyl, though afterwards you might wonder afterwards if it was worth keeping the whole album for just that one song ("...gee, if only someone would put out an album of this stuff...!") On the other end of the spectrum are the cool rarities, such as Merle Haggard's first recordings on an indie label, or enduring classics like Tex Williams' "Smoke That Cigarette." Kienzle, of course, knows what he's doing. He's one of the greatest reissue producers on the planet, and few people could do a better job poking around the Capitol vaults -- as a result, these discs are hella fun! So, if you want to encourage the major labels to put out more good old stuff, here's an excellent chance to put your money where your mouth is. Yes, yes, yes!
---
Rhythm, Blues and Pop
---
Arthur Alexander "The Ultimate" (Razor & Tie, 1993)


A tasty collection of early '60s soul, by one of the forgotten greats. You may recognize "Anna" from old Beatles albums -- John and Paul thought this guy was the bee's knees... and they were right! Sweet stuff in a Ben E. King vocal style, but with a little more songwriting ooompf. Worth checking out.
James Carr "The Essential" (Razor & Tie, 1995)


Smoky soul music from mid-'60s Memphis. Carr is certainly one of the most underrated soul singers -- he is known for his original version of "Dark End of The Street," which in and of itself puts him in close proximity to Otis Redding's star strata. There are plenty of other great songs on here, though -- strong stuff, and definitely recommended!
Ellie Greenwich "I Can Hear Music - The Ellie Greenwich Collection" (Razor & Tie, 1999)


One of the key songwriters in the "Brill Building" pre-Beatles pop factory, Ellie Greenwich didn't necessarily have the uncanny composing skill of Carole King, but she did make some of the perkiest pop of the early '60s. Included on this collection are early recordings of the Raindrops, the "band" that she and partner Jeff Barry used to demo various tunes. One of these, "This Kind Of Boy You Can't Forget" is completely irresistable teenpop. Also included are their versions of "Doo Doo Ron Ron" and "Hanky Panky", previously available only on a British import... From these early roots, this disc tracks Greenwich's recording career through other classics such as "Then He Kissed Me" and "Be My Baby", and on into early '70s material with production which is almost outlandishly baroque. Of course it was other artists, such as Lesley Gore, Tommy James and the Ronettes, who popularized these songs, but there is something special about hearing a songwriter cover their own material. Greenwich never made the leap into Carole King/Carly Simon singer-songwriter fame, but she sure did make some magical moments.
Jimmy McCracklin "The Walk: Jimmy McCracklin At His Best" (Razor & Tie, 1995)


OK, so this isn't a country record -- so what? You want to live your whole life in a bubble? Live dangerously! Take some chances! This is, however, some hella killer early '60s R&B/blues which should rock your world! Los Lobos covered one of the songs on this album, but wait 'til you hear the original!
The Pied Pipers "Whatcha Know, Joe?" (Razor & Tie, 1999)


Big band more or less died after WWII; slowly during the course of the War, singers began to assert their ascendancy over instrumentalists, and even before Pearl Harbor, crooners and crackerjack vocal groups dotted the landscape. One of the best vocal ensembles was the Pied Pipers, a quartet that came out of the Tommy Dorsey Orchestra. Featuring the warm, girl-next-door vocals of Jo Stafford and tight (but swinging) harmonies of her male cohorts, the Pipers were fun, clever and catchy. These 1940-41 recordings capture them at their best: from straight moon-june love tunes to hep jive like the title track, and nonsensical hilarity such as "Friendship", it's all great stuff. Frank Sinatra, who was still pulling his bobbysoxer apprenticeship with the Dorsey band, also pipes up on a couple of tracks. Fun stuff; highly recommended!
---
Links
---
Razor & Tie - A nice website that can tell you which of these records are still actually in print. Mail order, too.

---


Favorite Roots Labels
Hick Music Index
Jazz & Blues


---
Copyright 1998-2006 Slipcue.Com. All Rights Reserved.
Unauthorized use, reproduction or translation is prohibited.
---