<! MP3 04/15/11 - none > <! update 04/15/11 - big revamp > <! outside 00/00/00 > <! pix 00/00/00 > <! icons 04/15/11 > <! DREAM BABES (series) WHERE THE GIRLS ARE (series) EARLY GIRLS (series) Petula Clark The Cookies Jackie DeShannon Carole King The Liberbirds "From Merseyside To Hamburg - The Complete Star-Club Recordings" (Ace, 2010) B003LFIP2G Darlene Love The Minits The Murmaids Patty & Emblems The Poni-Tails Reparata & The Delrons "Whenever A Teenager Cries" (Collectables, 1993) B00000085A Reparata & The Delrons "The Best Of..." (Ace, 2005) B000A8SXMO The Royalettes "It's Gonna Take A Miracle: The Complete MGM Recordings" (RPM, 2010) B003XKB0IA Tammy Terrell "Come On And See Me: The Complete Solo Collection" B0042NJ0OS B0046E0696 [2 CD] >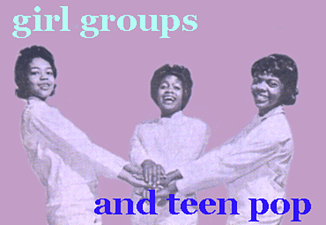 ---
GIRL GROUP, BUBBLEGUM AND TEEN POP!!
---
Who can resist the fetishistic appeal of the girl group sound, with its hyperbolic teen-heartbreak, chick-specific hand-wringing lyrical agonies, and volcanic, subterranean sexuality? Not me! Ditto with the pre-fab, power-pop bounciness of early '70s "bubblegum" and the doe-eyed, assembly line innocence of post-Elvis teen pop. I'm just a sucker for these manipulative "fads" concocted by studio heads and songwriters... Plus, it's just plain fun! So here are a few records you might want to check out...
---
Are You Coming To The Shindig?
---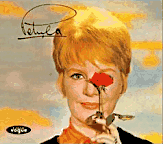 Petula Clark "Anthologie, Vol. 1: The French Recordings (Rendez Vous Avec Petula)" (Wagram, 1998)


A child star in movies and on TV, England's Petula Clark began to focus on her singing career in the early 1950s, but it still took second place to her acting gig until the decade's end. Then, in a surprising career move, Clark shifted her attentions almost entirely to recording French popular music, and after her French-language recordings became international hits, she moved to France in the early 1960s. This is the first of nine volumes gathering her extensive legacy of French pop songs... It covers the years 1961-1962, when she burst upon the French scene and landed several #1 chart-toppers, four of which -- "Ya Ya Twist," "Chariot," "Coeur Blesse" and "Romeo" -- are gathered here, as well as several lesser hits. (For more Petula Clark records, check out my French pop section)

The Crystals "Da Doo Ron Ron: The Best Of The Crystals" (Sony Legacy, 2011)



Timeless, classic girl group music from the Phil Spector pop factory... Their huge hit, "Da Doo Ron Ron," is one of the great, archetypal "wall of sound" smashes, irresistible after all these years. In the wake of the feminist movement (and Spector's rather creepy, subsequently revealed personal history...) early '60s songs such as "He Hit Me (It Felt Like A Kiss)" "Please Hurt Me" may have lost some of their lightly provocative, faux-S&M lustre, but on the whole, these recordings retain their innocence and charm, and this is a fine repackaging of the band's classic catalogue. This includes both versions of the band, the original band with Barbara Alston singng lead, and the "West Coast" version featuring Darlene Love -- a sneaky fraud, created to capitalize on the group's popularity so that Spector could have two versions of the band on tour at any given time. (It all sounds good, though... :-)
Skeeter Davis - see artist discography

Sugar Pie DeSanto "Down In The Basement" (MCA/Chess, 1988)


Oakland, California's #1 soul sister, Sugar Pie DeSanto blew the roof off many a local club, as these sizzling '60s tracks suggest. Sugar Pie paired up with the similarly spunky Etta James on a couple of tracks -- the irresistible "In The Basement" and explosive "Do I Make Myself Clear?" -- with this collection's title track standing as one of the all-time great evocations of urban teen culture: a record hop in the basement! What could be more innocent? And who could be any cuter, or any gnarlier, than this perky-but-tough post-teen queen? A dazzling collection of old Chess singles that form a perfect bridge between inner-city R&B and chirpy girl-group pop. HIGHLY recommended!!


<! born Umpeylia Marsema Balinton in SF >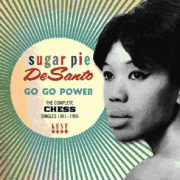 Sugar Pie DeSanto "Go Go Power -- The Complete Chess Singles: 1961-1966" (Ace, 2009)


Bigger, better, and more in print. Let's party, baby!

The Dixie Cups "The Complete Red Bird Recordings" (Varese Sarabande, 2002)


In early 1964, this adorable Louisiana trio hooked up with Brill Building songwriters Jeff Barry and Ellie Greenwich shortly before heading North to work in the big New York City studios... The result of this brief alliance was a series of nice, lowkey sessions that mixed girl group pop with the slinkier, strolling sounds of New Orleans R&B; Allan Toussaint's shadow is cast as large here as Phil Spector's. The group's big hits were "Chapel Of Love" and "Iko Iko," adapted from an old Mardi Gras theme... Both songs are included here (along with a nice alternate version of "Iko Iko"), and the disc is packed with other fun teen tunes from the amazing Barry-Greenwich team. These recordings creak a little at the edge -- the girls had trouble with their harmonies, and the underfunded Red Bird engineers were clearly attempting but not quite able to conjure the bombastic sound of Spector's famed "Wall Of Sound..." But these shortcomings are actually part of the charm, particularly now, listening back decades later in an era when everything we here is so processed and perfected that there is little humanity to be heard in pop music anymore. At least back in '64 some aspiring teens could sing their little hearts out and still hit the national stage, sounding every bit as vulnerable and coy as the very songs they sang. Fun stuff, definitely worth checking out!
The Goodies "Condition Red: The Complete Goodies" (Ace, 2010)


Ellie Greenwich "I Can Hear Music - The Ellie Greenwich Collection" (Razor & Tie, 1999)


One of the key songwriters in the "Brill Building" pre-Beatles pop factory, Ellie Greenwich didn't necessarily have the uncanny composing skill of Carole King, but she did create some of the perkiest pop tunes of the early '60s. Included on this collection are early recordings of the Raindrops, the "band" that she and partner Jeff Barry used to demo various tunes. One of these, "The Kind Of Boy You Can't Forget" is completely irresistable teenpop. Also included are their versions of "Doo Doo Ron Ron" and "Hanky Panky," previously available only on a British import... From these early roots, this disc tracks Greenwich's recording career through other classics such as "Then He Kissed Me" and "Be My Baby," and on into early '70s material with production which is almost outlandishly baroque. Of course it was other artists, such as Lesley Gore, Tommy James and the Ronettes, who popularized these songs, but there is something special about hearing a songwriter cover their own material. Greenwich never made the leap into Carole King/Carly Simon singer-songwriter fame, but she sure did make some magical moments.
Wanda Jackson - see artist discography

Carole King/Various Artists "The Essential Carole King" (Sony-BMG, 2010)



This 2-CD set does a great job encapsulating the decades-long career of Carole King, one of the most prolific and influential pop songwriters of the 1960s and '70s. King started out as a powerhouse in the Brill Building pop factory, and went on to a solo career as a major singer-songwriter and feminist icon in the early 1970s. Disc One highlights King as a performer, with a winsome early demo/single ("It Might As Well Rain Until September") and a healthy dose of hits from her mega-hit album, "Tapestry," and her 1970's heyday. The collection also tracks King's work closer to the present day and then gives way, in Disc Two, to a strong sampling of the hits she wrote for others, perky pop smashes such as "Will You Love Me Tomorrow" by the Shirelles, "Up On The Roof" by the Drifters, "One Fine Day" the Chiffons, and Little Eva's "The Loco-Motion." Unlike many of the pop artists from the pre-Beatles era, King was able to roll with the times and made the transition from teen ballads and cheery girl-group material to pop-psychedelic bubblegum, as heard on the Monkees' "Pleasant Valley Sunday" and the trippy "Wasn't Born To Follow" by the Byrds... Then, as the hippie era turned a corner, so did Carole King, who reemerged in 1971 as a pop auteur, pioneering the more contemplative songwriter style that is now known as "adult alternative" music. The irresistible rhythmic and melodic hooks were still there, but the topics were more mature and the songs had a depth that invigorated the Top Forty landscape, and opened it up to a newer, distinctly feminine perspective. In retrospect, it is amazing to realize how one person could have written so many alluring and enduring pop hits, in such a wide variety of styles. This 2-CD set only barely scrapes the surface of her work, but even these three dozen or so songs will make your jaw drop... Indeed, Carole King may have been one of the last truly great American songsmiths, on a par with Tin Pan Alley legends such as Cole Porter, Frank Loesser, Irving Berlin, George and Ira Gershwin, in terms of the depth and durability of her work. Any serious student of American pop will enjoy this collection immensely, as will her many fans.

Darlene Love "The Sound Of Love: The Best Of Darlene Love" (Sony Legacy, 2011)



Recording "solo" under her own name, and as lead singer of girl-group studio bands such as The Crystals, Bob B. Soxx, and The Blue Jeans, Darlene Love was one of the biggest hitmakers in the Phil Spector stable... This is a generously-programmed best-of set of hits and semi-rarities, gathering music from her far-flung career. Classic '60s pop and soul, with a shiny new mix and mostly-mono sound.
Janis Martin "The Female Elvis - Complete Recordings: 1956-60" (Bear Family, 1987)


Being nicknamed "the female Elvis" sure would be a hard reputation to shake. Still, worse things could happen. And make no mistake, Martin was a hella ripsnorting gal, and if anything she may have outdone The King in the rocker department. This excellent retrospective of her old RCA material goes a long way to explain Martin's enduring legend in the rockabilly scene -- though it gets a little repetitious after a while, on the whole this is well worth checking out. (By the way, Martin came out of retirement a few years back, and cut a few duets with Rosie Flores, which got released on the Hightone label.)

The Raindrops "The Complete Raindrops" (Sequel, 1994)


A cool collection of singles and unreleased stuff by a "band" that Brill Building songwriters Jeff Barry and Ellie Greenwich concocted in order to demo up some of their songwriting ideas. There's some overlap with the Ellie Greenwich album listed above, although this has a more concentrated dose of their girl-group-y, doo-wop leanings. Also includes the thunderously irresistable "Kind Of Boy You Can't Forget," along with their versions of "Doo Doo Ron Ron" and "Hanky Panky," and the goofy reciprocal-sex tune "When The Boy's Happy (The Girl's Happy Too)." Fun stuff!


<! really 108x108 >
The Ronettes "Be My Baby: The Best Of The Ronettes" (Sony Legacy, 2011)


---
Compilations
---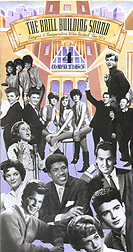 Various Artists "THE ANSWER TO EVERYTHING: GIRL ANSWER SONGS OF THE '60s" (Ace, 2007)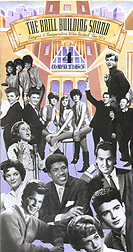 Various Artists "BOY TROUBLE: GARPAX GIRLS" (Ace, 2004)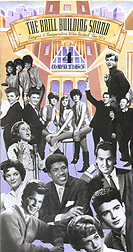 Various Artists "THE BRILL BUILDING SOUND" (K-Tel, 1993)


Just to get things started off on the right foot, allow me to recommend this awesome collection from the loveable folks at K-Tel. Four CDs worth of primo material from the "Brill Building" pre-Beatles pop factory, home of tunesmiths Carole King, Gerry Goffin, Ellie Greenwich and Jeff Barry -- the heirs to the old Tin Pan Alley ethos of songwriting on demand. Guided by producer Don Kirshner, the Brill Building pumped out the real hits of the Kennedy era, goofy teenpop full of melodramatic handwringing angst, and the occasional awesome pop arrangement. This box set sticks pretty closely to the big hits and the big artists - including folks straight outta Squaresville like Neil Sedaka, Bobby Darin, Connie Francis and Bobby Vee. It's precisely the straight-up Top 40 orientation that makes this such a great retrospective. Maybe you're having trouble tuning the oldies station in? Find this collection, and worry no more. Really... it's just pure fun.

Various Artists "BUBBLEGUM CLASSICS v.1" (Varese Sarabande, 1995)


Various Artists "BUBBLEGUM CLASSICS v.2" (Varese Sarabande, 1995)


Various Artists "BUBBLEGUM CLASSICS v.3" (Varese Sarabande, 1996)


Various Artists "BUBBLEGUM CLASSICS v.4: SOULFUL POP" (Varese Sarabande, 1998)


Various Artists "BUBBLEGUM CLASSICS v.5" (Varese Sarabande, 1998)


Mmmmmmm. Bubblegum music. That ludicrously pre-fab, late-60s/early '70s faux genre of catchy fluff tunes performed by studio bands with goofy names -- the Archies, The Ohio Express, The Shondells... These three CDs are a real class act, with a generous helping of irresistable old hits ("Dizzy", "Sugar, Sugar", and "I Think We're Alone Now"...) as well as tons of less-well known, silly little gems. This collection is clearly a labor of love, and highly recommended -- you simply can't find a better summary of the style. (Note: Volumes 4 and 5 fit less well with the first three discs; one is an iffy set of "soul pop", while the other profiles the work of songwriter Tony Burrows; both are less exuberantly satisfying than the first trio of discs in this series...)


<! really 108x108 >

Various Artists "THE COLPIX-DIMENSION STORY" (Rhino, 1994)


In my humble opinion, this is one of the single best records that Rhino ever put out. Some of the most deliciously wimpy, whiny teenpop handwringing ever recorded , with absurd novelty tunes and boo-hoo ballads culled from the vaults of Columbia Pictures short-lived music operation. Sure, there are a few verifiable hits on here, such as "Blue Moon" by the Marcels, and "Loco-Motion" by Little Eva, but it's the super-dopey wannabee tunes that give this 2-CD collection its kitschy appeal. Even though most of these songs were produced on the Brill Building assembly line, with writers like Cynthia Weil, Barry Mann and Carole King seemingly trying to outdo each other in a quest for the inane, there's also something mysteriously and legitimately charming at work here. Sincerity somehow seeps out of these tracks, which were mainly cynical and off-handedly produced but still captured the gee-whiz Leave It To Beaver teen yearnings of the time. The best tracks, though, are a couple of ancient Carole King singles, including "He's A Bad Boy", from 1963, which I've always thought should covered by the queercore band Pansy Division.
Various Artists "DESTROY THAT BOY: MORE GIRLS WITH GUITARS" (Ace, 2009)


Various Artists "FROM THE KITCHEN TO THE GARAGE: DUTCH GIRLS AND GIRL GROUPS IN THE SIXTIES" (Distortions, 2000)


From the producers of the excellent BIET HET series comes this interesting, but flawed, collection of Dutch girl-group rarities. Unfortunately, this collection is a little disappointing -- even given that a lot of the charm of girl group archivism is coming across charmingly inept material. Many of these tracks are just plain irritating, or merely musically flat, though there are also plenty of cool sock-rockers as well. Sadly, Amsterdam just didn't have a Phil Spector or a Shadow Morton around to give most of these gals the required ooomph! It's super-rare stuff, and definitely worth checking out, but you may be a little let down after a few tracks.


<! really 109x108 >
Various Artists "GIRLS WITH GUITARS" (Ace, 2004)

Various Artists "THE GIRLS' GO ZONK: U.S. BEAT CHICKS & HARMONY HONEYS" (RPM, 2004)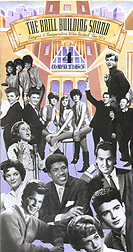 Various Artists "THE GIRLS' SCENE" (Polygram-UK, 2005)





<! from the Decca vaults >

Various Artists "GIRLS IN THE GARAGE v.1-9" (Romulan, 1995)


Now that every bootlegger and their brother has a crazy-rare, mid-'60s girl-group collection out, the variable sound quality of this series makes these discs slightly less attractive than they were back in the '80s, when they started the whole trend. But the song selection is still awesome, as is the harder-edged, garagey, chicks-can-rock-too headbanginess of it all. As with most reissue series, the first volumes are the best... and they are all doozies! Highly recommended!
Various Artists "GOIN' BACK: THE SONGS OF GOFFIN & KING" (Sequel, 2000)


Carole King and Gerry Goffin's songwriting success in the Brill Building days is well-known (see above!), but how did their work fare across the Big Puddle? Here's an interesting set of Goffin & King covered by various Brits during the '60s and early '70s. It's a slightly different take, with that good old anemic English version of pop-rock... it doesn't always work out when they try to be the next Little Eva, but there are still plenty of fun moments on here. A nice, different take on some familiar terrain, though certainly not for everyone.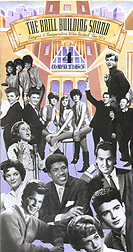 Various Artists "GOOD GIRLS GONE BAD: WILD, WEIRD AND WANTED" (Ace, 2004)


Various Artists "GROWIN' UP TOO FAST" (Mercury, 1996)


This 2-CD set full of classics and oddities is, quite simply, one of the best and most enjoyable girl group comps out there. A sweet cross-slice of a particular brand of American teen culture... If you don't have it in you to spring the big bucks for the various fetishistic European imports, but still want something that'll make you crank the volume and turn up the treble, this is about as good a collection as you could ask for. Plus it's got Ginny Arnell's backlash anthem, "Dumb Head", which is worth the price of admission alone. Highly recommended.

Various Artists "HEY, BEACH GIRLS -- FEMALE SURF 'N' DRAG: 1961-1966" (Ace, 2010)


Various Artists "I WISH I WAS PRINCESS: THE GREAT LOST FEMALE TEEN IDOLS" (Collector's Choice, 1997)


Another great entry in the world of fetishistic girl group reissues, this time anchored in the world of late 1950's pop vocals. The most curious aspect of this collection of oddball one-offs is how far out of their way the liner notes go to point out that this music was not actually that good. But then again, that's not necesarily the point. Haley Mills was, indeed, unbelieveably bad (although in 1961 she still cracked the Top Ten with the tinkly "Let's Get Together"...) But no matter what disparaging comments the label wants to make, songs like Margie Rayburn's "I'm Available" and Janie Grant's "That Greasy Kid Stuff" (in which a bald Nikita Kruschev gives John Kennedy hair care advice...) are pure gold. Ditto with the ever-classic "Dumb Head" by Ginny Arnell, which seems to be one of the most widely collected teenpop novelty songs... and a classic. A fun, funny disc.


<! really 110x108 >

Various Artists "THE LAURIE RECORDS STORY, v.3: GIRLS AND GIRL GROUPS" (Ace, 2009)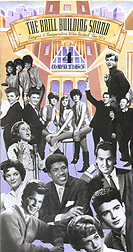 Various Artists "LET'S GO! JOE MEEK'S GIRLS" (RPM, 2004)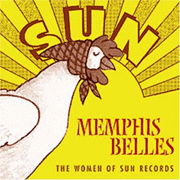 Various Artists "MEMPHIS BELLES: THE WOMEN OF SUN RECORDS" (Bear Family, 2002)


This is an amazing and historically significant 6-CD set that gathers together all the songs ever recorded by female artists on the legendary Sun Records label during its brief and glorious reign in the early years of rock'n'roll. To be honest, these are mostly marginal performances, demo-y sessions from a flock of gals of variable talent, with material ranging from triplet-heavy pop vocals and proto-girl group weepers to awkward hillbilly numbers and a surprisingly solid cache of little-known blues sides. There was very little of the raw rockabilly that the label's male artists made so famous -- if you're looking for some obscure, unremembered Janis Martin or Wanda Jackson type, this set will come as a bit of a letdown. But as a glimpse into the creative process at Sun, hearing their house bands back up the gals is a pretty fascinating exercise -- and there are certainly several gems scattered throughout the collection. (These tunes could probably be condensed down to a single-disc set that would still have a mediocre air about it, but would give more bang for the buck. But then the authoritative, archival quality of the collection would be lost, and that would be a shame.) There are tantalizing glimpses of lost opportunities: some of the most promising rockers never really got a fair shot, gals like Gloria Brady, who apparently only got to record a handful of demos, but never waxed a proper single. Jerry Lee Lewis's little sister, Linda Gail Lewis emerges clearly ahead of the pack with a couple of ripsnorters, but really it's the forlorn, amateur-hour quality that makes many of these tracks so charming, and the clear emulation of other artists, particularly the heavy presence of Dinah Washington hovering over the robust vocals on the fourth disc, "Blues," and the taunting awareness of how much more vibrant --and more successful -- the sides recorded by the boys had been. The packaging of this set should also be noted... What the box set lacks in musical punch, it more than makes up for in scholarship and presentation -- the enclosed squarebound booklet is an impressive coffeetable collection, with copious liner notes and archival photos and extensive biographical entries for each of the artists. These gals might not have shaken up the world with their chart action, but they still occupy a unique and significant place in the heart of American popular culture, and this box set certainly does their legacy up right. If you're a 'Fifties rock or pop music fan, it's certainly worth checking this set out.
Various Artists "ONE KISS CAN LEAD TO ANOTHER: GIRL GROUP SOUNDS, LOST AND FOUND" (Rhino, 2005)





<! 4-CD set >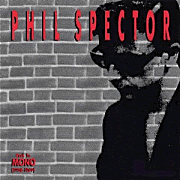 Various Artists "PHIL SPECTOR -- BACK TO MONO: 1958-1969" (Abkco, 1991)


Phil Spector's multi-layered "wall of sound" was one of the highpoints of 1960's monophonic pop production, and this 4-CD set really does justice to his legacy... It digs deep into his work, possibly deeper than most casual fans need. But if you want a monolithic overview of Spector's sound, here it is. Includes a reissue of his fabled Christmas album, and monophonic remastering on all the tracks (which is the way Spector intended the music to be heard...) Da-Do-Ron-Ron-Ron, Da-Do-Ron-Ron!


<! a 4-CD box set >

Various Artists "PLAYIN' HARD TO GET: WEST COAST GIRLS" (Ace, 2000)

Various Artists "POODLE SKIRTS AND PONI-TAILS, v.1" (AEI, 1999)

Various Artists "POODLE SKIRTS AND PONI-TAILS, v.2" (AEI, 1999)

Various Artists "POODLE SKIRTS AND PONI-TAILS, v.3" (AEI, 1999)


Various Artists "TEENAGE HEAVEN: THE FIFTIES GIRL GROUP PHENOMENON" (El Records, 2009)



Various Artists "ULTRA CHICKS v.1-6" (1996/1999)
Fab French pop music! A great series, with plenty of punch compared to similar releases. Whether you're a francophile or a ye-ye girl-groupie, these comps are worth tracking down. Yes, Jacqueline Taib's often-collected "7 Heurs du Matin" is on here, but so are a whole host of others, including dozens of artists zat no one has evair 'eard of... All three CDs are high-test; Volume Three gets a little more modern, but in a power-poppy kinda way, not new wave. As with the ILS SONT FOUS LPs, this covers France, Belgium and the new world... v.3 also includes Tuesday Weld, which seems to be stretching things a bit... but who am I to say? HIGHLY recommended!

Various Artists "WALL OF SOUND -- THE VERY BEST OF PHIL SPECTOR: 1961-1966" (Sony Legacy, 2011)



This is a strong collection of classic oldies from one of the great pop producers of the 1960s... Plenty of tracks by the Crystals and Darlene Love as well as Bob B. Soxx and the Ronettes, and even "You've Lost That Loving Feeling" by the Righteous Brothers. Although it doesn't have the depth and scope of the now out-of-print Back To Mono box set, this is a great single-disc overview of Spector's best work, with a nice updated sound mix. Great place to check out his work.


Various Artists "WHERE THE GIRLS ARE v. 1" (Ace, 1997)


Various Artists "WHERE THE GIRLS ARE v. 2" (Ace, 1999)


Various Artists "WHERE THE GIRLS ARE v. 3" (Ace, 2000)


Various Artists "WHERE THE GIRLS ARE v. 4" (Ace, 2001)


Various Artists "WHERE THE GIRLS ARE v. 5" (Ace, 2003)


In the reissues field, Ace Records has always had one great advantage: great sound quality. Crisp, clear, treble-heavy mixes are their specialty, and it's perfectly suited to old-fashioned AM radio fodder such as this. This particular series stands out amid the ever-thickening crop of gal group collections for a lot of reasons -- Volume One has awesome pacing and song selection (including one pre-Porter Wagoner single by Dolly Parton!), and a lot of stuff that's off the beaten path, but doesn't suck. Volume Two is a little more standard-issue, but Volume Three is a real archival doozy, collecting soul, R&B and girl group-ish singles issued on Chess and its subsidiary labels, stuff by the likes of Mitty Collier, Yvonne Baker, Sugar Pie DeSanto, Fontella Bass, and a slew of lesser-known African American gals. True, the formula strains at the edge after a while, but it's still pretty cool stuff. Another home run by the folks at Ace.
Various Artists "YOU CAN BE WRONG ABOUT BOYS, v.1" (Castle/Sequel, 1993)


A collection of girl-group and Mod-flavored femme-pop from the British label, Pye Records. Lots of big, brash British production values, as contrived and commercialized as anything coming out of America at the time. Some okay material, although often on the jittery side, and perhaps a bit mediocre. A couple of fun tunes, but overall this did not grab me.
---
Related Slipcue Pages
---
If you dig the whole "girl" music thing, here are some other pages that might be of interest:
---



Indiepop Indiedex
New Pop Reissues
Slipcue Main Page


---