! MP3 00/00/00 > <! update 00/00/00 > <! outside 00/00/00 > <! pix 00/00/00 >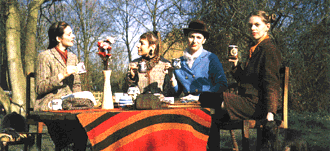 Here's a look at one of the gnarliest all-female bands ever, the Billy Childish-inspired Thee Headcoatees, consisting of Holly Golightly and her fellow badgirls Kyra LaRubia, Ludella Black, and "Bongo" Debbie. Thee Headcoatees formed in the early '90s and disbanded at decade's end, after tearing the garage rock scene a new hole or two. They managed to leave behind some swell, sizzling, molten rock records before they called it quits, and are still making it to the studios and clubs from time to time. The band's many groovy records are reviewed here; solo albums and related projects are included below.
---
Thee Headcoatees Discography
---

Thee Headcoatees "Girlsville" (Hangman, 1991)(reissued on Get Hip)


Not, ultimately, that super-duper an album, but you can see why this would get the boys all excited... It's sloppy and kind of shakily produced... of course, a lot of that is probably intentional, but this is still not as flat-out groovy and hard-rockin' as their later albums. Extra points for doing a gender-flip on the Beatle's creepy stalker song, "Run For Your Life," and for beating the Donnas to the punch by about ten years or so with "Dirty Old Man..." "First Plane Home" is a gas, though, as well as "Jacqueline," the song which sort of put them on the map... In some ways, you can almost hear thee gals growing into their role as the album goes along, getting primed for their more rocking later records. Interesting debut, but cuter than it is cool.

Thee Headcoatees "Have Love Will Travel" (Vinyl Japan, 1992)


Now we're talking! So, this may surprise you, but I'm most fond of the songs which are solo numbers for Holly -- and boy are they good. "Baby Please" and "Tear It To Pieces" hint at the lusher, reverb-y approach she'd take on future solo albums... Some of the group tracks are less inspiring, but maybe it only feels that way once you've already heard a few dozen Billy Childish-related albums... The oddest track on here is a historical narrative about a Native American battle with the French ("Louis Riel")... I have no idea if it's based on real events, but once I crack the books and find out, I'll let you know... At any rate, it's an interesting inclusion in the middle of a typical Childish Bo Diddley lovefest. Oh, yeah, the title track rocks, too.

Thee Headcoatees "Ballad Of An Insolent Pup" (Vinyl Japan, 1994)


GREAT ALBUM. On the title track, the gals make their femme fatale S&M subtext a little more plain (the boys really dig that stuff...) and go on to snarl their way through many a song on the foolishness of love and attraction. That's all very well and fine, but what really makes this album special are the slashing, relentless guitars and heavy, heavy backbeats. It's a big, bold Billy Childish wall of sound that takes no prisoners and was made to be played LOUD. And with the crisp, clean production, you can do just that... used properly, your neighbors will hate you for buying this record.
Thee Headcoatees "Bozstick Haze" (Vinyl Japan, 1997)


Another record made to played real loud (well, hell, after all, it's got a cover version of "I Want Candy"...) although there's a bit of a retread-y feel here. The let-me-mistreat-you schtick is definitely starting to wearing thin, and the Bo Diddly workouts are kind of predictable, too. Still -- as ever -- there are plenty of hyper-fun songs on here... you just might not want to listen to them all in the same place and at the same time...

Thee Headcoatees "Punk Girls" (Sympathy For The Record Industry, 1997)


That's "punk" as in both the '60s and '70s meaning of the word... features covers of songs by the Strangeloves, the Ramones, Plastic Bertrand, the Lurkers, and others -- and the usual slew of Billy Childish compositions. A couple are pop parodies ("I Don't Wanna Hold Your Hand" to counter the Beatles, "Billy B. Childish" to pay homage to Chuck Berry...) To be honest, this album seems a little reserved, somehow, but it has its super-fun moments.

Thee Headcoatees "Taylor Meets Thee Headcoatees" (Lissys, 1998)
If nothing else, these dub/electronic remixes show that Thee Gals are good sports. The mixmastering really doesn't add much to their already-great rock songs, and in some cases makes them a bit snoozy. A few segments hint at possible success along the same lines: hearing Billy Childish's guitar come clanging out of nowhere in an otherwise dubby haze is a curious experience, and the bouncy remake of the already-bouncy "Meet Jacqueline" is good Go-Gos-y fun. However, these garage rock gals seem inherently ill-suited to the chill-room aesthetic.
Thee Headcoatees "Here Comes Cessation" (Vinyl Japan, 1999)


Here thee Gals are down to a three-piece band now... Not that seems to have made much difference in their music. Well, OK... I guess I'll just come right out and say it -- this sounds just a little too much like their other stuff, and the formula is wearing thin. Enough with the snarly S&M-themed come-ons, already! ("Hurt Me," for example...) The mystery here for me is why Holly's solo records have all been so fab, and yet thee band itself seems to be treading water. Still, if you hadn't heard all their previous stuff, this album would probably seem like a lot of fun!
Thee Headcoatees "The Sisters Of Suave" (Damaged Goods, 1999)


Hey! Check it out! It's a groovy best-of record!
Thee Headcoatees "Live At The Boston Arms" (EP) (Damaged Goods, 1999)
I've never seen this album... yet. But since the record label lists it on their website, I'll assume it does actually exist, and have my eyes peeled for it in the shops... Sounds groovy, though.
---
Related Records
---

The Delmonas "Dangerous Charms" (Vinyl Japan, 1988)


I'm not sure what, if any, actual connection the Delmonas had to Thee Headcoatees, other than the whole Billy-Childish-as-garage-svengali thing. Was there an overlap of personnel? How the f**k do I know? At any rate, this is a pretty fab collection of their two EPs on Ace Records, along with some live BBC recordings that feature Childish and future Headcohorts, Hampshire, Brand and Childish. The CD version also includes a bunch of tunes Ludella did on the Beeb, with pretty much the early Headcoatees sound in full blossom. Lots of rock-pop oldies and a few Hampshire-Childish originals... Great stuff if you can track it down!
The Delmonas "Do The... Uncle Willy" (Get Hip, 2003)


At last! A CD reissue of this fab 1980s Delmonas LP, which was one of the first Medway records I ever heard, and which helped usher me into thee fold. The classic track here is "I Heard About Him," a song with a great chorus, a piercing guitar line and spooky vocals, and one that I've played on the radio so many times, it makes me blush to admit. The rest of the album is also pretty groovy, in a melodic, 'Sixties-styled garage-y kinda way. This disc doesn't follow the original album precisely -- there are some additional demo tracks, etc. -- but it's close enough for me. Recommended. (This disc can be ordered directly through the Get Hip label, which also has stuff by the Squares, and a zillion other great garage bands... Here's their website: http://www.gethip.com Tell 'em Joe sent ya.)
Mark Lee "Obvious... Lee" (Teenage Kicks, 1995)
Fun, freewheeling psychedelic-garage absurdism that's deliberately reminiscent of Dylan at his goofiest ("Subterranean Homesick Blues," "115th Dream," etc...) Or, for a more contemporary reference, how about Scott McCaughey and the Young Fresh Fellows & folks like that? Anyway, this is a catchy, clever record which stands above mere novelty-song kitsch... with Holly and drummer Bruce Brand pitching in, there's plenty of real-live rockin' and rollin' going on here. A perfect minor masterpiece; relaxed and informal and kinda cute. Holly doesn't sing on all the tracks, but when she pitches in, it's pretty cool.

Mark Lee "This Delightful Idle Life Of Ease" (Teenage Kicks, 1995)
This isn't as outright rocking or genuinely goofy as the Obvious... album, but it's still pretty charming. Self-indulgent, but charming.
Mickey & Ludella "Bedlam-A-Go-Go" (Vinyl Japan, 1995)


Mickey Hampshire of the Milkshakes and Ludella Black of Thee Headcoatees kick one out with the assistance of evil pop overlord Billy Childish. More groovy garage rock -- not bad for a one-off!

Miss Ludella Black "She's Out There" (Damaged Goods, 2000)


Ludella's legions of fans will be properly charmed by this reprise of her earlier collaboration with Mickey Hampshire, who again provides some lavishly sleek garage-pop guitar riffs, as well as several nicely-dashed off Medway originals. Sure, the vocals are a bit shaky in places, but ain't that always been part of the charm? In places it's pretty, elsewhere it's just plain loud. The tracks that put this one over the top for me are her remake of Brenda Lee's oldie-but-goodie, "Is It True?" -- which sounds a bit like a millenial update of the Merseybeat stylings of Jeannie and The Boys -- and the incredibly narcotic "Last Summer", which actually had me hitting the "repeat" button on the old CD player, in search of that perfect segue, as well as hitting the used record bins in search of the original version by the Troggs. More impish, imperfect, gosh-heck, rocknroll fun.

Kyra LaRubia "Orgasm Addict" (7")
A nice loud, raunchy cover version of the Buzzcocks oldie, along with a hard-rockin' flipside. Nothing to complain about here!
Kyra LaRubia "Here I Am I Always Am" (Vinyl Japan, 1998)


Down girl, down! Rugged, caterwauling lo-fi garage rock. I gotta admit, Heatcoatees fan that I am, this is a pretty hard pill to swallow. Many songs start off with catchy riffs, but it all gets muddy and screechy and, well, kinda difficult. Guess I just dig Holly most of all.
The A-Lines "You Can Touch" (Sympathy For The Record Industry, 2005)


Kyra LaRubia, along with Delia (of Mambo Taxi and Action Time fame) and others, blasts away in this new Billy Childish-produced punkfest. Haven't heard it yet, but it sure sounds cool.
---
Links
---
---



---