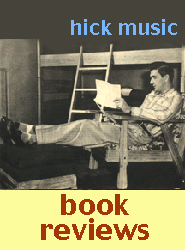 ---
Hey, it's not like a smart feller like me can't get no book learning or nothing... Plus, it doesn't hurt to have a reality check once in a while... Here are some of the more interesting country and folk-related books I've read recently... Books about individual artists are reviewed on a separate page.
---
---
Country Music Guide Books
---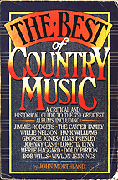 "The Best Of Country Music: A Critical and Historical Guide to the 750 Greatest Albums"
by John Morthland (Doubleday Dolphin, 1984)
This is the coolest country music reference work ever. Even though it has been superceded by sexier, bulkier books since its publication in 1984, it still is more fun to read and will give you a better sense of what "good" country music is than just about any other guide. And it is deperately in need of being updated and re-issued! Morthland, a former editor at Rolling Stone, Creem and Country Music magazines, is a lucid, direct writer; he's funny, chatty and completely willing to interject his own personality and musical bias into the text. The book presents country music historically, in eleven chapters running from "Early String Bands" through "Honky Tonk and Hillbilly Boogie," "Western Swing," "Rockabilly," "The Nashville Sound," and finally into "Countrypolitan" and "Contemporary Country." Obviously, a lot has happened in the country world since 1984, and it would be wonderful to get Morthland's take on everyone from Dwight Yoakam to Sara Evans. I don't always agree with Morthland: for example he completely dismisses Emmylou Harris in one sentence, while devoting two entire pages to one drekky Anne Murray record. 95% of the time, though, I love what the guy has to say. My dogeared, highlighted, post-it-covered copy is in desperate need of a companion volume. (This just in: here's a link to a website that acts an as online appendix to Morthland's book for the CD era... A great stopgap until Morthland updates his book himself!)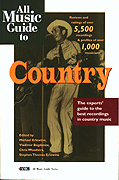 "All Music Guide To Country Music"
ed. Michael Erlwine, Chris Woodstra, et al
(Miller Freeman Books, 1997)


I hate to admit it, but this is the book which de-thrones John Morthland's as the world's best country music guide. It's very well laid out, has way more information, a fine crew of writers, with surprisingly wide historical and stylistic breadth. Books like this make know-it-alls like me shudder: now everyone can have decades worth of hard-won musical knowledge at their fingertips, for just a few bucks. Hardly seems fair. Highly recommended.
"MusicHound Country: The Essential Album Guide"
ed. Neal Walters and Brian Mansfield
(Visible Ink Press, 1997)


With all the other country guides out there, this faces pretty stiff competition. Its advantages include a more open -- though slightly diffuse -- layout, explicit album recommendations (ranging from one to five bones, and "woof!" for complete dogs) and a nice "Resources" section. Appendices include: movies with country themes (courtesy of the VideoHound guide), fan clubs and websites, recommended publications and radio stations, as well as chronological listings of industry awards, and finally, the Hound's patented cross-reference lists in the back. The companion CD, however, is rather disappointing: an eight-song sampler of contemporary artists on Mercury/Nashville.
"MusicHound Folk: The Essential Album Guide"
ed. Brian Mansfield and Gary Graff
(Visible Ink Press, 1998)


A really fab book which fills a big void in the world of music guides. Very comprehensive -- covers earnest 'Sixties folk, acoustic blues, acoustic guitarists, bluegrass, modern Americana, some gospel, some Hawaiian music, and more. Especially strong on its many Celtic/British folk revival entries and historical overviews. A little too dismissive of some of the early '70s songwriters, and skips many children's music artists (Ella Jenkins, sure -- but shame on you for omitting Barry Polisar!) I'm a little puzzled as to why there are so many country artists in here, especially when MusicHound already has a separate volume devoted to twangsters -- if they're going to include honkytonkers like Ernest Tubb or Johnny & Jack in this book, why not everyone else? But overall this is an outstanding reference work. The resource appendices are particularly nice, including guides to other publications, artist websites and a short-list set of album recommendations. Companion CD provided by Rounder/Philo has only seven tracks, which seems a bit stingy, and only includes contemporary artists.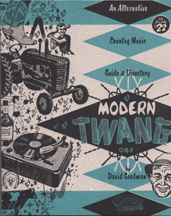 "Modern Twang - An Alternative Country Music Guide & Directory"
by David Goodman
(Dowling Press, 1999)


An awesome, all-purpose, up-to-date guide to the alternative country "scene", this includes profiles of about five hundred bands, both big and small, with special emphasis on local scenes. It's an amazing resource, sure to fill in numerous blanks for just about any reader. Goodman's writing is straightforward, and not overly concerned with the "look, I'm a postgraduate!" rhetorical flashiness which plagues many contemporary music reviews. Let me put it this way, if I had a staff here at Slipcue, I'd hire this guy as a writer. Of course, with books like this, it's fun to flip around checking on bands you already know about... and the good news here is that Goodman is pretty thorough. For example, I looked up The Movie Stars, a Bay Area band whose late-'80s album preceded most of the current wave of twangsters by several years. They didn't have their own entry, but were mentioned under the listing of Red Meat, which is sort of a reconstituted version of the old band. Other '80s pioneers are included as well, though things start to get a little fuzzier and less consistent in the '70s (the Blue Ridge Rangers get listed, but what about Larry Hosford?). One problem I have, though, is the use of scene-specific catch phrases to denote "styles" of music... for example, Sun Volt as "No Depression" music, or any of the bands on Bloodshot as "insurgent country". Yeah, sometimes the things bands (or labels) call their music are cute, but they aren't necessarily that descriptive. But maybe I'm just being too crabby. Goodman also includes listings for radio stations, e-zines, websites and publications related to the current Twang-craze... obviously many of these listings will be quickly out of date, but we can hope that just means another, bigger, better edition will follow... and maybe Slipcue will get listed next time! The Modern Twang website is also worth checking out...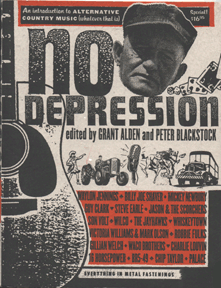 "No Depression: An Introduction To Alternative Country Music (Whatever That Is)"
ed. Grant Alden & Peter Blackstock
(Dowling Press, 1998)


Also from Dowling Press comes this fascinating collection of writings from No Depression, the premiere magazine of 1990s alt-country devotees. The magazine, started in 1995 by two fans of the band Uncle Tupelo, has blossomed into the foremost of the alt-country publications, featuring articles, album reviews, concert reviews and updates of various sizes, shapes and flavors. As the magazine has grown, it has come to include a wider historical range, including profiles of older artists and a regular column on CD reissues. Like the magazine, this anthology of artist profiles is full of insights and fraught with distractions. I suppose I should start by coming out with my confession that I have always had, well, problems with No Depression... To wit, I (and many other people) have long regarded the magazine as more of a booster society for twangcore than as a vehicle for critical commentary... the reviews are generally non-critical and often adulatory of even the most marginally talented of bands. Such boosterism is all very well and fine -- it's a matter of preference, and in some ways is a refreshing change of pace from the snarkiness of say, SPIN or various indie-rock zines. But at the same time, there is something to be said for offering sincere criticism: if no one will point out the flaws in an artform, how can it be expected to grow? In a similar vein, the editorial slant at ND seems to encourage loose, personalized, expressive writing from its dozens of freelance contributors. Writers regularly interject themselves into their stories, or go out of their way to use quirky -- even show-offy -- phraseology and other purposefully-amatuerish techniques that come out of the 'zine ethos. At times this is rewarding to the reader. More often than not, though, I find it distracting and difficult to get around: if you're writing about Hank Williams, then tell me about Hank Williams; don't try to write a Homeric ode in his praise. The editorial hand seems light at No Depression -- perhaps just unwilling to offend contributors with guidance -- but also apparently prizing dense or lengthy prose as a way to persuade the reader of the gravity of what is being discussed. Yet, in this regard No Depression has little to worry about -- it is clearly the leader of the pack in the current twang craze. Each issue is an impressive cross-section of the "scene" -- and as music historians of the future look back at today's country-roots revival, ND will doubtless take on the authoritative stature that it tries so hard to project in the present day. For those of us in the here and now, we can amuse ourselves with the many insights into the artists we've come to know and love... For example, Allison Stewart's wry presentation of just what a pompous dweeb Will Oldham (of Palace/Brothers/Songs) actually is, or editor Grant Alden's hopelessly florid, but wonderfully informative, profile of alt-country legend Chip Taylor. For the very best of this beloved magazine, this is the book for you.
"Encyclopedia Of Folk, Country And Western Music
by Irwin Stambler & Grelun Landon
(St. Martin's Press, 1969, 1984)


A massive book which has in many ways been superceded by other, later works. It's a bit bulky, with a layout which is a bit flat. Still, it includes entries on some artists which other guides may omit; the discographies are a bit suspect, though, particularly when it comes to little things like getting the titles right. You could opt for the newer, sexier country guides, but this one still has something to offer, particularly the longer, more narrative biographical entries.
---

Country Music Index
Other Book Reviews
Slipcue Main Index




---
Copyright 1998-2006 Slipcue.Com. All Rights Reserved.
Unauthorized use, reproduction or translation is prohibited.
---