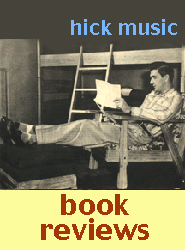 ---
This page features reviews of books that expore the lives and careers of specific country artists. General reference works about country music are review on a separate page.

---
---
Country Music Histories
---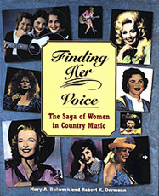 "Finding Her Voice: The Saga Of Women In Country Music"
by Mary A. Bufwack and Robert K. Oermann
(Crown Publishers, 1993)


An invaluable book, outling the history of women in country music, from Day One. This husband/wife team made themselves into a franchise as historians and commentators for the TNN country cable network... Here they present the female side of the country equation, moving historically from the pre-recording days back in Hog Hollar, to the gradual entry of women into the growing "hillbilly" music industry, and finally into the hallowed halls of the Grand Ole Opry and the mainstream of commercial country. The writing is generally good, and the scope of the book is impressive. The authors pay special attention to the contradictions of women's place in early country -- they were important keepers of folk traditions, but not allowed to perform professionally -- as well as to the persistent stereotyping and creative restrictions placed on them my the Nashville establishment. This book may be a bit exhaustive, but it's an awesome bit of pop scholarship. Besides, they turned me onto the foul-mouthed mid-'50s proto-rockabilly filly, Charlene Arthur, which was worth the price of admission alone. Highly recommended!
"The Country Reader: Twenty-Five Years Of The Journal Of Country Music"
ed Paul Kingsbury, foreward by Chet Flippo (Vanderbilt/CMF Press, 1996)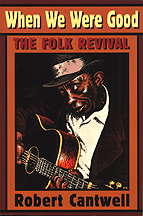 "When We Were Good: The Folk Revival"
by Robert S. Cantwell
(Harvard University Press, 1996)


I have to admit, I approached this book with high hopes, and found myself sorely disappointed. It had gotten such great press when it came out -- with big write-ups in the Times and elsewhere -- but frankly, I found the style and grammar so convoluted that I could hardly understand it. Cantwell's overly-academic writing is so dense and thicketed that halfway through I realized I had absolutely no idea what his book was about. Something about the American folk revival... but what exactly was he trying to say? Cantwell, a '60s folkie who teaches American Studies at UNC Chapel Hill, applies a nearly impenetrable acadamese to his history(?)/analysis(?)/deconstruction(?) of the folk revival, but seems unable to rise above the terminology and crowded syntax he's adopted. His writing has a piled-on, house-of-cards style, full of incredible run-on sentences and needless verbal transpositions that make practically every sentence, paragraph and chapter difficult to follow. In short: arrrrrrgh. The most frustrating aspect is the boggling lack of narrative skills: Cantwell sets out to tell stories and convey experiences, but inevitably gets balled up in unreasonably convoluted, digressive rhetoric. Maybe I'm just a big dummy and can't understand all that smart feller, egghead stuff... or maybe this guy needs a more forceful editor. Anyway, if I'm able to unravel the secrets of this book at a later date, I will let you all know...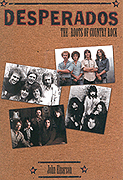 "Desperados: The Roots Of Country Rock"
By John Einarson
(Cooper Square Press, 2001)


For a while there in the '70s and '80s, it was chic to sneer at country-rock -- just another reason to hate L.A. In part, this was due to the style's runaway success, what with the Eagles and Linda Ronstadt's domination of the soft pop market during the height of the disco years. Country rock has often been hard to pin down, though -- are we talking about the sleek Top 40 stuff, or the scrappy hippie bands that would just as soon pick up a sitar as a pedal steel? This book is a well-written, highly readable look at the history of this rather amorphous subgenre, spanning from Buck Owens' Fender-bending twanginess to the present-day musings of bands like the Jayhawks, Steve Earle and Lucinda Williams. The bulk of the attention is on the 'Seventies, when country-rock was a marketable niche, and Einarson does a great job fleshing out the personalities and development of the scene, including interviews with numerous artists who may seen peripheral or obscure to us now. There's also the inevitable eulogizing of Gram Parsons, amid a detailed portrait of SoCal's longhair hipster hordes, with a rich play-by-play of the artistic development of the Byrds, Michael Nesmith and Ricky Nelson, giving credence to a wealth of hippie-era experimentation which if often written off as indulgent or ill-formed, and helping frame its importance to the growth of the present-day "young country" Nashville crossover sound. Einarson's exploration of the deep interconnections between hard country and early rock is a little facile -- he points to Elvis and Hank Williams, where pre-rock artists such as Hank Penny and Moon Mullins might have been a little more instructive. But really, that's just nitpicking -- this is a fine book, and certainly a must for folks drawn in by the whole No Depression scene. Recommended!
"Bluegrass: A History"
by Neil V. Rosenberg (University of Illinois Press, 1985/1993)
This is a pretty definitive and detailed book but also a bit dry and exhaustingly insiderish. But for a scholar of first-generation bluegrass and the various revivals, this book is pretty hard to beat.
"Elvis, Hank And Me: Making Musical History On The Louisiana Hayride"
by Horace Logan, with Bill Sloan
(St. Martin's Press, 1998)


Horace Logan was the emcee and program director for the famed Louisiana Hayride, a nationally broadcast weekly radio show that for the better part of the 1950s was the main competitor of the Grand Ole Opry. Known as "the cradle of the stars," the Hayride had a reputation for developing hot new talent, and has long been an object of fascination for me since it was here that Webb Pierce got his start. As the main creative director of the Hayride,Logan's path intersected those of many top-flight hick musicians, including Webb, Johnny Horton, Johnny Cash, Kitty Wells, Jim Reeves and a slew of others whose careers took off when they became regulars on the show. This book concentrates the bulk of its effort towards two oft-mythologized stars whose lives are amply documented elsewhere - Hank Williams and Elvis Presley -- and while it's cool to get insights from a person who helped start both their careers, in a sense the book feels like a missed opportunity, since Logan must have had plenty more to say about the "early" days when country music made the transition from rinky-dink local operations into a major industry with a nationwide scope. He broke into the business at the tail end of a period when all the action was on local radio stations, and helped usher in the era when things became increasingly professionalized and big-league. While the book is very readable, it's unfortunate that Logan and his ghost-writer, Bill Sloan, didn't see fit to explore "the old days" a little bit more, and bring out more of the flavor of what the hick music business was like back when. It's understandable that they would emphasize the bankable big boys like Elvis and Hank, but considering how much has already been written about them, the "witness to history" approach doesn't add as much to the historical lore as more under-the-radar observations might have. In short, it would've been cool if the story had been more about Logan himself, and the world he saw, and not simply about the stars that lived in it. Still, Hayride enthusiasts should definitely check this one out!
"In The Country Of Country: People And Places In American Music"
by Nicholas Dawidoff (Pantheon Books, 1997)

"Country Music, U.S.A."
by Bill C. Malone (University Of Texas Press, 1985)
Less of an album guide, and more of a historical narrative. Each chapters is an essay on a particular aspect or strain of hick music -- from the folk roots and early commercialization onto the post-war boom, The Nashville Sound and a well-written sidebar chapter on bluegrass and old-timey music. Curiously, western swing doesn't get a separate chapter, though there is a good bibliography which includes some western swing info. Pretty solid overall, with clear, concise writing.
---
Country Music Biographies
---

"Milton Brown and the Founding of Western Swing"
by Cary Ginnell
(University of Illinois Press, 1995)


This book was a bit of a disappointment. Author Cary Ginnell is best known for his pioneering work reissuing classic '30s western swing on the Texas Rose label, in Los Angeles. This book comes out of decades of research on Milton Brown, including extensive interviews with family members and former members of his band. Brown was one of the original members of the Light Crust Doughboys, the same group Bob Wills came out of. During the early1930s, Wills and Brown were rivals for the crown of the booming western swing scene, a competition which ended abruptly when Brown died in a 1936 car crash. Ginell, unfortunately, merely lays the story out from end to end, and even with all the exclusive information he has at his disposal this book is a bit of a chore to get through. On the flip side, though, Texas Rose Records issued a colossal 5-CD box set of the complete Milton Brown & The Musical Brownies, which is well worth having.

"Ramblin' Rose: The Life And Career Of Rose Maddox"
by Johnny Whiteside
(Vanderbilt University/Country Music Foundation Press, 1998)


Speaking of proto-rockabilly artists, this biography of West Coast country pioneer Rose Maddox is not to be missed. Actually, it's a rather heart-wrenching story: despite the phenomenal success of her family's kickass country band (Rose Maddox and the Maddox Brothers), Rose herself had a terribly hard life. Shrewishly dominated by her mother, screwed over by her first husband, and unable to sit still long enough to enjoy her family life, she struggled for decades to try and find equilibrium and independence. Reading about such a talented person being so unable to assert herself for so long is a rather painful experience. Yet the book is also a compelling history of one of the great hillbilly bands of all time: beloved by country and rockabilly fans alike, the Maddoxes were one of the most popular hard country acts of the 1940s and early '50s. They played everything in hyperdrive and did much to sculpt the sound of rocknroll, as well as the late '50s hard country revival in Bakersfield. Whiteside does a great job conveying what it was like working in the honkytonk bars, and the informal nature of the scene back then. Sadly, Rose Maddox passed away in early 1998, but this book is a fine tribute. (For more information about the Maddox Brothers and Rose, click here).

"Hickory Wind -- The Life And Times Of Gram Parsons"
by Ben Fong-Torres
(Griffin, 1996)


A semi-critical biography of alt.country legend Gram Parsons. If the truth be told, Ben Fong-Torres is not that great a writer. I mean, sure, I got from one end of this book to the next, and got good information out of it, but it was pretty slow going. But while his narrative skills are less than ideal, Fong-Torres has the advantage of being able to hold Parsons at a critical distance, which is useful when looking at someone most folks consider to be an icon. The criticisms are mostly about Gram as a person, not as a musician, but still they have the ring of truth. Gram comes off as a user, a scammer and an all-American fuck-up, one of those charismatic figures who had a grand old time back in the hippie days, alternately charming and pissing off everyone he met. After a while, though, the sardonic criticism starts getting tiresome, as though A Current Affair were doing a piece on Parsons and the "hidden secrets of alternative country!!!" ... or something like that. The book's a mixed bag, but it's worth checking out if you can find a copy.
"Ernest Tubb: The Texas Troubadour"
By Ronnie Pugh
(Duke University Press, 1996)


An exhaustively detailed biography, written by the head of the Country Music Foundation, which tracks ET from his early struggling years, onto his heyday as one of Decca's main cash cows, and through his decades of hard work and gradual decline. The writing is almost as dogged and linear as Tubb was during his years on the road -- not terribly elegant, literary or evocative, but the research is solid, including countless interviews with band members, industry movers, and Tubb relations. An authoritative resource for anyone who would like to find out how Tubb helped form the sound of hard country honkytonk in the early '40s, and how he later helped boost the careers of musicians such as Hank Snow, Hank Thompson and Loretta Lynn, and how Nashville eventually let him slide out of sight. Many of the details seems too depressing and tawdry to me, but it's still the story of a great man's life...
"Tatooed On Their Tounges: A Journey Through The Backrooms Of American Music"
by Colin Escott
(Schirmer Books, 1996)


Biographical essays of well-known as well as fairly obscure musicians and industry types. Escott has made a career out of telling outrageous, sometimes salacious, tales -- he gets to the rawer, visceral side of the story pretty quickly, which is relatively easy when you're talking to folks who worked in the scraggly, scruffy early years of country, rock and blues. He's an engaging, consersational writer, and this latest collection is a delight. Includes essays on artists such as Dale Hawkins, Don Everly, Johnny Horton, Tim Hardin and a particularly cruel skewering of Pat Boone. In one of the most fascinating sections, Escott profiles the founders of record labels such as Decca, King, Starday and Hi -- a fascinating and very illuminating appoach to presenting the history of popular music. Beautifully laid out, well written and highly recommended. (Note: Many of the essays in this book come from liner notes Escott has written for releases on Bear Family and other labels, so the book also doubles as an excellent album guide).
"Lost Highway: Journeys And Arrivals Of American Musicians"
by Peter Guralnick
(Godine Press, 1979)
Artist profiles -- also includes blues, rockabilly and R&B artists.
---

Country Music Index
Other Book Reviews
Slipcue Main Index




---
Copyright 1998-2006 Slipcue.Com. All Rights Reserved.
Unauthorized use, reproduction or translation is prohibited.
---