---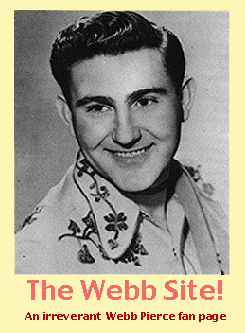 "WEBB PIERCE IS GOD." I first heard these words uttered about twenty years ago on the legendary hippie-country station, KFAT in Gilroy, California. And yeah, I had been hearing a lot of Webb's stuff on KFAT, though at the time little did I realize what a fearsome, horrific impact those words and those songs would have on my life.
KFAT went the way of all good things, sold to some big ugly boring corporation -- one morning I woke up to hear Sheena Easton taking the morning train instead of Webb Pierce walking the dog. I wept, cried, and railed against cruel fate. But I had also had a good five years or so of exposure to the best country station ever... and life went on...
In 1983, I stumbled onto a beat-up but alluring copy of the fabulous Decca double LP set, "The Webb Pierce Story" at the Salvation Army store in Fresno, California. Dragging my roommate's innocent, unsuspecting phonograph needle across the grimy vinyl, I joyously recognized all of the poppy early-'60s versions of Webb's honkytonk songs that I'd been hearing for years on the Fat One... and thus was born an fetish. Later, I moved up to the San Francisco Bay Area and became a hopeless record collector geek ... and one of my most obsessively obsessive obsessions has been my quest to get a copy of every album Webb Pierce ever made. (I'm pretty close at this point, but still looking for a few strays...)
---
So why Webb? Well, hell, he's simply one of the greatest male country vocalists ever. Now, whenever I say this, I always feel constrained to tip my hat towards Hank Williams and George Jones, though Webb clearly deserves even footing with them other fellers... The first time you hear him, Webb's thin, keening, hyper-nasal tenor may be the first (and only) thing you notice. But soon you'll realize Webb was a phenomenal interpreter of honkytonk heartsongs... he slurps up the maudlin sentimentality of the lyrics and makes it his own... When Hank and George sing about a broken heart, you get a little concerned about them; they seem so depressed that maybe you should hide all the liquor and pistols... But Webb sounds just plain forlorn and puppydog-like. You can imagine the gals stroking his little forehead and "tut-tut"-ing and "there-there"-ing him. You feel sorry for the guy, even though you can tell he's a big drama queen, and he'll get some action later.
Webb also had an incredible pop sensiblity. His early 'fifties honkytonk material is either uptempo or richly melodic -- hillbilly material, but solid and catchy as all hell. By the late 1950s and early '60s, Webb had accomodated his sound to include the bounce of rock and roll -- he latched onto younger songwriters such as Wayne Walker, Mel Tillis and Jimmy and Johnny who had a uniquely catchy style, aware of rock's appeal, but still solidly country. While the record labels responded to rock by inventing "The Nashville Sound," a watered-down hybrid of country and slushy pop vocals, Webb just started swinging. Later, other Nashvillers such Carl Smith and Johnny Horton picked up on the style, but there's a good argument to be made that Webb's Walker-Tillis years paved the way for Buck Owens and West Coast country.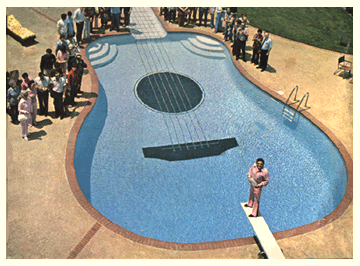 His earlier work was innovative as well -- Webb was one of the first major stars to popularize the pedal steel guitar, especially prominent on his 1953 hit, "There Stands The Glass," and 1954's "Slowly." During the 1950s, Webb was the single most successful country artist on the charts, and he flaunted his success by building a guitar-shaped swimming pool, covering the chassis of his convertable with silver dollar coins, and retrofitting the interior with Western paraphernalia. (Check out the cover of 1962's "Cross Country" album...)

And, of course, there's Webb's fashion sense... he wore the gaudiest and poofiest of the Nashville Nudie suits, a proclivity which got even even more pronounced as time went by. In fact, Webb Pierce's incredible dorkiness is the other thing which attracts me to him. He's just a big goof! Look at his album covers -- they're hilarious! Yet open them up and within there's such great music...
---
Webb-o-philia does have it's dark side. The way some folks tell it, Webb could be kind of a jerk -- he shamelessly exploited songwriters, insisting on writing credits in exchange for optioning a song, and he would rush out competing versions of hot new singles when other singers had beat him to the punch. And, to be honest, Webb's musical vigor kind of petered out around 1963, after all the Walker-Tillis material had become old hat. His '60s albums don't exactly suck, but they definitely were not on par with his sublime efforts of 1951-1962. Stylistically adrift for a decade, Webb briefly snapped out of it with several upbeat singles made not long after Decca Records was swallowed up by MCA. These singles, such as "The Good Lord Giveth and Uncle Sam Taketh Away" and "Doin' The Lover's Leap" are genuinely charming, but also smack of mild desperation. Like other old-time Decca stars such as Ernest Tubb, Webb Pierce was dumped by MCA in the early 1970s, as the label shifted gears towards a more modern sensibility. His subsequent releases on Shelby Singleton's indie Plantation label, or the Skylite gospel label, are noble efforts, but the clearly the glory days were over. (We won't even mention his mid-70s duet album with Carol Channing... reprised on one of Rhino's "Golden Throats" compilations...)
Of course, Webb did not suffer. He had made bundles of cash in his heyday, and invested wisely. The coda to his musical career came in 1982, when fanboy Willie Nelson dragged him out of retirement to record a touching and effective album of duets, which is described in my Webb Pierce Discography. Okay, so maybe my Webb Pierce fixation is a little out of control -- but check out some of his old records and see if you don't dig him, too... You might be really glad you did!
---