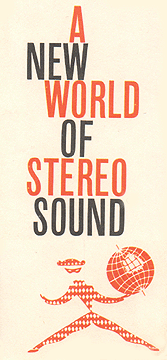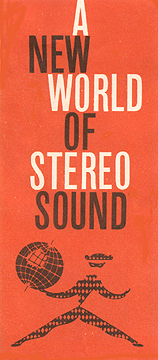 ---
My Fetish For
DECCA RECORDS

---
I'm not sure how to explain my fascination with the Decca label... There is of course the musical element -- many of Decca's earliest successes were with country artists, and the company's commitment to hard country music was in many ways stronger than that of other major labels. Even during the height of the Nashville Sound, and right into the thick of the Countrypolitan era, Decca (which became MCA in 1970) was still putting out fairly meaty country music. While Chet Atkins was the dominant studio producer at RCA (where the "Nashville Sound" was born), at Decca, it was Owen Bradley. And while Bradley could easily handle pop and pop crossover, he also had a country ear, and could create streamlined, no-frills masterpieces.
---
Many of my favorite artists were on Decca: Webb Pierce, Loretta Lynn, Bill Monroe, Patsy Cline and Kitty Wells, as well as lesser lights such as the Wilburn Brothers, Warner Mack, and Johnny Wright. If MCA has one great fault, it's that they've let too much of their classic country material languish out-of-print for so long. The good side to this, though, is that means there's plenty of thrill left to the hunt when it comes to collecting Decca material.
---
Which brings me to the other aspect of my Decca lust: the visual aesthetic. I'm not sure how best to articulate this, but I just love the look of old Decca releases. They had the sharpest logos, the coolest typeface, and the punchiest overall graphic presentation of all the major labels, at least from the late '40s through the mid-'60s. There's a slightly retro-Art Deco feel to it, but mostly... I dunno, a kind of crispnessto their album art which just appeals to me. I'll show you some examples (which will probably look just terrible with on-line graphics!) and maybe you'll see what I mean...
---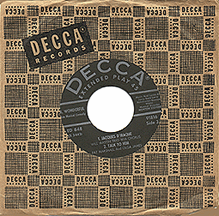 Here's the classic thatchwork design on their old 45 and 78 sleeves...


(Click on the image and you'll see some more Decca art designs... )



---
Other Slipcue Links
---
I'm not, actually, a big old expert on the Decca label... In fact, one of the funniest things about this fan page is that the old version of this page got all kinds of e-mail from folks asking me where to find old Bing Crosby albums, or about artists I'd never heard of... The funniest thing was that that version of the page had never been completed... it didn't even have any graphics!!

Still, I enjoy the feedback, particularly when I learn more about the olden days. Any Decca mavens out there, feel free to write and tell me more! Also, if you want more specific info about old Decca releases, try this other website, which looks at the Decca discography

For some recommended records on Decca and MCA, check out my "Hall Of Fame" page, as well as the Slipcue honky-tonk pages...
---

Favorite Roots Labels
Hick Music Index

---
Copyright 1998-2006 Slipcue.Com. All Rights Reserved.
Unauthorized use, reproduction or translation is prohibited.
---