<! MP3 04/29/09 -- separate out Tiffanys (done) > <! update 11/16/10 - need to add pix > <! outside 00/00/00 > <! pix 00/00/00 > <! 208-pix: 00/00/00 > <! icons 11/16/10 >
---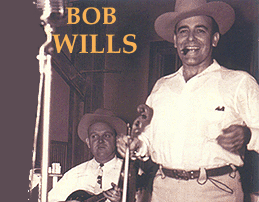 Bandleader Bob Wills is known as the king of western swing -- the wild mix of country music and big-city jazz. Wills didn't create the style, but he certainly was its most famous star. Bob Wills himself was not a fabulous musician -- he could pull a raspy bow over a fiddle and make ya wanna do a jig, but that was about it. Instead, his brilliance lay in putting together The Texas Playboys, one of the best bands in country music, and for envisioning how to evolve the new sound of the music. Wills pioneered the use of two fiddles playing a dual melody, and cultivated many of the Southwest's most talented and adventurous musicians. Among his many star performers was the great vocalist Tommy Duncan who lend his confident croon to many a Wills classic. Here's a quick look at some of the best Bob wills albums out there, including reviews of several old LPs, as well as recent CD releases.
---
Recommended Records
---
Bob Wills "The Bob Wills Anthology" (Columbia, 1973)


Bob Wills "The Golden Era" (Country Music Foundation/Columbia, 1987)
For '70s and '80s western swing enthusiasts, these fabulous double LP collections were the font of knowledge regarding the king of western swing, Bob Wills. Wills might not have exclusive claim to "creating" western swing, but he certainly was in on the ground floor. His only real competition during the genre's heyday was the earthy bandleader Milton Brown; when Brown died in an 1938 auto accident, all eyes were on Wills. Steering his crackerjack band, The Texas Playboys, Wills perfected the style, mixing rowdiness with sophistication, comedy with sentimentality, and above all, top-flight musicianship. Vocalist Tommy Duncan added a Crosby-like crooner's touch, icing on the cake with music this sweet. There's a teensy bit of overlap between these two collections, but not much; the CMF album includes obligatory hits, but concentrates on previously unreleased material. Ahhhh... yassss! Highly recommended!
Bob Wills "Country Music Hall Of Fame Series" (MCA, 1992)



Later material from the king of western swing. These 1955-67 recordings on Decca and Kapp Records sit nervously in the shadow of rock'n'roll, tentatively mixing the new style into Wills' already bluesy repertoire. The main problem is that none of the singers Wills used around this time come close to the stylish warmth of Tommy Duncan, the featured vocalist from the heyday of the Texas Playboys. Also, the band sounds a bit weary. Not the amazing, electrifying Tin Pan Alley country-jazz of the 1930s and '40s, though there are some interesting moments. If you're interested in Wills' output during this time frame, this is a pretty good sampler.
Bob Wills & Tommy Duncan "Hall Of Fame" (United Artists, 1972)


Likewise, this double LP collecting Will's work on Liberty Records during the 1960s is a little shaky, but still worth checking out. His reunions with Tommy Duncan were really little more than desperate rearguard actions, but when two old coots with this much talent get together, you can never write them off entirely. Originally out on vinyl, years later this set also resurfaced on CD.

Bob Wills "For The Last Time" (United Artists, 1974)



(Produced by Tommy Allsup)
Bob Wills's final recording, made in December, 1973, just days before he passed away from a final, fatal stroke. Wills directed the band from a wheelchair, and there's a palpable sense of the various musicians giving their all to make he old guy happy. Bassist Leon Rausch handles most of the vocals (although Merle Haggard also sat in on some of the sessions) and producer Tommy Allsup helped organize and lead the band. It's a buoyant, if bittersweet album, with a large group of seasoned pros going through all their stage tricks and favorite hits; one likes to think that Wills had as much fun listening to it then as we do now, all these years later. It's a goodie.
Bob Wills "Complete Columbia Recordings v.1: Take Me Back To Tulsa" (Rounder, 2001)


Bob Wills "Complete Columbia Recordings v.2: Stay All Night" (Rounder, 2001)


Highly recommended! These CDs repackage a lot of the material on the Columbia LPs of the early '70s... It's all great stuff, and this reissue has the advantage of newer, cleaner sound. For a digital era look at Wills' formative, groundbreaking work, these discs are pretty hard to beat!

Bob Wills "Boot Heel Drag" (MCA/Universal, 2001)



While the Rounder discs pleasantly recap Bob Wills' glory years, this new double-CD collection is nothing short of a revelation. After World War Two, Wills career underwent tremendous transformations -- trailing western swing's fan base to the West Coast, Wills purchased a cavernous dance hall near Sacramento and set up shop in California. His touring schedule was grueling, yet so were his problems with alcohol, which often made him mean-tempered and unreliable. As a result, in 1948 he lost one of his key musicians, vocalist Tommy Duncan, whose silken delivery was practically synonymous with all of the Playboys' greatest hits. After a series of disasterous bookings, Duncan and Wills parted ways, each going on to pursue a greatly diminished career. At first it was hard to tell what would happen to Wills. He was at the top of his game, having recently signed with the fledgling MGM label and Ð more importantly Ð was at the helm of one of the most versatile country crews ever assembled. Master musicians such Tiny Moore, Eldon Shamblin and Herb Remington anchored the Playboys and buoyed Wills as he drove the band to explore ever more powerful material. He laid down one iron-clad edict for his band: "play it naturally," and keep the music hot. On these fifty fabulous recordings, this philosophy pays off in spades. While Wills' prewar material was revolutionary, his postwar recordings are sublime. Riotous yet relaxed, soulful beyond anyone's wildest imagination, these are performances that have been in the vaults for many years, just waiting for the moment to resurface and blow all our little minds.
Bob Wills "Poppa's Jumping" (Bear Family)
An even more expansive look at Will's MGM years. This 5-LP set is a completist's dream. Of course, now we're also blessed to have the more modest 2-CD Boot Heel Drag set listed above. Either way, this is grrrrreat music!
Bob Wills "San Antonio Rose" (Bear Family, 2000)


Yoiks!!! A mondo box set with 11 entire CDs worth of music, and a DVD of the movie Take Me Back To Oklahoma, which features Wills quite prominently. This might be a bit much for most folks, but if you've really, really got the Wills bug bad, then this Bear Family monolith may be for you. Heck, it's probably worth it for the 168-page booklet alone!
Bob Wills "Faded Love: 1947-1973" (Bear Family, 2005)


Aaaaaaaannd, here's another fourteen CDs worth of prime western swing, ala Wills.

Bob Wills "The Tiffany Transcriptions v.1" (Kaleidoscope/Rhino)



Wills also recorded a lot of live work and radio transcriptions... This series originally came out on LP, then was picked up by Rhino and reissued on CD in the early '90s. It's grrreat stuff, showing the versatility of the Playboys as a working band, and the charisma of Wills as their front man. Sadly, it looks like the CDs are already going out of print, but both versions can still be found without too much difficulty.
Bob Wills "The Tiffany Transcriptions v.2" (Kaleidoscope/Rhino)


Bob Wills "The Tiffany Transcriptions v.3" (Kaleidoscope/Rhino)


Bob Wills "The Tiffany Transcriptions v.4" (Kaleidoscope/Rhino)


Bob Wills "The Tiffany Transcriptions v.5" (Kaleidoscope/Rhino)


Bob Wills "The Tiffany Transcriptions v.6" (Kaleidoscope/Rhino)


Bob Wills "The Tiffany Transcriptions v.7" (Kaleidoscope/Rhino)


Bob Wills "The Tiffany Transcriptions v.8" (Kaleidoscope/Rhino)


Bob Wills "The Tiffany Transcriptions v.9" (Kaleidoscope/Rhino)


Bob Wills & The McKinney Sisters "The Tiffany Transcriptions, v.10" (Kaleidoscope/Rhino, 1990)



These 1946-47 radio airshots track one of the oddest (and most distinctive) chapters in the Bob Wills story, pairing Bob and his band up with the Andrews/Dinning/Boswell Sisters-ish McKinney gals... Their smooth pop vocals approach makes an odd blend for the rough-hewn jazziness of the Playboys, but it's a mismatch that sort of grows on you after a while.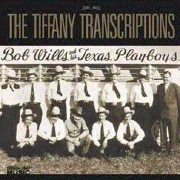 Bob Wills "The Tiffany Transcriptions" (Box Set) (Collector's Choice, 2009)


A capacious 10-CD box set collecting the historic radio transcription recordings made by western swing legend Bob Wills for the Tiffany Transcription company in the late 1940s... Collectors, completists and fans will all want to pick this one up... Or at least drool over it through the record store windows. Lots of classic songs and killer musicianship -- anyone who's serious about digging deep into western swing will want to check this out. Highly recommended, even though it doesn't offer much in the way of "new" material that hadn't already been reissued on the fab series of "Tiffany" LPs and CDs of the 1980s and '90s.
Bob Wills "Ole Buttermilk Sky -- Tiffany Transcriptions: 1945-1947" (BACM)

Bob Wills And His Texas Playboys "Harmony Park Airshots: January, 1953" (Country Routes, 1999)


Bob Wills And His Texas Playboys "Rare California Airshots" (Country Routes, 2001)


For another look at Wills' live sound, try these old radio transcriptions from Wills' long residency at his Pasadena, California dance hall. The sound quality is pretty low, but fans may still find the performances fascinating. It is disconcerting, though, to hear some of Wills' more viscious stage patter -- at times he sounds mildly psychotic as he gets in his digs at musicians and singers. Vocalist Louise Rowe seemed to have been a particular target for his jibes -- was it all in jest, or actually as mean-spirited as it sometimes seems? Hard to tell. Still, it's always interesting to hear the showmanship on these old country music performances; even when the sound is as muddy as this...
Bob Wills "Longhorn Recordings" (Bear Family, 1993)


Along the same lines is this relatively modest single CD collection of Wills's recordings on the Longhorn label. These tend to be sparser recordings, which many fans prize for the intimate glimpse into the old guy's way of making music. More cool stuff.
Bob Wills & Tommy Duncan "Together Again" (Liberty, 1960)

Bob Wills & Tommy Duncan "Mr. Words & Mr. Music" (Liberty, 1961)

Bob Wills "Bob Wills Sings And Plays" (Liberty, 1963)

Bob Wills "Anthology (1935-1973)" (Rhino, 1991)


This is the first collection to try to encompass Wills' entire career... The approach has its plusses and minuses: Wills re-recorded his material constantly, and he definitely had periods that were stronger than others. So, if you want to be sure that you'll get the song you like from the era you want, you're probably better off going for one of the collections above. But a better overall introduction to the Bob Wills legacy would be pretty hard to find, so this is recommended as a good starting place.

Bob Wills "The Best Of Bob Wills -- The Millennium Collection" (MCA/Universal, 2000)



A woefully inadequate glimpse at Wills' work, sadly in keeping with MCA's devotion to penny-pinching budget-line reissues. These are odds'n'ends scraps of Wills' postwar tenures on Decca, MGM and Liberty Records, which is apparently what Universal has access to... It's okay, but there are clearly better bargains to be had. Wills' MGM years are more fruitfully covered in the rock-solid Boot Heel Drag collection, listed above; his work on Liberty was kind of negligible, and this definitely gives short shrift to the Decca years.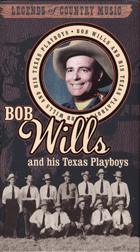 Bob Wills "Legends Of Country Music" (Box Set) (Sony-BMG Legacy, 2006)


Wow. Four CDs worth of choice material from the king of western swing. Includes his classic Okeh, Columbia and ARC recordings and later work on MGM, as well as his revival material in the 1970s. Wow. What can you say? From his earliest singles to his last album, Wills led what was probably country music's finest, most professional band. These songs just radiate talent, timing, great taste and good cheer. The riotous recordings from the 1930s still leap out at you, compelling us from across the decades with a canny mix of blues, hillbilly twang and swinging jazz rhythm. Very few records have ever been made which match these for their high fun quotient, and while the Bob Wills sound became kind of standardized and by-the-books, he never lost his edge or his ability to make his songs come alive. It's great stuff. And man, what a lineup of talent: Tommy Duncan is still one of my favorite singers, while guitarists Joaquin Murphey, Noel Boggs and Eldon Shamblin add to the wild, exuberent feel, making great, wildly enjoyable music, decade after decade. Nice song selection, pretty packaging and helpful liner notes: this here is a class act.
---
Related Records: Family & Friends
---
Tommy Duncan "Texas Moon" (Bear Family, 1996)


Tommy Duncan "Beneath A Neon Star In A Honky Tonk" (Bear Family, 1996)


It would be hard to overestimate the importance of Tommy Duncan's bluesy-crooner vocals to the success of Bob Will's western swing sound of the 1940s. Duncan and Wills had a several big blow-outs after the War, and in 1948, Duncan left the Texas Playboys and set out on his own. These two CDs document the uneven results of Duncan's solo career, with maybe a half dozen screamingly awesome tracks spread between them, a bunch of fairly good tracks, and some stuff that just doesn't measure up. It's instructive to see even how a top-flight vocalist like Duncan could make mediocre records, when deprived of a steady, full-time backup band -- kinda gives you more respect for all those super-amateur bands whose hard-rocking honkytonk tunes grace all those endless compilation albums. These discs are definitely worth checking out, though in the long run they may not hold your attention.

Billy Jack Wills "...And His Western Swing Band" (Joaquin, 1996)


One of Bob's younger brothers, wailing away on fairly hard-rocking material from the early 1950s... Billy Jack worked with Bob in his California crew and later set out on his own. Although he was nowhere near Bob's calibre, this is still pretty fun stuff, with a raggedy edge that should appeal to rockabilly fans. This came out on LP in the 1980s, and was reissued on CD in the late '90s.
Johnnie Lee Wills "The Band's A-Rockin" (Krazy Kat, 1996)


Wonderfully boozy, bluesy and bouncy western swing from another one of Bob Wills' younger brothers. These good-natured, laidback 1941-1951 recordings have a heavy boogie-blues flavor to them, which oozes out rock'n'roll energy, despite rock not having been "officially" invented yet. Tasty old country music from the heyday of the honkytonk dance hall era. Highly recommended!
Luke Wills "High Voltage Gal" (Bear Family) (LP)


Yet another Wills sibling, with an LP of novelty-oriented country material from the old days. I don't think this one has ever made it onto CD, so if you see the LP version, that'd be the one to shoot for.
---
Tributes
---

<! Nolan Allen - three albums >

Asleep At The Wheel "Tribute To The Music Of Bob Wills" (Capitol, 1993)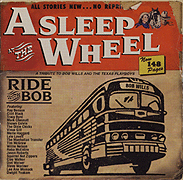 Asleep At The Wheel/Various Artists "Ride With Bob" (Dreamworks, 1999)



As the first great western swing revival band of the '70s, Asleep at The Wheel have had occasion to pay homage to Bob Wills before. This time around, the tribute includes a slew of guest stars-- mainly drawn from the ranks of modern-day Nashville, but with a couple of artists with non-TNN pedigrees, such as Don Walser, Lyle Lovett, and the Manhattan Transfer. Merle Haggard, who himself put out a Bob Wills tribute album (way back in the early '70s), also guests on one song, and Willie Nelson's sweet big band-y vocals on "Going Away Party" are sublime. The problem with this album is it's entirely too predictable, a smooth studio album which drifts along on the fine line between leadenness and reverence. Part of the trouble is the difficulty involved in getting guest performers to match the mood of the host band, but much of it is simply the ingrained perfectionism of Music City, where they'd prefer to tweak something in the studio a dozen times rather than permit a single rough edge to remain. And, as fans of the original Texas Playboys will recall, Bob Wills was all about the rough edges -- about cutting loose and having fun. Still, there's no faulting the material -- these songs are great classics, and with the exception of Reba McEntire's horrifically swooping vocals on "Right Or Wrong," there are no "bad" performances on here. Nonetheless, I long to hear someone bash their way through one of these tunes the way Tommy Duncan and Bob Wills woulda done.
Buddy Emmons "...Sings Bob Wills" (Flying Fish, 1975)


The Pine Valley Cosmonauts "Salute The Majesty Of Bob Wills" (Bloodshot, 1998)


---
Links
---
---