<! cd = 09/27/13 > <! MP3 09/27/13 > <! outside 09/27/13 - PF > <! pix 00/00/00 > <! 208-pix: 00/00/00 > <! styles: Western Swing, Hippiebilly, Alt > <! UPDATES: 09/27/13 - posted, need more reviews, pix of * albums >
---
Although technically fiddler Alvin Crow was born in Oklahoma, his music is indelibly linked with Texas and the vibrant 1970's alt-country scene he helped pioneer. Crow's band, the Pleasant Valley Boys, was founded in the late '60s, and was one of the first hippie-era groups to reclaim the western swing style of Milton Brown, Pee Wee King and Bob Wills. A few years later Asleep At The Wheel came to Texas, and thus a revival was born. Crow's band has constantly changed over the years, but his gigs at the Broken Spoke club in Austin have remained a constant fixture. In the early '80s Crow was in Doug Sahm's band and recorded with him on some albums... Here's a quick look at his work...


<! Their self-titled recording of 1976 featured a guest appearance by Jesse Ashlock of the Texas Playboys, covers of Bob Wills ("Stay a Little Longer") and Jesse Winchester ("That's the Touch I Like"), plus originals like "Fiddler's Lady" (Crow) and the classic crowd pleaser, "Nyquil Blues" penned by Steiner. In 1977, Alvin and the Boys made their big label debut with High Riding, a more straight ahead Western swing/honky-tonk recording, with production by Tommy Allsup and guest appearances by pianist Al Strickland and vocalist Leon Rausch from the Texas Playboys. The album featured tunes like "Yes She Do, No She Don't" (originally done by Milton Brown), "Wine Me Up" (Faron Young), "Cotton Eyed Joe," and a tribute to the King of Western Swing, "Here in Turkey Texas (The Home of Bob Wills)" by Steiner. Incidentally, it also had two songs - "High Stepper" and "Retirement Run" (one last marijuana haul) - by the original King of White Trash, D. K. Little. >

---
Discography - Albums
---
Alvin Crow "...And The Pleasant Valley Boys" (Polydor, 1975) (LP)


Though less famous than Asleep At The Wheel, who were doing the western swing thing around the same time, Texas fiddler Alvin Crow led his scruffy, down-home band through several albums of top-notch country fun. His vocals are a perfect In the 1975 version of "Wine Me Up" (an old Faron Young standard) and Crow's own contributions to country music history include the classic, "Nyquil Blues," an ode to the restorative powers of America's last great patent medicine.
Alvin Crow "High Riding" (Polydor, 1977) (LP)


(Produced by Tommy Allsup)



<! Leon Rausch guests on the first track > <! "Wine Me Up" >
Alvin Crow "...And The Neon Angels" (Big Wheel, 1979) (LP)
(Produced by Ronnie Roark)
Great stuff with Crow sawing away and soaring through a sweet set of country and western swing oldies, with a compact and committed band behind him. The repertoire leans heavily on the Bob Wills songbook, along with songs like Mel Tillis's "Heart Over Mind," Jack Guthrie's "Oklahoma Hills" and a version of "Now And Then There's A Fool Such As I that underscores Crow's strong vocal similarity to Hank Snow. These indie sessions were recorded in 1973, and include three Alvin Crow originals, including two that were released as a single, before he got signed to Polydor. Definitely worth tracking down!


<! 05/13: no ASIN >
Alvin Crow "Welcome To Texas" (Austex Records, 1984) (LP)


Dude, check it out: I'm pretty sure that the "Jr. Brown" listed on steel guitar is in fact Junior Brown the twang-bang king of the 1990s Americana scene... Also on this album? Texas blues queen Marcia Ball, plunkin' some funky piano. Now there's a lineup of the stars for you!
Alvin Crow "Long Texas Nights" (Austex Records, 1986) (LP)
(Produced by Alvin Crow & T. J. McFarland)



<! band includes steel player John Ely (related to Joe Ely?) and brother Rick Crow on guitar and harmony vocals Ely's website: http://www.hawaiiansteel.com/index.php >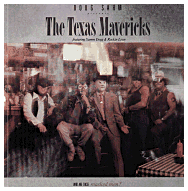 The Texas Mavericks "Who Are These Masked Men?" (New Rose, 1987)


(Produced by Speedy Sparks & Samm Dogg)
A Doug Sahm spinoff band, with Sahm, Alvin Crow Speedy Sparks, and John X. Reed, playing pretty much the same stuff they played as the Doug Sahm band, with a bunch of songs by "Samm Dogg" (Sahm, I'm guessing...) and covers of songs by Johnny Cash, Roy Head, Junior Parker and rockers like Bobby Fuller's "I Fought The Law" and Van Morrison's "Brown Eyed Girl."


<! In the early 1980s, Crow joined Doug Sahm's band and played fiddle and guitar on several recordings. He was a member of the Texas Mavericks, a side project with Sahm, Speedy Sparks, and John X. Reed that recorded one pseudonymous album of country, rockabilly, blues, and Tex-Mex called Who are These Masked Men? >

Alvin Crow "Honkytonk Trail" (Broken Spoke, 1988)

Alvin Crow "Sings Pure Country" (Broken Spoke, 1988) <! ? date? > *

Alvin Crow "Cowboy 1" (Broken Spoke, 1992) <! ? date? >


Features covers of a bunch of western oldies: "Back In The Saddle," "Ghost Riders In The Sky," "Streets Of Laredo," "El Paso," "Big Iron," and the like. Probably pretty cool!
Alvin Crow "Texas Classics" (Broken Spoke, 1996) <! ? date? >





<! 1 Fiddler's Lady 2 Sands Of Texas 3 One Foot In The Grave 4 Dynamite Diana 5 Turkey Texas 6 Rearview Mirror 7 Chains on Me 8 Nyquil Blues See All 3 9 When I Stop Lovin' You 10 Foolish Faith 11 Just Dropped By To See The Show >

Alvin Crow "White Trash Opera" (2004) <! ? label? >



<! might be others >

---
Links
---
Praguefrank's Country Music Discography: Alvin Crow
---