<! MP3 07/16/09, 09/12/10 > <! update 07/16/09 > <! outside 00/00/00 > <! pix 00/00/00 > <! icons 11/06/10 > <! Mack Abernathy Bill Arwood ALBERTA SLIM "Golden Memories" (RCA-Canada, xxxxx) Country > <! Dwight Butcher "Journey In Country Song" (LP) (Bluebonnet) Sherwin Linton "Hello I'm Not Johnny Cash" (Black Gold, xxxxxxxx) Sherwin Linton "My Kind Of Song" (xxxxxxxx, xxxxxxxx) Jerry Smith "The Yodeling Cowboy" (Cattle LP) (LP) B002BGZZTC Kidd Baker "Wheeling Back To Wheeling West Virginia" (Cattle LP) (LP) B006SRPUSG Jimmie Dale "Country Songs Never Get Old" (Cattle LP) (LP) B00B5DUWKY Jimmie Dale "CEastern Country & Western Of Days Gone By" (Cattle LP) (LP) B00AZW3H1M >
---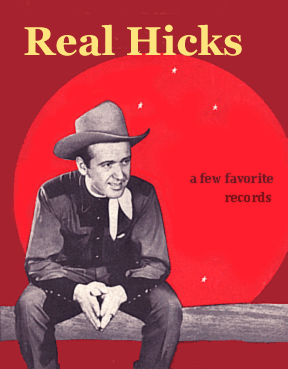 Hi, there! Welcome to my so-called "guide" to hard country and real hick music. I admit, it's a pretty fluid term, so maybe I should tell you a little about myself so you'll understand where I'm coming from. I'm a hillbilly music fan from 'way back when -- I started listening to country back when Hee Haw, Charlie Rich and Billy Sherrill ruled the airwaves, and as I got older my tastes shifted to the hard stuff -- Hank, Hank, Lefty, Webb, and Hank. (If you don't know what I'm talking about, then this website might be real helpful...) When I went off to college, I became a hotshot radio programmer, just about the time this here "alt.country" scene started up, in the late '80s, and I've tried to keep up my fingers in the pie ever since.
This section of my website originally started out as an overview of hillbilly boogie and honkytonk music, the hard country styles that led to the birth of rock and roll in the early '50s. I also write about several other styles of hick music, including separate sections for alt.county, bluegrass and western swing (as well as a bunch of non-country stuff...) But this new section -- which will expand greatly over time -- combines profiles and reviews I've written about a wide variety of what I call "real" hick music, which is, well... just stuff that I happen to like. Anyway, I hope you'll find the website useful and entertaining... Feel free to write me with comments or suggestions if you think there's something I've missed...
This is the first page covering the letter "A"
---
A / A-2 | B | C | D | E | F | G | H | I | J | K | L | M | N | O | P | Q | R | S | T | U | V | W | X, Y & Z | Comps | Hick Music Styles
---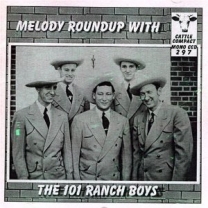 The 101 Ranch Boys "Melody Roundup With The 101 Ranch Boys" (Cattle/Binge Disc, 2004)


A nice, strong set of old-fashioned post-WWII country, with nods towards stars of the time such as Spade Cooley, Roy Acuff and Al Dexter. This lower-tier regional band originally came from Kansas City, and like many country artists of the time, they moved from town to town following gigs as radio show performers. These recordings are from a series of radio transcription discs they did for the military's Melody Roundup show in the late 1940s. The performances are uniformly good, with strong group vocals and solid instrumental backing (including the chug-chug-chugging accordion, borrowed from the sound of the day...) By the time these recordings were made, the 101 Ranch Boys had been a professional outfit for over a decade, and they are clearly seasoned, skillful showmen. Particularly noteworthy is steel guitarist Leonard Zinn, who was fresh from a stint in a Hawaiian-style band; he contributes several top-notch Hawaiian steel instrumentals, and sweet accompaniment on the country tunes, too. The repertoire includes hits of the day ("Old Shep," etc.) and some more obscure stuff as well; I had expected a bunch of cowboy songs, but this tilts more towards heartsongs and ballads... Which is just fine with me! Unfortunately, the sound quality isn't as good as on other Cattle CDs, but it's still great music.


<! from Kansas City; apparently Norma Jean was in the bad for a while... >
Ace In The Hole Band "Ace In The Hole Band" (Texas World, 1995)


George Strait's old band -- well, two of them, steel player Mike Daily and bassist Terry Hale, along with some other dudes -- laying down their first full-length album, a couple of decades after those distant days when they cut a few singles with George as their frontman. Texas indie will never die!
Roy Acuff - see artist discography
Charlie Adams "Great Country Songs From The 1950s" (Binge Disc/Cattle, 1995) (LP)

Charlie Adams "Cattin' Around" (Bear Family, 2000)


For years, I've had a great old LP on the Binge Disc label of this guy's stuff, so imagine my delight to find a Bear Family CD with twice as many songs on it... Adams was a second-stringer who hailed from Waco, Texas and worked in several regional bands. Imperial Records, and then Decca, recorded him in the early 1950s, when honkytonk and hillbilly boogie were on the rise. This disc opens with a couple of bluesy cowboogie tunes that sounds like early Ernie Ford, and moves into bouncy, jaunty hard country that has echoes of the western swing Adams grew up with, as well as the hardnosed honkytonk of Hank Williams (who Adams toured with, before Williams died). Adams is best known for his novelty songs, particularly the goofball hillbilly hit "Hey, Liberace," which bemoaned Liberace's popularity with the women (If only they knew...!) There's much stronger material on here, though: the song that I used to play on the radio (more times than I'd care to admit) is the gleeful "If A Beer Bottle Had A Nipple On It (You'd Be A Baby All Your Life)" and when Adams dug into the real-deal broken heart songs, he was a force to be reckoned with. Not a great singer, but a solid hillbilly honkytonker, Adams is one of those little-know also-rans that it's a delight to stumble across. I dig it!





Kay Adams -- see artist discography


<! Rusty Adams - a soundalike singer Rusty Adams/George McCormick "George McCormick Sings Hit Songs Made Famous By Hank Williams/Rusty Adams Sings Hit Songs Made Famous By Ernest Tubb" (Somerset, 1963) (LP) B003B70UFE Rusty Adams/Buzz Wilson "Buzz Wilson Sings Hit Songs Made Famous By Johnny Cash/Rusty Adams Sings Hit Songs Made Famous By Marty Robbins" (Somerset, 1963) (LP) B003BH81QE >


Rex Allen -- see artist discography





Rosalie Allen -- see artist discography



Shelley Lee Alley "Alley Stomp" (Krazy Kat, 2006)

Dave Alvin - see artist discography
John Anderson -- see artist discography
Liz Anderson -- see artist discography
Tom Anderson/Al Rogers "Two Short-Lived Hillbilly Careers" (Binge Discs, 2006)


Holy cow...! This is the kind of reissue record that makes me still feel in love with country music, like there's always new, fun stuff out there to discover, if you just keep looking. The real find here is Tom Anderson, a mystery figure who recorded some awesome, true-blue hillbilly country tunes for the MGM label. The dozen tracks on this disc date back to 1953-54; what happened to Anderson after that is anybody's guess -- even the normally informative folks at Binge disc drew a total blank on both of these artists. Anyway, Anderson had it all -- a great singer with plenty of twang (like early Ray Price, perhaps), he had a strong band (called the Deep Valley Boys), and was also a fine songwriter, penning winners such as "The Moon And I," "Sweet Love" and "If Your Heart Had A Window." Indeed, all of his tracks are good, twangy fun -- I'd play any of them on the radio, anytime. The second singer, Al Rogers, also recorded for MGM (and Capitol, and RCA...) but he's a bit less exciting... Rogers was a baritone crooner in the Red Foley/Ernie Ford mould, singing barrel-chested weepers like "It Wouldn't Be The Same Without You" and "All Alone, All Alone," which he wrote under his given name of Alex Phillip Rogers. His debt to Red Foley is made all too apparent on his early single, "Shuffle-Boogie Bellhop," which is practically a note-for-note swipe of "Chattanoogie Shoeshine Boy." Still, corny stuff can be fun, too, and even though the contrast between these two randomly-paired artists leaves Rogers at a disadvantage, his stuff is still a nice find. Another great collection from Binge Discs!
Rayburn Anthony "Big Bad City" (Rhythm Bomb, 2007)






<! Rayburn Anthony '77-79 on Polydor, Mercury - guess he didn't have an LP of these songs, though. ex- rockabilly? kinda Johnny Cash-ish - several late-vintage CDs >

---

Real Hick Music -- More Letter "A"


---