<! MP3 07/16/09, 09/12/10 > <! update 07/16/09 > <! outside 00/00/00 > <! pix 00/00/00 > <! icons 11/06/10 > <! UPDATES: 07/16/09 04/28/21 - DA, merge > <! Mack Abernathy Bill Arwood ALBERTA SLIM "Golden Memories" (RCA-Canada, xxxxx) Country > <! Dwight Butcher "Journey In Country Song" (LP) (Bluebonnet) Sherwin Linton "Hello I'm Not Johnny Cash" (Black Gold, xxxxxxxx) Sherwin Linton "My Kind Of Song" (xxxxxxxx, xxxxxxxx) Jerry Smith "The Yodeling Cowboy" (Cattle LP) (LP) B002BGZZTC Kidd Baker "Wheeling Back To Wheeling West Virginia" (Cattle LP) (LP) B006SRPUSG Jimmie Dale "Country Songs Never Get Old" (Cattle LP) (LP) B00B5DUWKY Jimmie Dale "CEastern Country & Western Of Days Gone By" (Cattle LP) (LP) B00AZW3H1M >
---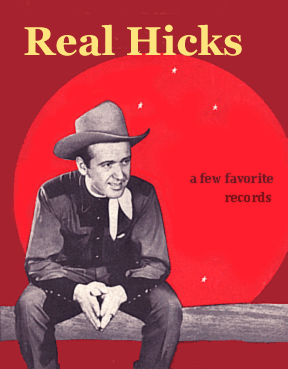 Hi, there! Welcome to my so-called "guide" to hard country and real hick music. I admit, it's a pretty fluid term, so maybe I should tell you a little about myself so you'll understand where I'm coming from. I'm a hillbilly music fan from 'way back when -- I started listening to country back when Hee Haw, Charlie Rich and Billy Sherrill ruled the airwaves, and as I got older my tastes shifted to the hard stuff -- Hank, Hank, Lefty, Webb, and Hank. (If you don't know what I'm talking about, then this website might be real helpful...) When I went off to college, I became a hotshot radio programmer, just about the time this here "alt.country" scene started up, in the late '80s, and I've tried to keep up my fingers in the pie ever since.
This section of my website originally started out as an overview of hillbilly boogie and honkytonk music, the hard country styles that led to the birth of rock and roll in the early '50s. I also write about several other styles of hick music, including separate sections for alt.county, bluegrass and western swing (as well as a bunch of non-country stuff...) But this new section -- which will expand greatly over time -- combines profiles and reviews I've written about a wide variety of what I call "real" hick music, which is, well... just stuff that I happen to like. Anyway, I hope you'll find the website useful and entertaining... Feel free to write me with comments or suggestions if you think there's something I've missed...
This is the first page covering the letter "A"
---
A / A-2 | B | C | D | E | F | G | H | I | J | K | L | M | N | O | P | Q | R | S | T | U | V | W | X, Y & Z | Comps | Hick Music Styles
---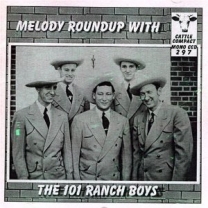 The 101 Ranch Boys "Melody Roundup With The 101 Ranch Boys" (Cattle Records/Binge Disc, 2004)
A nice, strong set of old-fashioned post-WWII country, with nods towards stars of the time such as Spade Cooley, Roy Acuff and Al Dexter. This lower-tier regional band originally came from Kansas City, and like many country artists of the time, they moved from town to town following gigs as radio show performers. These recordings are from a series of radio transcription discs they did for the military's Melody Roundup show in the late 1940s. The performances are uniformly good, with strong group vocals and solid instrumental backing (including the chug-chug-chugging accordion, borrowed from the sound of the day...) By the time these recordings were made, the 101 Ranch Boys had been a professional outfit for over a decade, and they are clearly seasoned, skillful showmen. Particularly noteworthy is steel guitarist Leonard Zinn, who was fresh from a stint in a Hawaiian-style band; he contributes several top-notch Hawaiian steel instrumentals, and sweet accompaniment on the country tunes, too. The repertoire includes hits of the day ("Old Shep," etc.) and some more obscure stuff as well; I had expected a bunch of cowboy songs, but this tilts more towards heartsongs and ballads... Which is just fine with me! Unfortunately, the sound quality isn't as good as on other Cattle CDs, but it's still great music.


<! from Kansas City; apparently Norma Jean was in the bad for a while... >
Ace In The Hole Band "Ace In The Hole Band" (Texas World Records, 1995)
George Strait's old band -- well, two of them, steel player Mike Daily and bassist Terry Hale, along with some other dudes -- laying down their first full-length album, a couple of decades after those distant days when they cut a few singles with George as their frontman. Texas indie will never die!
Roy Acuff - see artist discography
Charlie Adams "Great Country Songs From The 1950s" (Binge Disc/Cattle Records, 1995) (LP)

Charlie Adams "Cattin' Around" (Bear Family Records, 2000)
For years, I've had a great old LP on the Binge Disc label of this guy's stuff, so imagine my delight to find a Bear Family CD with twice as many songs on it... Adams was a second-stringer who hailed from Waco, Texas and worked in several regional bands. Imperial Records, and then Decca, recorded him in the early 1950s, when honkytonk and hillbilly boogie were on the rise. This disc opens with a couple of bluesy cowboogie tunes that sounds like early Ernie Ford, and moves into bouncy, jaunty hard country that has echoes of the western swing Adams grew up with, as well as the hard-nosed honkytonk of Hank Williams (who Adams toured with, before Williams died). Adams is best known for his novelty songs, particularly the goofball hillbilly hit "Hey, Liberace," which bemoaned Liberace's popularity with the women (If only they knew...!) There's much stronger material on here, though: the song that I used to play on the radio (more times than I'd care to admit) is the gleeful "If A Beer Bottle Had A Nipple On It (You'd Be A Baby All Your Life)" and when Adams dug into the real-deal broken heart songs, he was a force to be reckoned with. Not a great singer, but a solid hillbilly honkytonker, Adams is one of those little-know also-rans that it's a delight to stumble across. I dig it!





Kay Adams -- see artist discography


<! Rusty Adams - a soundalike singer Rusty Adams/George McCormick "George McCormick Sings Hit Songs Made Famous By Hank Williams/Rusty Adams Sings Hit Songs Made Famous By Ernest Tubb" (Somerset, 1963) (LP) B003B70UFE Rusty Adams/Buzz Wilson "Buzz Wilson Sings Hit Songs Made Famous By Johnny Cash/Rusty Adams Sings Hit Songs Made Famous By Marty Robbins" (Somerset, 1963) (LP) B003BH81QE >


Wendel Adkins -- see artist profile





Rex Allen -- see artist discography





Rosalie Allen -- see artist discography



Shelley Lee Alley "Alley Stomp" (Krazy Kat Records, 2006)

Dave Alvin - see artist discography
John Anderson -- see artist discography
Liz Anderson -- see artist discography
Tom Anderson/Al Rogers "Two Short-Lived Hillbilly Careers" (Binge Discs, 2006)
Holy cow...! This is the kind of reissue record that makes me still feel in love with country music, like there's always new, fun stuff out there to discover, if you just keep looking. The real find here is Tom Anderson, a mystery figure who recorded some awesome, true-blue hillbilly country tunes for the MGM label. The dozen tracks on this disc date back to 1953-54; what happened to Anderson after that is anybody's guess -- even the normally informative folks at Binge disc drew a total blank on both of these artists. Anyway, Anderson had it all -- a great singer with plenty of twang (like early Ray Price, perhaps), he had a strong band (called the Deep Valley Boys), and was also a fine songwriter, penning winners such as "The Moon And I," "Sweet Love" and "If Your Heart Had A Window." Indeed, all of his tracks are good, twangy fun -- I'd play any of them on the radio, anytime. The second singer, Al Rogers, also recorded for MGM (and Capitol, and RCA...) but he's a bit less exciting... Rogers was a baritone crooner in the Red Foley/Ernie Ford mould, singing barrel-chested weepers like "It Wouldn't Be The Same Without You" and "All Alone, All Alone," which he wrote under his given name of Alex Phillip Rogers. His debt to Red Foley is made all too apparent on his early single, "Shuffle-Boogie Bellhop," which is practically a note-for-note swipe of "Chattanoogie Shoeshine Boy." Still, corny stuff can be fun, too, and even though the contrast between these two randomly-paired artists leaves Rogers at a disadvantage, his stuff is still a nice find. Another great collection from Binge Discs!
Rayburn Anthony "Big Bad City" (Rhythm Bomb Records, 2007)



<! Rayburn Anthony '77-79 on Polydor, Mercury - guess he didn't have an LP of these songs, though. ex- rockabilly? kinda Johnny Cash-ish - several late-vintage CDs >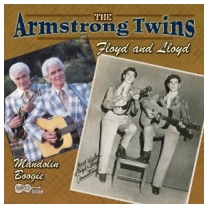 The Armstrong Twins "Mandolin Boogie" (Arhoolie Records, 1979/2004)
Killer-diller hillbilly music from the late 1940s, with Arkansas natives Floyd and Lloyd Armstrong taking the stripped-down bluegrass/old-timey sound of "brother duets" like the Blue Sky Boys and pushing it into an aggressive, driving style that prefigures the rockabilly sound of the next decade. The Armstrong Twins distinguished themselves from many of their hillbilly boogie contemporaries in several ways: first off, they were in the vanguard, a lot of the country boogie material dates from the early '50s, and their 1948-49 recordings predate the main deluge. Then there's their choice of instruments: led by an acoustic mandolin, rather than the classic honkytonk fiddle-and-steel sound that most hillbilly boogie artists built off of... Finally, there's the fact that they quite simply rocked! A lot of hillbilly boogie was kind of awkward and gangly, whereas the Armstrongs sounded perfectly at ease, rollicking and having lots of fun. It's an infectious sound: their mile-wide smiles are audible across the decades, and the picking is also top-notch. This CD reissue also includes several tracks recorded during a 1979 reunion session -- their voices don't have the same spark and fire as when they were young, but the music is played with great authority and compare quite favorably with similar stuff done by the Blue Sky Boys during their '60s and '70s sessions. Good stuff... a keeper, for sure!!
Eddy Arnold -- see artist discography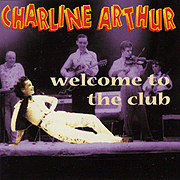 Charline Arthur "Welcome To The Party" (Bear Family Records, 1998)
A stellar collection of ultra-rare oldies by one of hard country's most elusive figures. Brassy, loudmouthed and a snarly, dynamic singer, Arthur demolished the traditional role of the passive, ladylike country "girl" singer. Back in the early '50s, when all the other gals were demurely performing in Kitty Wells-style gingham dresses, Arthur was wearing slacks, smoking cigarettes, and cussing Chet Atkins out in the RCA recording booth. It was probably the last habit that had the most to do with her swift fall from grace -- Arthur was dumped from the label in 1956, after having plugged away for several years without much commercial success. Admittedly, Arthur's bluesy, occasionally raunchy style was at odds with the expectations of the times, but it's a tragedy she wasn't allowed to grow as an artist -- her vocals and approach certainly prefigured the work of bluesy country/pop stylists like Patsy Cline and Brenda Lee, and (of course...) the rockabilly bop of Wanda Jackson. Notably, the singer whose voice most resembles Arthur is Skeeter Davis, who Atkins did succeed in taming -- you can hear similar attempts to soften and Nashville-ize Arthur's vocals throughout this disc. But uptempo or slowed down, Charline Arthur was a force to be reckoned with, and this CD should send a quiver through the hard country community -- check it out!
Clarence "Tom" Ashley "Greenback Dollar" (Rebel/County Records, 2001)
A top-notch set of blues-tinged old-timey music from this North Carolina guitarist. Many of these songs are now folk music standards, including the title track, which was one of the pivotal early hits for the late-'50s folk revival, when recorded by the Kingston Trio. In these original versions, Ashley's Depression-era recordings strike the perfect balance between the grimly morbid sensibilities of the old-time mountain music and the buoyancy of the emerging commercial country scene. He has an edge, yet avoids the psychotic intensity of Dock Boggs, who could also be considered a precursor to rock-style music. This is a great set, full of lively, good-humored performances and plenty of great tunes. Highly recommended!
Ernest Ashworth "Greatest Hits" (Curb Records, 1981)
One of Curb's nicest oldies reissues! Although this omits Ashworth's early Decca singles, but it's a real treat hearing all his best early '60s material from the Hickory label, back when he was regularly featured in the Country Top Ten. Ashworth had an odd, thin voice, not unlike Roger Miller's, and was entirely willing to blend his honkytonk shuffles with a little rock'n'roll bounce. Songs like "Talk Back Trembling Lips," "Pushed In A Corner," and "I Love To Dance With Annie" have a swinging cheerfulness about them, while weeper like "Because I Cared," "The DJ Cried" and "I Take The Chance" (a cover of a Louvin Brothers song) proved him to be a superior balladeer. If you like Roger Miller or Buck Owens, this is a disc well worth tracking down!
Ernest Ashworth "The Best Of The Best Of Ernie Ashworth: Talk Back Trembling Lips" (Gusto Records, 2004)

Ernest Ashworth "Hits Of Today And Tomorrow" (Hickory Records, 1964) (LP)
Both of Ashworth's original albums came in the wake of successful singles: this 1964 debut came after "Talk Back Trembling Lips" hit #1 (in the previous year). His LP from five years later gathered some of the singles that came afterwards, few of which cracked the Top Twenty.
Ernest Ashworth "The Best Of Ernie Ashworth" (Hickory Records, 1969) (LP)

Asleep At The Wheel - see artist discography
Bob Atcher & Bonnie Blue Eyes "The Tophand Of The Cowhands" (Binge Discs, 1998)
A delightful set of western tunes, soft heartsongs and lighthearted novelty numbers from the husband-wife duo of 1939-1946 Bob Atcher and Bonnie Blue Eyes (aka Loeta Applegate, who was married to Atcher until 1945, when they split the act. She retired, he went on the do a lot of TV and radio work in and around Chicago... ) Included is her parody/answer song, "Seven Beers With The Wrong Man" -- one of the first country hits by a solo female artists -- and his comedic version of "Thinking Tonight Of My Blue Eyes," along with sweet western standards such as "Cool Water" and Johnny Bond's "Poor Little Rose." It's all lovely stuff; understated and sentimental, and with sweet vocal harmonies. These recordings catch the duo at the peak of their commercial fame. Nice stuff... Recommended!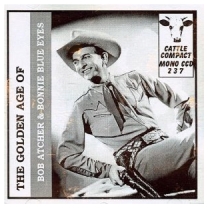 Bob Atcher & Bonnie Blue Eyes "The Golden Age Of Bob Atcher & Bonnie Blue Eyes" (Binge Discs, 1998)

Bob Atcher "Hunters Of Kentucky" (BACM, 2005)



<! CD D 068 > <! 22 tracks recorded between 1946 and 1948 in variety of styles - includes some duets with his wife Bonnie Blue Eyes, Randy Atcher and The Dinning Sisters. >
Bob Atcher "Volume Two: Featuring Bonnie Blue Eyes And Randy Atcher" (BACM, 2012)



<! Tracks :- Last Letter ~ Whisper Goodbye ~ You Love Me Or You Don't Make Up Your Mind ~ She's Not My Curly Headed Baby ~ A Face I See At Evening ~ You Waited Too Long ~ Are You Sure ~ I Can't Think Of Love Without You ~ Two Can Play Your Game ~ High And Dry ~ Walk Chicken Walk ~ Guilty Conscience ~ Oh Darling ~ I Found My Cowgirl Sweetheart ~ When The Locust Is In Bloom ~ Barbara Allen Part 1 ~ Barbara Allen Part 2 ~ Red River Valley ~ Old Smokey ~ Devilish Mary ~ Young Rogers The Miller ~ I'll Be All Smiles Tonight ~ I Need You Baby. >


Chet Atkins - see artist discography





Gene Autry -- see artist discography





Hoyt Axton -- see artist profile




---

Real Hick Music -- More Letter "A"


---