<! MP3 08/20/09 - no artists listed, 01/03/13 > <! outside 00/00/00 > <! pix 00/00/00 > <! icons 12/03/10 > <! UPDATES: 12/03/10 - one album, some potential adds also found > <! Howard Vokes - Starday > <! Leroy Van Dyke - has own page Kin Vassy Sammy Vaughn Sharon Vaughn Kenny Vernon Kenny Vernon & LaWanda Lindsey "Eye To Eye" B000NNGFTO (cassette) (originally on Chart, c. 1969) Rick Vincent "A Wanted Man" (Curb, 1993) B000008M0N Vicki Rae Von "Not Tonight I've Got a Heartache" (Atlantic, 1987) B000091XOV (LP) >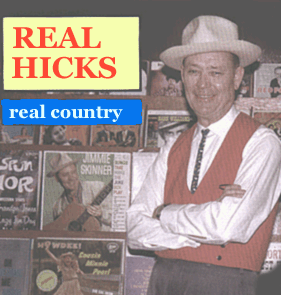 ---
Hi, there! This page is part of an opinionated guide to what I call "hard country" music -- the real stuff -- with a bunch of record reviews and recommendations by me, Joe Sixpack. Naturally, it's a work in progress, and will hopefully be expanded on quite a bit, as time allows.
This is the first page covering the letter "V"
---
A | B | C | D | E | F | G | H | I | J | K | L | M | N | O | P | Q | R | S | T | U | V | W | X, Y & Z | Comps | Hick Music Styles
---
Leroy Van Dyke - see artist discography
Mack Vickery "Live At The Alabama Women's Prison" (Bear Family, 1970/2008)


A gender-flipped send-up of the fabled Johnny Cash prison concert albums: the cover art shows Vickery striding in front of a cell full of love-starved female convicts. Pretty goofy, but there is some great music on here. Mack Vickery was a successful songwriter with a background in the same Sun Records scene that brought fame to Johnny Cash and Jerry Lee Lewis, and went on to pen hits for '70s outlaws and '80s neo-trads alike. Vickery wasn't much of an album artist, though he did also release a string of singles, some of which charted, though obviously most of his success came through the versions cut by his better-known buddies.
Mack Vickery "Greatest Hits, Volume One" (Bear Family, 1970/2008)


Wondering which hits Mack Vickery wrote? This disc includes a few that might turn your head: "I'm The Only Hell My Momma Ever Raised," which was a big one for Tanya Tucker, the Jerry Lee Lewis anthem, "Rockin' My Life Away" (and his more notorious, less radio-friendly "Meat Man") and "Cedar Town Georgia," a murder ballad Vickery co-wrote with Sammi Smith which was a minor hit for Waylon Jennings. There are also songs like "Brass Buckles" and "A Cardboard Pillow," as well as "Honky Tonk Wine," which was one of Mickey Gilley's best songs of the '70s. Vickery may have only had middling success as a chart artist, but as a songwriter, he really kicked some butt.


<! 1. Rockin' My Life Away 2. Waitin' For the Tables to Turn 3. Honky Tonk Wine 4. Pop a Top Popeye 5. Brass Buckles 6. Waitin' To Be Your Fool Again 7. Between the Storms 8. That Kind of Fool 9. Jamestown Ferry 10. Down On the Levy 11. Let It Last 12. I Can't Keep My Hands Off You 13. A Cardboard Pillow 14. A Raisin In the Sun 15. When It's Your Turn To Cry 16. I'm the Only Hell My Momma Ever Raised 17. Cedar Town Georgia 18. The Meat Man 19. Rock Me Like a Rollin' Stone 20. Rainbow Rider http://countrydiscography.blogspot.com/2012/04/mack-vickery_24.html >
Howard Vokes "Songs Of Tragedy And Disaster" (Starday, 2000)



A wide-ranging collection of classic weepers, many of them drawn from the back-catalogs of other, older artists. Train wrecks, dying children, doomed lovers, mining accidents, ship wrecks, and dogs like Old Shep who die saving their masters. This is not a dazzling set -- Vokes is a very limited singer, and the studio musicians give uniformly indifferent performances -- but for fans of the tragedy ballad genre, this is a pretty rich wellspring of material. This album draws on various Starday albums, and some tracks are earthier than others, including a few duets which have a little more texture and depth.
Howard Vokes "Sadness And Happiness In Country And Gospel Songs" (Vokes)





<! (Vokes CD#129) tracks: 1. When They Take That Last Look At Me 2. It's Just About Time 3. The Day They Laid Mary Away 4. I Had A Dream 5. If I Could Hear My Mother Pray Again 6. Lonely Mound of Clay 7. Blue Eyes Crying in the Rain 8. Calling You 9. The Songbirds Are Singing in Heaven 10. When God Comes and Gathers His Jewels 11. Unloved and Unclaimed 12. Silver Haired Daddy of Mine 13. End of the World 14. I Just Told Mama Goodbye >

---

Real Hick Music -- The Letter "W"


---