<! MP3 01/27/09 > <! outside 00/00/00 > <! pix 10/13/13 > <! icons 11/06/10 > <! update 00/00/00 >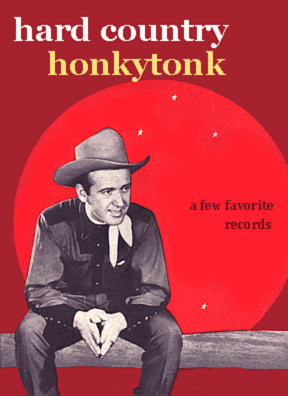 ---
Hillbilly boogie and honkytonk music were two blues-influenced country styles that took off after the Second World War. Although hillbilly boogie was more obviously a temporary fad than honkytonk, both had tremendous influence on the growth of both country and popular music. Hillbilly boogie -- a driving, sometimes manic, guitar-based style -- was a clear precursor to the rockabilly and rock-and-roll sounds of the 1950s, particularly the enduring influence exerted by artists such as the Delmore Brothers, Hank Penny and The Maddox Brothers and Rose. Honkytonk, exemplified by early pioneers such as Ernest Tubb and Lefty Frizzell, was less stylistically confined and soon became the basis for modern country music. During the late 1950s, facing intense sales competition from legions of greasy-haired Elvis clones, Nashville watered down the honkytonk, and offered the poppy compromise known as "The Nashville Sound".
Here's a look at some of the major players and best records from the classic years of hard country and hillbilly boogie. It's not meant to be definitive by a longshot, but it should be helpful and doubtless will be expanded greatly as time permits.
---
---
A | B | C | D | E | F | G | H | I | J | K | L | M | N | O | P | Q | R | S | T | U | V | W | X, Y & Z | Comps | Hick Music Styles
---
Various Artists "ANOTHER TASTE OF KING: RECORDED 1946-1954" (BACM, 2005)





<! CD D 148 >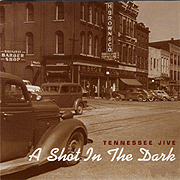 Various Artists "A SHOT IN THE DARK" (Bear Family, 2000)


Obscuro country simply doesn't get better than this! An 8-CD box set looking back at Nashville's vibrant postwar hillbilly music scene, Tennessee country before Nashville became "Music City," the giant, relentless music factory we know and love today... Nope, when these old recordings were made, country music was still a wide open format, with countless local and regional scenes vying for the nickels and dimes of the nation's jukeboxes... Folks like Roy Acuff and Fred Rose changed all that, though, consolidating country music into a single company town and, some would say, homogenizing the wild creativity of the late '40s and early '50s. Anyway, here a couple hundred of the greatest examples of the wild, vibrant, goofy, wacked-out twang of the zillions of independent labels that once dotted the landscape... Some of these musicians are fairly well-known to folks who already buy Bear Family releases -- artists such as Autry Inman, Pee Wee King, Al Terry, Jimmy Work and Johnnie Lee Wills -- but many are real, true, off-the-radar nobodies, the kind of earnest, energetic, what's-your-day-job also-rans that I really love to listen to... There are Ernest Tubb and Hank Williams imitators, to be sure, but also plenty of "new," original voices to discover... Also includes a mammoth, hardbound "booklet," lavishly decorated with archival photos and informative, chatty text by Colin Escott and Martin Hawkins... This is a real treasure trove, kids... A must-have, if it's in your price range!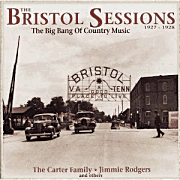 Various Artists "THE BRISTOL SESSIONS: THE BIG BANG OF COUNTRY MUSIC" (Bear Family, 2011)


In 1927, an enterprising Victor Records A&R representative named Ralph Peer set up a shoestring recording studio in a rural Tennessee hotel, and brought to the world the first recordings of the legendary Carter Family, as well as future superstar, blues yodeller Jimmie Rodgers. Other dimly remembered old-timey artists were also recorded, such as gospel singers Alfred G. Karnes and Ernest Phipps, old-timey singer Ernest V. Stoneman, and various stringbands, as well as a slew of local performers who never enjoyed the commercial success of the more luminous stars mentioned above. The best document of this amazing event was a 2-disc set put out twenty-five years ago by the Country Music Foundation -- now that collection has been blown out of the water by this 5-CD box set which gathers together all of the Bristol Sessions recordings, including numerous tracks that haven't seen the light of day in ages. There's also the amazing archival work that Bear Family is known for: great sound quality and a booklet filled with scholarly essays and fab photos. The old-timey sound might be a little hard to get into at first, but if you go for squeaky, plunky, super-twangy proto-country, then this is the real-deal motherlode, an absolutely essential collection.


<! Various Artists "CANADIAN COUNTRY" (BACM) CD D 199 > <! Wheeling Back To Wheeling West Virginia : Kidd Baker Talkin' Blues : Tex Bloye The Tenderfoot's Warning : The Calgary Kid The Golden Bells Of San Anita : George Cook Oh Susie : Guido D'Amico with Al Cherny You Bit Off More Than You Can Chew : Smilin' Ivan Dorey Niagara Moon : Eric & Johnny Hard To Please : George Faith with Jean & Les Dowell (The Colorado Kids) King Ganam's Special : King Ganam Red River Waltz : Gaby Haas Button You Lip : Hachey Brothers & Mary Lou I Love My Rooster : The Hillbilly Jewels Dark As A Dungeon (In Cape Breton Mines) : Bobby Hill Oh! Baby Doll : Evan Kemp & Shirley Field Longing For Old Alberta : Henry La Riviere (Hank Rivers) Chained To A Memory : Alonzo Marsh The Bachelor's Train : Hank McDonald White River Stomp : Don Messer Little Log Cabin : Hank Noble I'm Going Back To Birmingham : Orval Prophet Those Beautiful Big Brown Eyes : Keray Regan Spruce Bug : Buddy Reynolds Blue Mountain Waltz : Donn Reynolds Bluebird On My Windowsill : Jack Jenson & The Rhythm Pals I Long For The Old Home Again : Smilin' Dick (The Saskatchewan Roamer) The Devil's Dream : George Wade Song Of The Wild : Lenny Siebert > <! Various Artists "CANADIAN COUNTRY Vol. 2" CD D 273 > <! CANADIAN COUNTRY Vol. 2 I Told My Pillow : Hillbilly Jewels Moonlight Waltz : Gaby Haas What A Waste (Of Good Corn Likker) : Dixie Bill Hilton & Calgary Range Riders Cowboy's Memories : Bill Laughy Castle Of Cards : Carl Lofstrom & Aubrey Hanson Life's Changing Scene : Myrna Lorrie Just A Weary Traveller : Eddie Mehler & Rustic Ramblers Ridin' The Fiddle : King Ganam & Sons Of The West Walkin', Walkin' : Mighton Brothers w. Rodeo All Stars Sweet Little Miss Blue Eyes : Glenn Mitchell & Mainstreeters Old Age : Barry Nesbitt & His Alter Ego "Rog Godunk" Wabash Cannonball : George Oliver Bookworm : Marge Osburne w. Don Messer's Islanders Nobody's Business : Andy Dejarlis & Early Settlers I'm Just Tired Of Dreaming For Tomorrow : The Prairie Rangers Goodbye Katie, Bar The Door : Orval "Rex" Prophet The Tennessean's Rolling Home : Johnny Six aka Orval Prophet w. Anita Kerr Singers Oh, Lonesome Me : Terry Roberts Swingin' Down The Lane To See My Gal : The Round-up Trio w. Jimmy Morris Queen Elizabeth Special : Fiddlin' Red Crawford w. Stu Davis' Cowtowners My Blue Ridge Mountain Home : Oral Scheer w. Cammie Howard & Western Five The Red We Want Is The Red We've Got : Slim Wilson & Prairie Sons Miss Molly : The Hometowners It Never Is Too Late : Big John Ford If I'd Only See'd You : Donn Reynolds Call Of The Mountain : Hod Pharis >

Various Artists "CAT'N AROUND" (Krazy Kat, 1992)


One of my favorite country reissues ever. An incredible collection of obscure old country singles originally recorded for the tiny Houston independent, Macy's Records. You can imagine these long-forgotten musicians slogging away at day jobs -- fixing cars, or maybe out in the oil fields -- just waiting to bust loose playing at a Saturday night dance. Everybody tears away at their tunes, ranging from swinging instrumentals such as "Pickin," by Dolores Farriss to priceless novelty tunes like "Steppin On Feet For Fun" and weepy honkytonkers like the Vance Brothers' "Can't Get You Out Of My Dreams." Sometimes the musicians flub their licks, but this only adds to the charm -- these are real people really playing music, unlike the tediously re-re-reprocessed digital pop of today. This high calibre compilation succeeds on every level: great sound, great material, great chance to hear some excellent old-time country, and to stump your snooty No Depression-reading buddies.

Various Artists "CAUGHT IN THE WEBB: A TRIBUTE TO THE LEGENDARY WEBB PIERCE" (Audium, 2002)


An all-star tribute to my personal honkytonk hero, Webb Pierce. The level of talent assembled for this project is staggering, ranging from grizzled old-timers such as George Jones and Charley Pride to contemporary Top 40 stars Trent Summar, Dwight Yoakam and Pam Tillis. The twangcore crowd and '70s mavericks also get in their licks: Emmylou Harris delivers a plaintive reading of "Wondering," while Rosie Flores and Robbie Fulks cheerfully plow their way through a pair of Pierce's rock-era hits. It's difficult for anyone to match the charm and immediacy of Webb's original recordings, but high marks go to Dale Watson for his explosive version of "In The Jailhouse Now" and to Guy Clark, who hits the goofy mood of "Honk Tonk Song" right on the head. Willie Nelson is also in on the fun, which is appropriate since his 1982 duets LP was the last album Pierce recorded. Here, Nelson takes his time with a bittersweet, appropriately mournful version of "That's Me Without Out You," one of Pierce's weepiest and best ballads. With an all-star cast like this, and such great material to work from, this disc should open a few new ears to the Webb Pierce legend. Check this out, and be sure to pick up one of the great Webb reissues out there as well.




Various Artists "CLASSIC COUNTRY MUSIC ON THE BLUEBIRD LABEL" (BACM, 2005)



<! CD D 270 > <! Wind The Little Ball Of Yarn : Southern Melody Boys (Odus & Woodrow) Craven County Blues : Rouse Brothers (Ervin, Gordon, Jack) Mollie Married A Travelling Man : "Boots" & J.H. Howell Over In The Glory Land : Hill Brothers & Willie Simmons Whoa Mule Whoa : Hinson, Pitts & Coley C & N. W. Railroad Blues : Byron Parker's Mountaineers Goin' Crazy : Johnson County Ramblers (solo: Paul Byrd) Bum Bum Blues : Rouse Brothers (Ervin, Gordon, Jack) What-Cha Gonna Do With The Baby? : Happy Go Lucky Boys (Clyde, Steve, Hugh) I Thought That I'd Forgotten You : Carrie Mae Moore & Faye Barres Only A Broken Heart : Steve Ledford & The Mountaineers Down In Baltimore : Southern Melody Boys (Odus & Woodrow) Love That Lies : Johnson County Ramblers I Am On My Way To Heaven : Hill Brothers & Willie Simmons The Story Of Adam : Pink Lindsay & His Bluebirds Happy Go Lucky Breakdown : Happy Go Lucky Boys (Clyde, Steve, Hugh) When The Cactus Blooms I'll Be Waiting : Norwood & Mrs Tew Bootlegger's Story : Frank Gerald & Howard Dixon (The Rambling Duet) Peanut Special : Byron Parker's Mountaineers Call Me Back Pal Of Mine : Frank Gerald & Howard Dixon When I Was A Baby : Four Pickled Peppers You've Gone And Forgot Me : Oliver "Socko" Underwood The Girl That Worried My Mind : Boots & J.H. Howell Farmer Grey : Hinson, Pitts & Coley >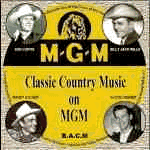 Various Artists "CLASSIC COUNTRY MUSIC ON MGM" (BACM, 2008)


I am a big fan of obscuro-country collections, compilation discs that are packed with artists that I am unfamiliar with... and this one's a doozy! Yeah, sure, often there's a reason that these folks are unknowns and also-rans, but this is where you'll hear artists, songs and sounds that you just won't hear anywhere else, and often their clunky, heartfelt singles say way more about the country scene of yesteryear than the big hits of the big stars. I snapped this one up because it only has a handful of artists I recognize (Cecil Campbell, Don Gibson, George McCormick, Red Sovine, Billy Jack Wills and Floyd Cramer...) and a ton of promising song titles: "You'll Live To Regret It," "Throwing My Life Away," "Ah Ha," "Look What Followed Me Home," etc. In short, it looked like exactly the kind of record I go for. Also, MGM is a vintage label that I'm not very familiar with -- I know they had Hank Williams signed to them, and later Hank, Jr. and some up-and-coming honkytonkers in the early 1960s... But for the most part, their catalogue is a blank slate. Well, let me tell you, if you like raw old-school country music, including the occasional kooky novelty tune, and that fun stuff where hillbilly boogie and rockabilly rubbed shoulders, then this disc is one you'll want to travel the far ends of the earth to track down. It's one of the most fun records I've heard in a long, long time, drawing on the deep knowledge base and impressive collections of the folks at the mystery-shrouded British Archive of Country Music... Trust me, you'll want to check this one out.


<! CD D 231 > <! MGM Sparkling Brown Eyes : Jerry & Sky Cotton : Hank Hornsby Rock City Boogie : Little Rita Faye Call Of The Faraway Hills (From The Film Shane) : Ken Curtis Pepper Pickin' : Bud & Betty Bryant Blues Won't Ever Leave Me : Al Rogers Blues Moved In This Morning : George McCormick I'm On The Right Road Now : Cecil Campbell Midnight Line : Bob Riley Wrong Side Of The Road : Ted West Throwing My Life Away : Jimmie Williams Good Time Cake Walk : Floyd Cramer Indian Rock : Randy Atcher Song Of The Bandit : Jack Valentine Billy The Kid : Dickson Hall You'll Live To Regret It : Sam Nichols Hey Mr Mailman : Billy Jack Wills Ah Ha : Don Gibson Look What Followed Me Home Tonight : Jimmie Walker Mud Hut : Drifting Cowboys Okey Dokey : Red Sovine Frost On My Roof : Jimmy Swan No More Blues From You : Tom Anderson Hot To Trot : Andrews Brothers Overweight Blues : Bood & Fileece Bryant [sic] I'll Sure Come A Runnin' : Charlie Carson A Penny Post Card : Slim Carter >

Various Artists "CLASSIC COUNTRY MUSIC ON THE MERCURY LABEL" (BACM, 2005)





<! CD D 187 >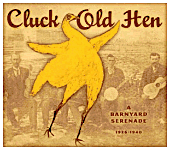 Various Artists "CLUCK OLD HEN: A BARNYARD SERENADE" (Old Hat Records, 2012)


A great, goofy, poultry-themed collection of Depression-era blues and old-timey tunes, with plenty of classic novelty numbers and a bunch of super-squeaky fiddles. This collection tilts a little more towards the hillbilly side of things, although there are tracks by bluesmen such as Peg Leg Howell and Casey Bill along with various jug bands, a touch of jazz and of course a slew of rural artists who didn't fall easily into any one category. There are a few stars -- Gene Autry, Cliff Carlisle, Riley Puckett -- but they are far outweighed by more obscure performers such as the Beale Street Sheiks, George Edgin's Corn Dodgers, Sweet Papa Stovepipe, the duo known as Mustard & Gravy, and most delightfully, the group vocals of the Utica Institute Jubilee Singers. This disc makes a great companion to Old Hat's sizzling BARBEQUE ANY OLD TIME collection, though this has a much higher proportion of animal-imitation tunes... Great stuff, of course!
Various Artists "THE COLUMBIA LABEL: CLASSIC OLD TIME MUSIC" (BACM, 2005)





<! CD D 057 >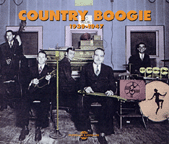 Various Artists "COUNTRY BOOGIE" (Fremeaux & Associes, 2001)


This is a swell set of raucous, pre-rock countrybilly music, curated by some French country fans over at the Fremeaux record label. A lot of this music could probably be considered western swing, rather than hillbilly boogie, but hey, why quibble when the music's this good? Includes classics from Johnny Barfield, Cliff Bruner, Cecil Campbell, Spade Cooley, Al Dexter, Jack Guthrie, Pee Wee King, Moon Mullican, Arthur Smith, and a slew of even more obscure singers that will make this set worth picking up, even if you're already pretty deep into this kind of stuff. Nice collection!

Various Artists "COUNTRY GIRLS ON WESTERN RANCH PARTY: 1957-1960" (Country Routes, 2004)


An awesome set of live, rockabilly-tinged tracks by the likes of Patsy Cline, Wanda Jackson, Bonnie Guitar, Rose Lee Maphis and several now-forgotten lesser lights, such as Mary Lou Nell, Fiddlin' Kate, Dorothy Wright and Marilyn Tuttle. There are also a slew of cool performances by Lorrie Collins, including several solo numbers apart from her guitar-whiz little brother... This is an ace bunny killer collection, which also includes plenty of the stage banter with MC Tex Ritter. My only complain is this: why the heck did the label choose to always put the spoken intros to specific artists on the tracks preceding the artist being introduced???? It's a really unfortunate decision, as it makes the record near-impossible to play correctly on the radio, or to listen to in a CD carousel, or an iPod, for that matter... There's all this dangling information out there, dozens of tracks that end with the introduction of a song you won't be able ot hear under normal listening circumstances. And who has the time to re-edit the tracks so they make sense? Kinda dumb. Oh, well. The music is still really great, and random technical oddness aside, this disc is highly recommended.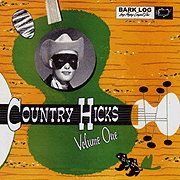 Various Artists "COUNTRY HICKS, v.1" (Bark Log, 2006)


Some day I will get off my butt and figure out a way to digitize the weird, obscure, dusty old 45s I have crammed away in the boxes in my closet and make one of those really groovy, kooky bootleg oldies albums... In the meantime, my jaw drops and my hat goes off to folks like Bark Log Records, who've already done it and who, frankly, have much cooler, much more bizarre records than I'll ever find. This latest version of Country Hicks, v.1 is a real stunner, packed with some of the goofiest, kookiest country novelty songs you'll ever hear... These are mostly micro-label pressings from the 1950s and '60s by amateur singers who had real country soul, but just didn't know when to quit when laying it on thick with the hick schtick. They sing about losing at love and gambling at the track, drinking booze and getting in fights, familiar themes, but presented with all the rough edges that Nashville tried to hard to smooth away. These guys sang clunky, often crude lyrics, with such enthusiasm you just gotta laugh and love it. This volume, in particular, is packed with winners, songs such as "Feel Sorry For Me" by Dave Brockman, Tommy Boyles's "We're Buggin' Out," "One's All The Law Will Allow" by Luke Royer and "My Heart Gets Lonely" by Luke Royer. Never heard of any of these guys? That's the point! The list goes on, and there are more standouts, including the chilling "East Dallas Dagger," by Durwood Daly, which includes a rather convincing description of one of those drag-'em-by-the-tailgate-of-your-truck lynchings. There's some overlap between this disc and another, earlier edition of Country Hicks, v.1, -- either way you go, this is quality quirkiness. Recommended!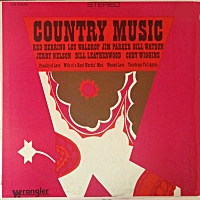 Various Artists "COUNTRY MUSIC" (Wrangler, 1964-?)
Man, just when you think you're heard it all, an old LP like this floats to the surface, and humbles you once more. I never gave much thought to the New York-based Wrangler label, other than noticing from time to time their albums of early material by hillbilly stars such as Hank Locklin, Rose Maddox and Carl Belew, but I always figured they were just some pirate-ish, fly-by-night budget label that reissued old material by established stars with dubious claims to the rights. Now I'm beginning to wonder... were they an actual label? This disc is packed with great, rough-hewn hard-country recordings by a bunch of artists I've never heard of: Bill Alex, Red Herring, Bill Leatherwood, Richard Morris, Jerry Nelson, Jim Parker, Bill Watson and Cody Wiggins, as well as a bluegrass duo called Johnny & Gerald. It's all great stuff, the kind of imperfect, amateur-league hillbilly songs I love, all apparently originally recorded in Mono, but (lightly) remixed into fake stereo, since that was the fashion at the time. So, did Wrangler actually release these songs originally, or did they just gather up some obscuro-twang singles from the '50s and early '60s? Unfortunately, the ever-stellar Both Sides Now discography site doesn't have a page for Wrangler, but it sure would be a good project if anyone wants to take it one... The only clues I could find on this album was a credit for the jacket design to Anne Koedt, and an address in Island Park, NY. At any rate, this is a fun album, and unusual for the genre in that there are no "name" artists headlining the collection, just a bunch of unknowns, singing and picking their little hearts out.


<! 04/15/14 - no ASIN >
Various Artists "COUNTRY MUSIC HOOTENANNY" (Capitol, 1963) (LP)


(Produced by Ken Nelson)
Although the 1960s brought a flood of phony "live" albums, particularly from the orbit of the Grand Ole Opry, this one is the real deal: a fun recording of an awesome concert held in the Bakersfield Civic Auditorium on September 12, 1963, with the elite of the West Coast/Bakersfield country scene, including several now-obscure performers and big stars delivering some pretty entertaining material and plenty of hot licks. The show was emceed by Cousin Herb Henson (then the host of a popular country music TV show) introducing folks like Buddy Cagle, Tommy Collins, Rose Maddox, Joe and Rose Lee Maphis, Buck Owens, Jean Shepard and Merle Travis, Bob Morris, a little bluegrass from the Kentucky Colonels and some comedy and picking from a pre-Hee Haw Roy Clark. Glen Campbell delivers a richly rural honkytonk ballad, "You Took Her Off My Hands," and I suspect it's him in the house band (or maybe Roy Clark) delivering some slamming rock'n'roll lead guitar on a few tracks (notably Rose Maddox's "Down To The River"). Herb Henson also performs -- a rare opportunity to hear him on an LP -- and guitarist Roy Nichols does some fancy picking on the instrumental "Silver Bells." This is a great document of the West Coast country scene, though there are some notable absences, particularly crooner Wynn Stewart, who hadn't yet switched over to the Capitol label, and Merle Haggard, who was still an unknown at the time. Still: what a great record. Track her down, if you can!
Various Artists "COUNTRY MUSIC ON CAPITOL" (BACM, 2005)





<! CD D 157 >
Various Artists "COWBOY CROONERS: SING SONGS OF THE WEST" (Collector's Choice, 2004)


Super-groovy old recordings culled from various 1940s radio performances... It's the cream of the crop of both the "singing cowboys" scene and the western swing crowd, with headliners such as Elton Britt, Tex Ritter, Jimmie Davis, Bob and Johnnie Lee Wills, Eddy Arnold, Dale Evans, Roy Rogers and the ever-fab Sons Of The Pioneers, as well as a few less-well known singers... All of them are in fine form, and this 2-CD set is a delight from start to finish, with pleasantly recognizable big hits and kooky one-off novelty songs (such as "Gonna Build A Big Fence Around Texas," by Cowboy Joe Randall), all of which will bring a smile to your face, and make you hum along. Great fun... highly recommended!


<! 144 x 144 >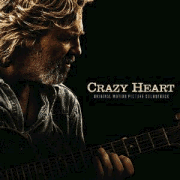 Various Artists "CRAZY HEART" (Soundtrack) (New West, 2010)



(Produced by T Bone Burnett)
I haven't seen the movie yet, but I love the soundtrack. Jeff Bridges, in character as Otis Blake, as a grizzled old, Willie-esque country rebel, perfectly taps into the low-key vibe of the indie-oriented Texas scene -- if you've told me his tracks had been recorded by someone like Tommy Alverson or Gary P. Nunn, I would have totally believed it. "Fallin' & Flyin'," his character's theme song, is a great tune: co-written by Gary Nicholson and the late Steve Bruton, it practically sings itself, it's the kind of country song that you'll be singing along with by the end of the first time you hear it (which is my personal standard for what makes a country song great...) There are also some oldies in the mix -- Buck Owens, Lightning Hopkins, The Louvin Brothers -- and when I first heard 'em I thought, uh-oh, is this going to be just another mish-mashy oldies-laden soundtrack? But the classic tracks help set up and perfectly compliment the new, original material... After a while, I just decided this was the mix-tape that Otis might have punched up on his tour bus, singing and drinking along as the power lines whiz by... Which brings me to my last point: I can personally attest that this is a great record to play while driving... So roll down the windows and crank 'er up... This is the real stuff.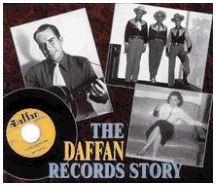 Various Artists "THE DAFFAN RECORDS STORY" (Bear Family, 1995)


Singer Ted Daffan is best known for his 1940s hit, "Born To Lose." Here we have the output of his indie label, which he started in 1955 and ran until 1971. It's a pretty uneven offering, with songs by oldtimers such as Floyd Tillman and Jerry Irby, as well as a couple of Laura Lee tracks. Fans of small-label obscuro country may enjoy this 2-CD set, but the truly engaging moments are infrequent, at best.
Various Artists "THE DECCA 5000 SERIES: CLASSIC COUNTRY MUSIC" (BACM, 2005)





<! CD D 077 >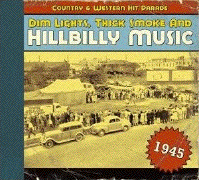 Various Artists "DIM LIGHTS, THICK SMOKE AND HILLBILLY MUSIC: 1945" (Bear Family, 2008)


This is a great series for anyone looking to explore the best of hillbilly music from the best years -- the late 1940s before things got too slick. Each volume highlights songs from a particular year, with big hits as well as goofy tunes that were a little bit farther off the radar. This first volume is a doozy, with classics such as "That's All" by Merle Travis, Eddy Arnold's original version of "Cattle Call," "Oklahoma Hills" by Jack Guthrie, Jerry Irby's awesome "Nails In My Coffin," and some classic material by Gene Autry, Spade Cooley, Al Dexter, Hank Snow, Ernest Tubb and Bob Wills. Heck, yeah. If you're not familiar with this era of country music, jump in! And if you're new to the Bear Family label, this is a great way to meet them as well -- great music from people who know how to treat great music right.


<! 1. BOB WILLS - Smoke On The Water 2. GENE AUTRY - At Mail Call Today 3. SPADE COOLEY - Shame On You 4. PHIL HARRIS - That's What I Like About The South 5. JENNY LOU CARSON - Jealous Heart 6. DICK THOMAS - Sioux City Sue 7. ERNEST TUBB - Tomorrow Never Comes 8. JIMMIE DAVIS - There's A New Moon Over My Shoulder 9. LULU BELLE & SCOTTY WISEMAN - Have I Told You Lately That I Love You 10. TED DAFFAN - Headin' Down The Wrong Highway 11. JACK GUTHRIE - Oklahoma Hills 12. 'PORKY' FREEMAN TRIO - VOCAL BY MERLE TRAVIS - Boogie Woogie Boy 13. GENE AUTRY - Don't Fence Me In 14. EDDY ARNOLD - The Cattle Call 15. AL DEXTER - I'm Losing My Mind Over You 16. FLOYD TILLMAN - Each Night At Nine 17. RED FOLEY - Hang Your Head In Shame 18. TEX RITTER - You Two Timed Me One Time Too Often 19. MERLE TRAVIS - That's All 20. WESLEY TUTTLE - With Tears In My Eyes 21. BOB WILLS - Stars And Stripes On Iwo Jima 22. ERNEST TUBB - It's Been So Long Darling 23. JERRY IRBY - Nails In My Coffin 24. JIMMY WALKER - Detour 25. ROY ACUFF - We Live In Two Diff'rent Worlds 26. HANK SNOW - Blue Ranger 27. THE RAMBLER TRIO FEAT. ARTHUR SMITH Guitar Boogie >
Various Artists "DIM LIGHTS, THICK SMOKE AND HILLBILLY MUSIC: 1946" (Bear Family, 2008)





<! 1. THE BUCHANAN BROTHERS - Atomic Power 2. ERNEST TUBB - Rainbow At Midnight 3. EDDY ARNOLD - That's How Much I Love You 4. COWBOY COPAS - Filipino Baby 5. AL DEXTER - Wine, Women, And Song 6. BOB WILLS - New Spanish Two Step 7. ELTON BRITT Someday 8. MERLE TRAVIS - No Vacancy 9. ROY ACUFF - No One Will Ever Know 10. BRAD BRADY (OWEN BRADLEY) - Zeb's Mountain Boogie 11. GENE AUTRY - I Wish I Had Never Met Sunshine 12. COWBOY COPAS - Tragic Romance 13. DELMORE BROTHERS - Hillbilly Boogie 14. THE BAILES BROTHERS - As Long As I Live 15. BILL 16. MONROE - Rocky Road Blues 17. GRANDPA JONES - Eight More Miles To Louisville 18. MERLE TRAVIS - Dark As A Dungeon 19. THE MORRIS BROTHERS - Salty Dog Blues 20. HARRY CHOATES - Jole Blon (Pretty Blond) 21. COUSIN EMMY Ruby 22. BILL MONROE - Kentucky Waltz 23. DELMORE BROTHERS - Midnite Special 24. FLOYD TILLMAN - Some Other World 25. HANK PENNY - Steel Guitar Stomp 26. T. TEXAS TYLER - Black Jack David 27. TEX RITTER - You Will Have To Pay 28. BOB WILLS - Stay A Little Longer 29. SPADE COOLEY - Three Way Boogie >
Various Artists "DIM LIGHTS, THICK SMOKE AND HILLBILLY MUSIC: 1947" (Bear Family, 2008)





<! 1. TEX WILLIAMS - Smoke! Smoke! Smoke! (That Cigarette) 2. EDDY ARNOLD - It's A Sin 3. BOB WILLS - Sugar Moon 4. SONS OF THE PIONEERS - Cigarettes, Whusky, And Wild, Wild Women 5. BILLY HUGHES - Cocaine Blues 6. MADDOX BROTHERS & ROSE - Milk Cow Blues 7. MOON MULLICAN - Foggy River 8. ERNEST TUBB - I'll Step Aside 9. ROY ACUFF - Blue Eyes Crying In The Rain 10. DELMORE BROTHERS - Freight Train Boogie 11. MERLE TRAVIS - So Round, So Firm, So Fully Packed 12. COWBOY COPAS - Signed, Sealed And Delivered 13. EDDY ARNOLD - I'll Hold You In My Heart (Till I Can Hold You In My Arms) 14. HANK WILLIAMS - Move It On Over 15. RED FOLEY - Never Trust A Woman 16. CLYDE MOODY - Shenandoah Waltz 17. JACK GUTHRIE - Oakie Boogie 18. MOON MULLICAN - New Pretty Blonde (New Jole Blon) 19. BILL CARLISLE - Rockin' Chair Money 20. THE CUMBERLAND MOUNTAIN FOLKS; vocal by MOLLY O'DAY - The Tramp On The Street 21. HAWKSHAW HAWKINS - Sunny Side Of The Mountain 22. FAIRLEY HOLDEN - Keep Them Cold Icey Fingers Off Of Me 23. BILL MONROE - Blue Moon Of Kentucky 24. CHARLIE MONROE - Bringin' In The Georgia Mail 25. BAILES BROTHERS - Dust On The Bible 26. CARL STORY - I've Found A Hiding Place 27. CHET ATKINS - Canned Heat >
Various Artists "DIM LIGHTS, THICK SMOKE AND HILLBILLY MUSIC: 1948" (Bear Family, 2008)





<! 1. RED FOLEY - Tennessee Saturday Night 2. LEON PAYNE - Lost Highway 3. ROY ACUFF - Waltz Of The Wind 4. THE MADDOX BROTHERS & ROSE - New Muleskinner Blues 5. EDDIE HILL - Someday You'll Call My Name 6. JOHNNY BOND - Bartender's Blues 7. EDDY ARNOLD Anytime 8. BILL MONROE - Little Cabin Home On The Hill 9. COWBOY COPAS Breeze 10. BILL CARLISLE - Wedding Bells 11. HAWKSHAW HAWKINS - Dog House Boogie 12. PEE WEE KING - Tennessee Waltz 13. DOYE O'DELL - Dear Oakie 14. MOON MULLICAN - Sweeter Than The Flowers 15. WAYNE RANEY - Lost John Boogie 16. JIMMIE SKINNER - Doin' My Time 17. BILL MONROE - I Hear A Sweet Voice Calling 18. STANLEY BROTHERS - Molly And Tenbrook 19. HANK WILLIAMS - A Mansion On The Hill 20. JIMMY WORK - Tennessee Border 21. T. TEXAS TYLER - Deck Of Cards 22. FLOYD TILLMAN - I Love You So Much It Hurts 23. MERLE TRAVIS - Merle's Boogie Woogie 24. JIMMY WAKELY - One Has My Name (The Other Has My Heart) 25. CARSON ROBISON - Life Gits Tee-jus, Don't It? 26. BOB WILLS - Bubbles In My Beer 27. EDDY ARNOLD - Bouquet Of Roses 28. LONZO & OSCAR - I'm My Own Grandpa >
Various Artists "DIM LIGHTS, THICK SMOKE AND HILLBILLY MUSIC: 1949" (Bear Family, 2008)





<! 1. VAUGHN MONROE - Riders In The Sky 2. SONS OF THE PIONEERS - Room Full Of Roses 3. JIMMY WAKELY - I Wish I Had A Nickel 4. HANK WILLIAMS - Lovesick Blues 5. EDDY ARNOLD - Then I Turned And Walked Slowly Away 6. LITTLE JIMMY DICKENS - Take An Old Cold Tater (And Wait) 7. DELMORE BROTHERS - Blues Stay Away From Me 8. BOB WILLS - Don't Be Ashamed Of Your Age 9. GEORGE MORGAN - Candy Kisses 10. LEON Mcauliffe - Panhandle Rag 11. FLOYD TILLMAN - Slippin' Around 12. PEE WEE KING - Bonaparte's Retreat 13. BILL NETTLES - Hadacol Boogie 14. LEON PAYNE - I Love You Because 15. HANK THOMPSON - Whoa Sailor 16. ERNEST TUBB - Let's Say Goodbye Like We Said Hello 17. WAYNE RANEY - Why Don't You Haul Off And Love Me 18. JIMMIE SKINNER - Will You Be Satisfied That Way 19. BILL MONROE - The Old Cross Road 20. JOHNNIE & JACK - What About You 21. THE STANLEY BROTHERS - The White Dove 22. MADDOX BROTHERS & ROSE - Philadelphia Lawyer 23. FLOYD TILLMAN - This Cold War With You 24. T. TEXAS TYLER - My Bucket's Got A Hole In It 25. HANK WILLIAMS - I'm So Lonesome I Could Cry 26. BOB WILLS - Warm Red Wine 27. EDDY ARNOLD - I'm Throwing Rice Tennessee 28. ERNIE FORD - Mule Train >
Various Artists "DIM LIGHTS, THICK SMOKE AND HILLBILLY MUSIC: 1950" (Bear Family, 2008)





<! 1. RED FOLEY - Chattanoogie Shoe Shine Boy 2. GENE AUTRY - Blue Canadian Rockies 3. OLE RASMUSSEN - Sleepy Eyed John 4. LEFTY FRIZZELL - If You've Got The Money I've Got The Time 5. HANK WILLIAMS - Long Gone Lonesome Blues 6. CARL SMITH - I Overlooked An Orchid (While Searching For A Rose) 7. LITTLE JIMMY DICKENS - Hillbilly Fever 8. BOB WILLS - Faded Love 9. RED FOLEY - Sugarfoot Rag 10. TED DAFFAN - I've Got Five Dollars And It's Saturday Night 11. TENNESSEE ERNIE FORD & KAY STARR - I'll Never Be Free 12. HANK PENNY - Bloodshot Eyes 13. LEFTY FRIZZELL I Love You A Thousand Ways 14. HARDROCK GUNTER - Birmingham Bounce 15. STUART HAMBLEN - Remember Me (I'm The One Who Loves You) 16. MOON MULLICAN - I'll Sail My Ship Alone 17. JOHNNIE LEE WILLS - Rag Mop 18. BILLY STARR - Steppin' Out 19. SKEETS Mcdonald - The Tattooed Lady 20. ERNEST TUBB - Letters Have No Arms 21. ARKIE SHIBLEY -Hot Rod Race 22. JIMMIE SKINNER - You Don't Know My Mind 23. BILL MONROE - I'm Blue, I'm Lonesome 24. WEBB PIERCE - Drifting Texas Sand 25. FLOYD TILLMAN - I've Got The Craziest Feeling 26. HANK SNOW - I'm Movin' On 27. STANLEY BROTHERS - The Fields Have Turned Brown 28. FLATT & SCRUGGS - Foggy Mountain Breakdown >

Various Artists "DRESSED IN BLACK" (Dualtone, 2002)



This sort-of-alt tribute to Johnny Cash, aka The Man In Black, features his onetime son-in-law Rodney Crowell on a fine version of the cornball classic "Teenage Queen," as well as a slew of eminently talented twangsters. Other artists include Dale Watson, Robbie Fulks, Rosie Flores, Kelly Willis and Bruce Robison, as well as the album's producer, Chuck Mead, one of the songwriters in BR549. For the most part, these folks play it pretty close to the vest, straying only slightly from the template Cash laid down all those decades ago. The song selection is also fairly standard-issue, although there are a couple of surprising choices, such as the frankly erotic "Flesh And Blood," covered here by Chris Knight, who digs right into the smouldering heart of the lyrics. High marks also go to Merle Haggard's old guitarist Redd Volkaert, who cuts loose on "Luther Played The Boogie," and to crooner Raul Malo, who has a good time with the mopey "I Guess Things Happen That Way." For the most part this disc holds few revelations, but if you love these songs already, these reverential new versions sound just dandy.


<! 130 x 130 >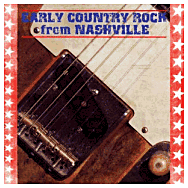 Various Artists "EARLY COUNTRY ROCK FROM NASHVILLE" (T-Bird, 2010)


First things first: the "country rock" part of the title is pretty misleading, since these early '60s recordings (cut for the uber-indie Spar label) feature a lot of latter-day rockabilly and oldies-rock sounds as well as some decent Bakersfield Sound-styled numbers and numerous uptempo novelty songs, but it's all pretty standard-issue country, hardly the cosmic-cowboy hippie-tinged stuff we identify with the "country rock" sound of the late '60s and '70s. That being said, this is still a valuable historical collection profiling a smaller Nashville label whose lineup was mostly made up of obscure non-stars -- the only names I recognize off the bat are those of Jerry Foster and singer Bobby Russell, and while I relish obscure artists as much as any other crazy record collector, I gotta say a lot of these tracks are pretty mediocre. There's a lot of noteworthy talent behind the scenes, though: studio musicians such as Lloyd Green, Mac Gayden, Kenny Buttrey, Wayne Moss and Pete Drake were heard on zillions of 'Sixties sessions, including on countless albums that did help shape the experimental country-rock sound of the era. This disc is worth checking out, just don't set your hopes too high.
Various Artists "ENGINE NUMBER NINE/DANG ME" (Crown Records, 1964) (LP)


Like many releases on the el-cheapo Crown label, this LP flashily emblazoned covers of current hits as bait to lure in record buyers -- in this case it was a couple of Roger Miller songs, sung by a guy who was probably pretending to be a worse singer than he actually was, in imitation of Miller's own goofball style. The rest of the tracks are a hodgepodge of recordings hauled out of various vaults, most of which are obviously of much older vintage than the early-'60s title tracks. There's some hot rockabilly/country boogie stuff, gallumphing honkytonk and western swing and even a sizzling version of the Hawaiian guitar classic, "Hilo March." None of the artists are identified (although I'm sure there are uber-twangster scholar types that have figured it all out...) but prety much every track on here is a gem. The sound quality is lamentably bad, probably as much a result of the mastering as the cheap pressing, though in some ways the flattened sound quality makes this feel like a gritty live set played on maxed-out amps in some roadside bar. (I can dream, can't I?) Anyway, some fun stuff here -- can't judge a book, and all that!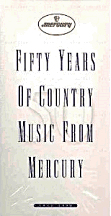 Various Artists "FIFTY YEARS OF COUNTRY MUSIC FROM MERCURY" (Mercury/Polygram, 1995)


A mighty fine 3-CD box set, badly in need of being brought back in print. The Mercury label was a bit of a latecomer in the industry, and always had an odd-man-out quality in relation to the other majors. Countrywise, Mercury had some major country stars signed at one time or another -- Flatt & Scruggs, The Stanley Brothers, George Jones and Faron Young, then later on folks like Tom T. Hall, Johnny Rodriguez and the Statler Brothers -- but it was the lesser-known also-rans that really make Mercury a cult favorite of country collectors. The brilliance of this box set is that it spends the first two discs profiling dozens of artists that practically no one remembers even vaguely anymore, folks such as The Carlisles, Connie Hall, Bill Nettles, Lonnie Glosson, James O'Gwynn and others. The tilt towards the obscure is due to writer Colin Escott running the show -- even while looking at the later records by celeb artists, he has a knack for picking weird selections, for example, Johnny Cash's apocalyptic 1990 religious number, "Goin' By The Book," or for drawing the connection between postwar hillbilly music and early rock'n'roll. It's the old stuff that's super cool here, though: skip Disc Three (the stuff from the '80s and '90s) and this set's a doozy. Great liner notes, too. It's definitely worth tracking down an old used copy.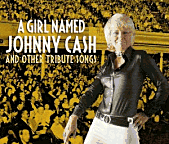 Various Artists "A GIRL NAMED JOHNNY CASH AND OTHER TRIBUTE SONGS" (Bear Family, 2010)


Until hip-hop music came along, no other genre had such a high density of self-referential namechecking as country: them hillbillies love to talk about their neighbors and honoring tradition. This 18-song compilation (short by Bear Family standards) has some fun stuff on it, various artists singing about various other artists, but as someone who's been keeping lists of these songs-about-country-stars, I gotta say, there's a bunch of other stuff that would have been fun to include here as well. Actually, I guess that's okay, because it means there's still room for crazy, obsessive record collectors to strut their stuff. Almost half the album is taken up by Stoney Edwards' numerous tribute songs; also on here are Merle Haggard, Gordon Terry, Ernest Tubb, Mac Wiseman, paying homage to Johnny Cash, Hank Williams, Johnny Horton, Jim Reeves and others. Jane Morgan, the lone gal artist in this set, sings the title track. Overall, I'd say this is a fun collection, but by Bear Family's high standards, kind of a missed opportunity.
Various Artists "THE GOLDEN AGE OF COUNTRY MUSIC" (Binge Disc, 2005)
Another gem from the German-based Binge Disc label... This set features two unknowns, Curly Daulton and Leroy Jenkins, along with a quartet of early recordings from the husband-wife team of Joe and Rose Lee Maphis... Daulton, about whom apparently nothing is known, recorded at least a dozen tracks for Columbia in 1952-53. He was an aspiring country crooner, sounding like Eddy Arnold on several songs, and quite a bit like Marty Robbins on others (Robbins hadn't quite "hit" yet, however, so Daulton can't really be called Robbins wannabee...) Leroy Jenkins was a blind songwriter and performer whose style was much more rugged and earthy, an interesting mix of honkytonk and old-timey hillbilly music... Quite striking! The label speculates that the four songs on here from the Maphises were their first recordings as a duo, singles for the Lariat label that got them the attention of Okeh and Columbia Records... They do sound a bit thinner and less confident than their later work... But still mighty fine! As always, this Binge disc release is a winner! Lots of great tunes and super-obscure gems. Recommended!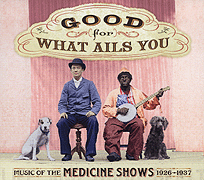 Various Artists "GOOD FOR WHAT AILS YOU -- MUSIC OF THE MEDICINE SHOWS: 1926-1937" (Old Hat, 2005)


This one's a real doozy -- in fact, it's probably the single most impressive, historically important Americana/old-timey albums to come out in the last few years. This 2-CD set, complete with lavish, cogent liner notes and a handsomely booklet packed with archival images, features some truly amazing material, the novelty songs, oddball ramblimgs and outright showstoppers that made up the repertoire of the traveling patent medicine shows of the late 1800s and early 20th Century. The medicine shows served as a major entertainment venues in the rural South and Midwest, with countless artists doing everything they could to hold audiences in their thrall just long enough to get the rubes to buy some of the dubious elixirs presented for sale. Thus, the songs that they played were endlessly entertaining and diverting, and the instrumental approaches they used were as unorthodox as they were delightful. This colelction features dozens of rare vintage recordings made in the 1920s and '30s, when the medicine shows were in their last gasps... The material is way off the beaten track -- even diehard fans of the "old-time" music scene or old-fashioned acoustic blues will be delighted to find so many songs they'd never heard before, like Walter Smith's "Bald Headed End Of The Broom," Chris Bouchillon's "Born In Hard Luck," "Beans," by Beans Hambone and El Marrow, "The Cat's Got The Measles, The Dog's Got The Whooping Cough" (also by Walter Smith), or "Shout You Cats," by Hezekiah Jenkins. To be sure, there are numerous tracks by relatively well-known artists -- Charlie Poole, Gid Tanner, Pink Anderson, et al., but this set places these odd old songs in their proper context, as vibrant remnants of the old traveling "med shows" and the minstrel shows that preceded them... The material is often ribald and politically incorrect, as well as musically and thematically riveting, and endlessly surprising. The pacing of each disc is flawless, the sound quality's great, the liner notes are cogent and very informative... So what are you waiting for? This is one of the best records of the year, by far.

Various Artists "GREETINGS FROM ALABAMA, THE HEART OF DIXIE" (Bear Family, 2004)


Bear Family's loopy series of travelogue compilations continues with this entry from the home state of Hank Williams... It's actually not the strongest disc in this series, but it still has some gems, and gathers classics such as "Alabama" by the Louvin Brothers alongside rockabilly, hillbilly and country-folk rarities, all singing the praise of "the Heart of Dixie." The inclusion of two tunes by jump blues bandleader Louis Jordan seems a little incongrous (although there is also a strong strain of Dixieland and minstrel-show blues in many songs, a hangover, no doubt, from the Depression-era success of "Alabamy Bound...") One big disappointment is that they don't include the Lynyrd Skynyrd original of "Sweet Home Alabama," opting instead for a gooier version by... you guessed it... Alabama. It's also too bad they didn't include "Boulder To Birmingham," by native Alabamian Emmylou Harris... I imagine those two songs were a little too expensive to get the rights for, but it still woulda been nice to hear them hear. Anyway, this set is okay, but others in this same series are much stronger.

Various Artists "GREETINGS FROM GEORGIA -- THE PEACH STATE" (Bear Family, 2004)


Perhaps the weakest disc to date in this curious, geographically-themed country series... Using non-hick stuff like Frankie Laine's version of "Georgia On My Mind" and Dean Martin "Watermelon Time In Georgia,' or Jim & Jesse's stilted take on "Sweet Georgia Brown" was an unfortunate way to start things off (c'mon... aren't there like a zillion great western swing versions of "Sweet Georgia Brown" that could have been used instead??) In general, the material on this album tends towards the slower, folkier end of the production spectrum., and lacks a lot of the zip and punch that other albums in this series display... There are a few oddities and rarities here, notably Carl Mann's socially-themed "Marching Through Georgia," although overall I wasn't wowed by the musical end of this one...

Various Artists "GREETINGS FROM HAWAII -- THE ALOHA STATE" (Bear Family, 2004)


A swell set of Hawaiianized hillbilly music! What with introducing the slide guitar into the American musical palatte and all, Hawaiian music has had a profound influence on the development of country music, and Hawaiian-themed novelty songs have a long history in the hillbilly tradition. This is a fun, frollicking set of island-themed country exotica, with hillbilly hulas from everybody ranging from Skeets McDonald and Cecil Campbell to Hank Locklin, Rex Allen and the Sons Of The Pioneers. Certain artists such as Hank Snow and Marty Robbins,who had longstanding fascinations with Hawaiian-style melodies, have several songs on here, alongside one-off oddities by the likes of jazz singer Teresa Brewer ("Lula Rock A Hula") and rockers Bill Haley ("Me Rock A-Hula") and Buddy Knox ("Hula Love"). Many of these are songs that have appeared elsewhere, but it's kinda fun to have them all together in one place, so you can kick back and dream of the old cattle drives by the ocean's edge. Recommended!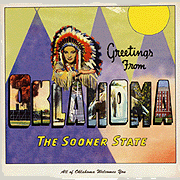 Various Artists "GREETINGS FROM OKLAHOMA, THE SOONER STATE" (Bear Family, 2004)


This collection is a real humdinger, packed with fun, rollicking songs (and several oddball entries) in praise of that great American oilslick known as Oklahoma. Now, to be honest, Oklahoma is hardly the most glamourous state in the union... I grew up nearby, in Kansas, and I know how much other folks make fun of ol' Oklahoma... So, if you live there and you're gonna be all proud about it, chances are you're gonna be really proud, and if anyone tells you that your state is a total dump, you're likely to haul off and pop 'em one in the snoot. And sure enough, that same defiant, unreasonably patriotic Panhandle pride comes through loud and clear. It helps that western swing partly started in Oklahoma, and that some really great country classics have been written about the Sooner State, tunes like Jack Guthrie's "Oklahoma Hills" and "Okie Boogie," "Take Me Back To Tulsa" by Bob Wills and -- of course -- Merle Haggard's "Okie From Muskogee." But what makes this disc a real must-have are the weird, rare songs, such as "Oklahoma's OK," by Bobby Barnett and Charlie Walker's "Moffet, Oklahoma," which are so kooky and so obviously an expression of pure provincial pride that they're bound to bring a smile to your face, whether you grew up there or not. This is one of the strongest entries in this series so far... Definitely worth tracking down!

Various Artists "GREETINGS FROM TEXAS -- THE LONE STAR STATE" (Bear Family, 2004)


Well, it's true, they don't do things small in Texas, and one of the things they do "big" is recording jovial, regionally-themed novelty songs. This disc is packed with 'em, and if you're a Texas fan, you'll definitely want to pick this one up. Asleep At The Wheel, Willie Nelson, Ernest Tubb, Bob Wills, Tex Williams and a slew of other legitimately legendary country stars are included here, and the songs are all really fun. Recommended!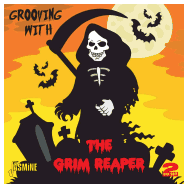 Various Artists "GROOVING WITH THE GRIM REAPER" (Jasmine, 2013)



Just in time for Halloween comes this spooky 2-CD set of country, pop and rock'n'roll oldies from 1954-62, an era known for its exuberantly shameless novelty songs. This mixes murder ballads, morbid teen tragedy songs and even a few pop culture memorials, like Mike Berry's "Tribute To Buddy Holly." From the country side of the tracks come tracks by Ferlin Husky ("The Drunken Driver"), Rex Allen, a couple by Marty Robbins ("Big Iron" and "El Paso") and an excellent melodramatic weeper from the Stanley Brothers ("No School Bus In Heaven"). The pop and rockabilly folks had a real field day with the tragedy song genre, and this is packed with gems such as Lee Hazelwood's "Girl On Death Row," "Car Crash" by the Cadets, Billy Fury's "Don't Jump" and "I'm Gonna Kill Myself" by Buddy Knox. And of course the collection closes with the hit that put the last nail on the coffin of the fad, Bob Luman's forcefully cheerful "Let's Think About Living," which is a fine antidote to all the glorious gloom and doom that precedes it. This is a fun collection, and a great slice of pre-Beatles pop culture... So good, it's scary!
---

More "Real Hick" Compilations -- click here


---