<! MP3 08/20/09, 10/12/13 > <! outside 00/00/00 > <! icons 12/03/10 > <! PIX: 08/01/09 - need scan of other Shelton Brothers CD - : can't find one 10/12/13 - found it! fixed some other pix, too > <! UPDATES: 10/12/13 - need a Jimmie Skinner page > <! TINY SKAGGS & His Pop County Band Crazy Cajun Houston Texas Chester Smith "The DYnamic Hillbilly" (Castle Records) (LP) - #LP-8102 - Cattle imprint? >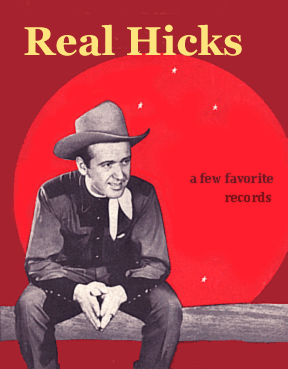 ---
Hi, there! This page is part of an opinionated guide to what I call "hard country" music -- the real stuff -- with a bunch of record reviews and recommendations by me, Joe Sixpack. Naturally, it's a work in progress, and will hopefully be expanded on quite a bit, as time allows.
This is the first page covering the letter "S"
---
A | B | C | D | E | F | G | H | I | J | K | L | M | N | O | P | Q | R | S / S-2 | T | U | V | W | X, Y & Z | Comps | Hick Music Styles
---
Doug Sahm -- see artist discography
Mack Sanders "...And His Swing Band" (Mercury, 1964)


Bandleader Mack Sanders, who also recorded under the name Johnny Bozeman, was a deejay from Kansas who cut a few singles in the '50s, and a couple of LPs in the '60s. Working at a variety of stations, Sanders was a pioneering figure in Midwestern country music broadcasting, establishing Wichita's first full-time country station. With country star Webb Pierce as a business partner, Sanders purchased a string of radio stations throughout the Midwest, as well as a foothold in Nashville. He was married to singer Sherry Bryce, up until his death in 2003. This album features vocals from Sanders as well as Gene McCoy and Jeanie Person, a female singer with a very rough, rugged vocal style. The music is a nice mix of easygoing honkytonk and country swing, similar to the Hank Thompson sound. It's not top flight, but it is pretty good -- the fiddle and steel guitar are particularly nice. Definitely worth a spin!


<! 1959? > <! vocals by Mack, Jeanie Pierson, and Gene McCoy. There are a couple of really good instrumentals with twin steel and lead work. On the album cover the group is sitting in front of an airplane that seems to have the call letters of a radio station KSM in ???, Kansas. I seem to remember hearing Sherri Brice, who sang with Mel Tillis for a few years, was married to Mack Sanders. ------------------ ...Jack is or was a big name in radio in and around Nashville--a station owner i think. Yes, he and Sherry Bryce were married. He apparently was something of a western swing aficionado--in addition to the LP you mention (from the 60s or early 70s), he did another one called "Tonkin' the Blues" on the Pilot label in the 1980s. It is almost impossible to find, but features an all-star lineup including Jimmy Colvard and Leon Rhodes on guitar. Curly Chalker plays some very freaky stuff on this LP. Far as i know, he is not a musician at all, but just chose to assemble musicians to make these 2 LPs at his own expense. >


Tommy Scott -- see artist profile


<! seely_jeannie_01.html >


Billy Joe Shaver - see artist discography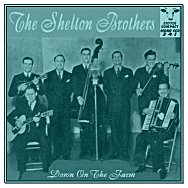 The Shelton Brothers "Down On The Farm" (Binge Disc, 2001)


The East Texas-based Shelton Brothers had a great, jovial style -- a prototypical hard country sound where novelty songs nestle side by side with lightly-delivered, bluesy weepers. Although the band's sound is a little rickety and sparse, not dazzling or muscular, or overly soulful, they still pioneered the guitar solo in country music, and had a clear influence on Ernest Tubb and other early honkytonkers. This is a great set of oldies from the late 1937-41, rare 78s from the Decca label, way back in its infancy... Moon Mullican and Gene Sullivan are among the musicians, though the stars are Joe and Bob Shelton, who had a wonderful and and completely infectious sense of humor. Highly recommended, and well worth tracking down!

The Shelton Brothers "A Hillbilly And Western Swing Legend" (Binge Disc, 2002)


This second set of Shelton Brothers oldies has the advantage of English-language liner notes, which explain the history of this popular Depression-era brother act, their dual identity as "the Sunshine Boys" (when recording for Victor, or performing on the KWHK Louisiana Barn Ride), and their long professional association with country star (and Louisiana governor) Jimmie Davis. As with the first album, this disc is packed with sentimental oldies and lightly raucous takes on old tunes such as "Deep Elem Blues" and "Mamma Don't 'Low." Unfortunately, neither CD includes their original version of "Just Because" (later a hit for Elvis Presley), although this volume does include their 1937 remake. More great stuff; highly recommended.

The Shelton Brothers "Rompin' And Stompin' Around" (BACM, 2005)


Another great set from the Shelton Brothers which, amazingly, does not overlap with the two Binge Disc collections listed above. If you're into these guys, then snap this one up! (Available through the British Archive of Country Music website.)


<! CD D 010 >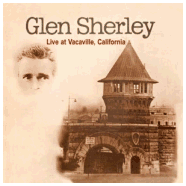 Glen Sherley "Live At Vacaville, California" (Mega, 1971)


California convict Glen Sherley came into Johnny Cash's sphere of influence when Cash staged his legendary 1968 Folsom Prison concert -- someone had passed Cash a demo of Sherley's prison ballad, "Greystone Chapel," which he sang in front of an enthusiastic audience, with an unsuspecting and dumbfounded Sherley sitting in the front row. The song made it onto the album and Cash became Sherley's champion in Nashville, helping get this live album produced -- it was recorded while Sherley was still in prison, and his live version of "Greystone Chapel" was a modest hit. Cash pushed for Sherley's parole later the same year and he gave him a job, too, as a staff writer in his "House of Cash" company, along with Sherley's friend Harlan Sanders, who was also a convict in the California system. The mix of freedom and fame was apparently too much for Sherley -- his antisocial behavior forced Cash to fire him, and he quickly fell off the radar. Years later, in 1978, Glen Sherley committed suicide with a self-inflicted gunshot wound, having been unable to hang onto his music career, one of the more tragic figures in the '70s country scene.


<! Country singer and songwriter Glen Sherley was one of the inmates at Folsom Prison when Johnny Cash played his famous live concert in 1968 and one of the songs Cash sang was Sherley's Greystone Chapel. Cash took an interest in Sherley's fate after he was released in 1971 and helped him land a contract with Mega Records. He recorded an album live at Vacaville Prison - many of the songs dealing with his prison experiences. This CD reissues that LP plus two rare singles that never made it to the original LP >


Jean Shepard - see artist discography



Mervin Shiner "Steppin' Out" (BACM, 2005)

Gene Simmons "Drinkin' Wine: The Sun Years, Plus" (Bear Family, 2006)

Luke Simmons "I Like My Music Country Style" (BACM, 2005)

Luke Simmons "Pure Down Home Raw 1950s Country Singin' & Pickin'" (Jasmine, 2012)



A nice reissue release profiling Canadian honky-tonker Luke Simmons... Some rare old material that shows Canuck country at its finest.


<! 'Pure', 'Down Home' and 'Raw' are three words that aptly describe the driving rhythms and no-holds-barred sounds of fiddle and steel packed into the 30 tracks from the Canadian country artist, Luke Simmons. Combining influences of Hank Williams, Jimmy Rodgers and the country and rockabilly greats of his day in the early 1950s, yes siree this is without doubt as pure, raw and down home as you can get! Many of the tracks are on CD for the first time, previously just available on scarce 78s and heard only by the most ardent of collectors - now all beautifully remastered. Turn back the pages of time and listen to the authentic vocals of this great country singer who was a key link in developing the '50s country style even in places as far-fetched as New Zealand and Australia. Yee Haw! >


Red Simpson -- see artist discography





Daryle Singletary -- see artist discography





Margie Singleton -- see artist discography




Jimmie Skinner "From The Beginning To Fame" (Binge Discs, 1997)


One of the great overlooked Jimmie Rodgers-derived honkytonkers of the 1950s, Skinner's best stuff is still sadly unavailable here in the States. He had some fair-sized hits on Mercury Records during the 1950s, but sank out of sight in the early '60s. Some of his oldies, such as "I Found My Girl In The Good Old USA", are present on the Highland CD, but sadly they are not in their original form -- these seem to be re-recordings with dubious sound quality. Thank goodness for the German label, Binge Discs, which has put together a killer collection of Skinner's best stuff, recorded between 1949-1961. The hits aren't on here (presumably to avoid a lawsuit), but the slew of lesser-known tracks is just as great, if not greater, to listen to. The debt to Ernest Tubb is obvious, although Skinner, with a voice that often clumsily breaks out of his blusier phrases, has an endearing quality all his own. Plus, the material is just great. The early songs include a lot of snappy, hard luck and cold-hearted lyrics as well as sappy heartsongs galore. Later on, as country adapted to the rock era, Skinner's stuff took on a bouncy lope, as on tracks like "Don't Let Your Love Get You Down." The major labels aren't likely to reissue much of Skinner's work anytime soon, so this import disc is definitely worth looking for.

Jimmie Skinner "Doin' My Time" (Bear Family, 2003)


Well, leave it to Bear Family...! Here's a mega-delic, 6-CD box set, with Skinner's best work from 1947-62, including previously unreleased takes and rare bluegrass recordings that were pretty far off the radar... The sixth disc is made up of spoken word recordings drawn from Skinner's autobiography (oh, well...) Still, what a treasure trove of groovy, true-blue all-American hillbilly music, from one of the great, long-lost country artists of yesteryear.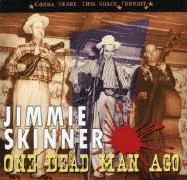 Jimmie Skinner "One Dead Man Ago (Gonna Shake This Shack Tonight)" (Bear Family, 2008)


A great classic country release from one of the best reissue labels in the world. Plaintive honkytonker Jimmie Skinner is a personal favorite -- little known and little remembered, be had a lot of the same laconic, nasal sound as Ernest Tubb, but with a bluesier, rawer style, that was closer in many ways to their mutual idol, Jimmie Rodgers. Skinner had a few hits in the 1950s, and later put an extra little bounce into his music, in an attempt to keep up with the rock/rockabilly invasion. That suits this disc just fine -- like the rest of the records in the Shake This Shack series, this tilts towards upbeat material, and is a more modest, single-disc version of a more massive Bear Family box set (in Skinner's case, a 6-CD set). This should be just about right for most retro-twang fans. If you want to check out one of the most distinctive artists of honky-tonk's golden era, this is a great introduction to his work.
Jimmie Skinner "22 Greatest Hits" (Highland Music, 1997)

Jimmie Skinner "Jimmie Skinner Sings Bluegrass" (Crosscut Records, 2001)





<! 1. In The Pines 2. Blueridge Mountain Blues 3. Dear Old Mother 4. You'll Never Worry My Mind 5. A Lot More Time To Go 6. I'll Bet You My Heart That You're Mine 7. Letter Edged In Black 8. Short Life of Trouble 9. Door Of My Heart 10. I'll Railroad No More 11. I'm A Free Little Bird 12. A Lonesome Railroad Man 13. A Rolling Stone 14. Going Down The Road Feeling Bad 15. Midnight Special Walkin' Out Of Your Life 17. Chain Of Broken Hearts 18. Time Won't Ease My Worried Mind 19. Little Nora 20. Drifting And Dreaming > <! Have You Said Hello To Jesus Today? by Jimmie Skinner (Rich-R-Tone) (single?) B003MU50EQ >

Jimmie Skinner "Too Hot To Handle" (BACM, 2005)


More old-school country gems... These are his more obscure recordings, but one noteworthy inclusion is his original version of "You Don't Know My Mind," which became a country and bluegrass standard. Great stuff! (Available through the British Archive of Country Music website.)


<! CD D 184 > <! Fine collection of this distinctive performer with his jagged baritone vocal style that is similar to Ernest Tubb and stripped down instrumental arrangements often featuring the fine mandolin work of Ray Lunsford. This doesn't include any of his hits but it does include his original recording of You Don't Know My Mind - one of several Skinner compositions that has become a country standard - in fact most of the songs here are Skinner originals. It also includes the interesting Hank Williams tribute Singing Teacher In Heaven which is built around song titles of Hank's songs, a countrified version of Duke Ellington's Don't Get Around Much Anymore and his excellent cover of Eddie Noack's great Too Hot To Handle. Some tracks have a bit too much noise reduction but souind is generally fine. >

---

Real Hick Music -- More Letter "S"


---