<! MP3 08/20/09, 01/03/13, 10/13/13 > <! outside 00/00/00 > <! pix 01/03/13, 10/13/13 > <! icons 12/03/10 > <! UPDATES: 12/03/10 - could probably post a Floyd Tillman page, too 01/03/13 - posted Floyd Tillman & Justin Trevino pages - need ones for Texas Ruby too? Added Tiny Tillman after KS trip 10/13/13 - > <! Bobby Trammell Jerry B. Terry "xxxxxxxxxx" (1977) Waylon-esque - no ASIN - a 45(??) Dave Toland "You Can't Take Back This Kiss" (Desert, 1982) - thin voice, spunky music The Tennessee Three "The Sound Behind Johnny Cash" (Columbia, xxxxx) SHORTY THOMPSON "Saddle Rockin' Rhythm" (Cattle, xxxxx) >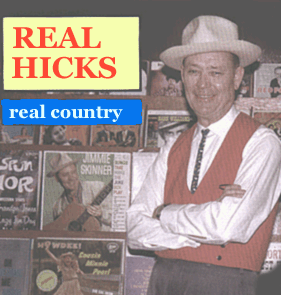 ---
Hi, there! This page is part of an opinionated guide to what I call "hard country" music -- the real stuff -- with a bunch of record reviews and recommendations by me, Joe Sixpack. Naturally, it's a work in progress, and will hopefully be expanded on quite a bit, as time allows.
This is the first page covering the letter "T"
---
A | B | C | D | E | F | G | H | I | J | K | L | M | N | O | P | Q | R | S | T | U | V | W | X, Y & Z | Comps | Hick Music Styles
---
Tom Tall & Ginny Wright "Are You Mine" (Bear Family, 2005)


Kooky, clunky, delightfully innocent, for-real hillbilly music from the early 1950s. Two teenagers, Tom Tall and Ginny Wright, were paired up for a duet on the independent Fabor label, where they were both signed... The disc, "Are You Mine," shot to Number Two on the country charts in 1955, but just when they were poised to reap the benefits of their success, Wright decided to pack in in and quit show biz - she got married, had kids and settled down. Tall, who was just a few years younger than her, was left in the lurch -- fresh out of high school and eager for success, his career lurched along for several years afterwards, but he never came as close to hitting the jackpot as he did when he was a kid. This disc includes almost all the singles that Tall and Wright recorded in the 1950s (although, sadly, it omits her earlier duet with Jim Reeves, which was also a big hit...) His solo work and hers are included, side by side, and it's wonderously unpolished music, mainly sub-par novelty material and heartsongs, sung with boundless enthusiasm and an utter lack of finesse. This disc speaks to a day when country singers weren't all blowdried TV models who "fixed" every little bit of their vocals in the studio before their records came out... This disc is full of awkward, chaotic, sometimes embarassing performances... and it's an album I find fairly irresistible. It's the kind of record you just won't find anywhere else... God bless Bear Family!
Barry & Holly Tashian -- see artist discography
Chip Taylor - see artist discography
Gordon Terry "Lotta Lotta Woman" (Bear Family, 1995)


A teenage fiddle champion and a veteran of a long-lived 1940s, family stringband, Gordon Terry landed a prestigious gig as the fiddler in Bill Monroe's bluegrass band, but had to give it up when he got drafted in '52. After his service was up, Terry went country and worked for Red Foley on the Ozark Jubilee radio show before moving on to the Opry and a contract as a solo recording artist. Although he got a lot of work as a fiddler, Terry never quite hit the big time as a singer. To be honest, the material on this disc is pretty uneven and all over the map stylistically. The disc includes thirty recordings from 1955-1961, including a couple of early singles for Columbia and a bunch of stuff for RCA, most of which went unissued until this CD came out. Clearly in search of a hit, Terry tried his hand at numerous styles -- the most sizzling track here is the rockabilly-tinged "It Ain't Right," and many tracks echo that bouncy feel, and bring to mind the success that Don Gibson had with melding country and teenybopper pop. You want to like Terry's version of this sound, but other than "It Ain't Right" he never quite hit the mark on these Everlys-esque teen-oriented tunes. He also emulated the velvety crooning of Jim Reeves (rather successfully), sang recitations and patriotic anthems... You can also hear the same vocal twang that Roger Miller and a baritone rumble like Dave Dudley, all accompanied by various sorts of inventive approaches and see-what-sticks arrangements. There are only a handful of real gems here, such as the mournful "Almost Alone," the heartfelt patriotic novelty song, "Fifty Stars," and the Reeves-ish "Then I Heard The Bad News," but there's also a lot of stuff that understandably fell by the wayside. Students of classic country will want to check this out, but it's not as essential an album as one might hope.
Texas Ruby & Curly Fox "A Memorial Tribute" (Binge Disc)
Rare mid-1940s recordings from one of the Grand Ole Opry's mainstay duos. Uptempo lost-love songs galore, along with hot fiddle breakdowns by Curly Fox (who started his career in the Skillet Lickers string band, and kept the old- timey flavor alive.) Ruby's intensely masculine voice is a bit unnerving -- she sounds like a nineteen year old boy auditioning for the band -- but the material is priceless. The musicianship is particularly high on these recording, mostly from old Columbia sessions, as well as a few Opry airchecks. You can't find this stuff anywhere else, so track this one down.
Texas Ruby & Curly Fox "We May Meet Again Someday" (BACM)

Texas Ruby "Teardrops In My Heart" (2010)

Texas Ruby & Curly Fox "Essential Masters" (Rockabilly Records, 2011)


Texas Ruby "Cowgirl Classics" (Rockabilly Records, 2011)


The Texas Troubadours -- see artist discography
Dick Thomas "... And His Nashville Ramblers" (Binge Disc/Cattle Records, 2001)


A jovial, if slightly leaden, novelty-oriented hard country collection from a postwar hillbilly singer originally hailing from Philadephia (of all places!) Thomas' main claim to fame is as the co-author of "Sioux City Sue," one of the biggest hit tunes of the '40s. Like many country artists of the time, he moved around constantly, migrating to whatever broadcast or recording jobs he could find. Though a little on the clumsy side, Thomas is an endearing performer, sounding quite a bit like the Canadian "ranger" who would come in his wake, Hank Snow... He also picked up a bit of the California sound during a stint in Hollywood, heard here in the chugga-chugga accordion riffs on several songs. This is a nice little collection, another one of those rarity-packed Binge Discs that you're well advised to snap up now, while it's still floating around.


<! 12/10: no img >

Dick Thomas "Sioux City Sue" (BACM, 2005)

Dick Thomas "Country, Ragtime, Rockin' Hillbilly And Cowboy Music" (Jasmine, 2010)



A 2-CD set...
Hank Thompson -- see artist discography
Mel Tillis - see artist discography
Floyd Tillman -- see artist discography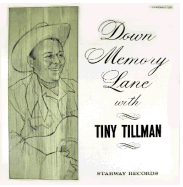 Tiny Tillman "Down Memory Lane With Tiny Tillman" (Starway) (LP)
This is what I assume was the lone solo album by a regional Missouri country star, Tiny Tillman, who performed on several Opry-like radio shows, most notably the Kansas City-based "Brush Creek Follies" where he was a cast member from the late 1940s through the early '50s. This self-released record caught my eye for a couple of reasons, notably because of the all-star lineup of hotshot musicians backing him up, including Tommy Hill on guitar, Shot Jackson playing steel, Junior Husky on bass and Tommy Jackson playing fiddle... the elite of the '50s studio crews! There's no discographical info on the jacket, but I'd guess this came out round 1966-69. Anyone know for sure?


<! Tiny Tillman http://library.umkc.edu/spec-col/follies/stars.htm Tiny Tillman (left) was another of KMBC's cowboy singer-guitarists whose talents, according to a KMBC newsletter, were "matched only by his corpulence." Tillman joined KMBC and became a Follies regular in the late '40s. He played and sang with Western bands since he was nine years old, and before coming to the Follies he was a star of the Valley Barn Dance in St. Louis, and had appeared on the Grand Ole Opry. Tillman had his own daily morning show on KMBC, in addition to appearing on KMBC's Dinner Bell Roundup, Western Roundup, and Brush Creek Follies. > <! 01/2013: not on Amazon or eBay >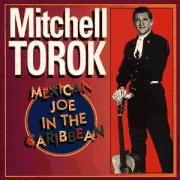 Mitchell Torok "Mexican Joe In The Caribbean" (Bear Family, 1996)


A 4-CD set covering the work of Mitchell Torok, a country boy who sang smooth poppy stuff when it suited him, but who also tapped into some true fiddle-and-steel twang, especially in his early work. There's also often a strong tilt towards the teenpop sound of the late 1950s and early '60s, in a Ricky Nelson-ish kinda way. A few odds and ends are missing, but basically this is the definitive, most comprehensive look at this '50s country crooner's career.
Mitchell Torok "When Mexican Joe Gave Up The Rhumba: The Best Of Mitchell Torok" (Bear Family, 2008)

Mitchell Torok "Drink Up And Go Home" (BACM, 2005)


(Available through the British Archive of Country Music website.)


<! CD D 188 Drink Up And Go Home/ Take This Heart/ Havana Huddle/ Red Light Green Light/ What's Behind The Strange Door/ Pledge Of Love/ Haunting Waterfall/ Dancerette/ A Peasant's Guitar/ The World Keeps Turning Around/ When Mexico Gave Up The Rhumba/ I Wish I Was A Little Bit Younger/ No Money Down/ Hootchy Kootchy Henry From Hawaii/ Gigalo/ Weep Away/ Caribbean/ Judalina/ Little Hoo Wee/ Living On Love/ Love Me Like You Mean It/ Go Ahead And Be A Fool/ Memories Of You Haunting Me Night And Day/ Sweet Revenge/ Sober Up/ Edgar The Eager Easter Bunny >


Merle Travis -- see artist discography





Justin Trevino -- see artist discography





Ernest Tubb - see artist discography





Justin Tubb - see artist discography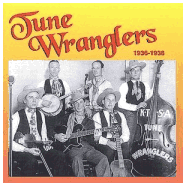 Tune Wranglers "1936-1938" (Krazy Kat, 2000)


What a ton of fun! One of the hottest (and peppiest) western swing bands of the time, this San Antonio outfit also had a way with saucy novelty songs, and a real sweet-tooth for jazzy arrangements... With over two dozen tracks and nice sound quality, this disc is a darn fine way to spend your hard-earned sheckels. Also, check out Joe Barnes' trademark trick banjo playing -- hwere he plays so fast that the notes start to blur and distort chromatically -- a technique used on "Sarah Jane" and several other tunes. High-powered pickin' and hilarious story-telling. HIGHLY recommended!!
The Turner Brothers "Honky Tonk Boys: 1947-1954" (Bronco Buster)



<! The Turner Brothers (Monroe "Lige" Turner and Ulysses "Red" Turner) are featured on 22 songs here from 1947. They perform in the old timne brother style of The Blue Sky Boys or Delmore Brothers though not as interesting. They accompany themselves on the familiar guitar and mandolin with occasional added musicians on electric guitar (usually Roy Lanham), fiddle and steel guitar. There are four cuts by the Kentucky Boys (aka Zeka & Red) featuring "Red" Turner with James Grimshaw "Zeke" Turner who were not related. They perform in a more lively Carlisles style with a small group including some great fiddle by Fredie Langdon. >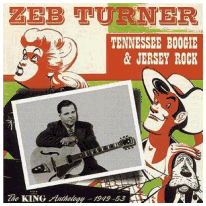 Zeb Turner "Tennessee Boogie & Jersey Rock" (Westside, 2000)


This isn't the greatest hillbilly boogie record ever, but it sure is authentic... Zeb and Zeke Turner (aka William and James Grishaw) were two of the iconic hillbilly artist of the post-WWII era; they recorded as a duo and as solo artists in the rollicking pre-rock "hillbilly boogie" scene, and worked prolifically as session guitarists for many of the rising honkytonk stars of the '40s and '50s. On his own, Zeb was a rough-hewn, bluesy performer, in the mould of Merrill Moore and Ernie Ford, as well as jump blues shouters like Wynonie Harris and Louis Jordan; while Turner's vocals never catch fire the way the African-American singers did, his recordings tended to have wild instrumental fillips in the background that kept them from a more marketable, streamlined sound, but also hinted at a wilder, irrepressible side, the kind of kooky amped-up country that would feed into the early rock'n'roll sound. (Giving Turner his "rock pioneer" props, check out "Jersey Rock," recorded in 1953... Bill Haley, watch out!)
Conway Twitty - see artist discography
Johnny Tyler "Swingin' And Rockin' Western Style" (Bronco Buster)
A colossal set of boogie-inflected, mid-1940s honky-tonk from this nasal Arkansas shouter. This disc is a revelation: why does NOBODY know about or talk about this guy?? Tyler bears a strong vocal resemblance to Lefty Frizzell, though arguably Tyler was a more forceful, dynamic singer. And his band, with tight fiddle/steel/guitar riffs laid over a thumping, goodtime-y bass, makes every song on this disc a treat. Definitely one of the strongest releases in the Binge Disc catalog -- not to be ignored!


<! 144 x 144 >

Johnny Tyler "Two Dozen Western Swing Jewels" (Binge Disc/Bronco Buster, 2006)





<! BB #300 >
T. Texas Tyler "The Man With A Million Friends" (Bronco Buster)


Fabulous post-WWII California country -- not quite as amped up as hillbilly boogie, though also not as static as some of the pre-war honkytonk. Tyler is often remembered as a "one-hit wonder," since most folks only know his classic, "Deck of Cards," from 1948. The tracks on this collection all predate that chestnut, and reveal Tyler as a compelling, expressive performer. Includes some mildly raunchy numbers, and some gospel and sentimental numbers, too --- a highlight is his version of "Rough and Rocky," a song recorded decades later by Emmylou Harris. Yet another awesome Binge Disc release bringing to light the work of another artist left by the wayside of country music history.


<! 144 x 144 >

T. Texas Tyler "The Best Of T. Texas Tyler" (Collector's Choice, 1998)

T. Texas Tyler "T. Texas Tyler" (Collector Records, 2003)


T. Texas Tyler "T. Texas Tyler" (King, 1959)

T. Texas Tyler "The Great Texan" (King, 1960)


Country gospel with a rollicking beat, a nice hillbilly twist on the genre -- none of the syrupy, watered-down, well-behaved poppiness that plagued so many other country Christian records. Tyler tears the house down with rambunctious revival-style rave-ups like "You've Got To Live Your Religion" and "Didn't They Crucify My Lord." Even the slower numbers have plenty of backbeat and slinky steel guitars; this is a for-real country record, fun to listen to, even aside from the religious content. If ya ask me, this is really the way to get folks fired up about their religion -- make it fun! Good record... recommended!


<! 144 x 144 >
T. Texas Tyler "Country Boy" (BACM, 2005)


(Available through the British Archive of Country Music website.)


<! CD D 182 >

---

Real Hick Music -- The Letter "U"


---