<! MP3 07/21/09 > <! update 07/21/09 - Red Foley, Lefty Frizzell , Kinky Friedman need own discographies> <! outside 00/00/00 > <! pix 00/00/00 > <! icons 12/03/10 > <! GARLAND FRADY? http://countrydiscography.blogspot.com/search/label/Frady%20Garland > <! Hank Fort - see below > <! PF: # Fairburn Werly (1) - rockabilly? Werly Fairburn "Everybody's Rockin' " (Wall, 1989) Werly Fairburn "Everybody's Rockin' " (Bear Family, 1994) # Falcon Joseph (1) cajun Arhoolie albums # Farmer Boys (1) # Farr Brothers (1) # Farr Hugh (1) # Fautheree Jimmy Lee (1) # Fawyor Dudley (1) - cajun brothers, only cut one single in 1928 on Okeh # Fawyor James (1) # Faye Boots (1) # Faye Rita (1) # Fell Terry (1) # Fenster Zoot (1) - aka Jack Barlow # FiddlinĠ Linvilles (1) (!) Hmm! old-timey or western swing maybe? a handful of singles on King in the 1940s, but apparently nothing ever reissued! # Fisher Sonny (1) - '50s rockabilly artist who also recorded in the late '70s early '80s. Several reissues & later albums on Ace, etc. # Flanagan Linda (1) - early 1960s singer, recorded nine songs, only a handful of singles for Decca & later for indie Boone label. # Flannery Bob (1) - singles-only artist on Capitol, 1949-50 # Flannery Sisters (1) - three singles on Decca, 1930s # Flatt Alan (1) Alan Flatt "Shades Of Ernest Tubb" (Hillbilly Researcher, 200?) - early '50s artist # Flatt Allen (1) - same guy # Flood Dick (1) - singles only artist, a variety of labels 1959-71 # Floyd Charlie (1) - off the radar top 40 guy # Fogerty Tom (1) - john's brother, CCR # Folger Dan (1) - singles-only artist early '60s Hickory Records # Forbes Walter (1) - bluegrass/folk/cowcoy artist? 1960s Walter Forbes "Ballads And Bluegrass" (RCA, 1962) Walter Forbes "Folk Song Festival" (RCA, 1963) Walter Forbes "Nashville Coyote" (JMI, 1973) # Ford Brownie (1) Brownie Ford "Stories From Mountains, Swamps And Honky Tonks" (Flying Fish, 1990) Bluegrass and cowboy music? # Ford Rocky Bill (1) # Fort Worth Doughboys (1) - Bob Wills band # Foster Jerry (1) # Foster Sally (1) # Four Aces (3) # Four Young Men (1) # Fouts Tom C (1) # Fowler Fowler (1) # Frady Garland (1) - African American Top 40 singer # Francis Cleve (1) # Freda and the Firedogs (1) - Marcia Ball # Free State Ramblers (1) - John Ashby old-timey # Friend and Lover (1) - Jim Post's first band/album # Front Range (1) # Frost Brothers (1) - gospel # Fruge Columbus (1) - 1920s cajun # Fruitjar Drinkers (1) - Dave Macon # Fukano Eddy (1) Eddy Fukano "Eastside, West" (Dot, 1968) (LP) B00410M3DW pop/folk? # Fuslier Jean Batiste (1) - cajun 1930s/1960s # Fuzzy Mountain String Band (1) >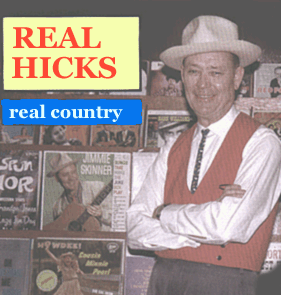 ---
Hi, there! This page is part of an opinionated guide to what I call "hard country" music -- the real stuff -- with a bunch of record reviews and recommendations by me, Joe Sixpack. Naturally, it's a work in progress, and will hopefully be expanded on quite a bit, as time allows.
This is the first page covering the letter "F"
---
A | B | C | D | E | F | G | H | I | J | K | L | M | N | O | P | Q | R | S | T | U | V | W | X, Y & Z | Comps | Hick Music Styles
---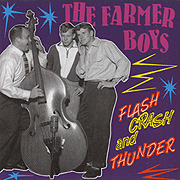 The Farmer Boys "Flash Crash And Thunder" (Bear Family, 1991)


DOUBLE TRIPLE WOW. If you want to find out where The Dave and Deke Combo copped their schtick from, this is the place. Early members of the Bakersfield scene, the Farmer Boys helped set the pace for folks like Buck Owens and Wynn Stewart, who would come down the pike a little later. This disc covers the complete recordings of the Farmer Boys, during their brief relationship with Capitol Records, which lasted from 1955-1957. It includes high-powered, hot-pickin' hokey cornball novelty classics such as "Yearning, Burning Heart," "Lend A Helping Hand" and "I'm Just Too Lazy." These guys may have been on the periphery of hard country fame, but their old records sure hold up nicely, especially with all the hot pickin' and nasal twang. Highly recommended.




Hugh & Karl Farr "South In My Soul" (Cattle Records) (LP)



<! transcription discs? >

The Farr Brothers "Texas Crapshooter" (JEMF, 1977) (LP)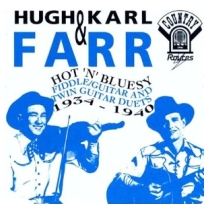 Hugh & Karl Farr "Hot 'N' Bluesy Fiddle/Guitar And Twin Guitar Duets: 1934-1940"


Wow. The Farr Brothers were the backup pickers who added the musical punch to many of the best old recordings of the Sons Of The Pioneers, and of Pioneers alumnus Gene Autry. Left to their own devices, they knocked out a slew of great instrumentals, like the ones on this disc. The surprising thing is how completely jazzy these tracks are. If you like old recordings from the likes of Django Rinehardt, or Eddie Lang and Joe Venuti's duets, then you owe it to yourself to check this disc out. It's hot and sweet, and very listenable.
Jimmy Lee Fautheree "Heaven Is Only Knee High" (Lodema, 1984) (LP)


Gospel tracks from guitarist Jimmy Lee Fautheree, who in his youth was half of the fiery hillbilly duo, Jimmy & Johnny. He was an older man when he made these recordings, but I bet there's plenty of soulfulness and sizzle here as well.
Jimmy Lee (Fautheree) "Knocking On Your Front Door" (Bear Family, 2001)

Jimmy Lee Fautheree "Found The Doorknob" (Ecco-Fonic, 2004)



Telecaster guitar pioneer Jimmy Lee Fautheree, who was in the rockabilly-tinged 1950s country duo of Jimmy & Johnny, came back to the studio for this rockin' gem, with accompaniment from six-string wizard Deke Dickerson. It's a rock-solid set, entirely satisfying and fun. And twangy! Recommended.




Boots Faye & Idaho Call "Boots Faye & Idaho Call" (Cattle, 2005) (CD)



<! also had a self-released LP on the Callfaye label: The Krawl Family (Boots Faye & Idaho Call) "Family Album" (Callfaye, 1964) (LP) >


Dick Feller - see artist profile




Terry Fell "Truck Driving Man" (Bear Family, 1993)


One of the original one-hit wonders of the hillbilly scene, Alabama-born West Coaster Terry Fell hit the chart in 1954 with his own composition, "Truck Driving Man," a genre-defining trucker tune that had plenty of twang and drive. He recorded some other nice hillbilly tunes in the 1940s and '50s, and this generously programmed collection captures Fell at his peak. Definitely worth checking out if you're looking into the roots of the California country sound.
Terry Fell "Get Aboard My Wagon" (BACM, 2005)


Another fine set of hillbilly songs... This disc replicates a fair amount of that's on the old Bear Family set, about half the songs. But even if you have the old collection, this still offers a bunch of "new" tunes that are pretty high calibre. Recommended!


<! D CD 191 Rainbow At Midnight/ Don't Drop It/ Hillbilly Impersonations/ Smokin' Cornsilk/ Truck Drivin' Man/ Over And Over/ You Don't Give A Hang About Me/ Get Aboard My Wagon/ If I Didn't Have You/ That's What I Like/ Don't Do It Joe/ Fa So La/ I'm Hot To Trot/ Consolation Prize/ Mississippi River Shuffle/ He's In Love With You/ I Can Hear You Cluckin'/ Paper Heart/ Yesterday/ I've Done All I Know To Do/ There's A Gold Moon Shining/ You Don't Want Me Anymore/ You're Not Wanted Here/ You Ran Around/ Dreamer's Paradise Terry Fell is a decent honky tonk singer who is best known for writing and recording the original version of Truck Driving Man (included here). This is a collection of 25 recordings made for Memo, Four Star and RCA between 1946 and 1957 and is a bit of a mixed bag ranging from fine honky tonk performances to really lame novelties which are here in abundance. His Hillbilly Impersonations is embarrassing since, except for Ernest Tubb, his impersonations do not sound remotely like the artists he's attempting to imitate. >


The Flatlanders - see artist discography




Floyd Flowers "Guitars Heartaches, And Honky Tonk Nights" (Hologram, 2006)

Floyd Flowers "I Ain't Much But 'm All I Got" (CBUJ, 2007)


A fine set of country novelty songs... Includes the football-oriented "Since You Moved Out, I Moved Her In" (described below...)
Floyd Flowers "Since You Moved Out, I Moved Her In" (Pick Your Team edition) (Hologram/CBUJ, 2006)


A fine honkytonk novelty song... with thirty-two different versions, one for every team in the National Football League! Now, I don't know anything (at all) about professional football, but I know a good novelty song when I hear one, and this little ditty certainly qualifies. It's about some poor slob who moves the TV back into the living room after his old lady leaves him. He cranks the tube up, opens a few brews and kicks back to watch his favorite team (you pick!) kick off. Man, they don't make records like this anymore... Or do they??


<! >


Flying Burrito Brothers - see Gram Parsons discography





Red Foley - see artist profile




Rocky Bill Ford "Rocky Bill Ford" (Audiolab, 1961) (LP)
The lone album released by this little-known Texan: all these songs are included on the BACM CD listed below.



Rocky Bill Ford "His Complete Recordings" (BACM, 2007)


You'd be hard-pressed to find a country singer more rough-hewn and chunky-voiced than "Rocky" Bill Ford, who worked as a barber in Houston and recorded a couple dozen tracks between 1950-56. Ford had a pretty limited vocal range -- think Ernest Tubb with a slight hiccup -- but he sang with conviction, and carried these songs emotionally, particularly when sounding forlorn and forsaken was a plus. Ford had a couple of great (and surprisingly direct) drinking songs to his credit: "Beer Drinking Blues" and "Blowing The Suds Of My Beer," both of which were covered by the more robust and more successful fellow Texan, Big Bill Lister. Initially, Ford wrote a lot of his own material, later he did more cover tunes, and apparently he even took a stab at rockabilly in the late 'Fifties, although the only trace of these efforts seems to be a (very fun) single on Starday, with two thumping sizzlers, "Mad Dog In Town" and "Have You Seen Mabel." Although he wasn't the most dynamic singer, Ford still made some fun records... A nice retrospective of a very obscure hard-country old-timer.


<! CD D 193 >
Hank Fort "...Sings Her Own Great Songs" (Epic, 1958)



<! Hank Fort The name Hank Fort conjures images of some lanky cowboy singer in full regalia, most likely standing in black and white, with a western swing orchestra behind him and a post war Cadillac or an old bullet-back bus. We find however that Ms. Fort was no such thing, as evidenced by the cover of this 1958 Epic LP. Alma Louise Middleton Hankins Fort (b. June 19, 1914) was a Nashvillian who reflected not the hillbilly image of that fair city, but rather the cultured and somewhat antebellum aspects of "the Athens of the South". Her father was the painter Cornelius Hankins, her mother a writer of children's verse. With a background in theatre and music, Fort was very much a presence in the early days of broadcasting and recording in the the soon-to-be country music capital. In 1947 she composed the first radio jingle to be recorded in Music City, an ad for Shyer Jewelers that would run for the next twenty years. Fort is best remembered, however, for the many novelty songs she composed and recorded. The most famous of these is undoubtedly "I Didn't Know The Gun Was Loaded", which has received decades of airplay via Dr. Demento. "Put Your Shoes On Lucy" was recorded by many artists and remains a standard piece of forties nostalgia. I first heard "You Can't Hurt Me Now Cause I'm Dead" on an old 78 (a different recording that the one featured here) and it stands out as one of the most bizarre songs I have ever heard. Although the present album indicates no particular recording data, it was almost certainly recorded in Nashville. The Anita Kerr Singers can be clearly identified by listening, and I could be wrong, but the lead guitar sure sounds like Hank Garland to me (If not, Harold Bradley maybe?). There is very little information about Hank Fort to be found online. There is no date of passing given in any of the brief bios, if in fact alive, Ms. Fort would be 90 years old. If anyone knows for sure, please comment. Tracks: 1. Put Your Shoes On Lucy 2. Gray Flannel Shirt 3. I Didn't Know The Gun Was Loaded 4. In Arkansas 5. Honey Pie-Sugar Lamb 6. Save Your Confederate Money,Boys 7. Never Took A Lesson In My Life 8. You Can't Hurt Me Now Cause I'm Daid 9. Tall Tales Of Texas 10. Kissin' Kin 11. Florida Shore 12. Southern Cookin' 13. I Love Connecticut 14. My One Track Heart >


The Fort Worth Doughboys - see: Bob Wills



Wally Fowler "That's The Last Straw" (BACM, 2005)





<! 133 >
Curly Fox & Texas Ruby "A Memorial Tribute" (Binge Disc)
Rare mid-1940s recordings from one of the Grand Ole Opry's mainstay duos. Uptempo lost-love songs galore, along with hot fiddle breakdowns by Curly Fox (who started his career in the Skillet Lickers string band, and kept the old- timey flavor alive.) Ruby's intensely masculine voice is a bit unnerving -- she sounds like a nineteen year old boy auditioning for the band -- but the material is priceless. The musicianship is particularly high on these recording, mostly from old Columbia sessions, as well as a few Opry airchecks. You can't find this stuff anywhere else, so track this one down.
Curly Fox & Texas Ruby "Fantastic Fiddlin' Fun And Songs" (Starday) (LP)

Curly Fox & Texas Ruby "We May Meet Again Someday" (BACM)

Curly Fox "18 Old-Time Country Favorites" (Rural Rhythm, 1998)


Dallas Frazier - see artist discography
Kinky Friedman - see artist discography
Lefty Frizzell - see artist discography

Raymond Froggatt "Cold As A Landlord's Heart" (Castle, 2003)



Here's an odd one. In the mid-1970s, English rocker Raymond Froggatt was instructed by his label to "go country," presumably because his previous spacy psychedelic meanderings weren't selling that well... As Froggatt confesses, he didn't have any innate interest in country music, or much experience playing it, but he did as he was told, and the results were quite nice. In 1978 he went to Nashville to record Southern Fried Frog, an album that has become a minor cult classic of British alt-country... I didn't have high expectations for this 2-CD set -- which includes copious examples of both his rock and 'billy sides -- but I picked it up on a lark, and now I am quite delighted at the discovery. To his credit, Froggatt took the work seriously, and discovered what many rockers fail to recognize: country is an exacting art form, one that demands real craftsmanship and feeling, both of which he was able to develop as he explored the format. While there are few outright "classics" on here, several songs snuck up on me, and are tunes that would work well in sets of either classic or alternative twang. The rock stuff is a little less enthralling, but if you wanted to give this guy a fair shake, this collection will really fill the bill. Worth checking out.
The Frontiersmen "Country Jamboree" (Crown Records, 1962) (LP & MP3)



Hopefully you'll forgive the cliche, but this album is one of the jewels in the Crown Records story, a great hillbilly pop album issued on the legendary Southern California super-cheapo label. The Frontiersmen, identified on the album cover only as "Hi, Wayne and Hal" were in fact songwriter-guitarist Hal Southern, bassist Wayne West and (I think) a fella named Highpocket Busse who usually played accordion but doesn't seem to on these recordings... They were stalwarts of the 1950's SoCal country scene and frequently backed singer Eddie Dean (who may well sing on some of these tracks as well, but there's no credit given) The music ranges from sweet, Sons Of The Pioneers-style vocals harmony to more rambunctious country bop, with some tasty electric guitar licks... really great stuff! The copy I picked up has terrible sound quality, and it varies from track to track, making me think that this must include songs from several different eras, stretching back into the mid-1950s. (Each side of the album opens with a song with clearer sound quality, which may have been recorded around the time this album came out, but that's just a theory... I'm sure there are uber-collectors out there who would know for sure...) Anyway, it's good stuff -- these tracks have also been reissued on digital downloads (linked to above) but I don't know if they have been recently remastered.


<! - date per bsnpubs: http://www.bsnpubs.com/modern/crown/crown5200.html names per: http://countrydiscography.blogspot.com/2010/06/eddie-dean.html >


Robbie Fulks - see artist discography




---

Real Hick Music -- The Letter "G"


---