<! MP3 07/26/09, 12/04/10 > <! update 00/00/00 > <! outside 00/00/00 > <! pix 00/00/00 > <! icons 12/04/10 >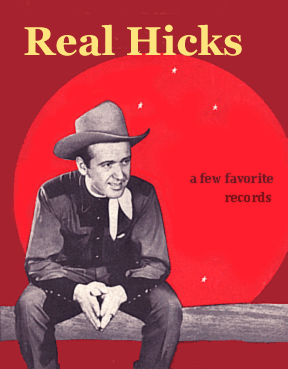 ---
Hi, there! This page is part of an opinionated guide to what I call "hard country" music -- the real stuff -- with a bunch of record reviews and recommendations by me, Joe Sixpack. Naturally, it's a work in progress, and will hopefully be expanded on quite a bit, as time allows.
This is the first page covering the letter "I"
---
A | B | C | D | E | F | G | H | I | J | K | L | M | N | O | P | Q | R | S | T | U | V | W | X, Y & Z | Comps | Hick Music Styles
---
Autry Inman - see artist discography

Louie Innis "Skip, Hop & Jump Country Style" (Binge Disc, 1998)
Crisp, catchy hillbilly boogie from the late 1940s and early '50s. Before going solo, Indiana native Louie Innis was a veteran sideman, playing guitar for The Delmore Brothers, Hank Penny, Red Foley and others. These sides, cut for King and Mercury Records, are Grade-A material, with nice picking and a great beat. Although Innis was in his thirties when he cut these tracks, he sounds much younger, with a teenage-ish tone that matched the fervor of the rockabilly revolution that was just around the corner, somewhat similar to Little Jimmy Dickens. Innis might be a complete unknown to modern country fans, but retrobilly fans will wanna snap this one up. It's real-deal, novelty-oriented hick music, with grit, soul and a great sense of humor. Dig it!

Jerry Irby "Boppin' Hillbilly Series" (Collector's)



Mike Ireland & Holler "Learning How To Live" (SubPop, 1998)



A pretty cool attempt to reconcile post-grunge mopecore with good old-fashioned hick music... It's remarkable that anyone in the SubPop orbit could be this good a country artist, but Ireland has a classic '70s country-rock voice, a nice command of the genre, and a solid sense of his songwriting. The music includes tasteful (and very effective!) string arrangements, in general there's less twand and more lilt here, but the countrypolitan leanings are used sparingly and with an obvious depth of knowledge. Mixing classic novelty themes like "(I Love You) Worst Of All" and more serious ballads like "Christmas Past" and the title track, Ireland shows a remarkable ability to capture the right feeling for the music, and to write material which is almost entire bereft of stereotype or cliche... A surprisingly strong, quiet album; capable yet perfectly understated. A little gem, actually. Check it out!

Mike Ireland & Holler "Try Again" (Ashmont, 2002)



While his first album, Learning To Live, was compelling, this one's a dazzler. Ireland has tightened up his neo-countrypolitan sound, retrenching to the golden days of early '70s country radio, where twangsters like Merle Haggard still mingled the string section set. While cover tunes like a version of the Charlie Rich classic, "Life Has It's Little Ups And Downs," tip you off that Ireland has been doing his homework, it's Ireland's originals that are most impressive. He overwrites his lyrics to just the right degree -- almost too high-concept, but with strong hooks and a cohesive songcrafting style firmly in place. Tunes like "Love's The Hardest Thing You'll Ever Do," "Sweet Sweetheart" and "Close Enough To Break Each Other's Hearts" show a dedication to the form that is all too rare today -- and a real joy to hear. I can easily imagine some of these songs being played on the air in 1973; hopefully they'll find some bandwidth in the new millennium as well. Trust me: you owe it to yourself to pick this album up. It's really, really good.




Bud Isaacs "The Swingin' Steel Guitar Of Bud Isaacs" (Binge Disc/Bronco Buster)



<! CD 9051 >

Bud Isaacs "The Master Of The Steel Guitar" (Binge Disc/Bronco Buster)



<! CD 9052 >
Bud Isaacs "Bud's Bounce" (Bear Family, 1998)

---

Real Hick Music -- The Letter "J"


---