<! MP3 12/03/10 > <! update 00/00/00 > <! outside 00/00/00 > <! pix 00/00/00 > <! icons 12/03/10 > <! Smokey Greene Jim Goodrich "Country Magic" (1983) indiebilly >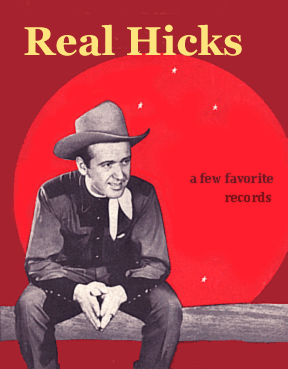 ---
Hi, there! This page is part of an opinionated guide to what I call "hard country" music -- the real stuff -- with a bunch of record reviews and recommendations by me, Joe Sixpack. Naturally, it's a work in progress, and will hopefully be expanded on quite a bit, as time allows.
This is the first page covering the letter "G"
---
A | B | C | D | E | F | G | H | I | J | K | L | M | N | O | P | Q | R | S | T | U | V | W | X, Y & Z | Comps | Hick Music Styles
---
Bob Gallion "Out Of A Honky Tonk" (Bear Family, 2000)


Nice one. Ohioan Bob Gallion was an anomalous kind of honky-tonker -- he sounds a lot like Mickey Gilley, with a strong hint of Ernest Tubb's vocal roughness thrown in for good measure. Though a little untamable (this disc is full of late '50s efforts to frame him in a "pop" or rockabilly context), Gallion had a very comfortable presence and a swinging feel to his work. This album gathers together all of Gallion's work for the MGM label, much of it co-written with his songwriting partner, Luke McDaniel, who recently was given a Bear Family retrospective of his own. Anyway, this is a really good collection of cool old country, with its toes just dabbling in the rockabilly and teen-pop tides. Special treats: Gallion's 1959 version of the Patsy Cline hit, "This Should Go On Forever," and the divorce saga, "You Take The Tables, I'll Take The Chairs." Recommended!

Hank "Sugarfoot" Garland "Sugarfoot Rag" (Bear Family, 1992)


Solo studio work by the hotshot guitarist whose picking made songs like "Sugarfoot Rag" so irresistably catchy. This disc is pretty much only for diehard fans of instrumental pop, though a couple of tracks are as boisterous and fun as his work with Foley. For the most part this CD is an attempt to document how Garland was a serious jazz enthusiast -- not my cup of tea, but it might be yours. Includes a couple of (nice) vocal tracks as well.
Hank Garland "Move! The Guitar Artistry Of Hank Garland" (Columbia-Legacy, 2001)


Red Garrett "Complete Hillbilly Collection" (Binge Discs, 2006)


A rugged singer, Garrett was also a bit, um... rough around the edges, too. This is hardcore hillbilly stuff, but its authenticity is tempered by Garrett's limitations as a singer, and by his apparent belief that he was the greatest country singer ever. True, he does some good imitations on "They Got Me Singing That Way" (although his Ernest Tubb is way more recognizable than his Eddy Arnold...) and he has a great, twangy band backing him, with sharp fiddle and crying steel guitar... But Garrett isn't quite in the class he thinks he is, and while this disc is a nice document of an obscure honkytonker, most of the material falls flat, including a high proportion of novelty songs that don't quite make the grade. I wound up keeping a handful of tracks in rotation with a bunch of other hillbilly stuff, but the rest I let go. If you're really into obscuro country oldies, there are some gems on here -- notably "Too Late To Plow Now, Baby" and "Long Gone" -- but also quite a few duds. Feel free to take your chances.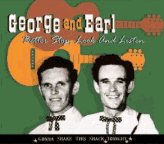 George & Earl "Better Stop, Look And Listen" (Bear Family, 2011)


A cool and much-welcomed reissue of a fab hillbilly record that I've had for years on vinyl, with new material added for the digital age... The 1950's duo of George McCormick and Earl Aycock only released about a dozen tracks together, all of which are included here, along with an equal amount from McCormick working solo. It's great hard country harmony, with an uptempo bounce that took the stolid sound of the Delmore Brothers and gave it a little extra pep. If you're a fan of the "brother act" sound that passed from the Delmores and the Blue Sky Boys, through to the Louvins and the Everly Brothers -- or if you just like good old-fashioned twang -- you'll definitely want to check this out as well... Great stuff!


<! George McCormick and Earl Aycock A welcome first CD reissue by one of the classic hillbilly vocal duos, George and Earl! 29 high class 1950s sides made in Nashville featuring musicians ranging from Hank Williams' band to the A team! Contains all 6 original 78s by George McCormick and Earl Aycock and another 6 singles by George McCormick. This CD is about two very different singers and musicians who came together for a brief two years to make some of the best and most interesting duet recordings of the 1950s. The still-prevalent sound of Hank Williams was just beginning to give way to newer styles of popular country music and the upstart sounds of rockabilly. George and Earl together provided a link from the country duets of the '30s, '40s and '50s, the likes of the Delmores and the Louvins, to the harmonies of country music as developed after the rockabilly era. In terms of commercial success they were outgunned by the Everly Brothers, but they had a very different duet style and one that has endured just as long. Sweet Little Miss Blue Eyes and If You Got Anything Good are often cited among the best country duet recordings of all time! Three of the songs were scheduled for Hank Williams to record before he died. George McCormick later led the Wagonmasters band for Porter Wagoner and was Dolly Parton's first duet partner on the Wagoner TV show. Earl Aycock later was a DJ in Texas and Louisiana. A 40-page booklet by Martin Hawkins featuring unpublished interviews with George McCormick. >


Don Gibson - see artist discography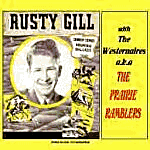 Rusty Gill & The Westernaires "Cowboy Songs Mountain Ballads" (BACM, 2002)


A delightful set of cowboy and western songs by Midwesterner Rusty Gill, an affable crooner and regional star who was based in Chicago. Gill's relaxed vocal style was clearly modeled on the smooth style of big city stars such as Bing Crosby and Dick Haymes, but unlike Crosby, Gill's cowboy tunes weren't bogged down by corny pop orchestrations; there's plenty of sweet-sounding twang on here, provided by Gill's band, the Westernaires (a pseudonym for the Prairie Ramblers). This disc gathers together a bunch of high-quality radio transcription performances -- although the liner notes don't include information about the back-up musicians, there is a phot of Gill with a line-up of the Westernaires that included Wade Ray, so he may be on here as well. This is a great album -- Gill is a very robust, likable vocalist and the songs are all classics, played in a straightforward folk-country style, without as much of a jazzy influence as, say, Gene Autry's work of the same era. Highly recommended!


<! a.k.a. The Prairie Ramblers CD D 005 >


Mickey Gilley - see artist discography





Johnny Gimble - see artist discography





Jimmie Dale Gilmore - see artist discography


<! Lonnie Glosson >
Curtis Gordon "Play The Music Louder" (Bear Family, 1998)


A hillbilly who started boppin', Georgia native Curtis Gordon started out as a pure country hick in the early 'Fifties, but as the decade wore on, he became known as a rockabilly singer (and is remembered as a rocker by most retro fans...) Still, he was the kind of 'billy artist that makes it pretty clear how close country and rock originally were: this guy is a hick singer, pure and simple. This disc is a mix of his early work on RCA and his later, more jacked-up, rockin' stuff on Mercury. I admit, the rockabilly stuff doesn't do as much for me, but if you're into the style, you'll wanna check this one out... Just be prepared for a little extra twang.
Charlie Gore "Absolutely Free" (BACM, 2005)


(Available through the British Archive of Country Music website.)


<! CD D 185 >


Vern Gosdin - see artist discography



Claude Gray "Songs Of Broken Love Affairs" (Mercury, 1961) (LP)


A delightfully corny, richly robust set, the debut album by Texas baritone Claude Gray, with his two biggest hits, "I'll Just Have Another Cup Of Coffee (Then I'll Go)" and "My Ear Should Burn (When Fools Are Talked About)" and ten other tunes of equal caliber. The backup is pleasantly kitschy, with a treble-happy, echo-y steel guitar flitting about in contrast to Gray's deep, stolid vocals. It's nice stuff, kind of like the music Ferlin Husky might have made if he'd hung on to his testicles, rather than going all soft-pop so early on. There are a lot of swell, lesser-known tunes on here, such as John D. Loudermilk's "You Take The Table (And I'll Take The Chairs)" or his searing rendition of the old Johnny Bond weeper, "Your Old Love Letters." Nice album -- someone oughtta reissue Gray's work on CD one of these days.
Claude Gray "Sings" (Decca, 1967) (LP)





<! Touch My Heart, Apartment #9, Walk Through This World With Me, Misty Blue, Next Time You See Me, I Never Had The One I Wanted, Just Between You And Me, Effects Your Leaving Had On Me, The Kind Of Woman I Got, The Moods Of Mary, Forgetfulness For Sale, How Fast Them Trucks Can Go. >

Claude Gray "Best Of The Best" (Federal, 2002)

Claude Gray "His Very Best" (K-Tel, 2008)





<! Claude Gray "Songs Of Broken Love Affairs" (Mercury, 1961) Claude Gray "Country Goes To Town" (Mercury, 1962) Claude Gray "Claude Gray Sings" (Decca, 1967) Claude Gray "The Easy Way Of Claude Gray" (Decca, 1968) (LP) B003F7PDDO also B001B3B3HO lp Claude Gray "Treasure Of Love" (Hilltop, 1968) Claude Gray "Presenting Claude Gray (Million, 1972) (LP) B003F7W7Y2 Claude Gray "If I Ever Need A Lady" (Koala, 1978) Claude Gray "Great Country Roads" (Sunrise, 1997) B000R8Y91G Claude Gray "The Best Of Claude Gray" (Sunrise, 1999) Claude Gray "Best Of The Best -- The Tall Texan" (Federal, 2001) Claude Gray "Where No One Stands Alone" (Sunrise, 2003) all gospel Claude Gray "Originals And Classics By Claude Gray" (Sunrise, 200?) >
Otto Gray & His Oklahoma Cowboys "Early Cowboy Band" (BACM, 2005)


Rough-edged material from a band that is widely regarded as the first professional "western" country band... These recordings date back to 1926-31, with most of the tracks recorded for major labels like Victor and Okeh. The strengths of this disc are largely historical, with nods towards the old minstrel-show traditions -- Gray and his family (including his wife, "Mommie" Gray and son Owen) were all fairly crude singers, and the pacing on most tracks is a bit sluggish and slow. Still, it's pretty cool stuff... The material is bluesy, with covers of Leadbelly songs, Jimmie Rodgers-ish country yodels, and a lot of comedic material sung to a plunky, loping accompaniment; fans of the Cheap Suit Serenaders, Emmett Miller or the Hoosier Hotshots might really dig this. Highlights include a nice, gangly rendition of "I Had But Fifty Cents" and "The Terrible Marriage," which you'd think would be about flying rolling pins and lipstick on the collar, but is actually a clunky, longwinded early version of "I'm My Own Grandpa." There's also what was apparently the first-ever recording of the folk classic, "Midnight Special"(!) and a lively recording of "Who Broke The Lock On The Henhouse Door," complete with chicken squawks and a jovial chorus. Also some mild, casual racism, which was sadly indicative of the times. All in all, a nice snapshot of the primordial roots of country music. (Available through the British Archive of Country Music website.)
Curly Gribbs "Sings His Original Country & Western Yodeling Hits From The 1940s" (Cattle Records, 1983) (LP)
Hailing from Staten Island, New York, singer Curly Gribbs was one of countless young men who idolized Jimmie Rodgers, and later learned to sing in a more "hillbilly" style, imitating radio singer Elton Britt, who was a featured vocalist in the Zeke Manners Gang. When Britt left to become a solo star, Gribbs was tapped to replace him, and sang lead on many of the band's singles, including an early version of "Sioux City Sue." This LP gathers most (but sadly not all) of the fourteen tracks he recorded for Signature Records, which were released from 1945-48. Backing him was a local (New York) band that included Vaughn Horton on steel guitar, and bandleader Roy Ross on accordion. The material is a nice mix of pop schmaltz, country heartsongs and cowboy ballads, all very in tune with the perky, uptempo music being made out West by folks like Spade Cooley and Merle Travis. Gribbs had a nice voice, a jovial, round-toned style that slipped into crooning, like many of the smoother country stars of the time. (Unfortunately, a few years after he recorded these tracks, he underwent throat surgery in 1950 that left him unable to perform anymore...) To date, this seems to be the only collection of Curly Gribbs recordings: be nice to hear the rest of the Signature songs someday, maybe even coupled with some of his earlier work with Zeke Manners. Maybe... someday...
Buck Griffin "Let's Elope, Baby" (Bear Family, 1995)


Hillbilly novelty tunes, with forays into rockabilly, and a lot of stuff that has kind of a sideways debt to rockabilly and pop. Griffin ain't what you'd call a great singer, but he has a rough-cut charm... Certainly a bonafide, for-real hick, that's for sure! And some truly notable novelty songs, although the music is kind of lethargic.
Nanci Griffith - see artist discography
David Grisman - see artist discography
Dewey Groom "...And His Texas Longhorns" (Binge Disc, 1988) (LP)


Texas singer and bandleader Dewey Groom was a major figure in the Dallas country scene of the 1950s and '60s. He scored a national hit in 1948 with the song "Butane Blues" and starred on local radio broadcasts. In the early 1960s he became the owner of a fabled Dallas music venue, the Longhorn Ballroom, which had previously been the home base for Bob Wills, before Wills decamped for California. Groom also started the Longhorn record label, which recorded some of Wills' later albums, as well as numerous locals and lesser-known country singers. This LP features a dozen songs recorded by Dewey Groom and his band between 1960-68, a nice mix of jaunty, Hank Thompson-esque western swing and beer-soaked honkytonk weepers. Included are a couple of obscure Willie Nelson songs from 1963 -- "Within Your Crowd" and "She Might Call" -- as well as a re-recording of "Butane Blues" from 1962. It's good stuff! Groom wasn't a slam-bang dazzling singer, but his laid-back, Ernest Tubb-like approach is solid and assured, and the songs are all great, real-deal old-school twang. Recommended!
Dewey Groom "1947-1953" (BACM)


These early recordings include the original version of "Butane Blues" and a bunch of other classic-sounding old honkytonk tunes. Other featured vocalists include Howdy Forrester and Georgia Slim.


<! Tracks :- I'm Taking To You ~ Mocking Bird ~ You Never Should'a Done It ~ Cotton Eyed Joe ~ 'Taint Fair ~ This Is The End ~ I'll Hold You In My Heart ~ I've Got My Gal ~ Ain't Nobody's Business ~ Reach Up And Grab It ~ Unwanted Love ~ Girl In My Arms ~ Don't Be A Baby ~ I Got A New Thrill From An Old Flame ~ I'm So Lonesome ~ Heartaches Sadness And Tears ~ It's Gonna Come Home To You ~ Out Of Sight Out Of Mind ~ Texas Wagner ~ Leather Britches ~ Can't Win For Losing You ~ Butane Blues ~ Heart After Heart ~ Stop Look And Listen ~ Tired Of Living Blues ~ Gospel Boogie ~ Teardrops In The Chapel ~ Mexican Joe. "...died in 1997 at the age of 78." - used to yodel >

Guilbeau & Parsons "Louisiana Rain" (Ace/Big Beat, 2002)


Gib Guilbeau and Gene Parsons were both stalwart members of the Southern California psychedelic country scene, with stints in the Burrito Brothers and the Byrds, as well as numerous other country-rock projects that dotted the landscape back in the 1960s and '70s. This disc gathers a trove of dimly-remembered 1967-70 work on Gary Paxton's independent Bakersfield International label, which served as a fermenting pot of the nascent hippiebilly sound... These guys'll sound instantly familiar to anyone who's grooved to Gram Parsons or the country-era Byrds, with the same whiny, wandering vocals and tentatively twang and slightly constricted pedal steel playing, and -- of course -- guitarist Clarence White anchoring the later sessions. Guilbeau, who had been working as a country and folk singer for over a decade before hooking up with Parsons, wrote almost all of the material and added a cajun flair to many of the songs, also writing plenty of spaced-out, searching lyrics. In country terms, it's not great material (though there are a few catchy tunes), but seen as a stepping stone into the bigger LA country-rock scene, this material is historically quite important. It's also pretty good for what it is -- just 'cause I have trouble getting into this kind of stuff doesn't mean you shouldn't check it out. If you're a Byrds fan, in particular, you're gonna love it.
Sid "Hardrock" Gunter "Songs They Censored In The Hills" (Seeco-Bronjo, 1958) (LP)


Hillbilly singer Hardrock Gunter recorded prolifically for various small labels - this was apparently his first full album, though he'd done a ton of singles beforehand. This is a mildly naughty set of risque (and not so risque) songs drawn from the folk and blues traditions. Apparently Gunter was a cast member of the WWVA Country Jamboree show and the "hook" of this album is that these are supposedly songs that he was forbidden to sing on the broadcast... songs like "Out Behind The Barn," "Right Key But The Wrong Key Hole," "Blood Shot Eyes" and "It May Be Silly (But Ain't It Fun?)". Shocking!!


<! Hardrock Gunter [vocal/guitar]; Abner Doolittle (guitar); Sonny Day (accordion); Rube Schaffer (bass); Buddy Durham (fiddle); Jim Deloya (sax & clarinet); unknown (piano & drums) >

Jack Guthrie "Oklahoma Hills" (Bear Family, 1991)


Woody's cousin, Jack, had a huge 1945 hit with the title track, "Oklahoma Hills." Although there's more than a hint of Gene Autry-ish "cowboy" music here. there's also a hefty dose of good, uptempo hillbilly boogie. And, predictably, several Oklahoma-themed follow-up songs, such as "Oakie Boogie," "Oklahoma's Calling," etc. This disc is well worth checking out.
Jack Guthrie "Milk Cow Blues" (Bear Family, 2001)

Jack Guthrie "When The World Has Turned You Down" (Bear Family, 2001)

---

Real Hick Music -- The Letter "H"


---