<! MP3 07/26/09 > <! update 00/00/00 > <! outside 00/00/00 > <! pix 00/00/00 > <! icons 12/03/10 > <! Bob King & The Country Kings >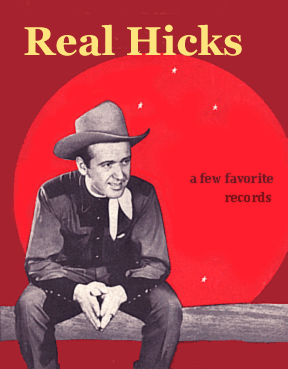 ---
Hi, there! This page is part of an opinionated guide to what I call "hard country" music -- the real stuff -- with a bunch of record reviews and recommendations by me, Joe Sixpack. Naturally, it's a work in progress, and will hopefully be expanded on quite a bit, as time allows.
This is the first page covering the letter "K"
---
A | B | C | D | E | F | G | H | I | J | K | L | M | N | O | P | Q | R | S | T | U | V | W | X, Y & Z | Comps | Hick Music Styles
---
Hank Keene "...And His Gang" (BACM, 2005)


(Available through the British Archive of Country Music website.)


<! CD D 203 Love Flew Out The Window When My Mother In Law Flew In/ When Willie The Hillbilly Goes To Town/ I'll Meet You Way Up Yonder/ When I Throw My Lariat Around My Sweet Harriet/ I Love The Land Where The Pines Touch The Sky/ Never Sock Your Father With A Hammer/ Bully Song/ Hillbilly Boogie/ Hold Me In Your Arms And Say You Love Me/ Let Me Sing In My Saddle/ Down In Possum Hollow/ Easy Rider Come Back To Me/ Ridin' And Bidin' My Time/ I Want To Ride The Trail/ When Our Hillbilly Band Gets On The Air/ Your Lonesome Daddy Loved You/ My Darling Cora/ When It's Harvest Time In Old New Hampshire/ Lover's Farewell/ Take Me Back To My Shack In The Mountains/ Bill Bailey Won't You Please Come Home/ Life Will Be Sad Without Home Sweet Home/ On The Party Line/ There's A Little White Chuch On A Little Green Hill/ Where's My Other Foot/ I Want Somebody To Love Me/ Knock Kneed Lizzie Brown/ Shake My Mother's Hand For Me/ Change Your Sadness To A Smile/ Place your Hand Upon My Brow Dear/ Don't Ever Leave Me/ Rickett's Hornpipe/ I Love To Yodel In The Mountains/ Will You Miss Me When I'm Gone/ There's An Old Wishing Well/ Waltz Of The Hills/ Money Musk/ I'm So Happy When The Sun Is Shining/ Ned Kendall's Hornpipe/ Durang's Hornpipe/ My Own Little Summer Tune/ Then On That Great Judgement Day/ I Love Him > <! "featuring Georgia Mae" >
Irene Kelley "Simple Path" (Restless, 2001)


Songwriter Irene Kelley struck gold when her song, "A Little Bluer Than That," was recorded by Top 40 hard-country hero Alan Jackson, on his album Drive. That song, which opens this album as well, is a welcome throwback to the heartfelt simplicity of 'Fifties-style country heartsongs -- a good lyrical premise, a strong, simple, irresistible melody and nice, clean pickin' to back it up. She has some roots set down in the bluegrass scene as well; picker such as Aubrie Haynie and Viktor Krauss pitch in, and there are also a couple of songs co-written with Claire Lynch, one of the best trad-grassers around. Kelley's voice and her musical choices bring to mind alt.country female icons such as Iris DeMent, Nanci Griffith and Kelly Willis, although I'd hazard to guess that Kelley sees herself working more in a commercial, Top 40 vein, more as a composer than as a headliner act. Other songs on this album are more self-consciously and ostentatiously crafted, more in line with the overdoing-things style that's all the rage in Nashville; the other standout track is "Pilgrim In The Rain," a bouncy, anthemic upbeat number co-written with Kim Richey. I wouldn't say that the whole album bowled me over the same way "Bluer Than That" does, but she's certainly a strong performer and a songsmith to be reckoned with... Keep your eyes on this gal!
Irene Kelley "Thunderbird" (Irk, 2006)


Wayne Kemp - see artist discography
Howdy Kempf "The Talents Of Howdy Kempf" (Hilltop, 1972) (LP)
One of the real unsung heroes of classic '50s/'60s honky-tonk, Howdy Kempf (1926-1997) cut some fine hard country records, dating back to singles from the early 'Fifties, on labels ranging from King and Starday to smaller indies such as Sparton and Galico. Although he was hardly a prolific recordmaker, Kempf -- who also released records as "howdy Kemp" -- sure was a fine country singer. In the early '70s came this fine, fine album which was rather improbably issued on the budget-line Hilltop label, which is best known for its low-rent reissues of older material. In this case, the songs are drawn from Kempf's entire career, gathering together the best of his singles from 1952-66, and there's plenty of pedal steel and thumping, loping backbeats boost Kempf's solid, plainspoken vocals. It's good stuff: personally I vote for Bear Family or someone like that to re-reissue this material, as well as the handful of tracks that didn't make the cut in the LP era.


<! - no ASIN 10/21/15 http://countrydiscography.blogspot.com/2010/06/howdy-kempf.html >


Doug Kershaw/Rusty & Doug - see artist discography



Jerry Kilgore "Loaded And Empty" (Nic-Nic Neer, 2007)



Wow. Honkytonker Jerry Kilgore, who had a smidge of success in 1999 playing the Top 40 game, is back with a slam-bang album packed with one great song after another. As far as I'm concerned, this is what Nashville ought to have been doing for the last twenty years. The album opens with "What's It Take To Get A Drink In Here," a Kilgore original in which he wonders whatever happened to his bartender, and makes it known to the world that he is a man who definitely needs a drink, if anyone could be bothered to make it down to his end of the bar. The track is muscular and propulsive, a fiddle-drenched, alcohol-fueled Texas shuffle anchored by a thumping backbeat and a wicked sense of humor. It's the kind of no-holds-barred, straight-ahead, hardcore country that gets your blood pumping while you crank up the volume and start singing along. The next track is equally strong, and the shuffle beat continues through the first half of the album. On "Ain't Got One Honky Tonk (Under His Belt)", Kilgore takes his obligatory shots at the Nashville establishment, questioning whether any of those pretty boys you see on TNN could really take a punch if they were in a bar fight, while on "Both Be On Our Way," he asks a distant lover if it's time for one last tumble. The second half of the record is slower and sees Kilgore trying fancy stuff with his singing that sometimes gets in the way, but mostly sounds just fine. Along with the sizzling hard-country arrangements and Kilgore's rugged, leap-right-out-at-ya vocals, this disc is packed with Kilgore originals -- and the two tunes he didn't write come from the pens of Shawn Camp and Mark Sanders, who ain't slouches, either. If you're wondering where the vigor has gone in modern country music, look no further: you'll want to check this guy out! (Also available through Kilgore's My Space fan site )
Jerry Kilgore "Telephone, TX" (Nic-Nic Neer, 2012)



A great set of pure, uncompromised, real-deal, old-school country -- heartfelt honkytonk with just a hint of twangy Top 40 that brings to mind Moe Bandy's early years. Kilgore's been one of hard-country's great secret weapons for several years, though this is only his third album in a twenty-year career, and his second recorded as an indie artist. He excels at all styles, from heartsongs to barroom honky-tonkers; highlights here include the sly novelty song, "If Ya Wanna Keep Your Beer Cold (Put It Next To Her Heart)." This is an artist I'm always glad to hear something new from... If you looking for music to drink beer to, this guy's plenty of twang on tap!
Jim (James) Kimbrough "Country Music Is Still Alive" (Cattle Records) (LP)


An old-school dobro player from Alabama, James Kimbrough is one of the great early success stories of German country archivist Dagmar Binge's Cattle Records... Cattle recorded several albums of contemporary recordings by Kimbrough, recorded in the early 1980s and capturing his robust playing and profound devotion to the traditional country styles of the 1920s and '30s. Kimbrough had been playing in local bands and occasionally on independently produced records for many years before Binge got wind of him, but these are the records that really brought his playing to light. It's all great stuff! Apparently, Kimbrough put out a few records of his own, but they are pretty hard to track down. Anyway, if you like stuff like old vintage Roy Acuff or Bashful Brother Oswald, you'll want to check this guy out as well.


<! Cattle LP 12 A-1. Your eyes light up my world for me 3:28 A-2. Lonesome for you baby 2:52 A-3. I didn't know the half of it 3:07 A-4. Divorce after fifty 2:54 A-5. I've got a weakness 2:56 A-6. Dobro chimes (=Steel guitar chimes) 3:49 B-1. Don't let the party end 3:15 B-2. The place I'm homesick for 3:58 B-3. Call of the island 2:50 B-4. Please turn your back on those footlights 3:50 B-5. Sundown at our old home place 4:47 B-6. Bouncin' the bar lp >
James Kimbrough "The Pure Dobro Country Sound Of James Kimbrough" (Cattle Records) (LP)





<! Cattle LP 26 >
James Kimbrough "Country Songs For Country Folks" (Cattle Records, 1984) (LP)


(Produced by Dexter Johnson)



<! Cattle LP 37 >
James Kimbrough "Going Back To The Country" (Cattle Records, 1984) (LP)


(Produced by Dexter Johnson)



<! Cattle LP 59 >
Bob King "Songs That Tell A Story" (Bear Family, 1999)


A collection of songs from Canadian cowboy yodeler Bob King, who recorded for RCA's Canadian imprint... It's pretty straightforward, uncomplicated stuff, perhaps best appreciated by fans of singing cowboy music...


<! On the day in 1953 that my idol, Hank Williams died, I was 11- years-old and listening to a country music program on Radio Station CFRA in Ottawa, Ontario, Canada and for the first time, heard Bob King singing his first hit record, "Lauralee". Bob went on to record for RCA Victor for 10 years and had a dozen hits on that label before signing with Rodeo Records of Canada recording at least 10 albums on the label. Prior to his death in 1969, Bob and his wife, Marie arranged with Bear Family Records in Germany to record 60 of his songs from his Rodeo albums on 2 CD's. Unfortunately, RCA Victor, in Montreal, Quebec, Canada, destroyed the Bob King Master Tapes for his RCA Victor recordings, so those recordings are lost forever and these LP albums are now collector items. I became friends with Bob King in my teen years and for awhile was Quebec Representative for his fan club. Bob King sang traditional country and western songs of the 50's and 60's and I know you will treasure both of his Bear Family CD's if you enjoy country music. On this particular album, you will hear 2 complete albums of just Bob and his guitar. These were two of his most popular albums in the U.S.A. and Canada. Bob was a regular Member of the World's Original WWVA Jamboree in Wheeling, WV for awhile but mostly remained in the Ottawa area. Included with this CD and with "Bob King And The Country Kings" CD, is a booklet that covers his entire career. Do buy this CD as it is great and on the other CD is many of his hit recordings. Bob called his band "The Country Kings" and was a part the CFRA Happy Wanderers from 1955 to 1965 and played dates all over Canada and in the eastern USA and had daily radio programs also. Let me know if you enjoy this recording... >
Bob King "Gonna Shake This Shack Tonight: Rockin' The Jukebox" (Bear Family, 2013)

Claude King "More Than Climbing That Mountain, Wolverton Mountain, That Is" (Bear Family, 1994)


This is another one of those gargantuan Bear Family box sets that makes you think, "wow... is someone really gonna want to buy this??" This copy sort of fell in my lap, and I have to admit, it's pretty interesting. Claude King is best (and pretty much only) known for his 1962 hit, "Wolverton Mountain," a goofy banjo-based story-song that was a huge hit at the same time that Johnny Horton had his "history" hits such as "Battle Of New Orleans" and "North To Alaska." Although he was part of the same Louisiana Hayride scene that brought the world Horton, Webb Pierce, Faron Young, Kitty Wells and Elvis Presley, King made his mark in a poppier vein than those honky-tonk legends. This 5-CD set starts of with King's handful of scrappy postwar and early '50s recordings, which were all small-label honkytonk affairs, but it was in '61 when he signed with Columbia, and rode in on the wake of Johnny Horton's fame, replicating the same sort of goofy, half-recited story-songs that Horton had perfected. That Kennedy-era stuff is pretty formulaic and repetitive; it's his post-fame material that's most appealling to me -- the strivings of an old-timer in the countrypolitan era. With the steep entry price, I wouldn't exactly urge anybody go rush out and buy this one, but it certainly has its interesting aspects.
Claude King "Wolverton Mountain - 16 Original Classics" (Collectables, 1994)


Here's a more modest, single CD set that gathers King's biggest hits and a few nuggets as well. There are a lot of gems that didn't make it on here, but all things considered, this is a pretty good introduction to his work.
Pee Wee King "Pee Wee King's Country Hoedown" (Bloodshot/Soundies, 1999)



So far, this is the most ambitious of the Soundies releases... this 2-CD set unleashes 51 tracks by one of the most sprightly (and prolific) of the western swing bandleaders... These early '50s transcriptions caught him at the height of his commercial success -- Patti Page's 1951 version of King's "Tennessee Waltz" was one of the biggest pop hits of the postwar era, and suddenly his name was a household word. What we get here is a pretty swinging, cool country sound, but with plenty of the hayloft square dance influences left intact. King just passed away in March of 2000, and there couldn't have been a more fitting tribute to him than this collection, which demonstrates his live sound at its best. Recommended!
Pee Wee King "...And His Golden West Cowboys" (Bear Family, 1994)


This super-duper, 6-CD box set might be too much for the average listener, but if you're a western swing fanatic, then this is a real find. King coasts back and forth between swing and '40s style honkytonk, and vocalist Redd Stewart was definitely among the best. Pricey, but recommended!
Pee Wee King "Blue Suede Shoes: Gonna Shake This Shack Tonight" (Bear Family, 2006)


A more economical package, but still with the lavish Bear Family attention to detail and fine sound quality. That being said, I gotta admit, I found this manic, novelty-oriented set to be somewhat taxing... A little bit goes a long way, and perhaps these hyperactive accordion tunes are best taken in small doses. Still, fans will be psyched, especially those of us unlikely to shell out a gazillion bucks for the full-on Bear Family box set...
Pee Wee King "Western Swing Get Together" (Jasmine, 2001)


Pee Wee King "Biggest Hits/Barn Dance" (Collectables, 2004)


An odd "twofer" reissue that combines tracks from two old LPs. One was on RCA and was (I think) stereo remasters of classic, vintage Pee Wee King recordings; the other, Barn Dance, looks like it's of much later vintage, possibly from the 1960s... I haven't heard the CD, though, so I'm not sure.
Pee Wee King "Kentucky Waltz" (BACM, 2005)


(Available through the British Archive of Country Music website.)


<! a.k.a. The Prairie Ramblers CD D 143 >
Sid King & The Five Strings "Gonna Shake This Shack Tonight" (Bear Family, 1991)


Gangly hillbilly twangsters who moved from country boogie into Bill Haley-styled teenybopper rockabilly over the course of the 1950s, Sid King and his band are beloved by retro fans, and if you like artists like Deke Dickerson or Big Sandy, you'll probably dig this album as well. A little bit goes a long way, though -- the first few tracks on here are pretty sizzling, but King's sound got tamer and more by-the-numbers as the decade wore on, and most of this album doesn't really rock my world. Rockabilly fans will want to check this out, but if country is your bag, listening to this disc might turn into a little bit of a chore.
Sid King & The Five Strings "Rockin' On The Radio" (Schoolkids, 1996)


This short set of vintage radio airchecks from the 1954-55 has pretty poor fidelity, but it's a great glimpse into the world of for-real hillbilly entertainment at the dawn of the rock'n'roll era. While the album's liner notes tout this as a rock performance, it's actually hillbilly boogie material, along with a hefty dose of straight-up country music (in the band's first set, they cover Webb Pierce twice...) There's plenty of slack-jawed, yokelistic shuckin' and jivin' as well, with lulls in the action that you'd never hear onstage anymore. It's not the greatest set ever, but it is very authentic and pretty interesting, flaws and all.
Red Kirk "The Voice Of The Country" (BACM, 2005)





<! CD D 233 Only One Step More/ Gentle Hands/ Fairy Tales/ You Put My Heart In Prison/ Walking Round In Circles/ Three's A Crowd/ Cold Steel Blues/ Sentimental Journey/ Train Track Shuffle/ Careless Mind/ It's Raining In My Heart/ Knock Out The Lights And Call The Law/ Sugar Coated Love/ Lovesick Blues/ A Package Tied In Blue/ It's Nothing To Me/ How Still The Night/ Davy Crockett Blues/ Red Lipped Girl/ Lazy Ranch Boys Radio Show >

Kit & The Branded Men "Kit & The Branded Men" (2011)






<! Christina "Kit" Lopez - SF Bay Area >


Kris Kristofferson - see artist discography




---

Real Hick Music -- The Letter "L"


---