<! MP3 07/31/09, 12/03/10 > <! outside 00/00/00 > <! pix 00/00/00 > <! icons 12/03/10 > <! MAA - MAZ > <! UPDATES: 07/31/09 - warner mack discography? - > <! Larry Mace Owen May B00AX26XXS - alt? John McCord "Down Home As I Can Be" >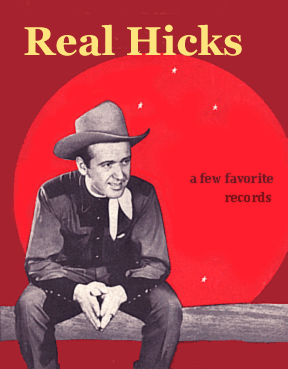 ---
Hi, there! This page is part of an opinionated guide to what I call "hard country" music -- the real stuff -- with a bunch of record reviews and recommendations by me, Joe Sixpack. Naturally, it's a work in progress, and will hopefully be expanded on quite a bit, as time allows.
This is the first page covering the letter "M"
---
A | B | C | D | E | F | G | H | I | J | K | L | M / M-2 | N | O | P | Q | R | S | T | U | V | W | X, Y & Z | Comps | Hick Music Styles
---
Bill Mack "Play My Boogie" (Jasmine, 2010)


Lonnie Mack "Roadhouses And Dance Halls" (Sony/Lucky Dog, 2001)



This good-timing 1988 honky blues record is just the sort of thing that might fly under your radar if you didn't know to look for it. Mack is a former rockabilly-era hotshot who got the soul bug and started cranking out funky hick blues in the same vein as old Joe Ely and Delbert McClinton; this is one of his best later albums, narrowly skirting the cliched confines of the beer-ad blues set in favor of a funky New Orleans stroll. He paints a nice picture of his world as a hard-bitten, country/rock/soul-lovin' oldtimer... Nice stuff - well worth checking out!
Warner Mack - see artist discography
Rose Maddox - see artist discography
Larry Mahan "King Of The Rodeo" (Warner, 1976) (LP)


A fine novelty offering by six-time National Rodeo champion Larry Mahan, who didn't have a tremendous voice or anything, but still had the charisma and affability to carry these tunes and make 'em work. Includes a few great half-recited novelty tunes that might fit well on a Dr. Demento show: "Stunt Man," which laments the hardships of the Hollywood life, "Ha Ha," which sings the praises of getting bloodied up in dumb-ass barroom brawls, and "Rosie's Palace Of Pure Love And Fingertip Massage," which tells the tale of two drunk cowboys getting scammed at a Los Angeles brothel. They don't make records like this anymore. Snuff Garrett co-produced this disc, and some of the songs bear the stamp of his orchestral cowboy aproach. Yeeee-hawhawhaw.

J.E. Mainer's Mountaineers "The Golden Age Of J. E. Mainer's Mountaineers" (Binge Disc, 2000)
If you thought old Bill Monroe sounded rough and rowdy back when he started the bluegrass sound way back when, then you gotta check these guys out! Mainer and his family enjoyed a healthy career revival in the 1960s and '70s as the old-timey folk scene unearthed them... Their latter day recordings were all quite nice, but this collection of material from the 1930s and '40s is flat-out awesome. When they play fast, there's no one more clattersome and rambunctious, and when they play slow and sentimental, few folks are more hearfelt. For fans of squeeky, scraping fiddles and grizzled old-man vocals, this is the disc to check out.
J. E. Mainer's Mountaineers "1935-1939" (BACM, 2005)

J. E. Mainer's Mountaineers "1935-1939: Early Years..." (JSP, 2009)


A 4-CD set...


<! full title: "1935-1939: Early Recordings Of One Of The Most Influential Figures In Appalachian Music" > <! Disc A - B0022F09UC - MP3 Disc B - B0022EYNOG - MP3 Disc C - B0022EZ7J6 - MP3 Disc D - B0022EZMIM - MP3 >

J. E. Mainer's Mountaineers "Classic Sides: 1937-41" (JSP, 2010)


And four more discs...


<! 10/2013 - no MP3s >


Lloyd Maines & The Maines Brothers Band - see artist profile




Zeke Manners "The Golden Age Of Zeke Manners" (Cattle)


While many of the stars of the late-40s country scene tempered their penchant for novelty songs with weepers and booze tunes, the late Zeke Manners just reveled in it. It took country music over a decade to come up with an act whose devotion to novelty material matched that of Manners. But while Homer & Jethro had the goofball schtick down pat, they were a little too slick -- Manners relentless fake-yokel nuttiness has a legitimate rustic quality. It's show-biz schtick, but it's also authentically hillbilly. Plus, it's really funny. Some songs, like "I Betcha My Heart I Love You" have such bizarre lyrics that they slide into pure doggeral. Others, such as "I'm A Tired Cowboy" are delicious lampoons of wild west iconography that bring to mind the best old stuff by Dan Hicks. This CD is pretty fab -- a real find for country collectors. Recommended!
Joe & Rose Lee Maphis - see artist discography

Marshall And The Shooting Stars "Airmail Special" (Vinyl Japan, 1994)


A good-natured retro-billy set featuring singer Marshall Lytle, an ebulient old coot who was once the bass player in rock pioneer Bill Haley's old band, both when Haley was a pop star and in the years before, when he was a for-real hillbilly artist, and his band was called The Saddlemen. Here, Lytle sings a bunch of great old hillbilly tunes, stuff like Merle Travis' "Fat Gal" and "I Love You So Much It Hurts," by Floyd Tillman. He's backed by an odd assortment of veteran British rock musicians, some with long commercial careers, and others who are more off the radar, as well as steel guitar whiz B.J. Cole, who has played with a lot of country heavyweights. This isn't a jaw-dropper of an album, but it is really nice. You have to be willing to get past Lytle's old-man vocals, but if that's not a hang-up for you, then this could be a really rewarding album.





"Country" Johnny Mathis - see artist discography


<! Buzz Martin >
Grady Martin "Roughneck Blues: 1949-1956" (Cherry Red/Rev-Ola, 2008)


Session guitarist Grady Martin was a key player in the early 1940s' hillbilly scene and helped sculpt the sound of several hits, such as "Hillbilly Fever" by Little Jimmy Dickens, "I'm A One-Woman Man" by Johnny Horton, and Red Foley's "Chattanoogie Shoe Shine Boy" along with early vintage rock numbers from Johnny Burnette, Buddy Holly and Brenda Lee. This collection, which concentrates on his hillbilly side, also includes a slew of more obscure recordings, with artists such as Vernon Claude, Danny Dill, Autry Inman, Wayne Raney and Don Woody -- it's the rarities that drew my attention, particularly a number by honky tonk songwriter Wayne Walker (I sure wish someone would gather all of his solo stuff on one CD!) It's the obscuro stuff that drew me to this collection, and it's all pretty groovy. There are also a few tunes credited to Martin's solo band, the Slew Foot Five, and a rare single with West Coast blues star Cecil Gant. Nice stuff -- definitely worth checking out!
Grady Martin & His Slewfoot Five "Cornstalk Hop" (BACM, 2005)





<! CD D 222 >
Janis Martin "The Female Elvis - Complete Recordings: 1956-60" (Bear Family, 1987)


Being nicknamed "the female Elvis" sure would be a hard reputation to shake. Still, worse things could happen. And make no mistake, Martin was a hella ripsnorting gal, and if anything she may have outdone The King in the rocker department. This excellent retrospective of her old RCA material goes a long way to explain Martin's enduring legend in the rockabilly scene -- though it gets a little repetitious after a while, on the whole this is well worth checking out. (By the way, Martin came out of retirement a few years back, and cut a few duets with Rosie Flores, which got released on the Hightone label.)
Janis Martin "Here I Am" (Hydra, 2001)

Janis Martin "That Rockin' Gal Rocks On" (Bear Family, 1999)

Janis Martin "My Boy Elvis" (Jasmine, 2014)


The late Janis Martin was one of early rock'n'roll's most sizzling singers, male or female, and left a great legacy in the two-dozen-plus tracks she cut for RCA in the late 1950s and early '60s. This fab, generously-programmed collection reprises the same material as Bear Family's The Female Elvis best-of, although Jasmine one-ups the Bear Family folks with the inclusion of several live tracks taken from a radio appearance, with versions of three songs, "Crackerjack," "Love Me To Pieces" and "Two Long Years," which are also heard in the studio versions. A must-have for rockabilly fans, particularly if you didn't already own the original Bear Family disc.
Jimmy Martin -- see artist discography

Frankie Marvin "Early Recordings By Gene Autry's #1 Sideman" (BACM, 2002)


The Marvin Brothers, Frankie and Johnny, were early pals and benefactors of cowboy idol Gene Autry: when Autry moved from Oklahoma up to New York and into the limelight, the Marvins were already showbiz pros and showed him the ropes. They also helped Autry get work, and wound up playing guitar and steel on his first records, and Frankie Marvin eventually became a key player in Autry's band. Frankie was the steel player, and he developed a style that was both expressive and unobtrusive, with short, deft lines that flavored the music without overshadowing the vocalist. On these early solo recordings, from 1929-32, Marvin is in a bluesy mode, working in the template set down by white blues yodeler Jimmie Rodgers. He also sang sentimental weepers and rowdy novelty numbers, reflecting the broad range of material that was popular in the vaudevillian era that he came up in... It's a fun record, full of confidence, gusto and wit... Great stuff!
Johnny Marvin "I'm The Man Who's Been Forgotten" (BACM, 2005)

Country Johnny Mathis "Country Johnny Mathis" (Stampede, 1965) (LP)
Country Johnny Mathis "Country Johnny Mathis" (Hilltop, 1965) (LP)


I've known about "Country" Johnny Mathis for years, but hadn't put two and two together until just recently, when I realized that he was in fact one of the singer-guitarist-songwriters in the slambang '50s hillbilly duo, Jimmy & Johnny. Apparently after several years in Nashville's orbit, he dropped out of the commercial country scene and got religion, as evidenced by this all-gospel country record (listed here in two different editions). It's a great record -- heartfelt, hardrock, and full of plenty of true twang -- with Mathis still in fine voice, though obviously getting a little long in the tooth. It took a couple of minutes for me to place the similarity, but a light went off and I realized he sounded quite a bit like his old boss, Webb Pierce, who he wrote several songs for, back in the good old days. And that's a good thing: as Jesus-y country records go, this one's very, very satisfying.


<! really 188 x 188 >

Smiley Maxedon "A Hillbilly Voice Like Dynamite" (Binge Discs, 2006)
One of those great, gravel-voiced garglers from honkytonk music's dimly-remembered, ker-twangy past... Maxedon was a hardcore honkytonk singer who settled in California's San Joaquin Valley, with a base of operations near Fresno. He was also clearly tapped into the early West Coast/Bakersfield honkytonk scene, as several songs here by Fuzzy Owens and Tommy Collins will attest... This disc gathers twenty rare tracks, most of them recorded for Columbia between 1952-55, and all of them quite powerful and chunky-sounding (among his bandmembers was guitarist Roy Nichols, who crackling style helped define the proto-rockabilly sound of the Maddox Brothers & Rose...) Not a lot is known about Maxedon, but this collection is flat-out great, a much-welcome blast of booze-soaked novelty songs and mopey musical misery. Another plus is that almost all these songs are originals, giving us a whole new batch of honkytonk tunes to chew through... Job well done on tracking this stuff down and making it available to folks who like real-deal hard-country hick music! (Available through the Binge Discs label.)
---

Real Hick Music -- More Letter "M"


---