<! MP3 07/19/09, 11/07/10 > <! outside 00/00/00 > <! pix 11/07/10 > <! icons 11/07/10 > <! UPDATES: 07/19/09 05/17/14 - checked ASINs, fixed some (not all) pix > <! Thumbs Carllile and Curly Chalker Cousin Harley Stompin' Tom Connors - Canada The Calhoun Twins >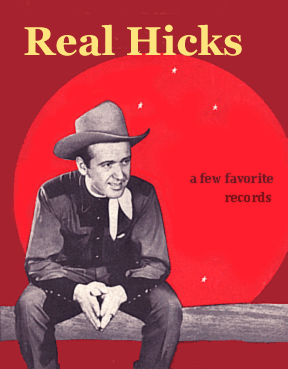 ---
Hi, there! This page is part of an opinionated guide to what I call "hard country" music -- the real stuff -- with a bunch of record reviews and recommendations by lil' ol' me, DJ Joe Sixpack. Naturally, it's a work in progress, and will be expanded on quite a bit, as time allows.
This is the first page covering the letter "C"
---
A | B | C | C-2 | D | E | F | G | H | I | J | K | L | M | N | O | P | Q | R | S | T | U | V | W | X, Y & Z | Comps | Hick Music Styles
---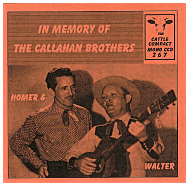 The Callahan Brothers "In Memory Of The Callahan Brothers" (Binge Disc, 2002)
Delicious, doleful, bluesy brother duets, much in the style of the Blue Sky Boys and the Bailes Brothers. These mid-to-late-1930s recordings are classic "brother act" material, with blunted, plainsong-ish harmonies and gentle acoustic guitar work. Homer and Walter Callahan hailed from North Carolina, but like many Depression-era musicians, they moved around a lot. This generously programmed disc has over two dozen tracks from early in their career -- if you like brother acts and old yodelling blues, then you'll definitely want to check this album out.
The Callahan Brothers "More Memories Of The Callahan Brothers" (Binge Disc, 2006)



<! CCD 227 >

The Callahan Brothers "The Callahan Brothers" (Old Homestead, 1975) (LP)

Shawn Camp - see artist discography
Cecil Campbell "...And His Tennessee Ramblers" (Bronco Buster)
Great fun -- a western swing and cowboy western-flavored outfit from the late '40s and early '50s with a knack for upbeat, humorous songs. Includes a baby bottle boogie that stands with the best of 'em, as well as the awesome anti-anorexia anthem, "Put Some Meat On Them Bones." Fun old Victor-label 78s, with a chug-chug-chuggin' accordion that just won't quit. Recommended!
Cecil Campbell "Steel Guitar Swing" (Jasmine, 2004)



There's some overlap between this collection and the earlier one (above) on Binge Disc, but also a slew of other songs of equal calibre. A great mix of hot picking, old-fashioned sentimentality and mildly raunchy comedic material. This reprises "Put Some Meat On Them Bones," a song whose jovial, old-fashioned sexism is balanced by a refreshing critique of the too "skinny" figure. Unfortunately, the sexism gets less amusing on songs like "Talk, Talk, Talk" (about the way those gals sure do gossip) and the self-explanatory "I'm A Hen Pecked Man," though these are of course just part of the humorous palate in Campbell's hillbilly swing arsenal, along with jaunty-sounding broken-hearted blues. The musicianship is consistently high, particularly the steel guitar work, which owes a lot to Hawaiian-style hapa haole music, but also shows the vigor with which country players were taking the instrument and making it their own. All in all, a great collection, and probably a loteasier to track down than the older German import.
Cecil Campbell "Greatest Hawaiian Instrumentals" (Winston, 1958) (LP)
Veteran hillbilly artist Cecil Campbell played steel guitar for numerous stars of the 1940s, and also led his own Tennessee Ramblers western swing band, and became known as a virtuoso steel guitar soloist, with an ear for Hawaiian-style music. Although it's nice to hear his sweet licks in these late-'50s recordings, the accompaniment is anything but authentic Hawaiian: the roller-rinky organist, in particular, is pretty distracting, and even kind of a drag. This one's probably only for hardcore steel enthusiasts, less so for Hawaiian music fans, though it is cool to hear this country music veteran getting all island-y.
Cecil Campbell "Steel Guitar Jamboree" (Starday, 1963) (LP)







Cecil Campbell "Cecil Campbell" (Country Classics, 1981) (LP)



<! RCA tracks from 1946-51 >
Ray Campi "The Memory Lingers On: Remembering Jesse James And All The Boys" (Bear Family, 2005)



A fascinating set of early recordings from Ray Campi, who became one of the early obscuro-stars of rockabilly music, but here is fronting a western swing-style country band. Nice pure country from a future rocker!
Judy Canova "Collector's Edition" (Simitar, 1998)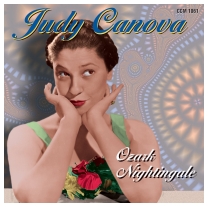 Judy Canova "Ozark Nightingale" (Collector's Choice, 2004)


She wasn't really a country singer, but like many mainstream pop artists such as Dorothy Shay and Arthur Godfrey, Canova played on a broad "hillbilly" stereotype to deliver warped versions of popular songs of the day. These radio performances (from the 1940s perhaps?) capture Canova at her best: playful, corny yet canny, and a powerful performer. Included are several of her signature tunes, such as her rollicking versions of "Just Because" and "The Wabash Cannonball," and omits other songs that play more into the hick schtick... All in all, this is a pretty fun set, although it really should be classed more closely with pop vocals and show tunes than with legitimate country stuff. But does that really matter? Check it out for yourself, and find out.
Captain Stubby & The Buccaneers "Captain Stubby & The Buccaneers" (BACM, 2005)





<! CD D 201 > <! Yearning Just For You/ If You Would Only Be Mine/ Knocking Song (True Love Is Knocking At My Door)/ Each Time You Leave/ Forever With You/ I'll Never Tell/ Money Marbles And Chalk/ Tennessee Tears/ Country Boy/ Come Whet Your Moustache With Me/ Roses/ Little Buffalo Bill/ Helegged Hilegged/ Beautiful Morning Glory/ Bogul To Boogie To Boone/ It's Hard To Love/ I Was The Last One To Know/ Fair Fat And Forty/ Brazen Little Raisin/ Wah Hoo/ Old MacDonald Had A Farm/ Buffalo Gals/ Meet Me Tonight In The Cowshed/ Washboard Boogie/ Noah Was The Man >
Bill Carlisle "Tramp On The Street" (Binge Disc, 2001)


This is a collection of early work by hillbilly singer Bill Carlisle, a Kentucky native best known as the leader of the Carlisles band, and a Grand Ole Opry regular for several decades, starting in the early 'Fifties. This disc gathers a couple of dozen rare singles cut for Decca Records and the King label, dating back to 1939, up through 1949, when he formed the group, the Carlisles, and started to find real chart success with a hopped-up hillbilly sound. These older recordings are more in the mode of the loping, old-fashioned pre-honkytonk country of the Delmore Brothers... There were some salty hokum blues numbers, sentimental weepers and gospel material, and Bill's brother, guitarist Cliff Carlisle adds some sweet harmonies and hot licks on a few tunes... At the time, Cliff was clearly the superior artist, but not long after these songs were recorded, Bill hit upon a more souped-up sound that better framed his thin, modest voice. Fans of the Carlisles -- all twelve of us -- will want to check this collection out, although it has to be admitted it's more interesting for its historical value than for pure fun, as many of these tracks are a bit on the lethargic side. Certainly worth checking out, though!
Bill Carlisle "Gonna Shake This Shack Tonight (Busy Body Boogie)" (Bear Family, 2005)


I've always loved Bill Carlisle's best-known hits, the irresistible "No Help Wanted" and "Too Old To Cut The Mustard," and I've ferreted out old LPs and random 45s over the years, based on their appeal... But for some reason I was leery of delving into a full-on 30+ track Bear Family deluxe retrospective... I mean, how many of these manic novelty songs can you really listen to, one after the other, and how many can you play on the radio...? Well, silly me. This is a great collection, and I thoroughly enjoyed it from start to finish. Of course it helps that Chet Atkins provided the bouncy, melodically innovative lead guitar on pretty much all the classic Carlisles hits (and most of the tracks on this album) and somehow even though the formula never changes, all these kooky novelty tunes are fun to listen to... It's such exhuberant, upbeat, shamelessly dopey (and often quite saucy) hillbilly material, an interesting crossover between the old, Depression-era hokum blues of Bill Carlisle's youth and the new, streamlined country that was coming down the pike in the mid-1950s... but still with plenty of bite and sass to keep our toes tapping... Anyway, it's great stuff... highly recommended!!
Bill Carlisle "Country Music Hall Of Fame: 2002" (King-Federal, 2003)



Late-vintage stereo re-recordings of old classics such as "No Help Wanted," "Zat You Myrtle," "Knothole," etc.
Bill Carlisle "Rough And Rowdy Hillbilly Of The 1930s" (Collector Records, 2003)


The old stuff!
Bill Carlisle "Duvall County Blues -- Early Recordings: 1933-1939" (BACM, 2005)





<! CD D 034 >
Cliff Carlisle "Blues Yodeler And Steel Guitar Wizard" (Arhoolie/Folklyric, 1996)



Well, the album title pretty much says it all... but I'll add my two bits as well. String stinger Cliff Carlisle was the brother of future hillbilly star Bill Carlisle, who led the novelty-oriented Carlisles band in the 1950s and '60s... Cliff was hokum blues player who made his mark in the 1930s, and lined up next to his bluesy country contemporaries such as Jimmie Rodgers and Jimmie Davis, Carlisle was by far a superior musician. His flashy guitar work is reminiscent of Tampa Red, and many of these vintage, Depression-era tracks are strikingly bluesy and raw... it's really fun stuff! Highly recommended.
Cliff Carlisle "Far Beyond The Starry Sky" (BACM, 2005)





<! CD D 032 >
The Carlisles "Tennessee Memories" (BACM, 2006)


More great, crazy hillbilly comedy material. This generously programmed disc collects twenty-six vintage tracks from 1951-56, and amazingly enough doesn't overlap with the Bear Family set that came out around the same time. There are definitely some gems here including risque ditties like "Bargain Day, Half Off," "Unpucker" and "Teletouch" or the completely outrageous marital number, "Middle Age Spread," as well as some straightforward heartsongs and spiritual numbers. Of special note is their 1955 recording of "Rusty Old Halo," a gospel novelty song covered by Hoyt Axton about twenty years later. If you like a lot of corn in your diet, here's a bushel of Bill Carlisle and his crew. Tastes mighty fine!


<! CD D 167 > <! There are a few different ways to go about listening to the Carlisles... Bill Carlisle's family band was one of the most relentlessly novelty-oriented country acts -- ever -- and that's saying a lot. So, you can slot them in the a-little-bit-goes-a-long-way category and delight whenever you hear a real zinger from the Carlisles pop up in a regular set of good, old, classic country. Hearing a song like "Unpucker" or "Teletouch" in the middle of some old hearsongs and boozin' tunes can be a real gas. You can also delve into them as pure corn, although if you're like me you might find it a leetle bit hard to sit through more than a handful of their songs at a time. This is high-quality corn, but the manic intensity of the Carlisle style can wear you down pretty quickly. The third way to appreciate the Carlisles is on a purely musical level... Although the group was a kooky hillbilly comedy act, they also had some pretty sophisticated arrangements: witness the sleek vocal charts on "Goo Goo Da Da," which have an air of uptown pop choruses like the Pied Pipers or the Merry Macs. Anyway, whatever way you respond to the material, the Carlisles were a wild act, one-of-a-kind, kooky, and very good at what they did. This generously programmed disc collects twenty-six vintage tracks from 1951-56, and amazingly enough doesn't overlap with the Bear Family set that came out around the same time. There are definitely some gems here including risque ditties like "Bargain Day, Half Off" and "Middle Age Spread," as well as some heartsongs and gospel. Of special note is their 1955 recording of "Rusty Old Halo," a gospel novelty song later covered by Hoyt Axton. If you like a lot of corn in your diet, here's a bushel of Bill Carlisle and his crew. Tastes mighty fine! >
Texas Jenks Carman "Hillbilly Hula" (Bear Family, 1991)

Texas Jenks Carman "Chippeha! The Essential Dixie Cowboy: 1947-1957" (Revenant, 1998)


Oddball recordings from one of hillbilly music's more colorful characters. Carman dressed as a Native American (buckskin coats, feather head dresses, etc.) and wasn't above belting out a war-whoop yodel or two midway through his honkytonk tales of woe. This collection is pretty damn charming, and includes early old 78s as well as great stuff from rare radio transcription discs. Carman was kind of a sloppy, chaotic singer, which may help explain his popularity with the rockabilly crowd, but his antics might make ya smile, even all these years later. If you like kooky, wild stuff, you might get a real kick out of this disc.
Texas Jenks Carman "Cow Punk" (Bear Family, 2004)

Texas Jenks Carman "The Old Guitar And Me" (Bear Family, 2004)

Carolina Cotton - see artist discography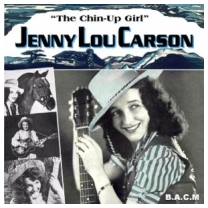 Jenny Lou Carson "The Chin-Up Girl" (BACM, 2007)


One of the most successful songwriters of the WWII era hillbilly scene, Jenny Lou Carson (nee Virginia Lucille Overstake) was also one of the first female country stars. Carson started out in a family trio with two of her sisters, billed as the Overstake Sisters, and as "The Little Country Girls"; she also recorded under the pseudonym of Lucile Lee, and finally as Jenny Lou Carson, the name where she found her greatest fame. Carson wrote numerous hits, including "You Two-Timed Me Once Too Often," "Let Me Go, Lover," and "Don't Rob Another Man's Castle," which will be familiar to many fans of old-school country, albeit in mostly-male versions. This disc gathers her recordings as a solo performer, mostly with sentimental songs like "I L-O-V-E You" and "I Feel Like Crying Over You," but also with spicier novelty songs such as "I Married A Mouse Of A Man..." To be honest, even though she had a reputation as a bit of a wild woman, Carson sounds quite matronly and prim on many of these songs -- much more fun are the handful of earlier, raunchier novelty songs that come at the end of this album, saucy hokum-blues tunes recorded back in 1939, when she was just setting out on her own. These are all rare recordings from an artist best remembered as a composer, and nice nostalgic material that will be of interest to anyone looking into the foremothers of modern country.


<! tribute album B000CA2T20 >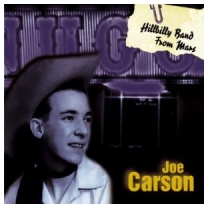 Joe Carson "Hillbilly Band From Mars" (Bear Family, 2002)


Wow. This is a killer set of true, hardcore honkytonk from one of the greatest "lost legends" of the late '50s and early '60s. Carson started his career as a skinny, rail-thin teenager, working his tail off in local clubs in Texas until he came to the attention of Hank Thompson, who helped get him a contract with Capitol Records. He plugged away on Capitol and other labels for over a decade, recording some fine, fine country music but it wasn't until the early 'Sixties that he started to make some headway on the charts. His version of Willie Nelson's "I Gotta Get Drunk" made a few waves, along with a couple of other fine tunes, notably "Helpless" and "This Is The Last Song I'm Ever Gonna Sing." Sadly, Carson died in a fatal car crash in 1964, just as his star began to rise, and he became a historical footnote rather than a chart topper... But, man! ...Are these recordings great!! This disc collects everything Carson ever recorded, from his early teenage recordings, where his jumping-bean vocals sounded like Little Jimmy Dickens, to his final recordings in the 'Sixties where his voice had deepened and matured into a rich timbre that rivaled George Jones for soulfulness and depth. It's a really, really good set... If you like the hard stuff, you should snap this one up when you get a chance!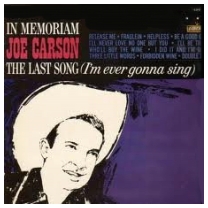 Joe Carson "In Memoriam: The Last Song (I'm Ever Gonna Sing)" (Liberty, 1964) (LP)


Issued after his fatal accident, this disc was the lone LP to come out under Carson's name and includes, sadly enough, the all-too appropriate "This Is The Last Song I'm Ever Gonna Sing."


<! I'll Never Love No One But You; Fraulein; Who'll Buy The Wine; Release Me; Forbidden Wine; Be A Good Girl; I'll Be There; Helpless; Three Little Words; I Did It And I'm Glad; Double Life; The Last Song (I'm Ever Gonna Sing) >


June Carter Cash - see artist discography





The Carter Family - see artist discography



Wilf Carter "Dynamite Trail -- The Decca Years: 1954-58" (Bear Family, 1990)


Canadian cowpoke Wilf Carter, who also worked under the stage name Montana Slim, mostly recorded for the RCA record company, but in the mid-1950s he took a break and signed with Decca for a four-year stint. This disc gathers his best work for Decca, and it's lively, good-natured stuff. There's some "western"-themed material, plenty of humor-laced heartsongs and even a smidge of gospel, all performed at a galloping pace and all quite entertaining. On a few of the later tracks, Carter even experiments with electrified arrangements, including some fascinating guitar work on songs such as "Let A Little Sunshine In Your Heart." From start to finish, this is a fun, engaging record, well worth checking out.


<! 144 x 144 >
Wilf Carter "Prairie Legend" (Bear Family, 1994)


A four-CD box set of Carter's work... golly! If you're a fan, this oughta just about do it for you!
Wilf Carter "Cowboy Songs" (Bear Family, 1997)


But wait... there's more! Nine whole CDs more!
Claude Casey "The South's Favourite Yodeler" (BACM, 2006)


A great collection of classic country from a little-known South Carolina showman who was a regional star best known for his yodeling abilities and for his love of Bob Wills-ish western swing material. There's not a lot of yodeling on this disc, but there is some lovely swing material, mostly on the mellow side, as well as several deliciously raunchy hokum-blues style novelty songs, such as "Down With Gin" and "I Took It." Although Casey obviously excelled at blue material, he also recorded sentimental numbers such as "Two Little Girls With Golden Girls" (they die in a house fire while their sinful parents are out drinking and dancing...) and religious tunes such as "Keep Praying" and "Family Reunion In Heaven." Casey was one of those all-around showmen of years gone by, who mastered all kinds of material, as the market demanded. Fans of old-school country will find a lot to love here -- there's not a bad track on the album and plenty of stuff that ought to make it into your personal shortlist for years to come. This covers Casey's recordings from 1938-1953, when he retired from performing and concentrated on a radio career. It's a really fun record.


<! CD D 197 > <! In spite of the title there is very little yodeling here. A collection of 24 tracks recorded between 1938 and 1953 by South Carolina singer and bandleader Claude Casey. The earlier sides from 1938 to 1946 are particularly nice western swing flavored items. There is a wide variety of material from this group whose personnell varied over the years - there are novelty songs like The Installment Song and I Took It, sacred songs like Keep Praying and Family Reunion In Heaven, a rollicking version of the Tin Pan Alley Favorite All I Do Is Dream Of You, the lively instrumental Little Girl Go Ask Your Mother featuring hot steel by Jimmie Colvard. The later sides from 1948 and '53 are more mainstream country but feature pleasing vocals and some were recorded in Nashville with sidemen like Tommy Jackson, Don Helms and Chet Atkins. Good sound and informative notes by Kevin Coffey. >


Johnny Cash - see artist discography





Rosanne Cash - see artist discography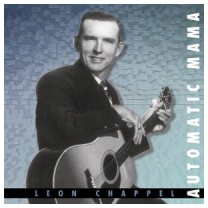 Leon Chappel "Automatic Mama" (Bear Family, 1999)


One of the early pioneers of the Texas swing scene, the plain-voiced, bluesy singer Leon Chappelear was a founding member of the Lone Star Cowboys, a popular regional trio that staked out an early claim to fame in the late 1920s and '30s, alongside bigger bands like Milton Brown's Musical Brownies and the Light Crust Doughboys. Chappelear's career was pretty star-crossed -- a car accident in 1935 sidelined him for a while, and while he kept the Cowboys together for another couple of years, things were never the same, and he lost the momentum that the group had built in the years before. Chappelear retired from music until the late 1940s, when his old pal Jimmie Davis helped swing a record deal with Capitol, and he recorded numerous singles for them in the early 'Fifties, under the name Leon Chappel. This disc gathers all of his work for Capitol, including several tracks that were unissued at the time. Mostly it's old-fashioned, bluesy hokum material, saucy, ribald novelty songs with thinly disguised sexual references, much like the material Chappel and his Depression-era contemporaries such as Jimmie Rodgers and Jimmie Davis recorded decades earlier. It might have been old hat in the postwar years, but it still sounded nice... and still does today! A fun set of fiddle-based hillbilly music with plenty of amusing lyrics, including the title track, which is a real hoot... Recommended!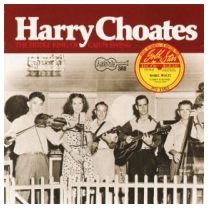 Harry Choates "The Fiddle King Of Western Swing" (Arhoolie, 1982)



Classic backwoods fiddle music from the Louisiana bayou... These late-'40s recordings are an interesting mix of cajun, straight old-timey fiddle music and honkytonk-heavy western swing tunes. A veteran of the Louisiana swamp scene, by the postwar years Choates seemed ready to try just a little bit of everything and see what would stick -- fortunately, he was pretty darn good at any style he played, and this album is pure fun from start to finish. The CD version includes ten extra tracks that weren't on the original LP (although his big hit version of "Jole Blon" is still sadly absent...) Cool stuff, and a little off the beaten track.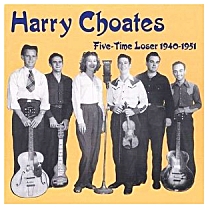 Harry Choates "Five-Time Loser: 1940-1951" (Krazy Kat, 1998)


A nice, scrappy collection of 'Forties tracks, well-selected by the folks at Krazy Kat, which is one of my favorite labels. Once again, a cool. fascinating mix of pure country and backwoods, swampy cajun.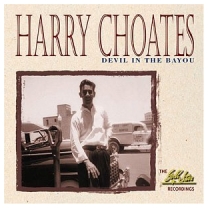 Harry Choates "Devil In The Bayou: The Goldstar Recordings" (Bear Family, 2002)


A 2-CD set drawn from his later work on the maverick Gold Star label, which recorded a lot of unusual and noteworthy material in the 1960s...
---

Real Hick Music -- More Letter "C"


---