<! MP3 12/26/10 > <! outside 00/00/00 > <! pix 00/00/00 > <! 208-pix: 00/00/00 > <! icons 12/26/10 > <! UPDATES: 12/26/10 10/02/12 - added Headliners review, reposted >
---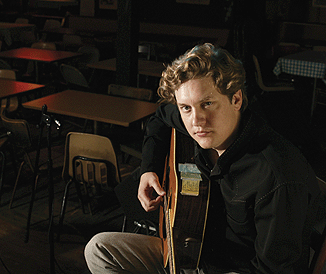 Songwriter Shawn Camp isn't, like, a major chartbuster or anything... the reason he has his own page here is that every album he's done has been quite unlike the other, so after trying to place him in the alt, bluegrass and pop-country sections, I figured, what the heck, he's just his own special thing... Sui generis, and all that. Oh, yeah, he also has his own page because I really like his records... One of the legions of songwriters who feed the Nashville machine, Camp has provided hit material for the likes of Garth Brooks, John Anderson and Randy Travis, and even made a record or two himself, back in the early '90s. After his first album fared poorly and Camp's label shelved the followup, he concentrated on working behind the scenes, penning tunes that all sorts of artists picked up over the years. Camp's been a stalwart of Nashville's live music scene and recently reemerged as an indie-label artist... And dang if he doesn't sound good...!! Here's a quick look at his work...
---
Discography
---
Shawn Camp "Shawn Camp" (Reprise, 1993)



(Produced by Mark Wright)
Songwriter Shawn Camp is a name that pops up all over the place, with everybody from big-name Top Country stars to lil' ol' bluegrassers picking up his tunes. In the early 1990s he took a stab at recording as a solo artist himself, and produced this disc, which has its ups and downs. The production is pretty cluttered and formulaic, and the first few opening tunes seem kind of spazzy and loud; in particular, it would have been nice if someone could have reined in the note-happy lead guitarist. But deeper into the album, Camp gets more comfortable, and delivers several nice vocal performances, notably on "One Of Them Days" and "Speakin' To An Angel," which have a relaxed, almost John Anderson-like richness to them. It took me a while to place it, but who he really sounds like here is Ricky Skaggs, with the same light, affable, pop-friendly-but-still-inherently-rootsy feel, and a similar vocal quality. However, this disc went nowhere chartwise, and a second album, though recorded and in the can, was shelved by his label. It took him a while to get back into the recording game, but when he did, it was with even sweeter results...


<! "Fallin' Never Felt So Good" (Warner, 1993) cassette ASIN: B00000DLF5 single? >
Shawn Camp "Lucky Silver Dollar" (Skeeterbit, 2001)


One of the best new records to come down the pike in quite some time! I certainly appreciate a writer who knows how to craft a good song, and this fella has got the goods. Camp tilts towards the traditional end of the spectrum, and is a soulful, appealing vocalist, working in a fairly alt-y, old-school style. The whole record is pretty good, but one song, "Tune Of The Twenty Dollar Bill," stands out as a real gem. A compact little Guy Clark-ish story-song (of courtship back in the good old days), this is a catchy, thoroughly enjoyable, tune, and really quite memorable. Well worth checking out -- drop in on the guy's website and check this disc out!
Shawn Camp "Live At The Station Inn" (Oh Boy, 2003)



A mighty fine live set drawn from two shows at a popular Nashville watering hole... Nashville songwriter Shawn Camp is well known and highly respected for the many songs he's freckled across the face of the contemporary "top country" charts, but he also has connections in and a deep appreciation for the bluegrass scene, as evidenced on this disc. Fiddler Stuart Duncan, banjo plunker Dave Talbot and mandolin picker Mike Compton provide some of the flash, but Camp lights the fire, singing 'grassed-up versions of a dozen of his best songs. The transition from popped-up "country" to down-home truegrass simply makes the songs sound more natural and compelling... and what great songs they are! This includes three tunes cowritten with Guy Clark, a couple with Jim Lauderdale, and one written with Paul Craft... With pen-pals like that, how can the guy go wrong? This is a nice album -- informal, yet authoritative, smooth but still really rootsy, and packed with some of the most finely crafted songs out there. Recommended!
Shawn Camp "Fireball" (Emergent, 2006)



On his fourth album, Shawn Camp keeps up his canny mix of unapologetic Nashville formula and true-blue, back-40 twang. The album's rompy-stompy opener, "Fireball," is pretty formulaic and obviously pitched as a hopeful hit in the hands of some tight-jeaned hat act dude, but the Guy Clark-ish "Tulsa Sounds Like Trouble" and "The Way It Is" are goofy, rootsy romps that'll get twangfans lined up to check this guy out. Whether you're coming at this from the hit-oriented mainstream or the alt-Americana side of the street, this disc is sure to set your toes tapping... And the loose-limbed, sloppy sounding "Drank," which closes the album out, is pure alterna-billy worthy of the Jerry Jeff seal of approval. All in all, another fine album from this cult fave. Recommended!
Shawn Camp & Billy Burnette "The Bluegrass Elvises, v.1" (American Roots, 2007)


(Produced by Dave Ferguson, Shawn Camp & Billy Burnette)
Now, see, that's funny, 'cause I thought the album title was just riffing on Camp and Burnette's relative obscurity... But actually, they're playing grassed-up version of Elvis Presley oldies. Doing a cover album is a funny choice considering what a great songwriter Camp is, but they sound like they had a lot of fun, and that's what counts. Along for the ride are some usual-suspect hotshots from the contemporary bluegrass scene, including bassist Mike Bub, fiddler Aubrie Haynie and Scott Vestal on banjo... Everybody: let's rock!
Shawn Camp "1994" (Reprise, 2010)



(Produced by Emory Gordy, Jr.)
I had heard that Shawn Camp had a legendary lost album that had gotten shelved by his label after his first record only did so-so on the charts... and here it is! Miraculously, Warner Nashville went back to the vaults and put together this lively, remarkable set which is (mostly) the record that Camp would have put out in 1994, if he'd had the chance. I say "mostly" because these tracks do have a roughness to them that makes me think the record wasn't properly finished before it got shelved, and many tracks still have a roughed-out, demo-y feel, although it's still definitely big-sound Nashville stuff with plenty of crackerjack studio players backing him up -- Richard Bennett, James Burton, etc.. There are also some nice guest artists: Patty Loveless sings harmony on a couple of tracks, and the grand old man of bluegrass, Bill Monroe himself(!) sings on "Worn Through Stone." The record opens with a clever, catchy novelty number, "Near Mrs.," which has a coulda-been-a-hit feel to it; also included is "In Harm's Way," an early Jim Lauderdale number and a whole slew of Camp's compositions, including one co-written with Guy Clark. As I mentioned, much of the record has a still-rough feel to it, but also a lot of the amped-up vitality of the early 1990's "young country" scene... If you're into commercial country that still has some snap to it -- and particularly if you like Camp's 1993 debut -- you'll probably wanna check this one out.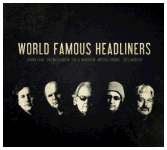 World Famous Headliners "World Famous Headliners" (Big Yellow Dog, 2012)



(Produced by Justin Niebank)
Chunky, greasy, groove-heavy rock'n'blues from a bunch of old-timer musical craftsmen: in the 1990's Big Al Anderson made the move from being the hot-shot guitarist in NRBQ to becoming one of Nashville's hottest songwriters -- he still picks some mean electric riffs, though. Jamming with Anderson are fellow songwriters Pat McLaughlin and Shawn Camp, also old hands in the Nashville scene, along with the rhythm section of Michael Rhodes and Greg Morrow. This is little too rock-oriented and Muscle Shoals-y for me, but roots-rock fans might wanna check it out.
---
Links
---
Shawn Camp's website has updates on his whereabouts, etc., as well as info on his Skeeterbit record label...
---



Hick Music Index



---
Top photo by Rusty Russell, courtesy of Oh Boy! Records.
---

<! cd=05/05/05>