<! MP3 08/03/09, 12/02/10 > <! outside 00/00/00 > <! pix 10/12/13 > <! icons 12/02/10 > <! UPDATES: 08/03/09 - need new pages for Jerry Reed, Kenny Roberts, Leon Redbone 02/19/13 - added Tex Ritter page 10/12/13 - more pix >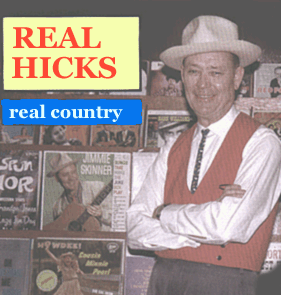 ---
Hi, there! This page is part of an opinionated guide to what I call "hard country" music -- the real stuff -- with a bunch of record reviews and recommendations by me, Joe Sixpack. Naturally, it's a work in progress, and will hopefully be expanded on quite a bit, as time allows.
This is the first page covering the letter "R"
---
A | B | C | D | E | F | G | H | I | J | K | L | M | N | O | P | Q | R | S | T | U | V | W | X, Y & Z | Comps | Hick Music Styles
---
The Radio Sweethearts - see artist discography
Marvin Rainwater -- see artist discography
The Ranch Boys "Cowboy Harmony" (Binge Disc, 1998)


A delightful set of cowboy tunes from a "western" trio that worked with Gene Autry and Smiley Burnette onstage and in a film or two. Curley Bradley, Ken Carson and Jack Ross met int he early 1930s as members of the popular Beverly Hill Billies, out in Los Angeles, then they formed their own act and left the West Coast for a gig in the Midwest. The Ranch Boys were popular throughout the 'Thirties, recording a couple of albums for Decca Records, and giving the Sons Of The Pioneers a run for their money. Indeed, after the Ranch Boys split up, Ken Carson was offered a spot in a wartime edition of the Sons, and became a fixture in the Roy Rogers crew, and continued recording as a solo artist after the War. This generously programmed disc includesalmost two dozen of their prime recordings, including an album of songs by Western artist Billy Hill, and a few radio transcription recordings. It kicks off with a swinging, jazzy version of "Ragtime Cowboy Joe," and swiftly settles into more standard Western fare, all of it marked by smooth, professional harmonies and sweet vocal phrasing. If you're a fan of singing cowboy music, you'll want to track this one down!
The Ranch Boys "Melody Round-Up" (Binge Disc, 2006)


Wayne Raney "Songs From The Hills" (King, 1958)



A straight reissue of an old King LP that came out in the 1950s. Harmonica player and guitarist Wayne Raney was a big behind-the-scenes part of the rhythmic ooomph of the Delmore Brothers sound, as well as many other hillbilly records on the King label. This album collected a bunch of his solo material, including his big hit, "Why Don't You Haul Off And Love Me?" All the music on here is pretty top-notch, and the disc is well worth checking out. The biggest surprise is that the CD version on Highland Records (one of many heirs to the King catalog) has really good sound quality, certainly better than on the LP reissues of the early '80. Highly recommended.




Wayne Raney "Don't Try To Be What You Ain't" (Starday, 1964)



<! NOT a gospel album >

Wayne Raney "The Real Hot Boogie Boy: The King Recordings" (Ace, 2002)


This is a real slam-bang collection of over two dozen of Raney's vintage recordings from 1947-53, including "Haul Off And Love Me," "Lost John Boogie," "Pardon My Whiskers," "Adam Come And Get Your Rib" and other gems from the pre-rock era. The Delmore Brothers back Raney up on over half these tracks, so this is just about as good as hillbilly boogie gets... each song is winner, packed with goofball wordplay, mildly raunchy lyrics, and plenty of high-power twang. This is postwar hillbilly music in its purest form, a real delight! The older, cheaper Songs From The Hills album is tasty, too -- it's the same music from the same period -- but this disc is definitely a better buy. It has more tracks, full liner notes, great sound quality and it puts Raney's work in a much fuller context. Highly recommended! It's totally fun, too!!

Ole Rasmussen "Sleepy Eyed John" (Bear Family, 1999)


Nebraska native Floyd "Ole" Rasmussen led a West Coast swing band that copped a lot of its sound from Bob Wills... Rasmussen and his Nebraskan Cornhuskers were derided in the early 1950s as mere copycats, but these vintage tracks from 1950-52 are as much fun as any other western swing band of the era, and have a distinctive, bluesy feel to them. The twenty-eight tunes are the total output of his years on Capitol Records, and they'd fit in nicely with any set of classic country; the basic form is very much like the Texas Playboys, but with a heavier emphasis on the country part of the equation, less on the jazzy side. His vocalist, Teddy K. Wilds, has moments that are reminiscent of Tommy Duncan, but overall he's a deeper, throatier, more earthy singer, in addition to sounding quite appealing and robust. This is good stuff -- although you might initially roll your eyes and think, oh come on!, it won't take long for these guys to win you over. Good stuff... recommended!
Wade Ray "Things I Might Have Been" (BACM, 2005)





<! CD D 209 > <! Heart Of A Clown/ Echo Of Your Voice/ Bill Bailey Won't You Please Come Home/ It's All Your Fault/ Things I Might Have Been/ Call Me Up/ If They Should Ask/ Burned Fingers/ Don't Wait To Baby Your Baby/ That Love Makin' Melody/ Did I Do Wrong/ Let Me Go Devil/ Too Late To/ Saturday Night/ First Last And Always/ Idaho Red/ A Penny For Your Thoughts/ Rosetta/ Letters Have No Arms/ There's No Fool Like A Young Fool/ No Mama No Papa/ Excuse Me/ I Couldn't Be So Happy/ Dipsy Doodle (Instr.)/ Sentimental Journey (instr.)/ Albino Stallion >
Wade Ray "A Ray Of Country Sun" (ABC, 1966) (LP)


(Produced by Fred Carter, Jr.)
The first solo album(!) by fiddler-vocalist Wade Ray, a decades-long veteran of the West Coast country scene who had been in Patsy Montana's band, and had regular spots on the variety shows of Rex Allen, Roy Rogers and Ernest Tubb. He's mostly coasting on this one, but there are some interesting moments amid all the too-cool crooning. Willie Nelson wrote the liner notes, and there are two of Willie's lesser-known early songs on here, "Within Your Crowd" and "Any Old Arms Will Do"... He also sings a Fred Carter original, "The Heart Inside Of You," amid the desultory covers of chestnuts such as "Bill Bailey" and "Old Shep." Sadly, none of the fiddling that Ray was famed for is in evidence on this "elegant" set... Oh, well.
Wade Ray "Idaho Red" (Gonna Shake This Shack Tonight series) (Bear Family, 2012)


A sizzling selection of hard-country hillbilly oldies from fiddler Wade Ray, who is perhaps best remembered as a session player, but who also worked as a solo artist, recording a fair number of western swing and honkytonk singles back in the late 1940s and '50s, and is also remembered for his work with Willie Nelson, who he met when they were working on the Opry together, back in the early 1960s. This is a great collection of hard-to-find material -- expect Bear Family's usual great sound quality and archival goodies (great liner notes and discographical info) as well as plenty of good, old-fashioned twang.


<! d. 1998 >


Leon Redbone -- see artist discography




Red River Dave "Honky Tonkin' Thelma" (Binge Disc/Bronco Buster)



<! Bronco Buster CD 9050 >

Red River Dave "The Yodelling Cowboy Sings..." (Jasmine, 2005)


Red River Dave "There's A Blue Sky Way Out Yonder" (Jasmine, 2007)


Jerry Reed - see artist discography
Glenn Reeves "Johnny On The Spot" (Bear Family, 2011)

Herb Remington - see artist discography
Jack Reno - see artist discography

Jimmie Revard & His Oklahoma Playboys "Naughty Naughty" (BACM, 2005)


A swell set of great, classic 1930s western swing, from a regional bandleader who did well on his home turf, but never quite got the same sort of national rep as bigger bands such as Milton Brown or Bob Wills. It's great stuff, though: Revard's band included guitarist and future bandleader Adolph Hofner and his brother Emil, on steel. The vocals are generally a bit ungainly, in a charming way, but the choppy, chunky rhythmic sense belies the instrumental oompf of this band: the fiddles, in particular, are pretty hot. Revard's band roster overlapped with that of the zippier Tune Wranglers; in the late 1930s, Hofner broke off from Revard's group to start a band of his own, but these two dozen tracks capture the original group in its prime. Great stuff, full of boozy cheerfulness and unabashed sentimentality and jazzy sensibilities. Recommended!
Dick Reinhart "A Broken Heart For A Souvenir" (BACM, 2005)





<! CD D 124 >
Buddy Reynolds "A Canadian Country Music Pioneer" (Binge Disc/Bronco Buster)
Wonderful, rare Canadian recordings from the 1940s and '50s. Reynolds was very much a devotee of Hank Snow, and follows in the path the "Singing Ranger" laid before splitting for Nashville -- corny, sentimental ballads, cowboy tunes and novelty songs, complete with nasal vocals and Hawaiian slide guitar. Highly recommended -- this is the sort of stuff you can develop a real soft spot for.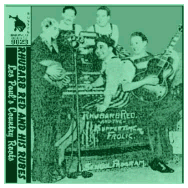 Rhubarb Red "Les Paul's Country Roots" (Binge Disc/Bronco Buster)
Early "hillbilly" material from guitar whiz Les Paul, working under the monicker of Rhubarb Red. Gawww-leee! (Cheap sarcasm aside, this is pretty groovy material... and certainly with great historical value!)
Charlie Rich - see artist discography
Dave Rich "Ain't It Fine" (Bear Family, 1994)


Songwriter Dave Rich was a favorite of RCA head Chet Atkins, but he fell short of big-time success, after having recorded a couple of dozen tracks in the late 1950s, just as rock'n'roll was knocking Nashville for a loop. Rich's departure from the spotlight was due in no small part because just as his career was starting to cook, he got religion and turned his back on showbiz, choosing instead to become an itinterant Pentecostal preacher. This album charts his career from his early hillbilly material -- where he sounds like an odd, interesting cross between Lefty Frizzell and Hank Locklin -- onto his later work where a panicky Nashville tried to repackage him as a teenybopper rockabilly idol. The country material is fun, but the rock-pop stuff falls flat and sounds pretty insincere. It's okay, but not great. The album closes with four gospel songs from Rich's last RCA session, and these songs are actually pretty interesting, original material penned by a soul-searching singer who was trying to sort out his conflicting feelings about material success as opposed to spiritual glory. It's hardly music with great commercial potential, but looked at from the religious side of things, it's kinda cool. Rich, by the way, wrote "Didn't Work Out, Did It," which Don Gibson later recorded, with great success... the original version is included here, and is one of the album highlights.
Don Rich - see artist discography
Tex Ritter - see artist discography
Marty Robbins - see artist discography
Kenny Roberts "Jumpin' And Yodelin' " (Bear Family, 1996)


A very cute, but also very strong collection of novelty-oriented, early 'Fifties country. Due to a couple of goofy early hits, Roberts was typecast as a novelty song artist -- but since his novelty songs were so darn good, this was hardly a liability. This swell collection features the hit version of the often-recorded can't-shake-the-chaperone lament, "I Never See Maggie Alone," and the cutesy-wootsy, widdle kid song, "Chocolate Ice Cream Cone." "Maggie" was recorded by about a bazillion hillbilly artists, but this is the version that still really stands out. Not all the material on here is such overt novelty stuff, but no matter what kind of style Roberts applied himself to, he sounded pretty darn good. And, of course, this is another lavishly researched Bear Family release, with copious liner notes and great sound quality. All in all, strongly recommended!
Kenny Roberts "Indian Love Call" (Starday, 1965)


Texas Jim Robertson "Wedding Bells: 1941-1954" (Bronco Buster)


An outstanding set of country novelty songs and heartfelt weepers. Robertson's first real hit was an early version of Floyd Tillman's "Slippin' Around," and plenty of other tracks on here follow in that mournful path... But there are also some of the best goofball material you're likely to hear - including the loveably sexist "Automatic Woman" (mechanized, non-backtalky wimmin being a big preoccupation with songwriters in the futuristic world of the 1950s Atom Age...) and "Last Page Of Mein Kampf," which is one of the best anti-Hitler songs ever recorded. Robertson was a very appealling singer, and the material included on this album is all first-rate. Highly recommended!


<! 08/09: several vinyl listings >
Texas Jim Robertson "Purple Night On The Prairie" (BACM, 2005)





<! CD D 175 If You've Got The Money I've Got The Time/ Lost Deep In The Bottom Of The Sea/ A Pretty Woman Is A Deadly Weapon/ Let Me In/ Birmingham Woman/ Letter I'm Mailing To You/ I'm Gonna Be Long Gone/ Rubber Knuckle Sam/ Moon And The Water And Miz O'Reilly's Daughter/ Purple Night On The Prairie/ Sweet Baby (Come Back To Where You Belong)/ Talk To The Boss In The Sky/ Windy Ben/ You Can't Do Nothin' With A Woman/ There's A Heart In The Heart Of The Rockies/ The Cowboy Isn't Speaking To His Horse/ Don't Angel Me You Little Devil/ My Pony's Hair Turned Grey/ Rodger Young/ Way Down In Texas Where The Bluebonnets Grew/ Bouncin' Along/ Gone FishinŐ/ Jaw Jaw Yap Yap Yap/ Memories Of Wedding Bells >
Texas Jim Robertson "Volume Two: Put Your Arms Around Me" (BACM, 2005)





<! CD D 213 You'll Never Be Blue In A Blue Uniform/ Answer To A Rainbow At Midnight/ Life Gits Tee-Jus, Don't It/ Gotta Git A Gittar/ Taffy/ Put Your Arms Around Me/ Low In The Lehigh Valley/ Daddy When Is Mommy Coming Home/ Saving Up Coupons (To Get One Of Those)/ I'll Walk This Weary Road Alone/ I'm Back To Where I Started/ Yesterday's Kisses/ One Kind Word/ It Hurts To See You With Somebody Else/ I Want No More Of Army Life/ Why Don't You Marry The Girl/ Bite Your Tongue And Say You're Sorry/ The Zebra Dunn/ Yellow Rose Of Texas/ Climbin' Up The Golden Stairs/ Night Herding Song/ Your Sweetheart Waits For You Jack/ Empty Cot In The Bunkhouse Tonight/ Sam Bass/ Hobo Bill's Last Ride >


Bruce Robison - see artist discography





Roy Rogers - see artist profile



Al Rogers/Tom Anderson "Two Short-Lived Hillbilly Careers" (Binge Discs, 2006)


Holy cow...! This is the kind of reissue record that makes me still feel in love with country music, like there's always new, fun stuff out there to discover, if you just keep looking. The real find here is Tom Anderson, a mystery figure who recorded some awesome, true-blue hillbilly country tunes for the MGM label. The dozen tracks on this disc date back to 1953-54; what happened to Anderson after that is anybody's guess -- even the normally informative folks at Binge disc drew a total blank on both of these artists. Anyway, Anderson had it all -- a great singer with plenty of twang (like early Ray Price, perhaps), he had a strong band (called the Deep Valley Boys), and was also a fine songwriter, penning winners such as "The Moon And I," "Sweet Love" and "If Your Heart Had A Window." Indeed, all of his tracks are good, twangy fun -- I'd play any of them on the radio, anytime. The second singer, Al Rogers, also recorded for MGM (and Capitol, and RCA...) but he's a bit less exciting... Rogers was a baritone crooner in the Red Foley/Ernie Ford mould, singing barrel-chested weepers like "It Wouldn't Be The Same Without You" and "All Alone, All Alone," which he wrote under his given name of Alex Phillip Rogers. His debt to Red Foley is made all too apparent on his early single, "Shuffle-Boogie Bellhop," which is practically a note-for-note swipe of "Chattanoogie Shoeshine Boy." Still, corny stuff can be fun, too, and even though the contrast between these two randomly-paired artists leaves Rogers at a disadvantage, his stuff is still a nice find. Another great collection -- easiest way to track it down is to contact Binge Discs directly, or try the same place I got it, Down Home Music, in the SF Bay Area.
Jesse Rogers "Wedding Bells" (Binge Disc/Cattle Records, 2002)
Another winner. Apparently this fellow was a cousin of the great Jimmie Rodgers, and like many country singers in the 1930s, he started out trying to sound like the famed Blue Yodeller, but shifted towards the honkytonk style in the '40s. This CD covers Jesse's career from 1936 to 1950, time that was mostly spent on the margins of fame. He recorded a lot of cover tunes, on a lot of different labels, but when all is said and done, the guy was pretty good. A hearty, hard country singer with a pretty solid band. If you like that late '40s honkytonk sound, then this is a disc you'll want to check out. Recommended!
Smokey Rogers "Western Swing Masterpieces" (Bronco Buster)
Jaunty, jovial West Coast-style western swing with slightly subpar vocals and plenty of zinga-de-ding-ding accordion. An alumnus of Spade Cooley's outfit, Rogers was a longtime pal of Tex Williams and Deuce Spriggens, and followed Williams from label to label throughout the 1940s and '50s. This disc covers 1945-57, packed with rare numbers for Four Star, Coral, Capitol and a couple of smaller independent labels... It's fun stuff, with plenty of novelty appeal. Rogers main flaw was his voice, which wasn't great, but he more than compensated with the sheer force of his buoyant personality. Plus, he had Tex Williams' band backing him up on most sessions, so that gives him a leg up right there. Definitely worth checking out!
Weldon Rogers "Tryin' To Get To You" (Bear Family, 1997)


A quick dip into the cowpond of country-billy marginalia, though hopefully not an indication that the Bear Family well is running dry. This is decidedly lesser stuff, recorded by a lanky West Texas Oakie, with tracks cut between 1955-1968 for various small independent labels. The trouble with most of this Ernest Tubb-ish material is that both Rogers and his Kitty Wells-esque wife Wanda were profoundly underwhelming vocalists: they don't have the pipes or the phrasing needed to carry the day. A few of these tracks hold their own, but this CD as a whole does not stir and excite this country boy.
Mimi Roman "I'm Ready If You're Willing" (Juke Box Pearls series) (Bear Family, 2012)


A fascinating set of obscuro country from the 1950s from a Jewish gal from Salinas, California who broke through on the Arthur Godfrey talent show and was signed to Decca Records as a pop singer, but who insisted on recording country material. Roman (nee Rothman) tackled rockabilly and uptempo honkytonk material as well as plenty of weepers, and she toured in the Philip Morris Caravan package show, along with many of the biggest stars of the era, but despite her best efforts she never broke through as a headliner or even as a national act. This is a nice selection of her country best country stuff, and a real goldmine for fans of hillbilly fillies -- she had kind of a rough voice, but in the country context, it'll win you over. There are a few more Mimi Roman songs out there to be heard... Perhaps someday Bear Family (or some other label) will issue a follow-up disc?
---

Real Hick Music -- The Letter "S"


---