<! MP3 07/26/09, 12/03/10, 10/10/13 > <! outside 00/00/00 > <! pix 10/10/13 > <! icons 12/03/10 > <! UPDATES: 07/26/09 - need jerry lee lewis, hank locklin, bob luman 04/06/13 - added Brenda Lee, a few Bingedisc ASINs, still need Hank Locklin 10/10/13 - updated links, some pix > <! Sherwin Linton "Hello, I'm Not Johnny Cash" (xxxxxx, 1971) comedic singer Dennis Ledbetter >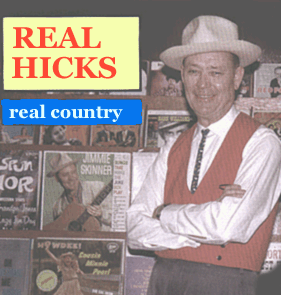 ---
Hi, there! This page is part of an opinionated guide to what I call "hard country" music -- the real stuff -- with a bunch of record reviews and recommendations by me, Joe Sixpack. Naturally, it's a work in progress, and will hopefully be expanded on quite a bit, as time allows.
This is the first page covering the letter "L"
---
A | B | C | D | E | F | G | H | I | J | K | L | M | N | O | P | Q | R | S | T | U | V | W | X, Y & Z | Comps | Hick Music Styles
---
Sleepy LaBeef "Rockabilly Blues" (Rounder Bullseye, 2001)



Sleepy LaBeef was an old-school, second-string Sun Records rockabilly rebel who kept on pumping away and hammering out countrybilly blues tunes for decade after decade. This is a decent collection of Sleepy's later, blues-based work made for Rounder in the 1980s, outtakes that were left unreleased when his early '80s LPs came our... Maybe more houserockin' than rockabilly, with covers of songs like "Mannish Boy," "Long Tall Sally" and "Night Train To Memphis" (as well as a killer version of "Bright Lights, Big City..") these tracks are admittedly a bit choppy, but if you value rough-hewn roots music, this disc may be worth checking out.


<! discography started 11/10 >


Doyle Lawson - see artist discography



Albert Lee "Hiding" (A&M, 1979)


One of my longest-lasting guilty pleasures. This British guitar whiz made his mark on the country scene back in the late 1970s, replacing James Burton as lead guitarist in the Emmylou Harris band. A lot of his work in the Hot Band was a straight copy of Burton's style, but Lee also had a flashy note-clustering technique which was distinctively his own. Although it hasn't aged well, this album is still one of my favorites from the era -- all the key players from the Emmylou/Happy Sack scene are on here, and dial twister Brian Ahearn's elaborate, multitracked production carries over from her albums. In retrospect, it's overly florid and a bit goofy, but Lee recognized his own silliness, and the hyperactive twang of "Country Boy," for example, has more than just a little nudge-nudge, wink-wink to it. Really fun if you can hang with the slick production.
Albert Lee "Heartbreak Hill" (Sugar Hill, 2003)



Brit-picker Albert Lee is back into country territory after a years-long sojourn as a jazz-pop instrumentalist (hey, it got him a Grammy, so who's to judge?). Anyway, Albery revisits a buch of old Emmylou songs, and tunes of similar date and feel. Lee's voice has aged well, and is even more compelling than it was back when Hiding was made... There's a disarmingly unaffected quality to his singing that brings out the meaning in familiar lyrics that was easy to miss in the original versions: on "If I Needed You," for example, Lee lingers and stumbles on words that Don Williams sang so prettily that the words got overshadowed by the phrasing... Here the sentiment and touching qualities reemerge from the shadow of the "definitive" version. This is true on several songs; the album's weak point, ironically, may be on some of the guitar solos that Albert streches out on... Sometimes the fancy picking sounds a little overly familiar, but on the whole, I still really enjoy his vibe, particularly when he sings. Longtime fans will be pleased.
Brenda Lee - see artist discography
Ernie Lee "The Kentucky Balladeer" (Binge Disc/Bronco Buster)
Solidly in the Tennessee Ernie Ford/Red Foley tradition of bouncy, jovial bullfrog vocals, Ernie Lee's early-'50s records hold up as well as any of the hillbilly hits by them two stars. Fun stuff skimmed out of the Mercury and MGM catalogs -- well worth checking out!
Ernie Lee "Country From Kentucky" (LMG, 2010)

Wilma Lee - see: Wilma Lee Cooper
The LeGarde Twins "One Little Letter" (BACM, 2005)


(Available through the British Archive of Country Music website.)


<! CD D 266 >


Jerry Lee Lewis - see: see artist profile



Texas Jim Lewis "Western Swing Nostalgia" (Binge Disc, 1998)


Western swing's answer to Spike Jones, Lewis specialized in relentless nuttiness -- his material includes some of Sheb Wooley's earliest novelty numbers ("Peekin' Through The Keyhole"), as well as plenty of offbeat instrumental flights, along the lines of the time-honored fiddling "bird call" tunes, "Listen To The Mocking Bird." Not everyone goes for the hillbilly novelty bit, but these tunes are pretty irresistible. Fun stuff, highly recommended!
Texas Jim Lewis "...And His Lone Star Cowboys" (Country Routes, 2001)


Live performances taken from vintage, 1940's radio transcription discs...
Texas Jim Lewis "Volume One: Rose Of The Border" (BACM, 2004)


More rarities, available through the British Archive Of Country Music website.


<! release date is made up >
Texas Jim Lewis "Volume 2: In New York & Hollywood -- 1937Ð39" (BACM, 2005)


More rarities, available through the British Archive Of Country Music website.


<! CD D 271 >

Joe 'Cannonball' Lewis "You've Been Honkytonkin' " (Binge Disc/Cattle Records, 2006)

Light Crust Doughboys "Western Swing: 1936-39" (Texas Rose, 1982) (LP)







Light Crust Doughboys "Western Swing Memories" (Binge Disc, 1998)
A nice collection of golden oldies collected by this fab German reissue label. A lot of these recordings simply aren't available elsewhere, and haven't been in print for decades... So this may be your only chance to hear this music for some time to come!


<! LOTS of latter-day(?) albums with James Blackwood and Nokie Edwards >
Light Crust Doughboys "1936-1941" (Krazy Kat, 2007) <! date? >

The Light Crust Doughboys "Guitar Jump" (BACM, 2005)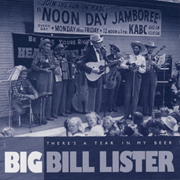 Big Bill Lister "Tear In My Beer" (Bear Family, 1999)


Now THIS is for-real hick music... "Hick" as in back-woods, patched pants, oil-drilling, hard-timing, 'pea-pickin', tater patch tending HICK music. Sorry... I don't usually indulge in such stereotypes, but then again, rarely are they so accurate. This feller -- a good pal of Hank Williams' -- was a total hayseed, and it oozes from his every syllable in the most delectable way. The music, too, is not overly refined. If you want to hear something that is as verifiably "country" as country can be, then check out these great old recordings from 1949-1953... Some of it's on major label material, recorded for Capitol, but many of these tracks are from the teesy indie label, Everstate... Once again, a jaw-dropping archival effort by the folks at Bear Family that is worth every penny they request. RECOMMENDED!
Big Bill Lister "Remembering Hank Williams" (Heart Of Texas, 2003)


Hank Locklin - see: see artist profile
Jimmie Logsdon "I Got A Rocket In My Pocket" (Bear Family, 1993)


A hard-country hillbilly singer who signed to Decca in the early 'Fifties, Jimmie Logsdon wound up being a one-hit wonder when he tried bluffing his way into the rock'n'roll market. Recording under the pseudonym "Jimmie Lloyd," he laid down the rockabilly classic, "Rocket In My Pocket," which is one of the most explosive, giddy 'billy hits of the 'Fifties. He also recorded a lot of great hick music, including a tribute to Hank Williams, who helped give him a leg-up in his career. Logsdon was one of those honkytonkers in the early 'Fifties who nakedly imitated Williams, but what he sacrificed in originality he more than made up for with his energy and exhuberance. This is a some fine hard-country from a time when the style was really cookin'! Recommended.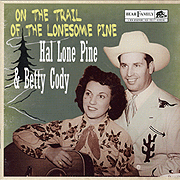 Hal Lone Pine & Betty Cody "On The Trail Of The Lonesome Pine" (Bear Family, 2006)


Fine, sentimental heartsongs and loopy novelty tunes from the early 1950s... Harold Breau (aka Hal Lone Pine) originally hailed from Maine, while his singing partner Betty Cody was French-Canadian Quebecois. This husband-wife duo made a good showing as second-stringers in both countries, and while this disc probably won't blow you away, it's very charming stuff, typical of its time, a fine example of the workmanlike recordings of country's less rowdy artists in the rollicking honkytonk/hillbilly boogie era. The Breaus found their greatest success up in Canada, largely due to the popularity of the regionally-oriented novelty recitation, "Prince Edward Island Is Heaven To Me," a masterpiece of pure, shameless corn. It was followed by "Appleblossom Time In Annapolis Valley," which also sang gthe praises of Nova Scotia. They also sang romantic weepers and smoothed-out honkytonk tunes -- although Lone Pine, in particular, wasn't that strong a vocalist, he sounded amiable and robust, and these tracks are all quite charming. Listening to these old tunes, you can hear that Betty Cody was arguably the better singer of the two -- the folks at the record labels thought so, too, and tried to promote her as a solo artist, although she mainly worked as part of the family road show. She dropped out of show biz when the demands of touring came into conflict with her role as a mother, and when her marriage to Lone Pine fell apart... One interesting footnote: their son, Lenny Breau, was a true musical prodigy and after a brief apprenticeship in the family band, he later emerged as one of he most highly regarded jazz guitarists of the post-bop era. (I don't think he's featured on any of these tracks, but his first teacher, Ray Couture, was a longtime member of the band...) These recordings are a fine legacy of two little-known artists who two sounded quite good together... If you're a devotee of old-school, 1950s country, by all means, check this one out!
Lonzo & Oscar "There's A Hole In The Bottom Of The Sea" (BACM, 2005)





<! CD D 198 Charming Betsy/ Ole Buttermilk Sky/ There's A Hole In The Bottom Of The Sea/ Take Them Cold Feet Out Of My Back/ Cornbread And Lasses And Sassafras Tea/ I'm My Own Grandpa/ My Adobe Hacienda/ Near You/ You Blacked My Blue Eyes Once Too Often/ Girls Don't Nag Your Husbands/ You Won't Do It No More/ Watching The Girls Go By/ Sheepskin Corn/ Got It On My Mind/ I'm Movin' On No. 2/ Crazy 'Bout You Baby/ Let Me Be The One/ Knock Kneed Suzy/ Tell Me Was It Worth It/ Jangle Bells/ One Love For Me/ Jezabel/ Let's Live A Little / Strange Little Girl / Mona Lisa/ Frosty The De-Frosted Snowman >
Lonzo & Oscar "Straight Songs: Lonzo And Oscar Sing 'Em" (Lonzo And Oscar Country Music Show) (LP)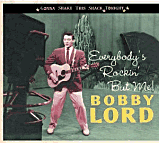 Bobby Lord "Everybody's Rockin' But Me!" (Bear Family, 2011)


You might be familiar with Bobby Lord from various rockabilly compilation albums; this is apparently the first time an entire album worth of his stuff has appeared on CD. A not-great, but totally authentic and enthusiastic early hillbilly/rockabilly artist, Lord recorded a couple dozen tracks recorded Columbia Records between 1954-60, all of which are gathered here. Some of this stuff is kind of clunky, but some of it is pretty fun. Worth checking out, though not top-flight hillbilly material.
Myrna Lorrie "Hello Baby" (Juke Box Pearls series) (Bear Family, 2012)


A profile of Canadian country singer Myrna Lorrie, who had a Top Ten hit in America with "You Are Mine," which she recorded in 1955 when she was only fourteen. Lorrie went to Nashville and toured the US with several major country stars, but when more hits failed to come, she retreated from the limelight, retiring for several years until she reemerged as a TV host in the 1960s, becoming a fixture in the Canadian country scene for several decades. This excellent collection concentrates on her early work, much of it teen-oriented and full of vigor; this reissue has great sound quality as well as Bear Family's trademark attention to archival detail. Cool beans!


<! Canadian Country star. Mentored by greats like Hank Snow and Cowboy Copas who saw her talent, she was signed by the man who discovered Loretta Lynn, and made her first recordings for Abbott, where Jim Reeves and the Browns started, and like them she too departed for RCA. After RCA sessions in New York and Nashville produced some great music. but no breakthrough, she returned to Canada. A television star in Canada for years, Myrna Lorrie helped new singers just as she'd been helped. Among them was Shania Twain. Myrna Lorrie "Myrna Lorrie" (Harmony Records) Myrna Lorrie "Child To Woman" (Musicor Records) Myrna Lorrie "It's Countrytime" (MCA Records) Myrna Lorrie "Blue Blue Me" (Sibley Records, 1989) >


John D. Loudermilk - see artist discography





The Louvin Brothers - see artist discography





Patty Loveless - see artist discography





Lyle Lovett - see artist discography





Bob Luman - see artist discography




Frank Luther/Zora Layman "Pioneers Of Country Music" (Binge Disc/Cattle Records)





<! Cattle Compact CCD-204 >


Loretta Lynn - see artist discography




---

Real Hick Music -- The Letter "M"


---