<! MP3 07/03/09, 12/03/10, 10/14/13 > <! outside 00/00/00 > <! pix 10/14/13 - 180s > <! icons 12/03/10 > <! UPDATES: 12/03/10 05/31/13 - posted Vernon Oxford page; 10/14/13 - pix/links review; added Doye O'Dell review >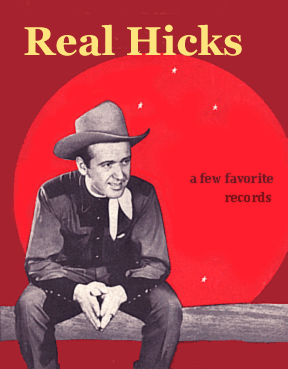 ---
Hi, there! This page is part of an opinionated guide to what I call "hard country" music -- the real stuff -- with a bunch of record reviews and recommendations by me, Joe Sixpack. Naturally, it's a work in progress, and will hopefully be expanded on quite a bit, as time allows.
This is the first page covering the letter "O"
---
A | B | C | D | E | F | G | H | I | J | K | L | M | N | O | P | Q | R | S | T | U | V | W | X, Y & Z | Comps | Hick Music Styles
---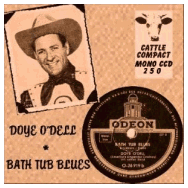 Doye O'Dell "Bath Tub Blues" (Binge Disc, 2001)


A sub-par vocalist, but likable hillbilly musician and successful actor in film and TV, Texas-born Doye O'Dell was one of the countless itinerant country musicians of the 1930s and '40s, working radio and concert gigs across the country before landing up in Hollywood, where he broke into the movie business. In the early '40s he joined Texas Jim Lewis' band, and was (presumably) backed by Lewis on many of these old singles. He had the original 1947 hit version of the Dust Bowl novelty tune, "Dear Okie" (and followed it up with the answer song, "Okie's In California") and though he never lit up the charts, O'Dell did lay down a few dozen swell hillbilly 78s. Most of the songs were novelty numbers, with variable results -- there are about a half-dozen killer tracks on here, and a lot of lighter-weight toss-off tunes with sort of a Hoosier Hot Shots feel, some even with the slide whistle. The best tracks have good steel guitar and some rough-edged honkytonk musicianship. O'Dell's vocals are pretty crude, though at times he has a Tommy Duncan-esque feel, just not as purty-sounding. All in all, this is worth checking out, especially for tracks like "She Left Me When My Dreamboat Started Leakin'," "If You Want Some Lovin'," "Don't Call Me Daddy" and "Lookin' Poor But Feelin' Rich," as well as the title track, "Bath Tub Blues," which really is one of the weirder novelty songs I've ever heard.


<! 12/10: also, "Valley Of Tears" LP >
Doye O'Dell "If Tears Were Gold" (BACM, 2005)


The Oklahoma Wranglers "Hillbilly Rhythm" (BACM, 2007)


Wow - this one's a revelation! The Oklahoma Wranglers were an early nom de hick for The Willis Brothers, an also-ran hillbilly band who I primarily know from their many repackaged albums on the various Starday/Gusto imprints. Over the years I've tried out a few of those old LPs, all with material of an indeterminate 1950s/1960s origin, and I always found them to be a bit dispirited and workmanlike, with a palpable air of their own long-exhausted self-awareness of their second-rate status. This disc, though, goes back to the days when they were still having fun, a great collection of hillbilly novelty songs, punctuated with some fine, rough-edged heartsongs and weepers. These recordings, dating from 1947-50, come from major labels such as Coral and RCA Victor -- the sound quality's great, and the music is a real hoot. Definitely worth checking out! (By the way, if you can find it, The Golden Age Of The Willis Brothers, a collection on Cattle Records, comes from the same era, and is worth tracking down as well...)


<! Complementing Cattle 290 (The Golden Age Of The Willis Brothers - $18.98) this is another fine and varied collection of western swing, blues, straight country and novelty songs the brothers Willis - Guy (guitar & vocals), Skeeter (fiddle and vocals) and Vic (accordion, piano & vocals) with various added musicians. The group originally started performing in the 30s as The Oklahoma Wranglers and changed their name to The Willis Brothers around 1950. The group continued through the mid 70s and didn't have their first hits until the mid 60s! It features two sides from their first session for Sterling Records in 1946 where they also accompanied Hank Williams on his first session. The tracks here are from the late 40s and early 50s and includes Who Pptt Tobacky On Tessie's Wedding Gown/ Eat A Little More/ Country Kisses/ Poor Boy/ Look What Thoughts Will Do/ Flop eared MuleI Didn't Mean To Tell You/ I May Be Lonesome, etc. (FS) >

Okra All-Stars "The Okra All-Stars" (OKra, 1994/Innerstate, 1998)



Another gorgeous album by High Sheriff Ricky Barnes and his crew. Dave Schramm, Hank McCoy and Jeb Loy Nichols team up with Barnes to cook up one of the warmest, most listenable alt-country albums ever made... Plenty of great cover versions such as Buck Owens' "I Wouldn't Live In New York City," John Anderson's "Wild and Blue," Merle's "Shade Tree Fix-It Man," and Prince's "Purple Rain" (beating the Derailers out by about six years!). Of course, it wouldn't be a Ricky Barnes masterpiece without at least one Louvin Brothers song, in this case a sweet, sweet version of "Don't Laugh." Several other highlights here, especially the mega-bummer "Big Mistake," "Falling Fast," and "Let's Build A Bridge", which has one of those charmingly intricate, old-timey music box melodies of the sort that the Carter Family specialized in. Highly recommended.
Old & In The Way - see my Bluegrass section

The 101 Ranch Boys "Melody Roundup With The 101 Ranch Boys" (Binge Disc, 2004)


A nice set by a little-known western outfit that originally hailed from Kansas City, Kansas. Led by guitarist George Long, the Ranch Boys plugged away in the 1930s, moving from station to station, and eventually fell into the orbit of Gene Autry (who they backed on tour) and other cowboy singers such as Smiley Burnette and Johnny Bond. They weren't big stars, but their fiddle-and-steel-tinged sound was quite pleasant, with genial vocals to match. A nice set of rare recordings, definitely worth checking out, if you're into the style.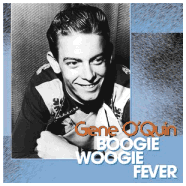 Gene O'Quin "Boogie Woogie Fever" (Bear Family, 2000)

Jimmie Osborne "Hills Of Roan County" (BACM, 2005)

Vernon Oxford - see artist discography
Bonnie Owens - see artist discography
Buck Owens - see artist discography
Dusty Owens "Swingin' And Rockin' Western Style" (Binge Disc, 2002)
Great stuff. If you're looking for unknown, authentic, totally kickass honkytonkers from years gone by, you should go out of your way to track down this German collector's-edition disc... These old Columbia recordings aren't likely to get reissued aboveboard anytime soon, and more's the pity for hard country fans here in the States... Midwesterner Dusty Owens had a great personality, mixing energetic hillbilly nuttiness ala Little Jimmy Dickens or Porter Wagoner with a deep reservoir of heartsong soulfulness. This album has fewer songs on it than most Binge Disc releases -- sixteen tracks from 1953-57 -- but every one of them is a winner, with great lyrics and musical backup that included Nashville hotshots like Chet Atkins, Lightning Chance, Don Helms and Buddy Spicher. What's best about this set, though, is the infusion of "new" songs into the honkytonk canon -- nearly all of the songs were written by Owens himself, and none of them are songs the average country fan would know about, outside of this fine release. This is a record I can listen to over and over... I think you'll like it, too!
Dusty Owens "Country Ballads" (Wyncote) (LP)

Dusty Owens "... Sings Once More" (Admiral)


I have no info about this one, other than it exists. Not sure when the tracks were recorded, but judging from the album title, I'd suspect it came pretty late in the game... Maybe in the 1970s?
---

Real Hick Music -- The Letter "P"


---